Brithny updated on Sep 22, 2022 to Data Recovery Resource | How-to Articles
Windows 8.1 Download Full Guide (with Pictures)
Windows 8.1 - a free upgrade to Windows 8 and a pre-release edition are now available. You may personalize your Windows PC with the newest features in Windows 8.1, including a slew of exciting new apps and games. It's possible to generate a bootable USB or DVD drive installation ISO file for 32 and 64-bit operating systems utilizing the Windows 8.1 ISO that may be downloaded online.
| Workable Solutions | Step-by-step Troubleshooting |
| --- | --- |
| 1. Download Windows 8 ISO | If you already have Windows 8 and did not get the RTM ISO image from the Windows Store...Full steps |
| 2. Burn Windows 8 ISO File | Insert a CD into the disc drive of your computer. To mount an ISO file, first, choose the ISO file...Full steps |
| 3. Install Windows 8 on DVD | Put the Windows 8 Installation Disc into the DVD or Blu-ray reading device...Full steps |
| 4. Recover Lost Data Windows 8 | Launch EaseUS Data Recovery Wizard on your Windows 11, Windows 10, Windows 8...Full steps |
Best of all, Windows 8.1 pulls things together so that all your services and programs function smartly and synchronize with you. Here, we will show you how to Download Windows 8 ISO file for free. Let's get started!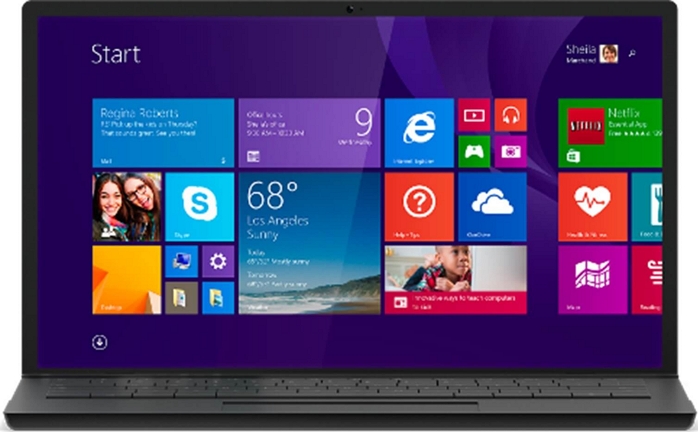 Besides, you can also learn about Windows 7 ISO download, Windows 10 ISO download, and Windows 10 free download with simple steps.
What Is the Windows 8 ISO File - Overview
With Windows 8.1, you'll be able to achieve new heights of efficiency, privacy, and mobility. One aspect of it is the ISO files in Windows 8 and 8.1 that contains disk images, particularly CDs and DVDs.
This usually comes in a ZIP file. Zip files may be opened and extracted using Windows' built-in zip reader. All of the files may be extracted using compression applications like WinRar. You will, however, lose information about the disk that was imaged if you attempt to extract data from an ISO image.
While any applications intended to write data to media can handle ISO files, the ISO file format was created specifically for use as an ISO image. CDBurnerXP is an excellent freeware option for this. An alternative to burning the ISO image on a DVD is to "mount" it, making it look like a physical disk on your computer.
How to Free Download Windows 8.1/8 ISO File (2 Ways)
There are two ways to get Windows 8 free version. One way is to download Windows ISO from an existing ISO image. The other way is to get Windows 8 ISO free with EaseUS Windows downloader. Check the methods below to get more details.
Method 1. Download Windows 8.1/8 ISO File 32-Bit/64-Bit for Free
The installation procedure is streamlined when installing Windows 8.1 from an ISO image. Here's how to download Windows 8 ISO for free.
Download Windows 8 ISO Here:
Before you begin, make a backup of crucial documents and information.
Having adequate free space (at least 20 GB) on your hard disk is also critical.
Step 1. If you already have Windows 8 and did not get the RTM ISO image from the Windows Store, you may install Windows 8.1 by mounting the downloaded ISO image in Explorer.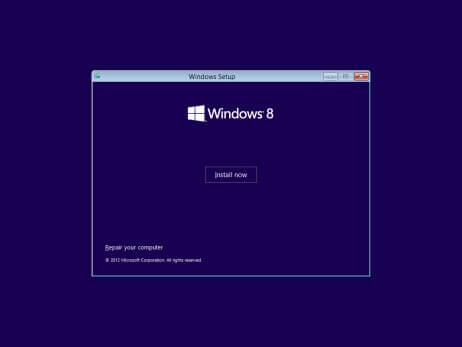 Step 2. To begin the installation process, double-click it.
Step 3. If you use Windows 7 Activation, XP, or Vista, burn the ISO image to a USB flash drive or DVD, or use a third-party virtual drive tool.
Step 4. If you already have Windows 8 and are awaiting the official release date, downloading Windows 8.1 Serial Key will take you to the Windows Store to obtain free updates.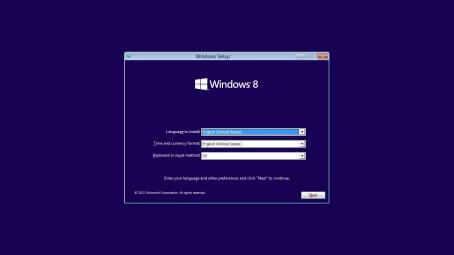 For more details, you can check this Windows 8.1 download video.
0:00 Intro
0:10 Download Windows 8.1/8
3:55 Downloading the ISO file
Method 2. Free Download Windows 8.1/8 ISO File with Windows Downloader
If you don't want to burn the ISO file, you can turn to a Windows downloader. EaseUS OS2Go is a stunning tool that can download Windows 11/10/8.1/8 ISO files as well as create bootable Windows USB drives. With this tool, you can simply get the Windows environment on your USB flash drive and run it on Windows or Mac devices. This ISO downloader has many highlights.
Download Windows 11/10/8.1/8 ISO files and create bootable media without burning to USB drives.
Migrate Windows 10 to SSD along with programs, backgrounds, games, etc.
Restore the cloned Windows operating system to a different computer anytime and anywhere.
Run Windows 11/10/8/7 on a computer without the booting issue.
Download this Windows ISO downloader and download Windows 8 full version.
Step 1. Install EaseUS OS2Go on your Windows computer. Plug in a USB drive or external hard drive that is large enough.
Step 2. Choose the third tab "Windows Install Drive Creator". First choose the Windows versions you want to install, EaseUS OS2Go supports creating Windows 11/10/8.1 installation media. You could also select a local ISO file. When all set, click "Create".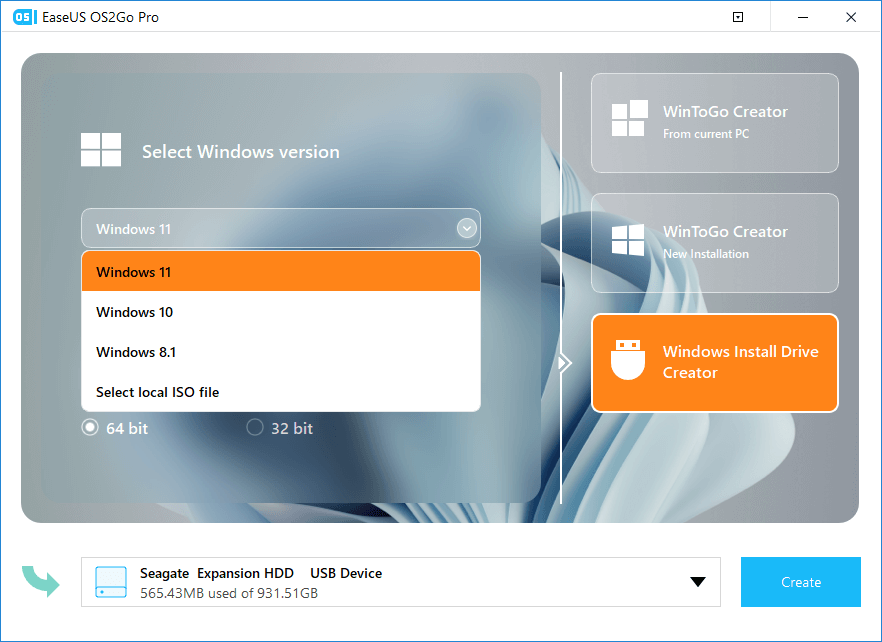 Step 3. Then you will see a safety warning message, telling you that all data on the selected disk will be deleted. Click "Continue" to proceed.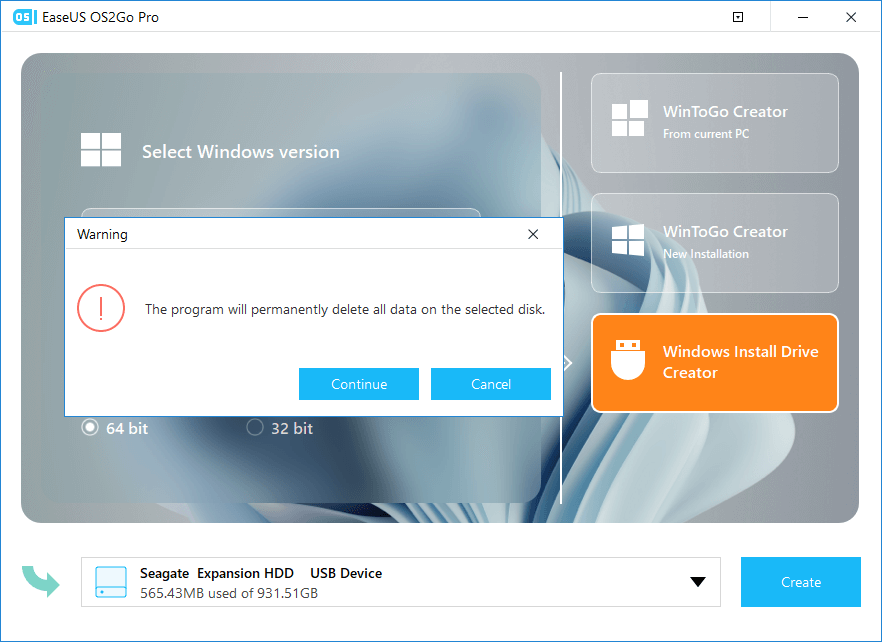 Step 4. Then EaseUS OS2Go will start to create the Windows Installation media. It usually takes a while to download a ISO file, the time it takes depend on your OS and Network condition. When the progress reaches 100%, the USB drive should be bootable now.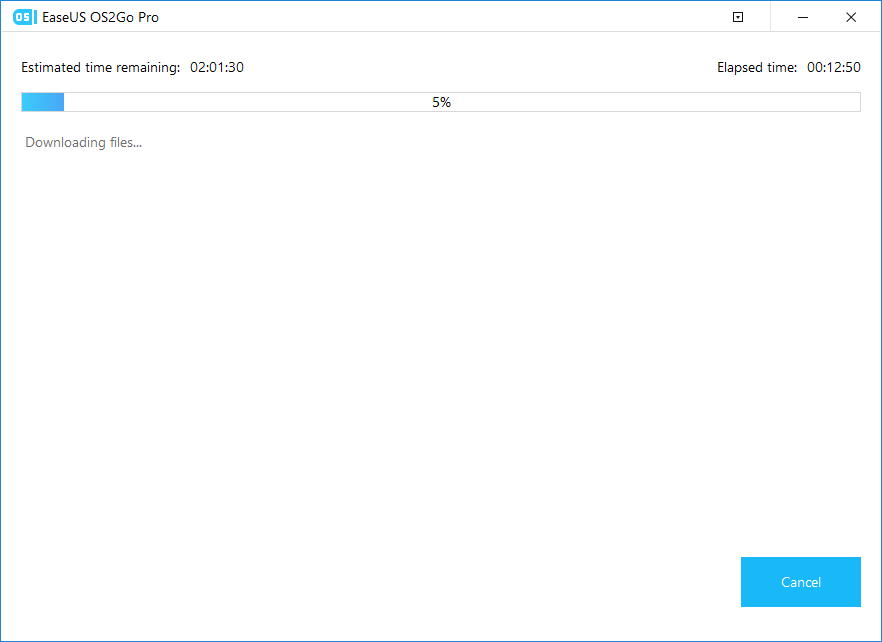 Step 5. Insert the Windows Installation media to your computer and start the installation process.
How to Burn Windows 8 ISO File to DVD
ISO files, also known as disc image files, are identical replicas of a disc containing the same information as the original disc. You are not just copying the data on a DVD when you burn an ISO file to a DVD; you are generating a perfect replica of the original disc, not just its files.
As long as the original is bootable and has any copyright protection, the clone will also be bootable and contain copyright protection. Keeping this in mind, the remainder of the procedure is how to burn a Windows ISO file to USB.
Step 1. Insert a CD into the disc drive of your computer.
Important Note: Make sure that the disc you choose is in the same format as the original. Don't attempt to do so if you want to burn a DVD image on a CD-R.
Step 2. To mount an ISO file, choose the ISO file in the File Explorer window, and then click on the "Disc Image Tools" tab at the top of the window.
Step 3. A burn may be found at the top-left corner of the screen.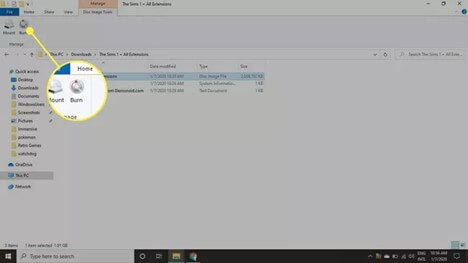 Step 4. Select your "disc burner" and click the "Burn" button.
Tip. After burning a disc, you can select "Verify disc" to ensure that no data have been corrupted. This will add a significant amount of time to the procedure.
Do You Need Help from Experts?
If you have problems burning ISO files of Windows 8, you can turn to experts. EaseUS provides you with professional manual data recovery services. Besides, experts can give you free suggestions to help burn Windows 8 ISO files. Contact our experts to get help now.
EaseUS Data Recovery Services
Click here to contact our experts for a free evaluation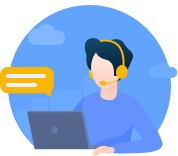 Consult with EaseUS Data Recovery Experts for one-on-one manual recovery service. We could offer the following services after FREE diagnosis:
Repair corrupted RAID structure, unbootable Windows OS and corrupted virtual disk file (.vmdk, .vhd, .vhdx, etc.)
Recover/repair lost partition and re-partitioned drive
Unformat hard drive and repair raw drive (BitLocker encrypted drive)
Fix disks that become GPT-protected partitions
Install Windows 8 from the Installation DVD
Once you have set up everything before installing the Windows 8 from DVD, follow all these steps to ensure you securely install the Windows 8 file on your operating system.
Step 1. Put the Windows 8 Installation Disc into the DVD or Blu-ray reading device, whether internal or external. Start your computer by pressing the power button.
Step 2. You may access the Boot Menu by pressing F12 on your keyboard while the computer is booting up.
Step 3. Once you've reached the Boot Menu, choose the DVD or Blu-ray reading device into which you've inserted the installation disc.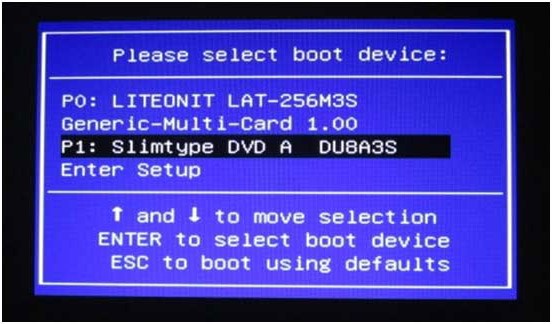 Step 4. When you notice "Reboot from the DVD or BD reading device", press any key on your keyboard to restart the device.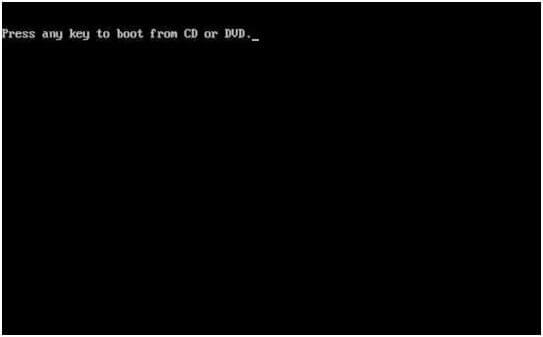 Step 5. Once this is done, you will be sent to the Windows 8 installation page. Follow the instructions based on your own experience.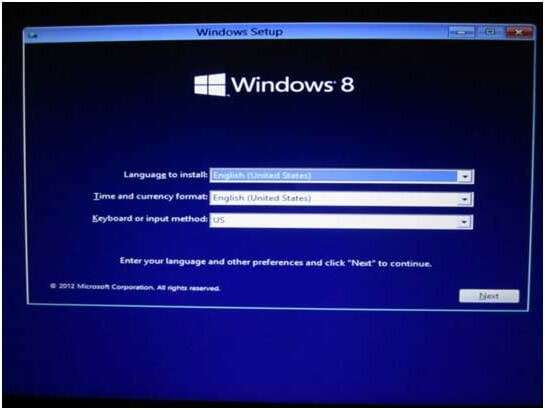 Step 6. To proceed, click on the "Install now" button.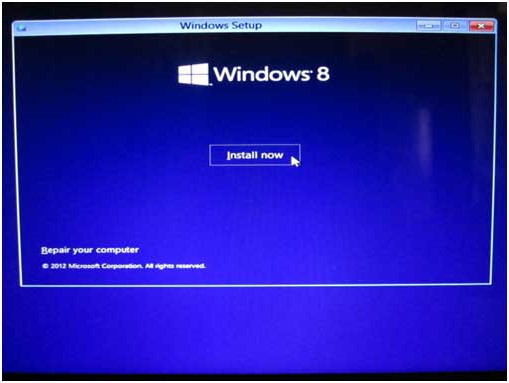 Step 7. To use Windows, you must enter the product key. You should be able to locate your product key in the disc packaging.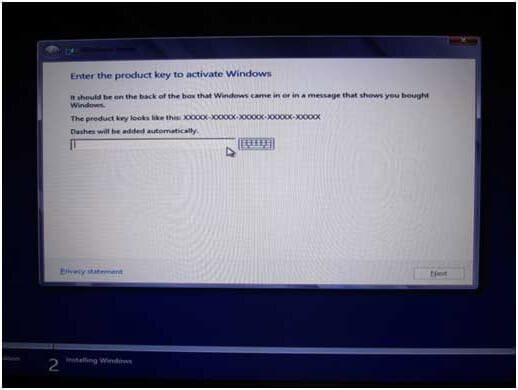 Step 8. Check the box next to "I accept the licensing conditions" and click "next."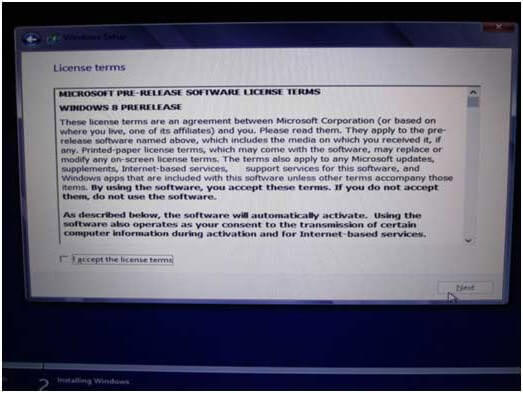 Step 9. Because this is a fresh installation, please choose "Custom" to proceed.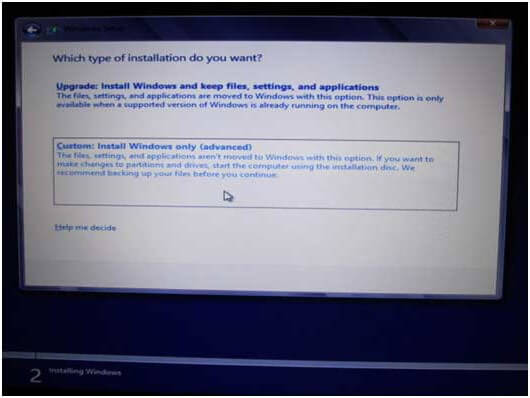 Step 10. To create a new partition with a given size, choose "New" from the drop-down menu. If this is the case, click "Next" to proceed.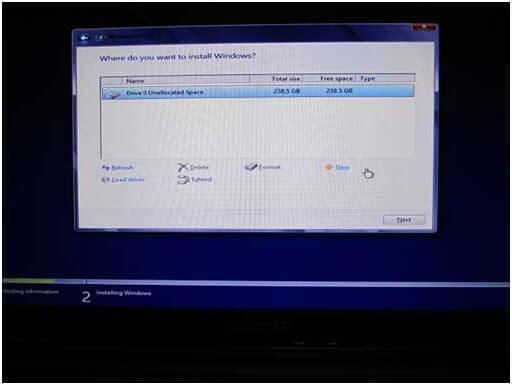 Step 11. If you wish to define the size of a new partition, select "New" and then enter the size of the partition in the "Partition Size" field before clicking "Apply".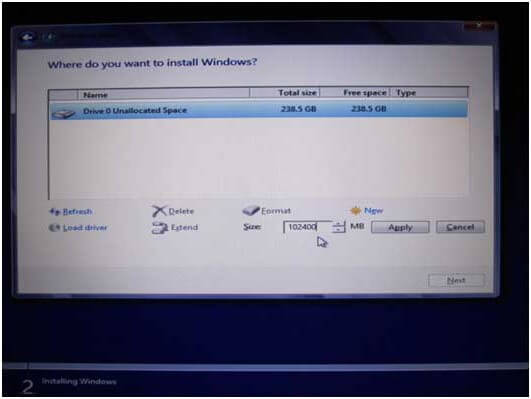 Step 12. Windows will set aside 350MB of space for system files on your computer. To continue, click on "OK".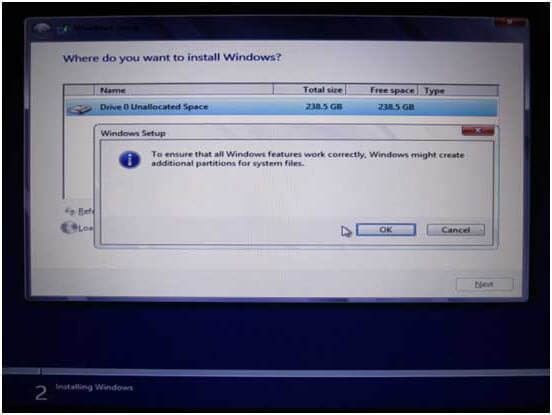 Step 13. The Disk 0 Partition 2 seen in this image is a freshly built partition on the hard drive.
Note: As soon as we provide a set amount of space in step 2.11, Windows will automatically allocate 350MB to be reserved for system purposes (and marked as Partition 1). As a result, the remaining space will be visible in Partition 2.
Step 14. If you utilize a Hard Disc Drive with a significant storage space, you may repeat the partition creation process for additional partitions.
Step 15. When the partitioning procedure is complete, choose the partition used for the Windows 8 installation and click "Next".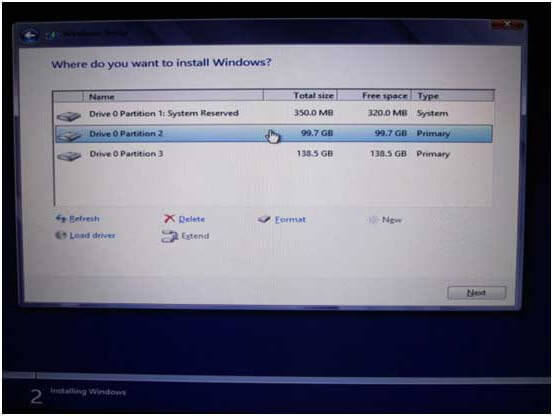 Recover Lost Data on Windows 8.1/8 After the Installation
Installation of new files or restoring old files always comes with many risks. Suppose customers experience Windows 8 data loss after installing the system and lose critical information. In that case, we suggest that they use the specialized free data recovery software to recover data recovery from Windows 11/10/8/7 quickly and effectively. EaseUS Data Recovery Wizard can easily recover data from hard disks, solid-state drives (SSDs), SD cards, flash drives, and USB drives.
It is also possible to recover data from RAW partitions that your computer's operating system does not recognize. One of the essential parts of this program is the pre-recovery preview, which may be modified to search for lost objects quickly or to scan storage sector-by-sector, depending on the circumstance. This feature lets you preview lost data before restoring it to its original state.
Possible to preview lost files before they are recovered.
The pre-recovery preview is one of the essential features of this procedure.
Retaining raw file systems (corrupted MBR or damaged partition table) is possible.
Follow the steps below to recover data from Windows 8.1/8.
Note: To guarantee a high data recovery chance, install EaseUS data recovery software on another disk instead of the original disk where you lost files. 
Step 1. Launch EaseUS Data Recovery Wizard on your Windows 11, Windows 10, Windows 8, or Windows 7 computer. Select the disk partition or storage location where you lost data and click "Scan".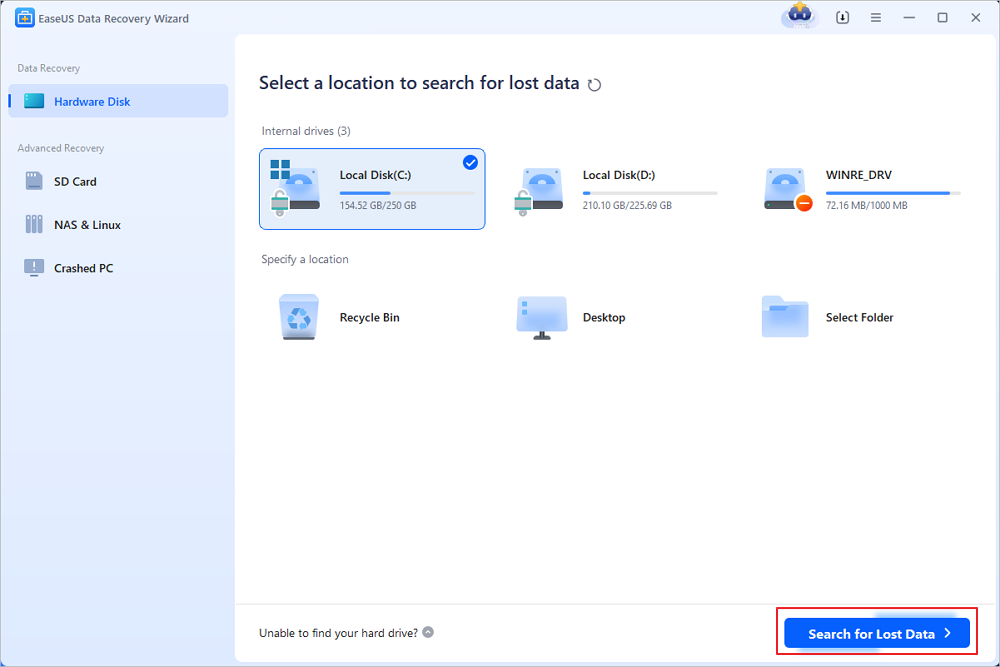 Step 2. This recovery software will start scanning the disk to find all lost and deleted files. When the scan process completes, click "Filter" > "Type" to specify lost file types.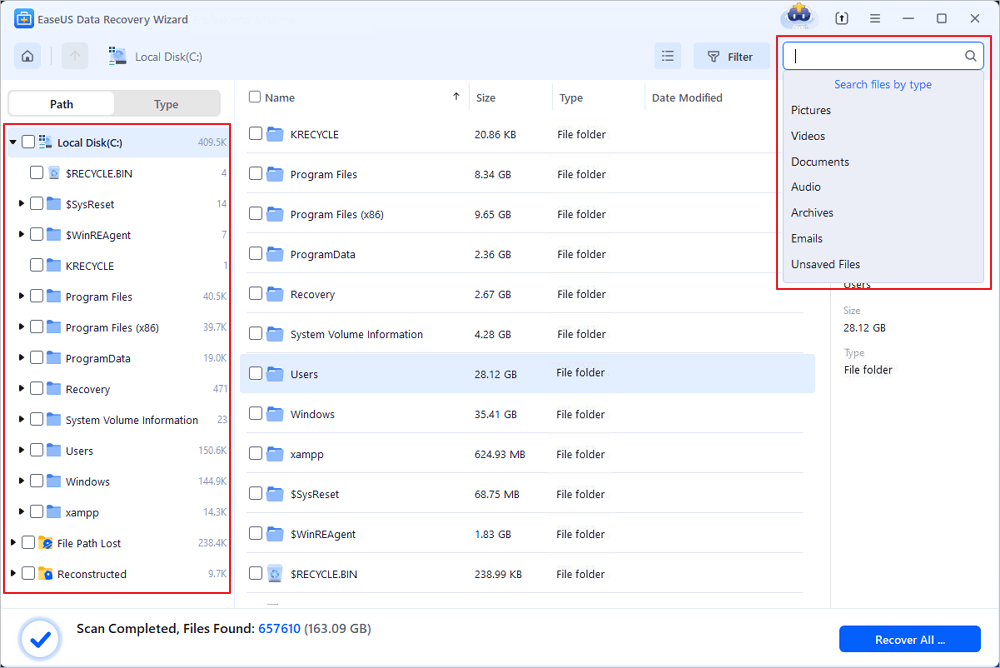 Step 3. Preview and restore lost Windows files. You can double-click to preview the scanned files. Then, select the target data and click the "Recover" button to save them to another safe spot in the PC or an external storage device.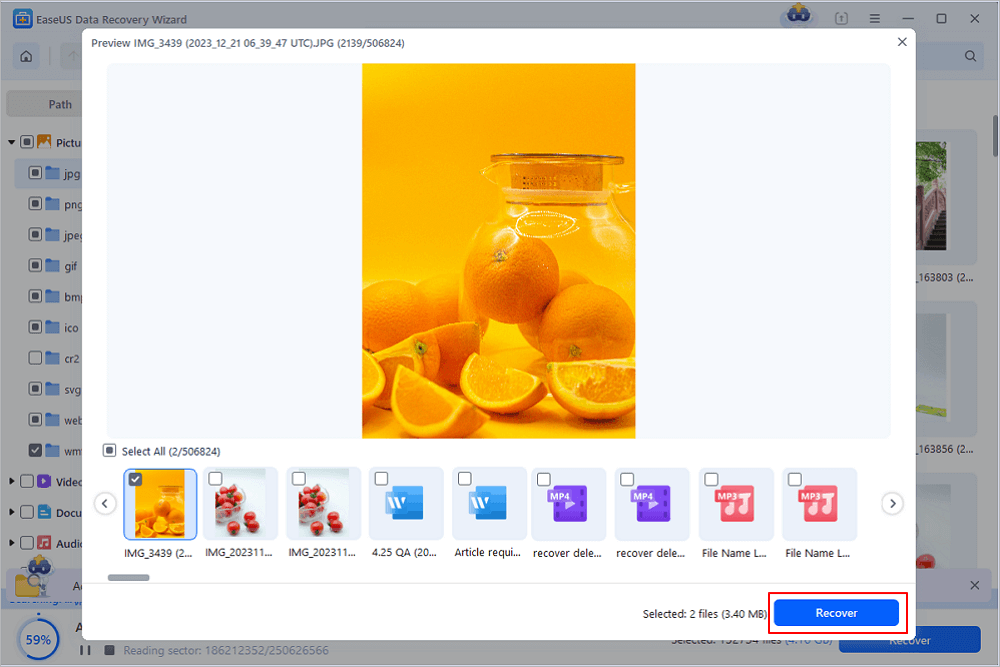 Conclusion
We hope you have learned everything you needed to know about how to download Windows 8 ISO file. You can download the file from multiple sources on the web. However, while installing windows, you may sometimes lose your important data. Thus, we recommend using EaseUS Data Recovery Wizard to recover deleted files. The software is highly efficient and easy to work with.
Windows 8 ISO Download FAQs
To get additional help, read the Windows 8 download FAQs below.
1. Can I download Windows 8.1 for free?
If your computer runs Windows 8, you can upgrade to Windows 8.1 for free. Once you've installed Windows 8.1, we recommend upgrading your computer to Windows 10, a free upgrade.
2. How to download Windows 11 ISO for free?
Step 1. Go to the Windows 11 ISO download page.
Step 2. Scroll down to find Download Windows 11 Disk Image (ISO).
Step 3. Click the drop-down arrow of Select Download and select Windows 11 (multi-edition ISO).
Verify your download and click 64-bit Download, and the Windows 11 ISO file download will start.
3. How long can I use Windows 8.1 without activation?
The installer requires you to enter a valid Windows 8 key before continuing with the installation.
However, the key isn't activated at install time, and the installation goes just fine without an Internet connection (or Microsoft).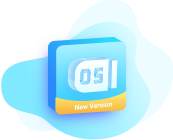 EaseUS OS2Go
Create portable Windows to USB
Copy installed Windows OS to USB
Clone Winodws OS drive to USB
Run Windows 11 on any PC
Run Windows 11 on unsupported PC
Run Windows 11/10 on a Mac
Download Now