App won't delete from Launchpad, how to fix?
"I have an app that I can't delete -- it is a program purchased from the App Store. Even though I have deleted the software from my Applications file, it still appears in my Launchpad. And dragging to the trash does not work, either. Do you guys have this problem? How can I delete software on Mac that won't delete?"
Uninstall Programs on Mac without third-party software
Uninstalling unused Mac applications is one of the ways that used frequently by users to deal with low disk space issue and speed up Mac computer. And it can be done from the Finder or Launchpad.
To Uninstall Programs from the Finder:
Open Finder, go to the "Applications" folder, drag the selected program you want to uninstall to the "Trash" folder, finally open "Trash" folder and select "Empty" option.
To Uninstall Programs from Launchpad:
Open Launchpad, hold down an app's icon until they start to jiggle, click on the delete button x.
Try EaseUS Mac CleanGenius when App won't delete from Launchpad
Both of these two ways are easy and only take simple steps. But, as you can see from the above case, sometimes, App won't delete from Launchpad or Finder due to unknown reasons. When you have run into a problem while uninstalling applications on Mac, how can you get the problem fixed? Here, an easy alternative solution is to try EaseUS Mac CleanGenius, a powerful and easy-to-use third-party Mac clean software. It can help you delete an app that won't move to the trash or cannot be deleted from Launchpad with no problems.
Step 1. Launch EaseUS CleanGenius and click on Uninstall under Tool;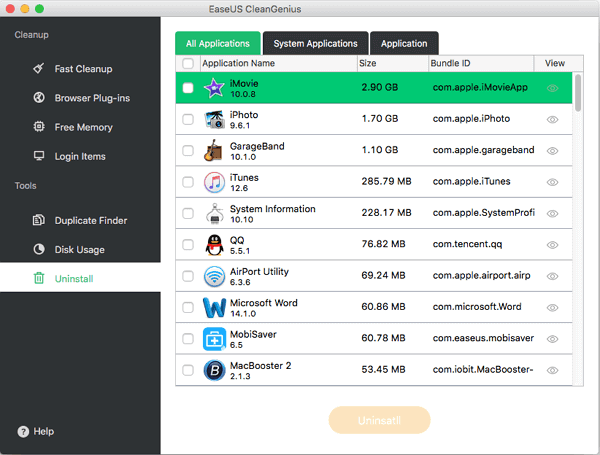 Step 2. Find and select applications or programs that you want to remove and click on Uninstall;
Selected application, software or program will be removed in seconds.