The MacBook Air family is a line of ultraportable Macintosh notebook computers created by Apple Inc.
The first-generation MacBook Air was a 13.3-only model, previously promoted as the World's Thinnest Notebook, introduced at the Macworld Conference & Expo on January 15, 2008. It featured a custom Intel Merom CPU and Intel GMA graphics. In late 2008, the CPU was updated to a faster, non-custom Penryn CPU and integrated Nvidia GeForce graphics while the hard drive capacity was increased and the micro-DVI video port was replaced by the Mini DisplayPort. A mid-2009 refresh, introduced alongside the MacBook Pro family, featured a slightly higher-capacity battery, and a faster Penryn CPU.
On October 20, 2010, Apple released a redesigned 13.3 model, with improved enclosure, screen resolution, battery, and flash storage instead of a hard drive. In addition, a new 11.6 model was introduced, offering reduced cost, weight, battery life, and performance relative to the 13.3 model, but better performance than typical netbooks of the time.
On July 20, 2011, Apple released an updated model in the same form factor as the prior model. The new model was powered by new dual-core Intel Core i5 and i7 processors, had a backlit keyboard, Thunderbolt instead of Mini DisplayPort and Bluetooth was upgraded to v4.0. Maximum flash storage and memory options were almost identical.
Although Mac OS X is generally considered to be faster, smoother and simpler than Windows OS, it still requires the occasional maintenance to keep it running at top performance. Files and applications will take up disk space, which will eventually cause your computer to run slower and slower. Basically, the more space you use up on your hard drive, the slower it will run. Once a Mac OS X hard drive is near capacity, it needs to be cleaned up. 
Some tips for Macbook cleanup
1. Go through your application folder, removing all unused applications.
2. Remove all localization files not used for your language, this can free up to 2GB of space.
3. Open iPhoto and delete photos you no longer need. iPhoto has its own application trash so remember to empty that.
4. Open iTunes and delete all of the music and podcasts you no longer need.
5. Go through your Documents, Movies, and Pictures folder, deleting any junk you no longer use.
6. Clear out old email messages in Mail or other email program.
7. Go to ~/Library/Caches/, and delete anything you see from applications you no longer have installed. Repeat the process in ~/Library/Preferences/.
8. Go to ~/Library/Safari/, and delete the "Icons" folder. 
9. If you don't need it, remove the Xcode installer, located in /Applications/Installers/.
10. Remove unnecessary iChat icons from ~/Pictures/iChat Icons/.
Once you have done everything on the list, you should have a nice, clean hard drive, with plenty of free space. However, it is time-consuming job and hard to operate by yourself. With the help of Mac cleanup software, everything is easy.
Useful Mac cleaner software
EaseUS CleanGenius offers a free and easy way to clean the caches, logs, system junk files, Safari Internet cache and more just by one click for Mac OS X 10.7 or later. It thus offers an easy way to keep your Mac clean and healthy and lets it run smoother and faster. All types of Mac machine are supported like Mac Mini, Macbook Air, Macbook Pro, iMac, Mac Pro.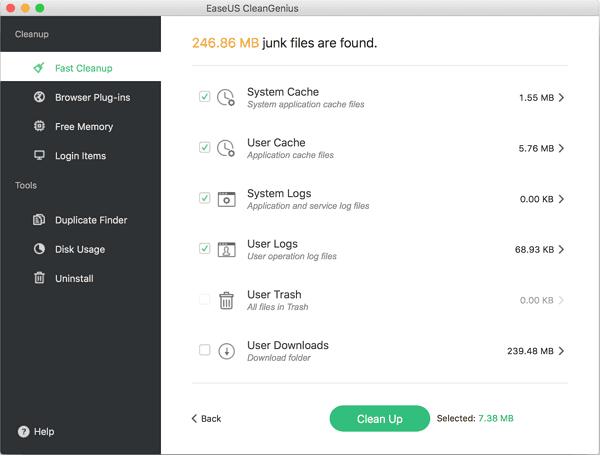 Clean up Mac fast: You can free more space on your Mac disk keeping your Mac healthy at all times. With a simple click from the utility, all junk files (System Caches, User Caches, System Logs, User Logs, User Downloads, Trash, Safari Internet Cache and more) will be removed in just a matter of seconds.
Monitor disk space: It will show you the disk space available and will alert you in advance if the disk space is already running low. You can clean or move files to free up disk space to ensure that your Mac is running smoothly.
Disk Ejector: Using this one will allow you to eject the mounted drives, such as external storage disks, CD and DVD disks, SuperDrive, network storage and disk images.
Browser Plug-ins Cleanup: Support to clean up and remove browsers such as Safari, Chrome or Firefox plugins, cache, and cookies. Your browsing histories, bookmarks and downloaded files won't be cleaned.
Mac Uninstaller: "Uninstall Applications" safely and completely remove applications and their components, preferences, log files, etc.    Select an application, just one click, the application and its additional components will be removed.
Duplicates Finder: Duplicate files have the identical contents and waste the precious disk space. CleanGenius can easily find and remove duplicate files to reclaim the wasted disk space.
Disk Usage: Visualize the size of your files & folders and remove the unwanted large files to free up more disk space.
Free Memory: When the free memory of your Mac is insufficient, you can easily use CleanGenius to free memory and speed up your Mac for better performance.
Set Login Items: Unneeded applications may auto run every time when you start Mac. This will reduce your Mac performance. If you don't want an application to start every time you launch your Mac, just open CleanGenius and disable the startup items you find annoying.
It also provides app uninstaller to completely remove applications and their associated files. When you drag some applications to the Trash bin, they leave behind settings and other files that still take up precious space on your hard drive, even if some files slow down your Macbook. That is why to use the specialized tool to uninstall applications completely.