Apple's Mac computers are known for being fast and user-friendly, which makes it easy to stock your Mac hard drive full of photos, music, videos, documents and random files. While Macs don't have a reputation for crashing, they do have a reputation for getting sluggish when overloaded. To clean the Apple Mac hard drive is indeed necessary. There are some tips to clean up your Mac.
Tips to clean up your Mac
Empty your Trash
The most basic thing is to empty your Trash regularly. Unless you're unsure of whether you may need a deleted file later, there's no reason to have a Trash brimming with files. But this is not the only trash you need to empty. Empty the trash in iPhoto, iMovie, and Mail too.
Remove applications you don't use
Your Apple Mac comes with a lot of commercial applications on a trial basis (like Microsoft Office, FileMaker etc.). If you know that you're not going to use those applications, clean up them! Open your Applications folder (with command-shift-A in Finder), drag unused applications to the Trash and then empty the Trash.
Remove disk images from downloaded files
Whenever you download applications to install, delete the disk image (.dmg) files.
Clean web browser caches
To improve performance, all web browsers store downloaded pages and files in a cache so that they can reuse those files (instead of re-downloading them) if you visit those same pages again. Cleaning the cache could provide some free space. Although cleaning the cache for security reasons is a good thing, it reflects very poorly on your disk space management skills if you have to do it to save space! Cleaning the browser cache can be done in your web browser's Preferences window (command-,).
Remove disk space hogs
Delete data that you don't need, or move them to an external hard disk, CDs or DVDs.
Run maintenance utilities
Free system maintenance utilities like EaseUS CleanGenius can help clean up Mac temporary files, system caches and logs. This should also be considered more as a maintenance task than a disk space saving the task.  EaseUS CleanGenius is a powerful and easy-to-use cleanup software for Apple Mac users, making your Apple Mac system run faster and free up hard drive space by cleaning up the System Caches, User Caches, System Logs, User Logs, User Downloads, Trash, and Safari Internet Cache, etc. CleanGenius allows enjoying smooth & better system performance with such vital features as Clean up System junk, Clean Caches, Free Space Monitor, Quick Browse Device Files, and so on. All the operations are done within minutes and with less system resource being occupied during the whole process. With EaseUS CleanGenius, you can manage routine tasks and keep your Mac clean, efficient in the simplest way.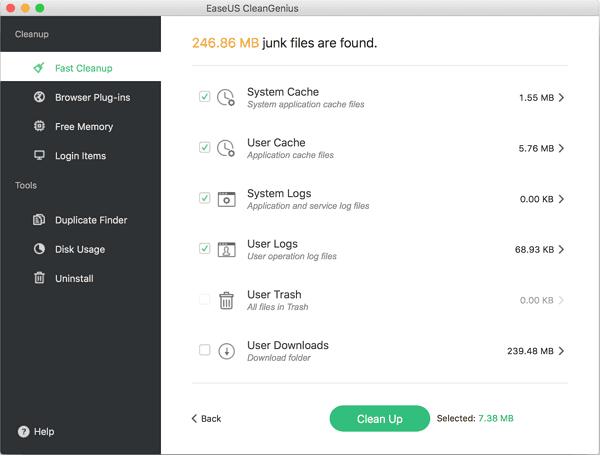 Highlighted features of EaseUS CleanGenius
Clean up Mac fast: You can free more space on your Mac disk keeping your Mac healthy at all times. With a simple click from the utility, all junk files (System Caches, User Caches, System Logs, User Logs, User Downloads, Trash, Safari Internet Cache and more) will be removed in just a matter of seconds.
Monitor disk space: It will show you the disk space available and will alert you in advance if the disk space is already running low. You can clean or move files to free up disk space to ensure that your Mac is running smoothly.
Disk Ejector: Using this one will allow you to eject the mounted drives, such as external storage disks, CD and DVD disks, SuperDrive, network storage and disk images.
Browser Plug-ins Cleanup: Support to clean up and remove browsers such as Safari, Chrome or Firefox plugins, cache, and cookies. Your browsing histories, bookmarks and downloaded files won't be cleaned.
Mac Uninstaller: "Uninstall Applications" safely and completely remove applications and their components, preferences, log files, etc.    Select an application, just one click, the application and its additional components will be removed.
Duplicates Finder: Duplicate files have the identical contents and waste the precious disk space. CleanGenius can easily find and remove duplicate files to reclaim the wasted disk space.
Disk Usage: Visualize the size of your files & folders and remove the unwanted large files to free up more disk space.
Free Memory: When the free memory of your Mac is insufficient, you can easily use CleanGenius to free memory and speed up your Mac for better performance.
Set Login Items: Unneeded applications may auto run every time when you start Mac. This will reduce your Mac performance. If you don't want an application to start every time you launch your Mac, just open CleanGenius and disable the startup items you find annoying.