Mac OS X Lion (version 10.7; marketed as OS X Lion) is the eighth and current major release of Mac OS X, Apple's desktop and server operating system for Macintosh computers.
A preview of Lion was publicly unveiled at Apple's "Back to the Mac" event on October 20, 2010. It brings many developments made in Apple's iOS, such as an easily navigable display of installed applications, to the Mac, and includes support for the Mac App Store. On February 24, 2011, the first developer's preview of Lion was released to subscribers of Apple's developers program. Other developer previews were subsequently released, with Lion Preview 4 being released at WWDC 2011.
Lion achieved golden master status on July 1, 2011, followed by its final release via the Mac App Store on July 20, 2011. Apple reported over 1 million Lion sales on the first day of its release. As of October 2011, Mac OS X Lion has sold over 6 million copies worldwide.
Like PC, Mac also needs regular cleanup. The purpose of course is to make our Mac work smoothly and efficiently. Windows users have it very easy because they have Ccleaner. For those who are very familiar of Ccleaner, it's a free utility software that clears all unnecessary junk files to free up hard disk space, especially cache files or temporary internet files. These types of files literally take over your disk space so they need to be disposed, and that is what Ccleaner is for. Luckily, Mac users can use free Mac cleaner - EaseUS CleanGenius to clean your Mac junk files and free up disk space to boost the Mac's speed and improve its system performance.
Mac cleaner software - EaseUS CleanGenius
EaseUS CleanGenius is a free Mac cleaner software for Mac OS X 10.7 and later. All types of Mac machine are supported like Mac Mini, Macbook Air, Macbook Pro, iMac, Mac Pro. It provides the following features:
Fast clean: EaseUS CleanGenius offers an easy way to clean the system caches, system logs, user logs, user caches, system junk files, user downloads folder, trash, Safari internet cache and more just by one click. It thus offers an easy way to keep your Mac clean and healthy and lets it run smoother and faster.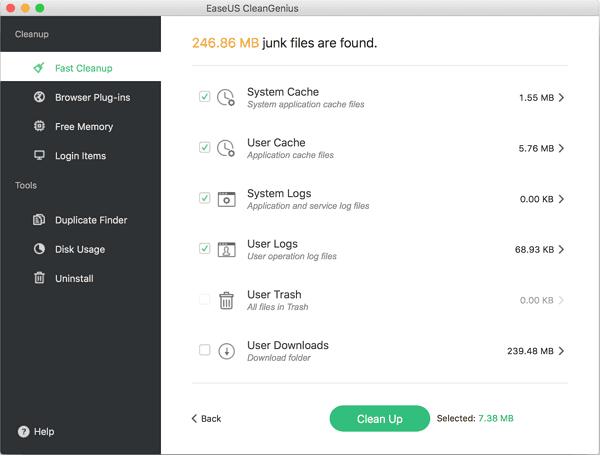 App uninstall: EaseUS CleanGenius also offers applications uninstall. When you drag an application to the Trash, its preferences, cache and log files still remain on your drive and waste valuable disk space. With EaseUS CleanGenius, you can completely remove applications and their associated files.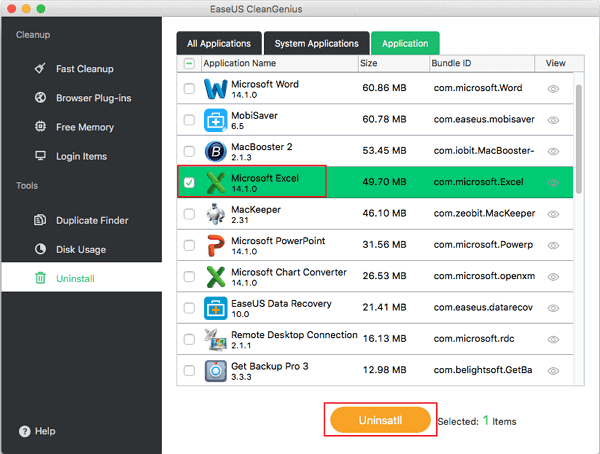 Disk space monitor: Show disk space and warn you when disk space is running low so that you can clean your Mac in time to free up more dissk space.
Disk ejector: Safely eject your mounted drives, such as external storage disks, CD and DVD disks, SuperDrive, network storage, disk images.
Browser Plug-ins Cleanup: Support to clean up and remove browsers such as Safari, Chrome or Firefox plug-ins, cache and cookies. Your browsing histories, bookmarks and downloaded files won't be cleaned.