Apple has been the talk of the town always. While Apple devices are known for their software optimization, better speed, and processing, durability is some of the most desirable features. Using the Apple M1 chip in its Mac devices from 2021 onwards, improved battery backup and advanced features have added to its benefits. Now, it's up with the M2 chip, and it's now mired in controversy due to its top-notch build and all the desired features. If you want to know about Apple M2 Chip Release Date, New Features, and Performance, then we have covered you all!
Apple M2 Chip - Release Date, New Feature, Specs, and Everything
Apple recently came out with its M2 chip offering something better than its initial Apple Silicon. We did not fail to review it. 
We have mentioned below the new chip's Release Date, Features, Specifications, and more! The information includes:
What Is Apple M2 Chip? 
In 2021, Apple switched from an Intel processor to its own Apple Silicon. The first chip was the Apple 2021, which is much more advanced than Intel and, most importantly, offers a better battery backup. The M2 promises a better CPU and GPU and is exclusively for Mac devices. Talking about figures, the M2's CPU is 18% more powerful, while its GPU is 35% better than the Apple M1.
Apple M2 Chip Release Date and Configurations
It was during Apple's WWDC event in 2022 that it announced the release of the Apple M2 chip. However, the company would not sell it individually. Instead, you will get the chip in two of its products at the beginning. MacBook Air 2022 and MacBook Pro 13-inch 2022 will have the new Apple M2 chip. The M2 Chip has three configurations- 8GB, 16GB, and 24GB.
Apple M2 Chip: New Features and Improvements 
There are several incredible features in the Apple M2 chip and improvements to the M1. 
Below mentioned is a list of the same:
Improved Unified Memory
The Apple M2 chip comes with a fast memory of 24 GB. Besides, developers have engineered it with improved second-gen 5nm technology. Apart from that, it contains 20 billion transistors. This, in turn, provides a Unified Memory Bandwidth of 100 GB/s and incorporates a memory controller. In short, it is 50 times better than M1. It is the perfect choice for multitasking and handling all your complex tasks.
Faster Performance
Be it creating music layers or applying much-advanced-level graphics. The M2 chip can handle it easily. The CPU of the Apple M2 is two times more robust than a 10-core laptop. Besides, its processor is less noisy and installed on lightweight devices yet offers the same efficiency. Moreover, it provides the same performance as that a desktop computer.
Faster Processing
The Apple M2 chip includes a Neural Engine. Due to this, it can handle operations 40% better. The chip processes around 15.8 trillion operations/second. 
Enhanced Playback
The Apple M2 chip contains a ProRes engine. Thus, it can provide multiple streaming of 4k and 8k with powerful playback. 
Sharper and Market Clear Graphics
Including a new Image Signal Processor provides better image noise reduction and, thus, sharper and clearer graphics.
Apple M2 Chip: Specs & Price
The all-new Apple M2 chip has 8 cores (4 performance and 4 power efficient) and consumes 20 watts of power. With 2424 to 3480 MHz clock speed, 2 MB level 1 cache, and 20 MB level 2 cache, it has 20 billion transistors. The SoC is designed with 5 nm manufacturing technology and has an Apple M2 10-Core GPU ( - 1398 MHz). It offers 64 Bit support and contains ARMv8 Instruction Set.  
All of it makes the Apple M2 chip worth a steal deal. If the chip's specifications have impressed you, you can buy the MacBook Air 2022 or MacBook Pro 13 inch, both of which contain the second-generation Apple chip. You can bag them at $1,199 and $1,299, respectively. Though it's more costly than the M1 chip hardware, its functionality is also improved, making it worth every penny spent.
Macs With M2 Chip
Apple has never failed to impress users with its devices. For sure, the M2 chip is also a part of this fraternity. Thus, Macs With M2 Chip will work better. 
Let's take a sneak peek at the details of the M2 chip. 
| Details | Information |
| --- | --- |
| Release Date | 6 June 2022 |
| Configuration | 8GB, 16GB, 24GB Unified Memory  |
| Features and Improvements  | Improved Unified Memory Robust PerformanceFaster Processing Enhanced Playback Finer and more Detailed Graphics |
| Specifications | 8 cores (4 performance, 4 power efficient) Consumes 20 watts of power 2424 to 3480 MHz clock speed 2MB L1 cache, 20 MB L2 cache 20 billion transistors Apple M2 10-Core GPU ( - 1398 MHz) |
| Price | $1,199 (MacBook Air 2022) $1,299 (MacBook Pro 13-inch) |
Apple M1 vs. M2 Chip: How to Choose?
Though the M2 chip is an improved version of the M1, both are suitably perfect. While the M1 also being an Apple Silicon that shares sine similarities with M2, its noteworthy to figure out the differences. Thus, you can choose one for your purpose! The differences are:
Fabrication Process and Transistors
Apple has geared up for TSMC's latest chip technology to meet users' needs. They were complying with the same they had designed the M1 chip with a 5nm fabrication process. Similarly, the M2 chip also contains the TSMC chip, designed with second-gen 5nm technology. The M1 is similar to A14 Bionic, while the M2 is similar to A15 Bionic. 
Therefore, the second-gen TSMC technology of M2 is far better and an improved version of the TMSC first-gen technology of the M1 chip. Moreover, the Apple M2 chip has more than four billion more transistors than the M1 chip. With a total of 20 billion transistors, the M2 chip is 25% more powerful and efficient than the M1.
M1vs M2 CPU
Though M1 and M2 chips have 4+4 cores, their cores vary. The M1 contains the A14 Bionic chip's Icestorm and Firestorm cores, while the M2 has A15 Bionic's Blizzard and Avalanche cores. Thus, regarding CPU, the N2 delivers much more multithreaded performance than Apple's M1.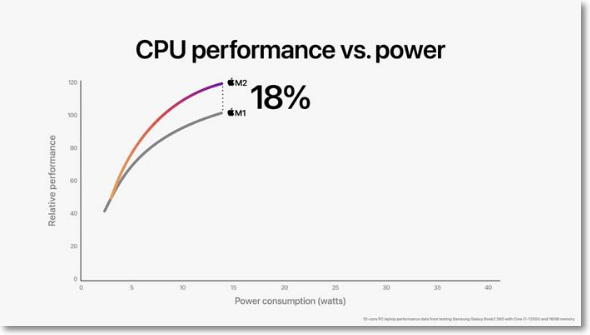 Regarding the processor, M1 operates at 3.2 GHz, while M2 functions at 3.49 GHz. Geekbenchmarks had given a 1.70y single-core score to the M1 chip, while they had given a 1919 single-core score to the all-new M2. Though the difference doesn't sound too sharp, it makes the Apple M2 12% faster than the Apple M1. Apple had earlier regarded the M2 as 18 times faster than the M1. It's apparent from its 8,928 multi-core score, while the same for M1 is 7419.
While comparing the high performance, both share many similarities and have a bit of difference too. Both are high-performance cores of 128KB L1 data cache and 192KB instruction cache. Even their energy-efficient cores have 128KB of L1 instruction cache, 4MB of L2 cache, and 64KB of the L1 data cache. However, M2's shared L2 cache has 16MB of memory, while that of M1 is 12MB.
M1vs M2 GPU
As per Apple's official statements, the M2's graphics perform 35% better. The best part is that M2 provides this performance with some amount of power M1 takes. Apple M2's GPU includes two additional cores than Apple M1. Thus, the M2 GPU enhances graphics and performance more than the M1 while consuming the same power.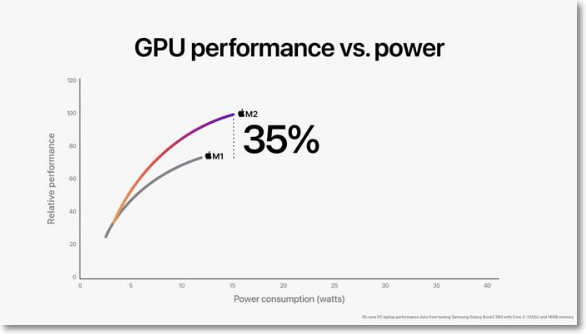 Media Engine
M2, as well as M1, have robust video encode and decode media engines. These are suitable for H.264 and HEVC hardware. However, M2 nails in Video engines. It is because M2 works better with ProRes and ProRes RAW. Apple M2 has a better bandwidth video decoder that supports H.264 and HEVC videos. Thus, M2 allows playback of multi streams of 4k and 8k video.
Unified Memory
Both Apple M1 and M2 have several variants. Apple M1's came in two configurations, one with an 8GB unified memory and the other with a 16GB suitable memory. However, the M2 chip has not only these two configurations but also a 24 GB Unified Memory configuration. Besides, the Apple M2 offers 100GB; per second of Unified Memory, whereas the M1 has a 68.25 GB per second memory bandwidth. The M2 has better-unified memory bandwidth as it has a better memory controller. 
Be its the fabrication process, transistors, CPU, GPU, Media Engine, or Unified Memory, M2 offers more than M1. However, it cannot be ignored that the two share some similarities also! Apple M2 is recommended if you have to work on complex tasks, carry out heavy multitasking or if you work for graphics, then you can go for M2. Otherwise, an M1 will also work aptly for you!
FAQs About Apple M2 Chip
To get additional help for the Apple M2 chip, read the questions and answers below.
1. What does the Apple M2 chip do?
A.1. Considering a faster CPU, robust GPU, and a fast Neural engine, the Macs with M2 chip provide improved performance. 
2. Is Apple M1 or M2 chip better?
A.2. M2 chip is not a necessity for casual use. However, its Media Engine makes it an ideal choice for all professionals!
3. Why is the M2 chip so good?
A.3. The M2 chip is good because of its high-performing CPU and GPU. Further, it delivers 2.5 times faster performance than that of a ten-core laptop.
The Final Verdict
M2 delivers 35% much better performance than the Apple M1. Further, it will also ensure 3.6 teraflops of performance in terms of graphics. Also, its Media Engine, Configuration, CPU, GPU, and Transistors are somewhat more impressive than M1. 
Though the price is high, if you have a reasonable budget and it's your professional need, you can go ahead. But going for a higher price with nearly the same features remains a choice for non-professionals. Further, if you are a professional with complex work needs, you must check out M2!