User data is fundamental these days, and managing user data is one of the most critical requirements in the current world. Data analysis and management have been a developing field in recent times, where many protocols and services are implementing the concept in their operations. Microsoft Identity Manager is one tool designed for such purposes on Windows devices, which will be explained and presented in the article. Let's look ahead to learn more about MIM and its functionality.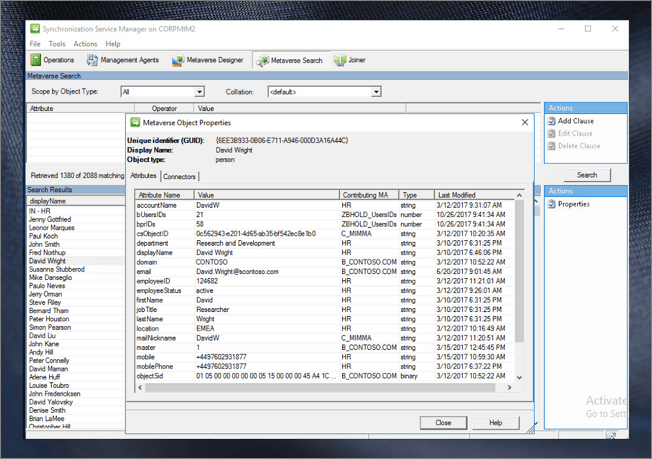 Overview of Microsoft Identity Manager
Known for its server-based synchronization services, Microsoft Identity Manager, also called MIM 16, synchronizes the users' digital identity data among systems. As it is an on-premises tool, it provides organizations with the ability to manage access, policies, and credentials. It succeeded the Microsoft Forefront Identity Manager 2012, with the motive of providing enterprise-level security.
MIM is majorly designed for advanced system administrators that are working on the organization of industrial-level identity management responsibilities. It is very flexible with things it can connect to, which includes active and other directories, including Active Directory (AD), HR systems, ERP and email systems, and much more. While synchronizing identity data between systems, MIM comes with a few options for portals and reporting, which have been taken over by other implementations.
Features of Microsoft Identity Manager
There are different components involving the Microsoft Identity Manager, as stated above. These components are utilized to ensure identity-related tasks. Along with that, these components mark multiple features and functions of this tool that is used industrially in the market. In this section, we will be highlighting some of the prominent features of the MIM that it can do:
1. Identity Management with Privileges: It can be used for restricting privileged access and setting a temporary access system for users that can have a few administrative capabilities. Administrators conveniently benefit from this feature, where the chances of hacking and malicious attack are minimized, with restrictive accessibility.
2. Management of Policies: With the help of MIM, you can enable the use of authentication techniques, authorization models, and codeless accessibility combined with an admin portal offered on SharePoint.
3. Access Control: With defined roles in accessibility, MIM can be implemented in an enterprise system along with other minor functionalities, including certificate management and reporting.
4. Management of Groups: This feature includes manual, manager-based, or dynamic groups. Microsoft Identity Manager features the option of introducing self-service workflows along with requests and approvals.
5. Management of Credentials: A complete ecosystem designed for maintaining credentials under self-service and multi-factor authentication systems, accommodated with the synchronization of the passwords.
Deployment of Microsoft Identity Manager
If you seek to deploy the Microsoft Identity Manager in your system environment, there is a simple procedure that you may follow. Let's look ahead to how you can deploy MIM with ease:
Step 1. Initiate the preparation of the domain. MIM operates with Active Directory (AD); thus, you can either configure the AD domain controller with the "Domain Setup" or consider the "Domain Setup for Group Managed Service Accounts."
Step 2. As you are done setting up the domain, you will have to lead into the preparation of the identity management servers. Here, you are bound to set up servers such as Windows Server, SQL server, and SharePoint server.
Step 3. You can then proceed with installing the MIM components and their synchronization with the Active Directory, which completes the deployment of the Microsoft Identity Manager.
FAQs
1. Is MIM deprecated?
Microsoft Identity Manager or MIM is available in extended support, which will last until early 2029. Its mainstream support ended in January 2021, which is equivalent to the fact that Microsoft is not actively developing MIM anymore. Different services and portals of the MIM are deprecated and will continue to do so.
2. What is replacing Microsoft MIM?
It is reported that the Microsoft MIM will be wholly replaced by Microsoft Cloud Functionality, also known as Azure AD.
3. Is Microsoft Identity Manager free?
Microsoft Identity Manager is free with a Microsoft Azure license, as it is deprecated and has lost mainstream support.
4. What is the latest version of MIM?
The latest released version of MIM is Version 4.6.607.0, which was introduced in status by February 10, 2022.