Windows 10 Password Recovery Tool [Free & Paid]
| Workable Solutions | Step-by-step Troubleshooting |
| --- | --- |
| 1. PassFab 4WinKey  | Step 1: You need to download, install, and buy the PassFab 4WinKey. Open this tool while the USB ...Full steps |
| 2. Ophcrack  | Step 1: As you've forgotten the password, the first step would be carried out on a different PC ...Full steps |
| 3. Windows Password Reset Disk  | Step 1: Log into your Windows 10 PC using the local account to make a password reset disk...Full steps |
| 4. Windows Password Reset Standard  | Step 1: Download and install Windows Password Reset Standard on your Windows 10 PC...Full steps |
| Extra Tip: EaseUS Key Finder  | Step 1. Click the "Windows" tab under the Registry Key; Step 2. Check the Windows product key...Full steps |
How Do I Log into Windows 10 if I Forgot My Password?
Have you forgotten your Windows 10 password? Then, you can't install any software on your PC! And the worst case? Sometimes you won't use your computer! But with the help of the windows 10 password recovery tool, you can log into your system quickly. 
Understandably, mishaps happen, and people forget their system's passwords. As you have been facing the same issue with the windows 10 administrator password, recovering it will be helpful! However, Microsoft doesn't make the process hassle-free, but this article contains the best windows 10 password recovery tools to ease the recovery process. 
So, these are the top 4 windows password reset tools to help you solve the problem. Let's get started!
Is There a Free Windows Password Reset Tool?
Are you wondering about the password recovery tools and if those will be paid or free? The top 4 windows 10 password recovery tools are listed below for your convenience, which will help you reset your Microsoft password. Some are free, and others might charge a few dollars to help you reset your Windows password. 
1. PassFab 4WinKey 
What is PassFab 4WinKey?
PassFab 4WinKey is broadly used, quick, and supports every Windows version. This windows 10 password recovery tool helps crack Windows passwords by using the best decryption codes. Also, it's an ideal tool for those who have just started. PassFab 4WinKey has 4 different versions with distinct prices and specifications. 
However, the pricing is given below:
Standard at $19.95
Professional at $29.95
Enterprise at $39.94
Ultimate at $69.95
How to use PassFab 4WinKey?
To use PassFab 4WinKey, you can either boot a CD/DVD or a USB to use that windows 10 password recovery tool. Therefore, with these 8 hassle-free steps, you can retrieve access to your PC.
Step 1: You need to download, install, and buy the PassFab 4WinKey. Open this tool while the USB is linked to the PC. Remember, you can only select CD/DVD if you're using its Standard version. So, choose USB Flash Drive instead.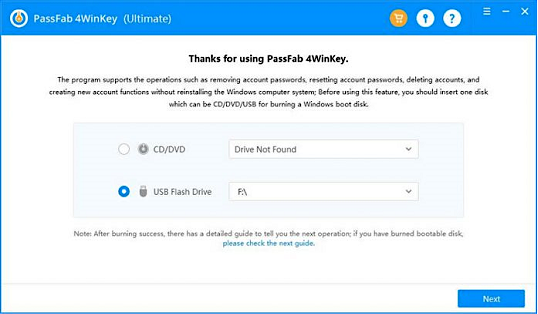 Step 2: After choosing the boot media, hit "Burn" to kickstart the burning procedure. This tool will warn you about the formatting of the USB Flash Drive, and all the data will be eliminated. Select the "Next" option.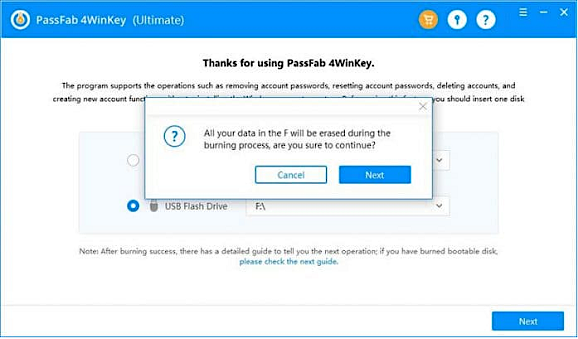 Step 3: This tool will initiate burning the USB drive asap. You need to wait until the burning process is done.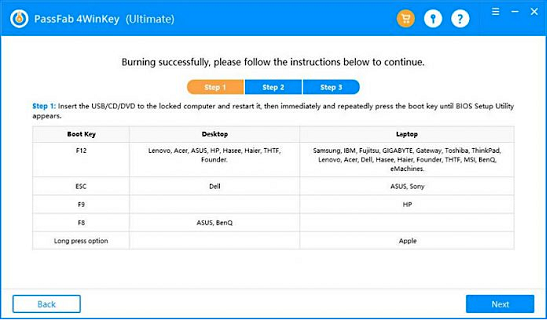 Step 4: Insert the bootable USB drive into your locked PC. Now, you need to boot the PC to the Boot menu interface, change the boot preferences, and allow your USB to be the first boot choice.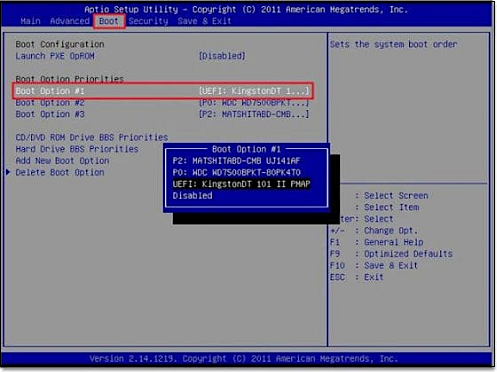 Step 5: You can notice the interface of the PassFab 4WinKey after restarting the PC. Choose the Windows OS and hit the next option.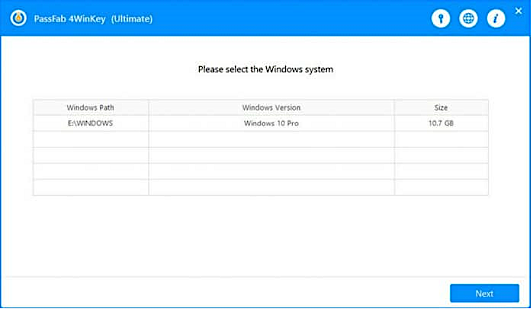 Step 6: You can check all the user accounts, such as local, guest, and Microsoft admin in a list. Opt for the user account for that you've forgotten your password.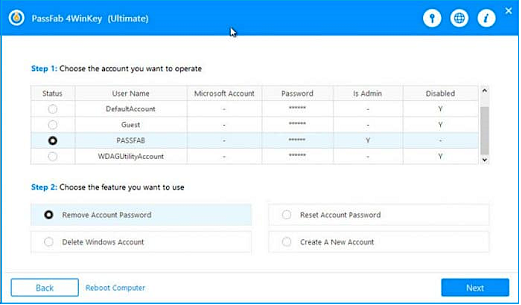 Step 7: When you select to delete the password and hit "next", the password will be reset quickly.
Step 8: Hit "reboot" and let your PC restart. Now, you will sign in to your PC without a password.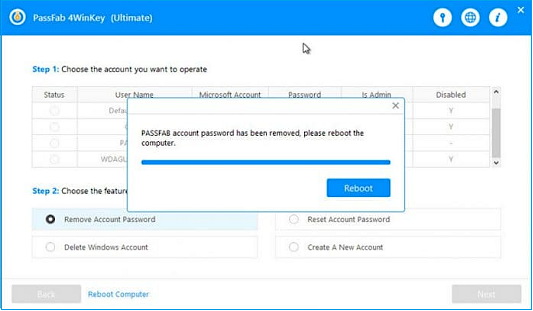 Why do we choose PassFab 4WinKey?
PassFab 4WinKey possesses numerous vital features that make the password recovery process effortless.
Support for both Microsoft and local accounts.
Can reset or remove the different passwords for all types of Windows user accounts.
Users can reset their Microsoft account passwords offline.
You will never lose any data while using PassFab 4WinKey. 
Pros
It supports all the Windows and Mac versions.
User-friendly and simple interface.
You don't have to reinstall or format Windows.
It resets passwords in minutes irrespective of their password length and difficulties.
Free tech support.
Cons
It has a fundamental requirement that your PC's CPU be equal to or more than 1 GHz.
It's not compatible with mobile or Linux systems. 
2. Ophcrack 
What is Ophcrack? 
Ophcrack is another open-source windows 10 password recovery tool and the best freeware one. This tool accesses Windows with a quicker time-memory trade-off by utilizing the rainbow table to brute force crack it.
How to use Ophcrack?
Step 1: As you've forgotten the password, the first step would be carried out on a different PC with administrator privileges and internet access.
Step 2: The correct version of Ophcrack needs to be downloaded from the official site to the second PC.
Step 3: To burn the ISO file into a CD or USB, you require an ISO burning app. 
Step 4: Take out the bootable media from that different PC and insert it into your locked Windows machine. As Ophcrack consists of a small OS that can run independently, you will see its interface on your PC.
Step 5: You might see a 4-options menu. After leaving it on the default option, you will notice the Ophcrack Live CD loading, which is showcased as Ophcrack finds out the one with the SAM file,
Step 6: You will see a window of the various user accounts and passwords once the process is over, demonstrated in column format. Now, search for an entry in the NT Pwd column against the locked username.
Step 7: It will be your recovered Windows 10 password.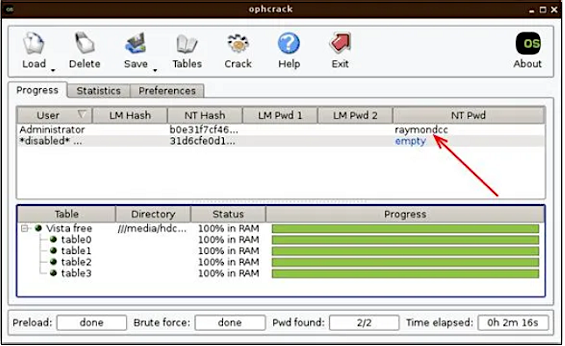 Why do we choose Ophcrack?
CSV export and audit mod.
Decodes NTLM and LM hashes.
LiveCD is available to ease the decoding.
Pros 
Doesn't need software installation.
Can recoup actual password.
A free tool that can be downloaded online.
Cons
Difficult for the novices as it uses a text interface.
3. Windows Password Reset Disk 
To create a Windows 10 password reset disk, follow the steps below:
Step 1: Log into your Windows 10 PC using the local account to make a password reset disk.
Step 2: A SD card or a USB drive must be inserted into the PC.
Step 3: In the search box, look for password rest and hit "Create a password reset disk".
Step 4: Hit the "Next" button.
Step 5: Choose the location to generate the password key disk and select "Next".
Step 6: The account password needs to be given, and click "Next".
Step 7: Choose the "Next" option and hit "Finish". 
Following are the steps for using the password reset disk to reset Windows 10 password:
Step 1: Boot your Windows PC and key in the password.
Step 2: Hit "OK" if the password shows incorrect.
Step 3: The password reset disk must be inserted, and "Reset Password" must be chosen.
Step 4: Hit the "Next".
Step 5: Choose the "Password Reset Disk" and hit Next.
Step 6: You need to type and confirm your new password.
Step 7: A password hint to be created.
Step 8: Click "Next" and followed by the finish.
4. Windows Password Reset Standard 
What is Windows Password Reset Standard?
Windows Password Reset Standard is the best windows 10 password recovery tool and a credible software that can safely reset your forgotten Windows 10 password. It's created with a CD/DVD burner, and therefore, you don't have to use a 3rd-party burner. This standard version of Windows Password Reset costs $19.95 only. 
How to use Windows Password Reset Standard?
Follow the steps below to reset your Windows 10 password efficiently:
Step 1: Download and install Windows Password Reset Standard on your Windows 10 PC to create a password reset disk with DVD/CD.
Step 2: Put the burned DVD/CD into your locked PC and boot from it to reset Windows 10 passwords. 
Why do we choose Windows Password Reset Standard?
Support Windows 10, 8.1, 8, 7, Vista, and more.
Support all desktops and laptops.
It can reset both administrator and user passwords.
Pros
90-days money-back guarantee
24/7 technical support
Compatible with various Windows versions
Cons
It's not compatible with mobile devices or Linux.
Extra Tip: Forgot Windows License Key? Download Professional Key Finder 
Can't recall the Windows license key or system password? You must not worry when you have a professional key finder, EaseUS Key Finder!
Step 1. Click "Windows" tab under the Registry Key.
Step 2. Check Windows product key on the right side. Click "Copy" to paste. Or select other two options:
"Save" - Save to local as a PDF file.
"Print" - Click to print key file.
With this best-in-class key finder, you can:
Retrieve product licenses when there is a hard disc crash or system crash. 
Find Windows server product key and Windows product key
Search for product serial for more than 10000+ renowned programs.
Are you a Windows 11/10/8.1/8/7 user and lost the vital product key? With EaseUS Key Finder, you can instantaneously regain and back up all your product keys. Therefore, the basic features of the EaseUS professional key finder are the following:
Find Wi-Fi passwords
Retrieve Adobe or Office product keys
Regain access to Windows system product keys 
Conclusion 
Choosing any Windows 10 password recovery tools is essential to ensure you never lose the windows password again. If you use a Microsoft account, it's possible to reset the password online from any device. However, if it's a local account, you can choose a best product key finder from the above list. For the optimum experience, using EaseUS Key Finder will be more appropriate.  

Roxanne is one of the main contributors to EaseUS and has created multiple posts on digital devices like PCs, Mobile phones, tablets, Mac, etc. She loves to share ideas with people of the same interest.
About EaseUS Key Finder
EaseUS Key Finder offers complete solutions for you to efficiently find Windows or Windows Server product keys, discover Offce, Adobe, and other installed software serials, and find WiFi codes, etc, successfully in simple clicks.