How to Find Steam CD Key or Game Product Key on Your Own - EaseUS
According to some Steam users, they sometimes could not find the Steam game serial key for no reason. Don't worry if you are facing the same issue on Steam. We will present you with 2 solutions to get back your Steam CD keys successfully.
| Workable Solutions | Step-by-step Troubleshooting |
| --- | --- |
| Solution 1. Locate CD or Serial Product Key | Launch Steam client or open the Steam...Full steps |
| Solution 2. Try Third-Party Key Finder | Download and install EaseUS Key Finder...Full steps |
What Is a Steam CD Key or Serial Product Key
Steam, developed by Valve, is also a standalone software client for game lovers to download, play, and discuss favored games. 
When you purchase a Steam game, you may get an additional activation key which is also known as Steam CD key.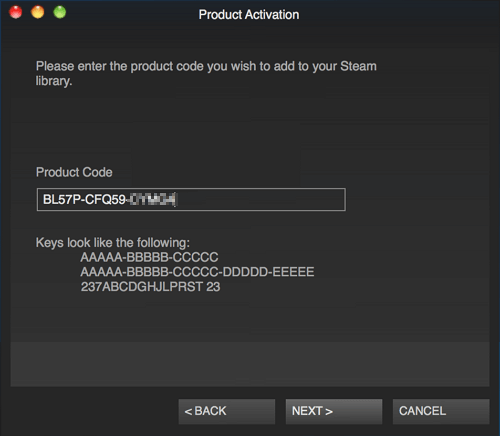 Why Need to Find My Serial Key for a Steam Game
Steam requires you to enter the key so as to play the game on the client. Also, with the activation key, you can also register your games outside Steam, on a third-party client or service.
However, sometimes, you may also encounter the following situations that push you to find the CD keys or a serial key of a game on Steam:
Failed to request product key from Steam.
The Steam CD key is not showing.
You bought a game on Steam, but don't know where to find the serial key.
So how to find the CD key for a game that you purchased on Steam? 
2 Solutions to Find Steam Game Product Keys
To find the Steam game serial key, here we collected two practical solutions for help:
#1. Locate CD Key from Steam Library - Steam Solution
 Notice:

Please confirm that you've successfully downloaded and installed the games via the Steam client. If not, neither method will work.
Let's start finding your CD game keys on Steam now.
Solution 1. Locate CD Key from Steam Library 
Normally, when you first launch some Steam games, the activation key will show up on Steam automatically. Also, the CD key option only appears when you install the game or started the installation. 
However, some CD keys of Steam games may not display in Steam. In this case, you can locate the CD key of purchased games in the Steam library. 
Follow to see how to find the Steam game product key on your own:
Step 1. Launch Steam client or open the Steam account page in your browser.
Step 2. Sign in to Steam with your account and password.
Step 3. Go to Steam Library, select the game that you didn't get its CD key.
Step 4. Click the settings icon on the right pane, and select "Manage" > "CD Keys".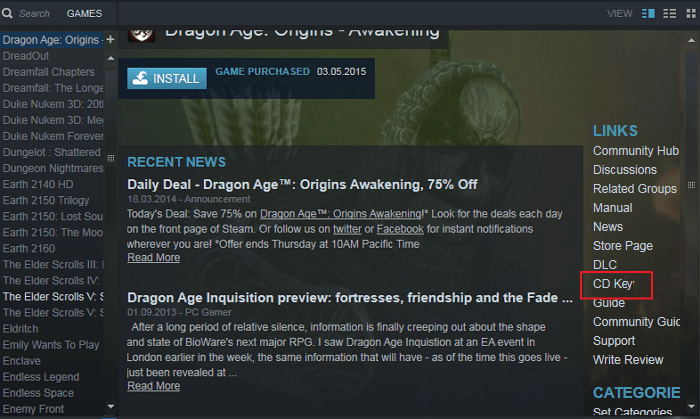 Repeat the operation until you find all game serial keys on Steam. This method can also help to recover missing or lost Steam product keys if you didn't save them properly.
Solution 2. Find Steam Account & Product Key via Third-Party Key Finder
It doesn't matter if Method 1 fails to find your game serial key on Steam. The second solution will assist you in scanning and locating the missing CD keys hassle-free by using a third-party product key finder. 
You can either search a product key finder online or directly download EaseUS Key Finder for a try. 
Why is EaseUS Key Finder? Anyone can apply this software with its Product Key feature to find the missing activation of games, installed software, and even Windows OS in just 1 Click.
Let's see how to find your Steam game serial key successfully:
Step 1. Click "Application" tab under "Registry Key".
Step 2. View Applications Registry Keys on the right panel. EaseUS Key Finder will show all keys of installed software. Copy the targeted serial numbers. Also, you can click "Print" or "Save".
Losing Steam Game Serial Code Is No Big Deal, Go to Bring Back The CD Key Now
On this page, we explained what is a Steam product key and why is it necessary to find the CD key of a Steam game. 
We also collected two practical methods that will help you simply find and locate the CD keys of purchased games in Steam. Both two methods are easy to follow.
When Method 1 finds no track of your serial key, it doesn't matter. EaseUS Key Finder is capable of helping here.
Note that losing a serial key or CD code of a Steam game is not really a big issue. Just follow either solutions listed above to bring back your Steam game serial code now. 
FAQs About Steam Game Product Key
Here we listed three top concerned questions that game lovers concern the most on Steam. Let's check the answers here.
1. Steam Is Not Showing Key, How to Fix This
First, check if you've downloaded games in Steam. If not, download and install the desired game in advance.
Second, go to Manage > CD keys to see if you can view the product key here.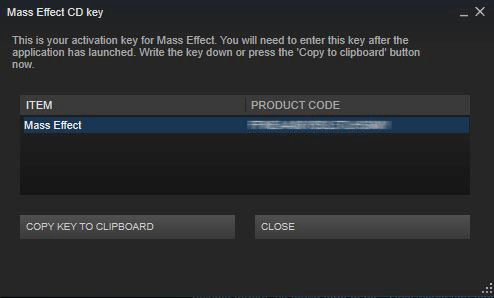 If you see no key shows up, turn to EaseUS Key Finder as recommended in the 2nd solution on this page for help.
2. Received a 'Failed to Contact Key Server' Error
When you received a Game error which is reading as "Failed to Contact Key Server when launching a game from Steam", you have two solutions here:
3. Can't Register My Key Which Seems Invalid
If Steam detects an invalid or duplicate product key while registering, contact the game developer or publisher's support team to get the issue resolved.
Updated by Tracy King 
Tracy joined in EaseUS in 2013 and has been working with EaseUS content team for over 7 years. Being enthusiastic in computing and technology, she writes tech how-to articles and share technical solutions about Windows & Mac data recovery, file/system backup and recovery, partition management and iOS/Android data recovery.
About EaseUS Key Finder
EaseUS Key Finder offers complete solutions for you to efficiently find Windows or Windows Server product keys, discover Offce, Adobe, and other installed software serials, and find WiFi codes, etc, successfully in simple clicks.