How to Check and Find Exchange 2016 Product Key/License
Windows Product Key or License key is used to activate Windows. It can be the consumer or business versions such as Windows Exchange Server. Microsoft activates a certain number of features that otherwise remain limited using these keys. It is essential to keep a note of the license or the product key. Usually, they are available in the email or the Volume License Key section, and so on. But if you need to find it immediately,  as an IT admin, what can you do about it?
How Do I Check My Exchange 2016 License or Product Key?
You may need to check your Exchange 2016, 2019, or newer Product Key license for several reasons, but here the question is how you can find it easily? If you are not a technical person, finding out the Exchange Product key license might be challenging. If you are one of them who is looking for the best methods to find out Exchange 2016, 2019, or even newer product keys, then you have landed at the perfect place.
Today, here in this post, we will discuss the three best working methods that will help you check your Exchange 2016 License or Product key. These three methods are like:
#1. Find Exchange License from Licensing Portal
#3. Use Windows Product Key Finder
Let's discuss each method in detail below. You can follow any of these methods to check and find the Exchange Product key License. 
#1. Find Windows Exchange Server 2016 License from Licensing Portal
Exchange Admin Center allows you to manage all servers in your Enterprise. You can configure permissions, compliance, manage the organization, protection, mail, and many such things. Anything you want to manage from the server-side and is part of your organization is available here.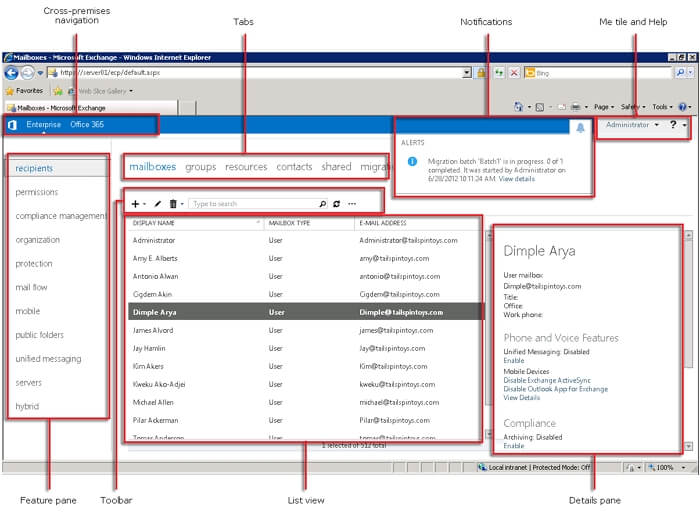 Since all the servers are accessible here, you can find the Windows Exchange Server 2016 License from the Licensing Portal. It is the first method we are going to describe for you. So, follow the exact steps given below to retrieve product keys from the exchange server itself.  
Step 1: Open the Exchange Admin Center and go to the Servers section.
Step 2: In the Servers section, you will find another Servers section, now select the server you licensed. It will show you your product key from the Exchange server.
Step 3: Now verify the Exchange edition value, whether it's Standard or Enterprise and whether the given License exists.
The same section can also be used to activate new servers. Once you have the keys, you can remotely activate the servers and configure the rest of the things. Also, you can change the activation keys.
#2. Use PowerShell Command to Find Exchange Server 2016 Product Key 
PowerShell is a powerful tool for IT admins as it supports a lot of commands, and even allows you to execute scripts which is not available in the Command Prompt.
You can find the Exchange Server 2016 product key by using a specific PowerShell Command. To get the product key you have to follow the exact step given below.
Step 1: Open Windows Search using Win+S and type PowerShell. When the application appears in the result, click to launch it. Ensure to right-click and select to run with admin privileges.
Step 2: Next, type and execute the following command in PowerShell terminal:
Get-ExchangeServerAccessLicense
Step 3: Now, you will get a list of licenses in your organization like Exchange Server Standard CAL, Exchange Server Enterprise CAL, Exchange Server Standard Edition, and Exchange Server Enterprise Edition.
Before the whole process, it's necessary to know that this cmdlet is only available on on-premises Exchange.
If you want to get a list of unique users for the specified license name, you can use the Get-ExchangeServerAccessLicenseUser command-let.
These commands are part of ExchangePowerShell Module which is built on Windows PowerShell technology and provides a powerful command-line interface, It allows admin users to automate administrative tasks.
#3. Use Windows Product Key Finder to Find Exchange Server 2016 Product Key
When it comes to finding out the Exchange server Product key, no doubt you can get it with the help of third-party software. You will get several third-party software that can help you to find the exchange server Product key. Still, if you are looking for a genuine and reliable tool, we will always recommend you use the EaseUS Key Finder software. It is one of the top-rated server-related software which comes with a clean and user-friendly interface.
This software is free to download, and you can download this software from the official site. The best part of this software is that every new user will get a free trial for a few days and experience the features of this fantastic tool.
EaseUS Key Finder is an advanced tool with several unique features like Windows key finder, find Windows Server 2019 product key, find internet browser saved key, and much more. The Windows Exchange product key finder feature is one of the most valuable features you will get with this tool in which you can quickly scan and get your Exchange 2016, 2019, and newer product key license.
Features:
Find installed application and software product keys
Find WLAN wifi codes
Find Windows Credential accounts and passwords
Find Windows and installed software product keys from dead computer disk
Follow the exact given steps below to find your exchange Product Key License.
Step 1. Click "Application" tab under "Registry Key".
Step 2. View Applications Registry Keys on the right panel. EaseUS Key Finder will show all keys of installed software. Copy the targeted serial numbers. Also, you can click "Print" or "Save".
Conclusion
This post gave you the exact steps on three comprehensive methods to find a Microsoft Exchange 2016/2019 product key. All these three methods are equally good, and as an IT admin, you should be able to use any of them.
However, if you want quick results, we will always recommend the third method, in which you have to use the advanced EaseUS Todo PCTrans Technician tool to find out the Windows Exchange Server product key. Not only can it find that key, but it can also find keys for most of the installed software on the server. You can then note all of them and never worry about finding them. It is the easiest method you can use to get the keys.
Updated by Tracy King 
Tracy joined in EaseUS in 2013 and has been working with EaseUS content team for over 7 years. Being enthusiastic in computing and technology, she writes tech how-to articles and share technical solutions about Windows & Mac data recovery, file/system backup and recovery, partition management and iOS/Android data recovery.
Daisy is the Senior editor of the writing team for EaseUS. She has been working in EaseUS for over ten years, starting from a technical writer to a team leader of the content group. As a professional author for over 10 years, she writes a lot to help people overcome their tech troubles.
About EaseUS Key Finder
EaseUS Key Finder offers complete solutions for you to efficiently find Windows or Windows Server product keys, discover Offce, Adobe, and other installed software serials, and find WiFi codes, etc, successfully in simple clicks.