2 Easy Ways to Recover Ubisoft Account and Password
Workable Solutions
Step-by-step Troubleshooting
Official Way

Reset Your Ubisoft Account Password...Full steps

Recover Your Ubisoft Account...Full steps

EaseUS Key Finder
Step 1. Click "Application" tab under "Registry Key"; Step 2. View Applications Registry Keys...Full steps
If you've lost access to your Ubisoft account or its password, you'll have to perform a Ubisoft password reset procedure to gain access to your account. This is important for many account holders, as your Ubisoft account gives you access to many features.
You can use Ubisoft Connect with your account, which gets you privileges in your games and offers many other features. As long as your account remains dysfunctional, you can't access these tools.
How to Recover Ubisoft Account and Password
If you've lost access to your Ubisoft account and can't seem to get in, do not panic, as there are ways to recover your account and its password. Ubisoft offers a few official ways to help you regain access to your account and its features.
One way to perform a Ubisoft account recovery is to reset your password. This works if you've forgotten your current password, as you can set up a new password using your recovery email address. You must have access to your Ubisoft account email address to use this method.
Another way to get into your account is to seek Ubisoft's help. The company has a live chat system on their website, which you can utilize to inform the team of your issue and let them sort it out for you. This method also works if you've lost access to your email address registered with the company.
Official Way - Change the Ubisoft Password & Ubisoft Account Recovery
Now that you know how each method works and what scenarios you can use each one in, let's jump onto the actual method steps to start the recovery process.
Reset Your Ubisoft Account Password
If you have access to the email address associated with your Ubisoft account, you can ask the company to send a recovery code to your email address. Then, once you enter this code on the Ubisoft website, you get the option to set up a new password for your account.
Step 1. Start this process by launching your favorite web browser on your device and opening the Ubisoft login page. Click the "Forgot your password" link to start the recovery process on the web page.
Step 2. Enter your email address in the "Email Address" field on the "Forgot Your Password" page. Then, confirm the captcha and click "Submit" to submit your request.
Step 3. The Ubisoft website will say that they've sent a password reset link to your email address. At this point, open your email inbox and find the email from Ubisoft. Access this email and click the reset link in it.
The link will take you to Ubisoft's "Change Password" web page, where you can choose a new password for your account.
While choosing a new password for your account, keep the following points in mind:
Your password must contain a minimum of 8 and a maximum of 16 characters.
You must not use your username as your password.
Your password must contain at least one letter.
Passwords are case-sensitive.
Step 4. Set up a new password by clicking the "New Password" field and typing your new password. Enter the same password in the "Confirm New Password" field.
Then, click "Change" at the bottom to request Ubisoft to change your account password.
Ubisoft will display a success message saying that it has updated your password. You may now use your newly selected password to log in to your account on all your devices.
Recover Your Ubisoft Account
If you've lost access to the email address linked to your Ubisoft account, you'll have to contact the company to help you access your account. This will involve providing the company with your account details as asked by the support team on the live chat.
Step 1. Open your web browser and head over to the Ubisoft Account Recovery web page to start this recovery process. There, choose the issue you're experiencing with your account. We'll select the "I do not have access to the email address that is associated to my Ubisoft account" option.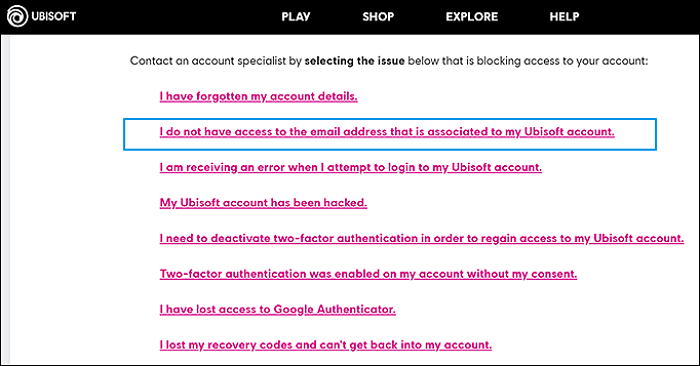 Step 2. Ubisoft will ask you to provide your first name, last name, username, email address, date of birth, country, and various other details on the following screen. You don't have to provide every detail, but try to give them as much information as possible to increase your chances of recovering your account.
Enter the details in both text fields on your screen, then click "Start Chat".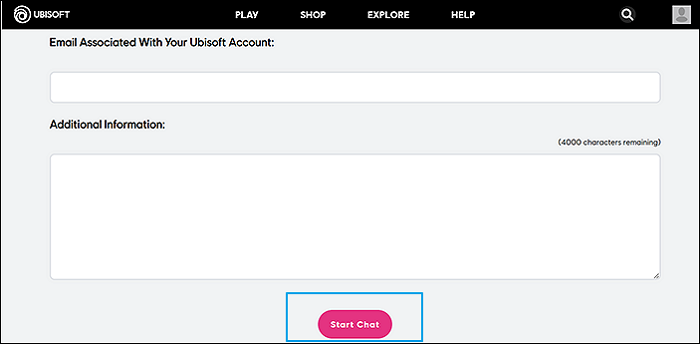 You'll connect with a team member of the Ubisoft support team. Explain your situation to them and let them help you regain access to your account.
Easier Solution: Try Professional Account & Password Finder Software
If you don't want to get into the hassle of asking for a password recovery email or chatting with Ubisoft's support team, retrieve your Ubisoft account password from your browser's saved password list.
If you use Google Chrome as your web browser, try out the EaseUS Key Finder program to retrieve your saved passwords from this browser. This app helps you quickly locate your Ubisoft password in Chrome and then allows you to use that password to sign in to your account.
EaseUS Key Finder isn't limited to locating Chrome's saved passwords. You can use the app to find your Windows and your Windows Server product keys, retrieve licenses of various apps on your machine, and more. It supports recovering data from over a thousand different apps.
Step 1. Click "Internet & Network" under Password.
Step 2. Check Browser Accounts & Passwords of Chrome, Edge, Firefox, and IE.
"Copy" - Click it, then directly paste.
"Save" - Save as a PDF file.
"Print" -  Connect Printer to print.
Wrap Up
Ubisoft makes it possible to recover your account so you can regain access to all your features. The process is not the most user-friendly, but it works. If you're looking for an easy way to access your Ubisoft account, perhaps EaseUS Key Finder is a better solution. It's novice-friendly, so you don't have to be tech-savvy to use it.

Roxanne is one of the main contributors to EaseUS and has created multiple posts on digital devices like PCs, Mobile phones, tablets, Mac, etc. She loves to share ideas with people of the same interest.
About EaseUS Key Finder
EaseUS Key Finder offers complete solutions for you to efficiently find Windows or Windows Server product keys, discover Offce, Adobe, and other installed software serials, and find WiFi codes, etc, successfully in simple clicks.