Where Can I Find My Windows Product Key Remotely?
| Workable Solutions | Step-by-step Troubleshooting |
| --- | --- |
| Method 1. EaseUS Key Finder | Step 1. Click "Windows" tab under the Registry Key; Step 2. Check Windows product key on the right side...Full steps |
| Method 2. CMD | Step 1: Open the Windows search bar and enter "cmd"; Step 2: The command prompt will display...Full steps |
| Method 3. PowerShell | Step 1: PowerShell (Admin) may be launched by entering PowerShell in the search box...Full steps |
Introduction
Do you want to know how to locate your Windows 10 product key? Do you need your Microsoft Office product key to reinstall or transfer it to a new computer? A Windows product key or license is a 25-digit number used to activate your Windows installation. Earlier in the day, all you had to do was check for a sticker anywhere on the system to discover your Windows product key.
If you want to reinstall Windows, you'll need your activation key. In this tutorial on "Where Can I Find My Windows Product Key Remotely?", we'll teach you how to retrieve your Windows activation code using CMD or PowerShell. Your PC label may include your key, but this is not always the case, mainly if you build your PC or purchase it without an operating system. Finding the product key is a straightforward procedure that will take less than 2 minutes. Let's get started without further ado.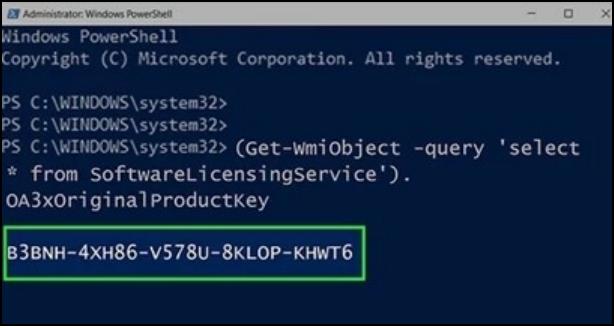 Can I Find My Windows Product Key Remotely?
It's one of the primary discussion topics for you if you are a newbie Windows user. Your Windows 10 product key should be listed on a sticker attached to your computer hardware in an inaccessible location-typically the most inaccessible area on the device.
You will be glad to discover that you can locate your Windows product key using a few simple and conventional ways rather than crawling behind your desk searching for a 25-digit alphanumeric code inscribed in fine print on the rear of your computer's case (which we will come to next).
How to Find Product Key Remotely?
Any of these ways will only work if your PC was set up correctly in the first place. A legitimate Windows 7 or 8 system or a recently purchased PC should provide the product key when upgrading to Windows 10. It will be more challenging to locate a product key if your PC was registered as part of a license agreement with a company.
Note: Start by launching the remote control program to access the remote system, and then install the third-party software before proceeding with the first method.
Now, let's focus on the methods that will help you find the product key remotely.
Method 1. Run Windows Key Extractor
Whether you're doing a new Windows installation or transferring your existing Windows license to a new machine, your product key is an essential piece of information to have. EaseUS Key Finder is a tool for locating product keys for Windows (Windows 11/10/8/7 and Windows Server), SQL Server, and other applications. There are no particular criteria.
When software is constantly at your disposal, you don't have to waste time doing anything time-consuming. It is the most excellent product key finding program that works for you, and EaseUS Key Finder can help you do your job more efficiently. The additional benefit is that it is a comprehensive package for discovering numerous sensitive codes that assist you in running the software you use daily.
Key Features of EaseUS Key Finder
Find Windows server product key, and works flawlessly with all current Windows versions.
The program can find Microsoft SQL server product key in the absence of any explicit constraints.
The utility assists in locating and restoring serial numbers for Adobe and Microsoft Office software.
The program can extract surfing passwords from any browser, including Mozilla Firefox, Chrome, Internet Explorer, Edge, etc.
EaseUS Key Finder enables you to recover and reset the passwords connected to application settings.
If your WiFi has been locked due to an incorrect password entry, EaseUS Key Finder can instantly unlock the WiFi password on Windows.
Step 1. Click "Windows" tab under the Registry Key.
Step 2. Check Windows product key on the right side. Click "Copy" to paste. Or select other two options:
"Save" - Save to local as a PDF file.
"Print" - Click to print key file.
Method 2. Retrieve Product Key in CMD
When utilizing the Command Prompt to discover your Windows 10 product key, you'll need to ensure that the command line program is running with administrator capabilities. To do so;
Step 1: Open the Windows search bar and enter "cmd".
Step 2: The command prompt will display when you type it in the search results. Right-click it and choose "Run As Administrator" from the pop-up box that occurs once you do so. If asked, enter the password for your Windows account.
Step 3: Once the file is open, copy and paste the following command into the text box and press the Enter key:
wmic path softwarelicensingservice get OA3xOriginalProductKey
Step 4: After that, the 25-digit product key will show.
Note: When you use this approach, the Windows product key saved in your computer's BIOS or UEFI firmware is shown. In other words, it displays the Windows key that was initially installed on your machine. If you've installed Windows with a new key since then (or obtained a digital license), it'll be different from the key that's now in use on your computer.
Said, that's all there is to it. Although this method is speedy, it is not likely to be a code that you will remember readily.
Method 3. Find Windows Product Key Using PowerShell
PowerShell is another power to be reckoned with in the Windows 10 operating environment. When managing your files in Windows 10, PowerShell can do just about anything for you, from zipping and unzipping files to entirely deleting the hard drive.
As another example of what Windows PowerShell is capable of, you may even attempt to get the Windows 10 product key using Windows PowerShell (Admin). It's a relatively straightforward procedure.
Step 1: PowerShell (Admin) may be launched by entering PowerShell in the search box next to the Windows 10 icon and then selecting Run as administrator from the drop-down menu.
Step 2: The following command should be entered on the command line after the Windows PowerShell (Admin) window has been opened.
powershell "(Get-WmiObject -query 'select * from
SoftwareLicensingService').OA3xOriginalProductKey"
Step 3: To continue, hit the Enter key.
Windows 10 product key will be available to you in no time at all if you search diligently.
Final Thoughts
Product keys in Windows have gotten a bit more challenging to locate in recent operating system versions. So, if you're wondering, "Where Can I Find My Windows Product Key Remotely?" and it doesn't come with the original package or email, you'll have to use Windows PowerShell or CMD to locate it in Windows.
However, we would highly recommend using EaseUS Key Finder to make sure you retrieve your Windows product key without putting too much at risk. It is safe and offers a ton of other features that will be beneficial to you in the future.
Have you lately upgraded the hardware in your computer? Is it possible that you ran into any difficulties when retrieving your product key? Please let us know how it worked out for you in the end.

Roxanne is one of the main contributors to EaseUS and has created multiple posts on digital devices like PCs, Mobile phones, tablets, Mac, etc. She loves to share ideas with people of the same interest.
About EaseUS Key Finder
EaseUS Key Finder offers complete solutions for you to efficiently find Windows or Windows Server product keys, discover Offce, Adobe, and other installed software serials, and find WiFi codes, etc, successfully in simple clicks.