
Table of Contents

Reviews and Awards

Best iPhone Data Recovery Software
How to Unhide Chat in Viber on iPhone and Android
Summary
How to unhide chat in Viber? Read this post to know how to hide and unhide Viber chat on both iPhone and Android deivces. If you accidentally deleted wanted chat and messages in Viber, use EaseUS iOS data recovery software to restore lost files efficiently.
Hidden Viber conversations would remain hidden and could only be accessed by entering a 4-digit PIN code that has been pre-set. Hiding Viber talks is an effective method of maintaining your online privacy. Unauthorized persons will not be able to see your messages since your conversations have been concealed. If you want to learn how to unhide Viber conversations so that you may have regular access to the chat— this post is for you!
The predetermined 4-digit PIN is the sole method of gaining access to a secret Viber conversation. Despite this, you must enter the 4-digit PIN each time you want to see a secret Viber conversation. By un-hiding your conversation, you may change it back to a standard message if you are wary of inputting the PIN every time you want to communicate. Check out the next section to learn how to unhide chat in Viber.
How to Unhide Chat in Viber on iPhone
If you are worried about someone else reading your Viber conversations without your permission, you may opt to conceal the chats by using a PIN to protect yourself. It's as simple as entering the PIN in Viber to access these concealed talks.
There is no need to be concerned about spying since this security feature in Viber goes above and beyond the regular permissions. If you want to observe a concealed conversation on Viber, the procedure is almost identical to that described above. To accomplish this, follow these simple steps.
Step 1. To begin, launch the Viber application on your iPhone.
Step 2. Scroll down the app until you see the Search icon, then tap on it and type in the name of the contact whose chats have been disabled.
Step 3. To view the hidden chat, tap on the contact's name or profile picture, then enter the 4-digit PIN code provided to you.

Note. You should be able to access the messages and continue chatting with that person at this point.
How to Recover Deleted Viber Chat on iPhone
Making a backup of your Viber chats is one of the most critical things you can do to secure your personal information. It is quite easy to lose Viber chats and the attachments received, whether as a result of device damage, unintentional deletion, or even a malware and virus attack. If you have established a secure backup copy of all of your data, you may rapidly restore the backup to retrieve the Viber messages you have lost.
However, many people delete Viber chat histories, including messages, pictures, etc., without backing them up. In this case, it's impossible to recover deleted Viber chat history unless using professional iOS data recovery software. 
EaseUS MobiSaver, an advanced iPhone and iPad data recovery program, enables you to recover any deleted or lost photos, videos, contacts, chat histories, messages, and more on iOS devices. It can recover conversations and attachments from Wechat, Whats app, Line, and other social apps. 
Download this breeze-to-use iPhone data recovery software to restore chat histories in Viber with simple clicks.
Step 1. Choose the Recovery Mode
Connect iPhone to your PC and Launch EaseUS MobiSaver. Choose the recovery mode - "Recover from iOS Device" on the left, and click "Start".
Step 2. Scan iPhone and Find Lost Data
EaseUS MobiSaver will automatically scan iPhone 13/12/11/X/XR/XS/8/7/6/5/4, and find present data and even some lost data for you.
Step 3. Preview and Restore iPhone Data
You can choose the lost data such as your photos, videos, contacts, SMS, notes, voice mails or other files from iPhone 13/12/11/X/XR/XS/8/7/6/5/4. Then, click "Recover" and save those data to another location.
Most Importantly. once the procedure is complete, you will be able to access all of the Viber conversations previously saved in the backup on your smartphone. To back up and recover Viber conversations and data from other social messaging applications such as WhatsApp, Line, and WeChat, EaseUS MobiSaver is the most effective solution available.
Additionally, it is straightforward, enabling you to generate safe backups of your device on the computer's hard drive and instantly restore those copies whenever you need them.
Unhide Chat in Viber FAQs
Check more information about how to unhide chat on Viber. 
1. How to unhide Viber chat on Android?
In case you're an Android user, here's how you may get your Viber messages back into view.
Step 1. Launch the Viber application on your smartphone.
Step 2. Pulling down the Search button on the Viber app while it is open can help you discover the hidden Viber conversation.
Step 3. Find the contact whose messages you have concealed and contact them. You may read our post on how to access secret Viber messages for a thorough step-by-step guide on how to do this.
Step 4. Enter the 4-digit PIN code that has been pre-programmed for the contact you've selected.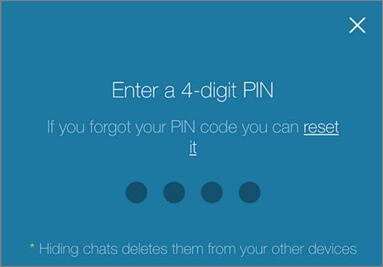 Step 5. The messages from your contact are now displayed on the screen.
Step 6. Select Other Options from the drop-down menu in the screen's upper-right corner.
Step 7. Select Chat Infor from the drop-down menu that appears.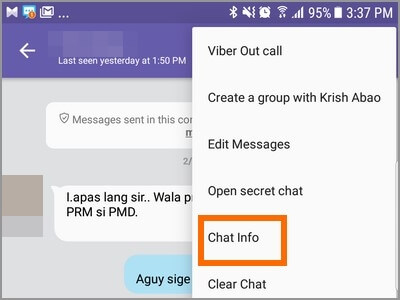 Step 8. The Chat Information for your contact is displayed. To unhide a chat message, choose the Unhide this Chat option from the drop-down menu that appears.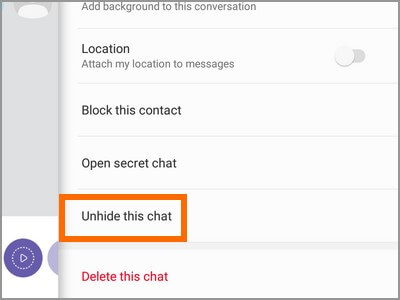 Step 9. To validate the update, you must enter your 4-digit PIN. There is no longer any hiding the chat message, which can be read from the main interface.
2. How to hide chat in Viber on iOS and Android devices?
Using Viber, the procedure of concealing and un-hiding a communication is straightforward. Let's start with the procedure of concealing a conversation.
Step 1. Open Viber on your smartphone and then go to the chat screen to start a conversation.
Step 2. Navigate to the conversation you want to conceal and follow the instructions below, which vary based on your device.
For IOS devices:
To hide a conversation on an iOS device, swipe the conversation to the left and then pick "Hide" from the display choices.
For Android devices:
If you are using an Android smartphone, you may choose "Hide Chat" by pressing and holding the chat you want to hide.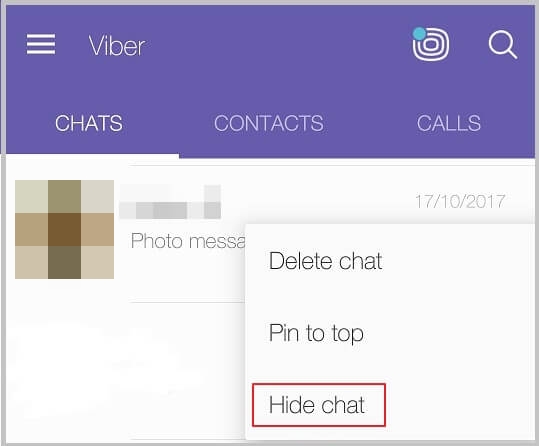 3. How to unhide group chat in Viber 2022?
Follow the steps below if you're looking to unhide group chat in Viber in 2022.
Step 1. After opening the person's profile on Viber, tap "Chat Info" from the drop-down menu.
Step 2. The Chat Info for the person you're chatting with is shown to you. Choose Unhide this Chat from the drop-down menu to make a chat message visible again.
Step 3. To confirm the change, type in your four-digit PIN code. Unhidden chat messages may now be accessed from the main interface.
4. How to unhide chat in Viber on a desktop?
You should know that desktop and tablet users cannot use the Viber secret conversation function. They cannot conceal conversations, read them, or unhide them at any time.
When you use a tablet or a desktop computer, all of the concealed messages you sent or received on your phone will be invisible.
Conclusion
All of the information on this page is up to date and works with the most recent version of the Viber mobile app on how to unhide chat in Viber. Things may change in the future, and if this occurs, you should consult the official Viber support website for more information.
Apart from this, if you experience any data loss or removal when you un-hide a chat or a group conversation on Viber, we have presented a worthy solution to restore your lost messages easily. All you have to do is follow the steps above properly, and EaseUS MobiSaver will ensure you have all the lost messages restored. Let us know if this worked for you!