Summary
If you happen to meet "iPhone [device name] cannot be synced. An Unknown error occurred (-54)" when you sync with iTunes on Windows 10 or Mac, you may troubleshoot by consolidating iTunes library media files, checking third-party security issue, syncing a small amount of content at a time, and so on. If all of these basic fixes fail, you can still use EaseUS MobiMover to back up all the content on the iPhone without iTunes effortlessly. Besides, EaseUS MobiSaver is available for you to recover any deleted content on your iOS devices.
PAGE CONTENT:
What is iTunes sync error 54
Possible fixes for iTunes error 54 (Windows 10)
Free workaround: How to back up iPhone/iPad without iTunes 
"After the recent iTunes upgrade on my Windows 10 computer, iTunes always report me an error says "The iPhone 6 cannot be synced. An unknown error occurred (-54)" while syncing my iPhone in iTunes. How can I fix it?"
When you use iTunes to back up or sync your iPhone, iPad, iPod, you may encounter many unexpected errors, such as iTunes error 0xE8000015, error 3194, or iPhone backup corrupt or not compatible error. In addition to these issues, there is another frustrating matter, that is iPhone cannot be synced caused by iTunes sync error 54 happening to both Windows 10 and Mac users. This page talks about this error and shows you possible ways to fix it. Meanwhile, an easy and free iPhone data transfer application is provided to assist you in syncing iOS files to the computer without iTunes if the basic fixes can't work. 
What Is iTunes Error 54
When you try to sync your iPhone/ iPad/ iPod touch with iTunes, you might see an alert message that says: "The iPhone [device name] cannot be synced. An unknown error occurred (-54)."

iTunes Error 54 appears when a file on the computer or iPhone is locked or it is a permission error either on your computer or the iOS device. In most cases, the content won't sync when the problem happens. And you can try to restart your computer and your iOS device to fix this issue. If it is not helpful, don't worry. You can continue solving the problem by using further solutions below. But before this, make sure that you have the latest version of iTunes and the latest software updates for your device.
Possible Fixes for iTunes Sync Error 54 (Windows 10)
There are several advanced solutions to fix iTunes error 54 issues. Try the steps below.
1. Consolidate the iTunes Library Media Files
The iTunes media library contains all the music, movies, and videos that you purchased or imported might be stored in several locations. You can consolidate all the media contents in one folder to reduce the probability of errors.
Open iTunes on your Windows or Mac, go to "File" > "Library" > "Consolidate Files" > click "OK".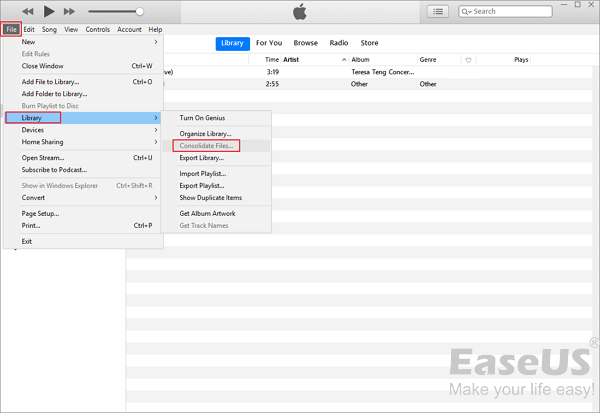 2. Sync a Small Amount of File at a Time
Synchronizing too much content at once may cause the iTunes error 54. So sync only a small amount of content at a time, and increase the amount slowly until you see the error again. In this way, you can identify the file that causes the problem.
3. Check the Third-Party/Security Software
Some third-party software, or security software, can influence the sync process when you use iTunes. You can try to close the security software or change its setup to fix the issue.
4. Delete and Re-Download/Re-Import Content
If the error 54 occurs with content from the iTunes Store, you can try to fix it by removing and then re-download the content. Or If the issue doesn't result from the iTunes Store, delete and then re-import it from the source. 
5. Deleted PDF Files Before Syncing with iTunes
If the iTunes can't read the PDF, you sync with iTunes, and the error 54 may appear. To avoid this situation, you can use the Share option in the iBooks to transfer PDF. Then, you can delete the PDF documents and start the syncing process.
 Tip

How to Fix iTunes Error 54 in Windows 10

Windows 10 users might encounter iTunes sync error 54 with iOS devices due to some incorrect permission issues, wherein the iTunes folder becomes 'Read Only'. It will prevent your computer from syncing with the device you have connected to it. So you can change permissions of your "iTunes" folder or original files/folder to fix iTunes sync error (-54) with ease. Here is how to do it in Window 10:

Open Windows Explorer > go to "Music" folder > right-click "iTunes" folder > Properties > Uncheck "Read Only".
Bonus Tips on How to Recover Deleted Data from iPhone
Some approaches above require you to remove files to fix the error. If anything goes wrong during the deletion process, don't panic, you have EaseUS MobiSaver iPhone data recovery tool to help you recover unlimited data deleted on your iPhone, iPad or iPod touch in three steps. EaseUS MobiSave supports the latest iOS version. And you can try its free version before purchasing. 
Step 1. Connect iPhone to PC and launch EaseUS MobiSaver. Select the phone in "Recover from iOS device" mode and click "Scan" button to continue.
Step 2. Waiting for EaseUS MobiSaver finish scanning your device and find all the files.
Step 3. Preview and select the files you want to backup, click "Recover" button to export and save them to your computer or other external storage devices.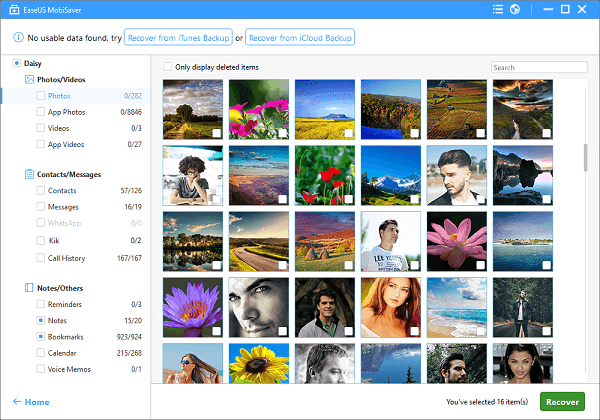 How to Back up iPhone/iPad Without iTunes for Free
If the "iTunes sync error 54" still can't be fixed after you have tried all the methods above, you can go on trying an iTunes alternative program to back up and sync data on iPhone, iPad or iPod to your Windows or Mac computer. Here, we recommend you try EaseUS MobiMover, which is completely free iPhone transfer software allowing you to transfer files from computer to iPhone/iPad without iTunes, back up or export all the iPhone data to the computer in one click, and sync content between two iOS devices directly.
Now, download this free iPhone data transfer software to sync the iPhone file to the computer in an iTunes-free way. It is compatible with both Windows 10/8.1/8/7 and macOS 10.14 - OS X 10.7. 
Step 1. Connect your iPhone to your computer running Windows system with a USB cable > Select the "Backup Manager" from the left panel > Select "Backup" to proceed.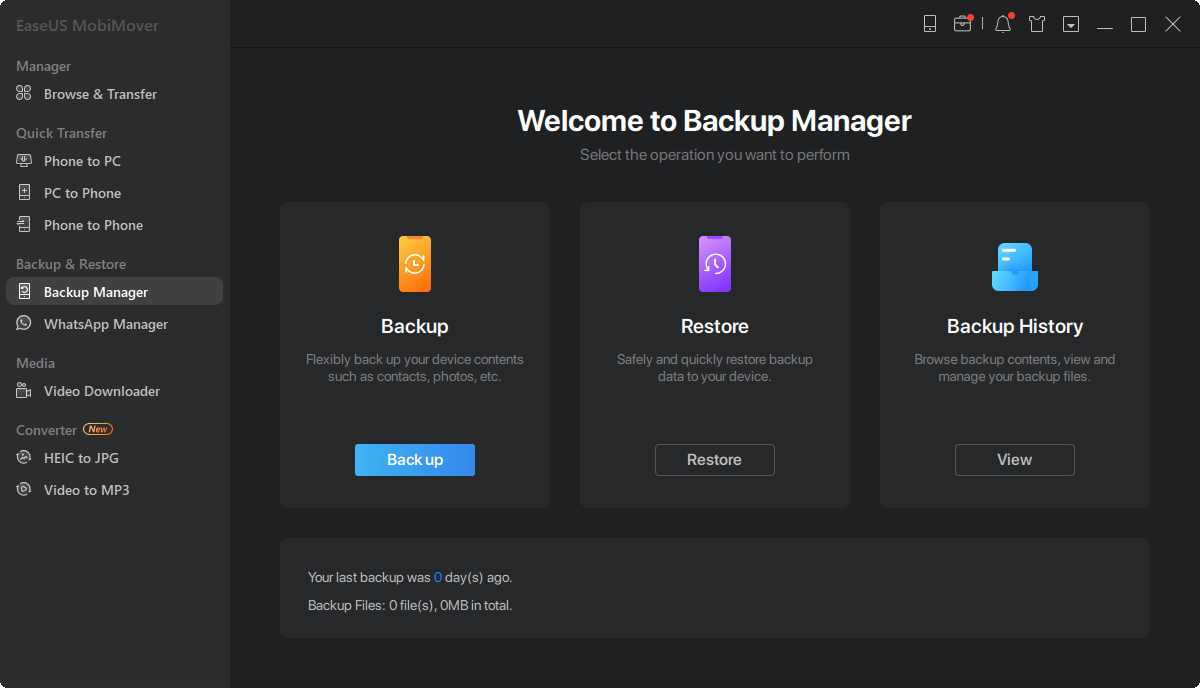 Step 2. Tick the box next to "Select All" to back up all files from iPhone to computer > Set the destination on computer > Click on "One-Click Backup" to start the backup process.
Step 3. MobiMover will start immediately to back up iPhone files to your computer without requiring iTunes. Wait patiently until it finishes.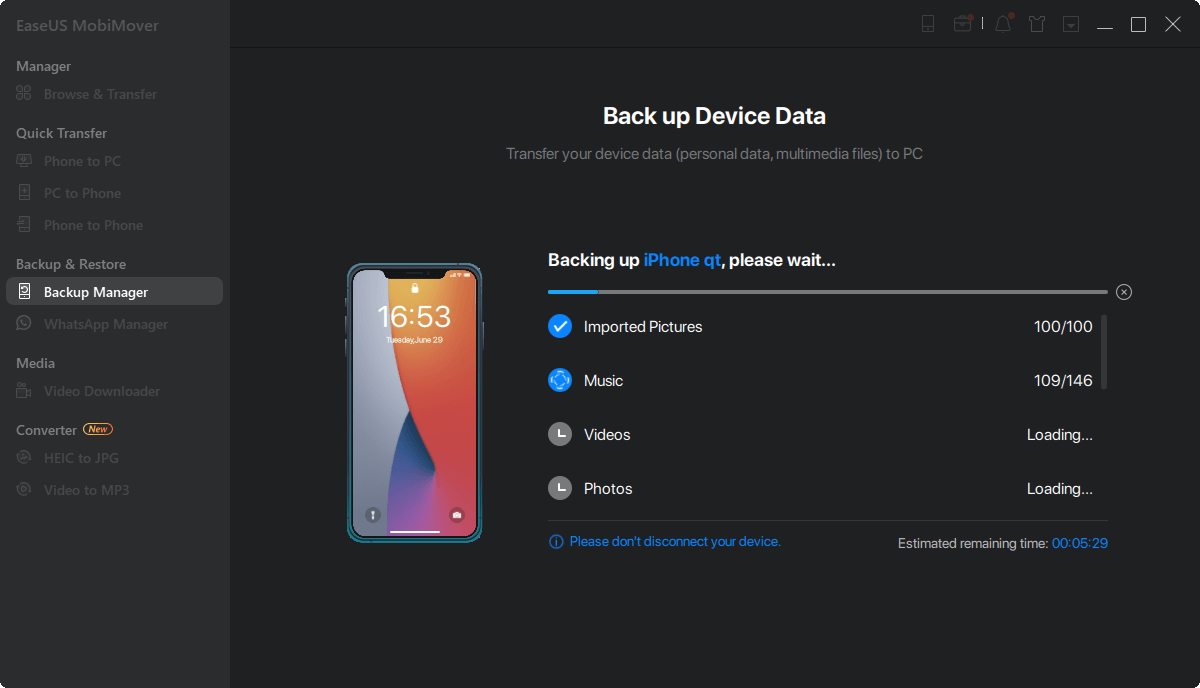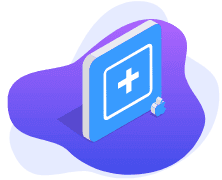 EaseUS MobiSaver for iOS
Recovers photos, videos, contacts, and more
Recovers data lost due to various reasons
Supports iPhone, iPad, and iPod
Free Version 
Paid Version 