
Table of Contents

Reviews and Awards

Best Twitch Clip Downloaders
Find Recycle Bin on iPhone X/8/7/6 and Restore All Lost Files [Resolved]
Summary
Unlike the Windows OS or macOS X systems, most iPhone users have this problem that they don't know where to find the lost files when they accidentally deleted files like photos, contacts or messages on their iPhone 11/11 Pro/11 Pro Max/X/8/7/6 or iPads. So where do the deleted files go on iPhone becomes a question to most iPhone users. This page will tell you where to find the Recycle Bin location on iPhone and you can follow to apply recycle bin recovery program to restore all lost iPhone fil
This page answers you many questions about iPhone Recycle Bin and guides you to effectively restore deleted or lost iPhone files like photos, contacts, and messages, etc. with powerful iPhone recycle bin recovery alternative software. 
Follow to find answers and get a powerful solution to restore your lost iPhone/iPad files now:
Note: If you've created backups for your lost iPhone files in iTunes or iCloud, you can directly refer to restore iPhone 8 from iTunes/iCloud backups for a guide. 
Let's find your answer and get a solution for iPhone Recycle Bin recovery now:
Is there a Recycle Bin on iPhone? Where to find Recycle Bin location on iPhone?
Here are two top questions that most iPhone users have asked and here we've collected some information for you:
1. Is there a Recycle Bin on iPhone?
Answer: There is no Recycle Bin nor Trash on iPhone or iPad.
Unlike Windows OS or macOS X, iPhone and iPad don't have a Recycle Bin/Trash Bin inside for taking temporary files deleted by iOS users. 
2. Where to find Recycle Bin location on iPhone?
Since there is no Recycle Bin on iPhone, then you'll have nowhere to find the Recycle Bin location. 
But if you deleted some files in an APP on iPhone, you may find a wiggle room there to see some individual photos or other files in your phone app caches. 
How to empty Trash on iPhone/iPad Recycle Bin?
This is also a top question that many iPhone or iPad users have asked for answers online. 
Most iPhone or iPad users are also having the problem that the more trash files will accumulate on iPhone the longer they use the iOS device. For example, the iPhone caches are more likely to be saved into a Recycle Bin location which won't be cleared even if you deleted those files in the specific location on iPhone.
So how to empty trash on iPhone? Here you may follow How to Empty Trash on iPad/iPhone 8/8 Plus/X for tutorial help. 
How to recover deleted or lost files from 'Recycle Bin' on iPhone?
So when you've permanently deleted files on your iPhone, leaving nothing left in the caches nor 'iPhone Recycle Bin', how will you restore those lost files from the 'Recycle Bin' on your iPhone?
One way is to restore lost files from your iTunes or iCloud backups. 
The other way is to apply iPhone Recycle Bin recovery program for help.
And right now, you may follow steps in the below to get a full solution towards your problem - to restore lost iPhone files from 'Recycle Bin' now:
Step 1. Download iPhone 'Recycle Bin' recovery program - EaseUS MobiSaver for help
EaseUS MobiSaver fully supports you to restore all deleted iPhone photos, contacts, messages, etc and even call history etc data from your iPhone or iPad with iOS 13/12/11/10/9 etc.
It's available for you to download and install on your PC for iPhone recycle bin recovery now:
Plus: Please do remember to activate this software to a full version by purchasing a serial key. If this tool fails to accomplish your task, your money will be refunded to your account by contacting the tech support team on our homepage: www.easeus.com.
Step 2. Restore iPhone deleted/lost files from 'Recycle Bin' (iPhone itself)
Let's see how to restore your lost iPhone files from the 'Recycle Bin' on your iPhone now:
1. Connect your iPhone to your PC and run EaseUS MobiSaver.
2. Click Recover from iOS Device, then click Scan.
Let the program find all your lost or deleted files on your iPhone.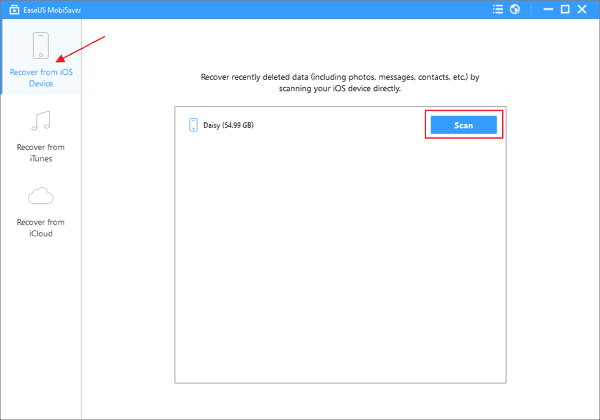 3. Preview and restore lost 'Recycle Bin' files on iPhone.
Select the deleted files such as contacts or photos that you want to restore from recycle bin on your iPhone and click Recover to save them to a safe location on your PC.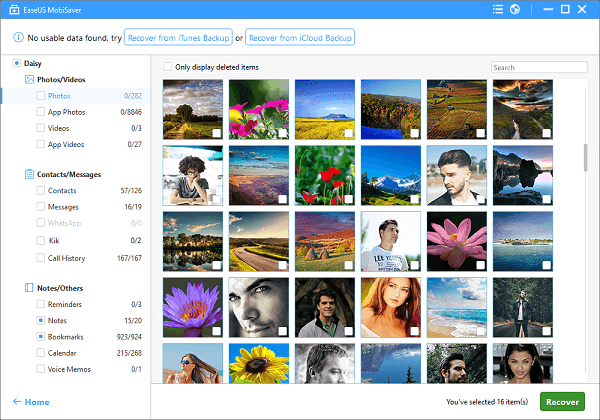 After this, you can follow this tutorial to transfer files from PC to iPhone and continue using your lost files on iPhone/iPad again.