Help: My iPhone 6s shuts down and dies at 50% battery, how to fix it?
"Hi, does any one of you know how to fix iPhone 6s shut down at 50% battery error? My iPhone 6s suddenly stopped working and shut down this morning. It still has at least 50% battery. If you have any solutions to fix such a problem, please help me out. Thanks."
According to Apple support forum, it seems that quite a lot users have encountered with such a problem that their iPhone 6s, iPhone 6 or iPhone 5s suddenly shut down or stop working with almost 50% battery left. And most of them cannot even access to their precious personal data in their phones. Fortunately, all these problems can be fixed now. Here in this article, we'll provide you effective methods to fix iPhone 6s/6/5s shut down at 50% batter issue without losing any data here. Just follow the below offered guide to solve this problem with ease now.
Step 1. Reboot iPhone when it suddenly shut down at 50% battery
In order to thoroughly fix this problem, you need to first reboot iPhone 6s/6/5s etc, and you may follow some recommended tips to try to reboot your dead iPhone right now:
1. Reboot iPhone from Power + Home button
Press Power + Home buttons simultaneously for about 15 to 30 seconds till Apple logo displays. Then you'll get your iPhone booted normally.
2. Charge to reboot iPhone
A simple way to reboot dead iPhone when it shut down at 50% or 40% battery is to charge your iPhone again.
Please make sure that there is no damage to your charging equipment. Change the dysfunctional charger, USB cable or charging port and check out to see if the USB cable can work properly or not. Then you can recharge your dead iPhone up to 30 minutes and reboot it again.
If you still cannot turn on or reboot iPhone, please contact the Apple support team and ask for help.
Step 2. Restore and extract all iPhone data after rebooting the device
In order to avoid unexpected data loss issue or unable to access important personal data when iPhone 6s/6/5s shut down, it's highly necessary to restore and extract all valuable iPhone data after rebooting the device by following Step 1.
You may try to backup your personal data and files into iCloud or iTunes. Or you may also try another secure method to restore and extract all your iPhone data into PC. This will help you to avoid unexpected cyber or internet virus attack and protect your personal contacts, text messages, photos or videos from leaking. So how to restore and extract all iPhone data to PC? Professional iOS data recovery software may help. Here you may try EaseUS MobiSaver which supports you to restore all lost valuable iOS data and extract all personal data from iPhone, iPad and iPod to PC within only 3 steps. Just free download it and follow next guide to complete this task now:
1. Connect iDevice with PC. Launch EaseUS MobiSaver on your PC.
Choose "Recover from iOS Device" and click Scan.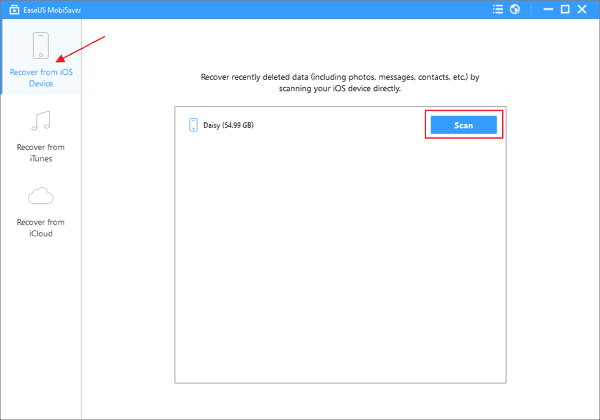 2. Scan iOS Device, iTunes or iCloud and find important data.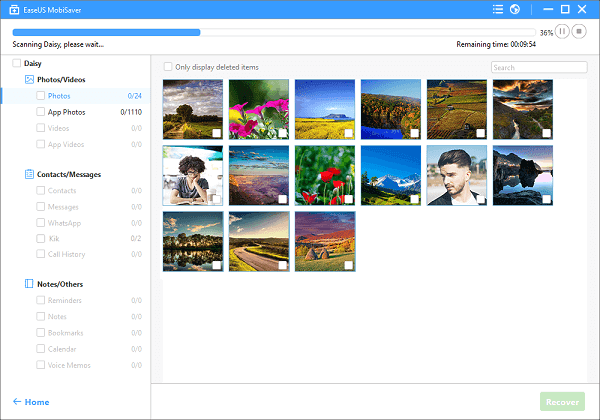 3. Preview and restore lost data.
You can choose the important data such as contacts, SMS or photo etc to click Recover and save those data to a safe spot in on PC.
Note: If you lost backup from iCloud or iTunes backups, you may also try "Recover from iTunes Backup" or "Recover from iCloud Backup" mode in EaseUS MobiSaver to extract all wanted data into PC.
Step 3. Fix iPhone 6s/6/5s shut down at 50% battery error
Now you can follow the below offered steps or fixes to solve iPhone 6s/6/5s shut down at 50% batter error:
Go to Settings > General > Date & Time and make sure that Set Automatically is turned ON.
This will help you fix battery life indicator get stuck error which blocks your iOS device from booting.
An other way is that you may take your iPhone to an Apple Store to see whether they can help your or not.
Tip: If you do really want to protect your personal data, do follow Step 2 to backup and extract all your personal files first before taking your phone to an Apple Store.