
Table of Contents

Reviews and Awards

Best iPhone Data Recovery Software
How to Tell if You Are Blocked on Kik
Summary
Kik has turned out to be a very impressive platform for communicating with users throughout the world. Its operability allows users to block someone across Kik. However, if someone wishes to check the status of getting blocked on Kik, this article provides users with a guide on checking it efficiently.
Many communication platforms have been introduced across the internet over the past decade. Kik, being one of the renowned platforms, is quite common among teenagers and youngsters. As it provides autonomy to users for communication, it also ensures privacy for them. In this article, we shall discuss how someone can tell if someone on Kik blocked them.
What Is Kik Blocking
Blocking, by definition, is defined as someone abstaining from another user across a platform to contact them or communicate with them through any means. However, the question remains on what happens exactly when someone gets blocked on Kik?
The person who gets blocked cannot send any message to the blocker, while on Kik, someone who gets blocked can still send the messages across the platform. Kik does not show these messages to the person; thus, there is no way to communicate or convey a message to them through this platform. Considering that person is in a group with you, their messages won't be visible in the chat, and the user will see a "Blocked Message" display on the screen.
How to Tell If You Are Blocked on Kik
In this article, we shall be looking into methods and techniques explaining how someone can tell if they are blocked by another user on Kik. Is it someone you have been in a fight with lately? To check if you can receive or send them messages across the chat or see their messages in a group to you in which both are mutually added, there are some techniques that you have to employ to confirm the blocking status.
We shall provide two extensive and direct methods that will guide you on how to tell if you are blocked on Kik. Follow any of these methods according to your requirements and conditions:
Method 1. Check If Kik Message Status Is Changed
This is the most straightforward method that helps you figure out if someone has Kik blocked you. On messaging them, if the message status changes, it is just your speculation that they might have blocked you. However, to assess it properly, go through the following steps:
Step 1. Open Kik on your mobile and proceed to the chat of the person that you wish to check. Type in a message and send the message to them on their chat. You can find the message status right next to the sent message.
Step 2. If the message displays an "S", it means that the message is sent to the Kik server. If this changes to "D", it means the message has been delivered, and if it changes to "R", it means the message has been read by the person you sent. Considering the message status never changes from "S", it is clear that the person may have blocked you on Kik.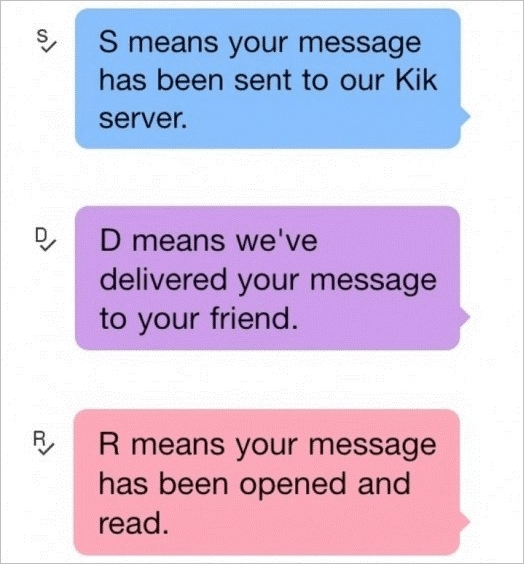 Method 2. Check If You Can Start a Group With Them
Another quick method on how to tell if you are blocked on Kik is by starting a new group with them. This can be done by adding some people that you know haven't blocked you, followed by adding them across the group. If they are not added to the group, it is clear that they've blocked you on Kik. To create a group and confirm the status in such a way, you need to assess the following steps:
Step 1. Open the Kik application on your smartphone and click on the "+" icon at the top right of its home screen.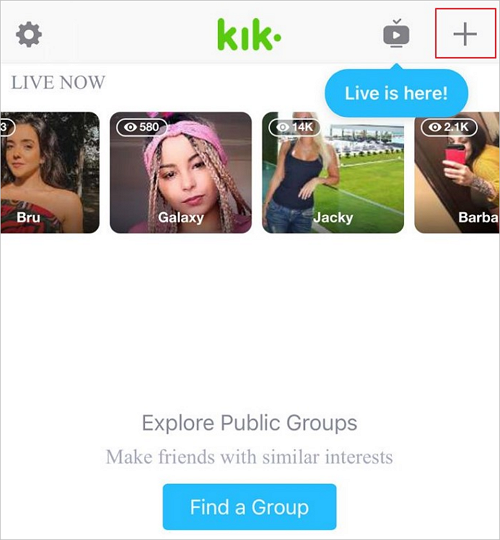 Step 2. Select the "Start a Group" option from the protruding options on the screen. Name the group and add a photo that you wish to set for the group.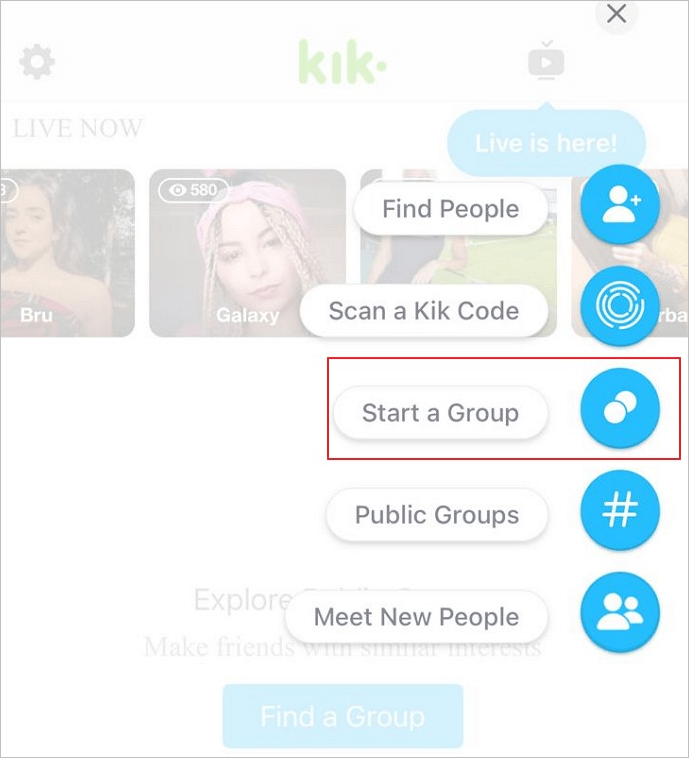 Step 3. You now need to select the users that you wish to add to the group. This should include the person that you think has blocked you. Once added, click on "Start" at the top of the screen. The group will be created if the person has not blocked you. If they had blocked you, Kik would give an error on creating a group.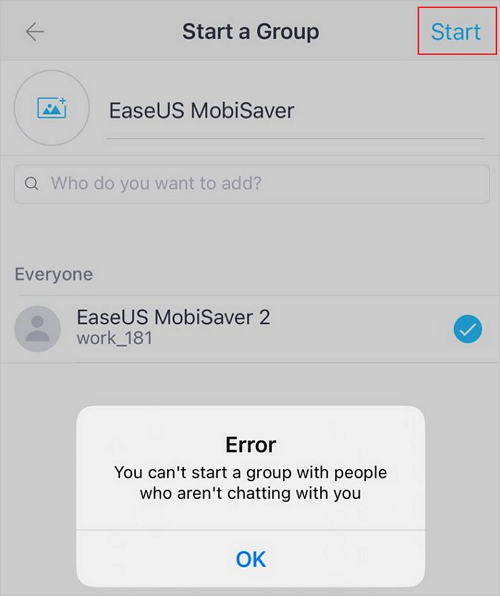 How to Block Someone on Kik
Once you are aware of how to tell if you are blocked on Kik, it is also essential to be aware of how you can block or unblock someone on Kik. Blocking someone disconnects your connection with them across the platform. However, the steps are quite easy, which can be understood by following the steps explained below:
Block People on Kik from iPhone
Step 1. Turn on the Kik app on your iPhone and proceed to the profile that you wish to block on your iPhone.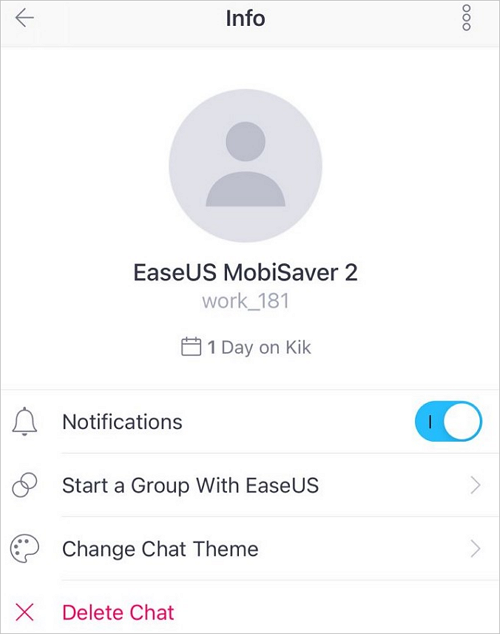 Step 2. Select the "three-dotted" icon on the top and select the option of the "Block User_Name" option from the menu that appears on the screen. A prompt appears on the screen where you need to select the "Block" option for confirmation.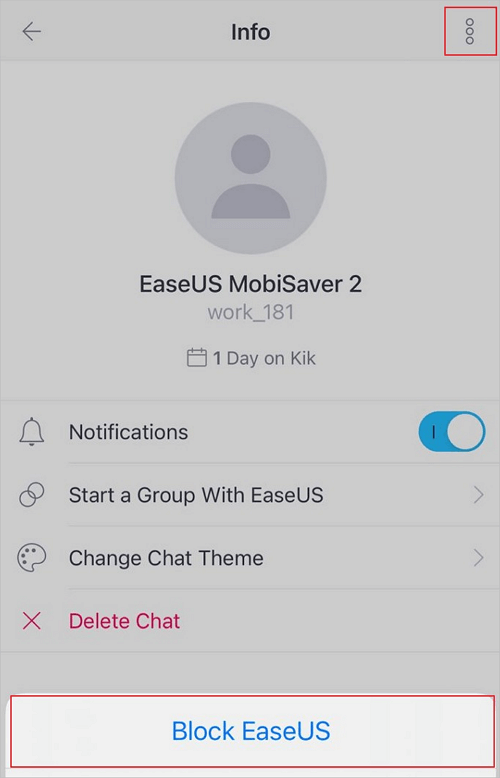 Block People on Kik from Android
Step 1. Open your Kik app on Android and proceed to the user that you wish to block on Kik.  Click on the "three-dotted" icon on the top-right corner of the screen and select the "Block User_Name" option on the list.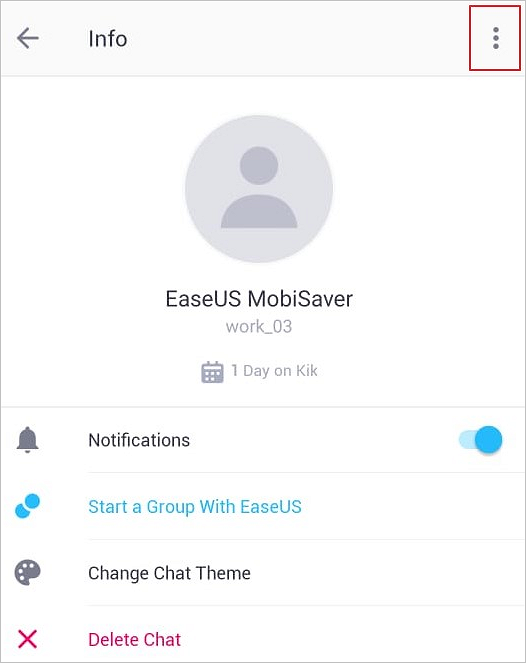 Step 2. On receiving a prompt, click on "Block" on the pop-up message to block the user on Kik on your Android.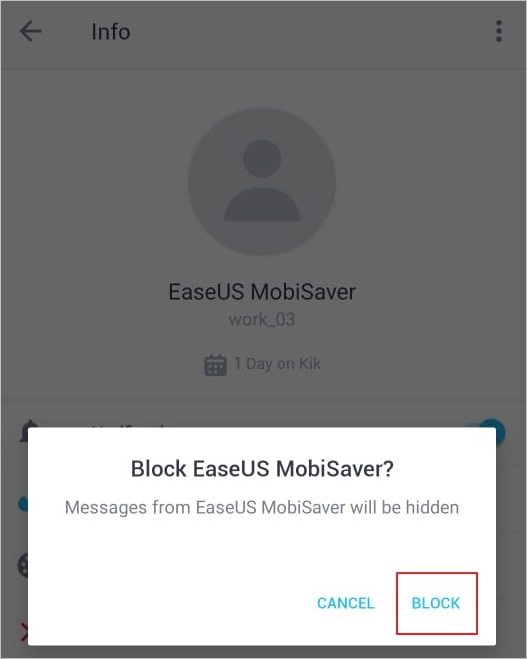 Bonus Tip: Recover Kik Messages on iPhone
What if you lost your Kik Messages due to unforeseen issues on your smartphone? If it ever comes to such a case, EaseUS MobiSaver provides the perfect platform of impressive options for iPhone users. It acts as a data recovery software that features a cognitive system recovering all kinds of WhatsApp data, and LINE chats from the smartphone device. While covering multiple scenarios for users that have led to a data loss across their device, it is an excellent option while being the easiest available in the market.
Preview and Export Data: This platform provides users with the opportunity to preview data before exporting the data in multiple formats. This helps them control the data that is being recovered from the process.
Diversity in Recovery: EaseUS MobiSaver not only supports users in recovering data from the internal memory of the iPhone device, but it also guides users in recovering information from iTunes and iCloud.
Recover Unlimited Data: Users can quickly recover unlimited data from their devices with the help of the tool. There is no particular file size restriction for recovering data across their devices.
Easy and Convenient: The tool is exceptionally simple in operability, as it makes the recovery process extremely basic for all kinds of users. It also caters to all kinds of data recovery from the device, making it a convenient option.
How to Recover Messages of Kik using EaseUS MobiSaver
If someone is looking forward to recovering their Kik messages using EaseUS iPhone data recovery software. In that case, the following guide provides Android and iPhone users with a detailed guide explaining the simple process of using this data recovery tool:
Step 1. Select Device Storage
Connect iPhone to your PC and Launch EaseUS MobiSaver. Click the "Kik" button, and select "Device Storage" to recover Kik Data from iPhone.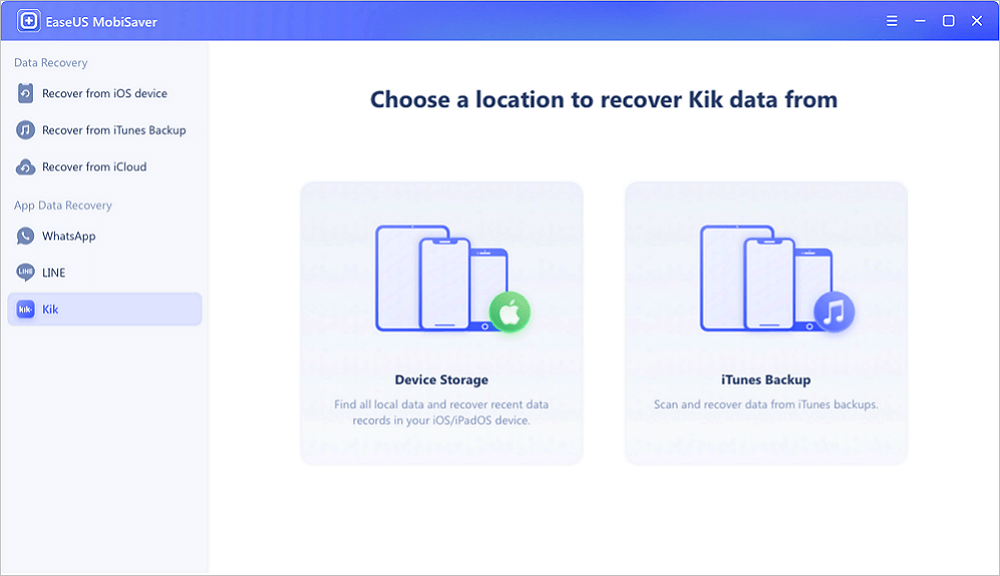 Step 2. Make Sure Your Phone Has Kik
If the Kik is not installed on your device, your device will not be detected.
Step 3. Scan iPhone to Find Kik Data
EaseUS Mobisaver will automatically scan iPhone 13/12/11/X/XR/XS/8/7/6/5/4, and find present Kik data and even some lost data for you. This process may take few minutes, and please wait patiently.
Step 4. Preview and Restore Kik Chats/Attachments
Select the "Kik" button on the left and the missing chats and Kik files will be displayed. Just preview and select the data you want to recover. Click "Recover to PC" or "Recover to Device".
Kik Blocked FAQs
We have gone through a comprehensive overview of how to check if someone has blocked you and a guide on how to block someone. Now, we shall proceed with some questions that a user can have about Kik blocked feature.
1. When you block someone on Kik, can they see your picture?
If you block someone on Kik, they can check out your profile and all the images that have been sent to them before. However, you cannot send them any other picture on the platform as they disappear from the chat.
2. How do you see your block list on Kik?
To check if someone has blocked you on Kik, follow the simple steps provided below:
Step 1. Open Kik on your phone and proceed to the "Gear" icon.
Step 2. Select "Privacy" from the options on the screen. The next screen will show the option of "Block list." On accessing the option, you will find the block list of Kik on your front.
3. What happens if I unblock someone on Kik?
If you unblock someone on Kik, you can send and receive messages from them. You will observe their messages across the groups across Kik, and you can send images and get in contact with them in all ways.
4. Can I send a message to someone who blocked me on Kik?
Yes, you can surely send a message to someone who has blocked you on Kik. However, they won't receive the message on Kik, and the status won't change on the chat.
Conclusion
This article has provided users with a comprehensive guide about what happens if someone gets blocked on Kik. Along with that, users have been made aware of the scenarios that can help them tell if they have been Kik blocked by another user. Following this, if it ever comes to losing Kik messages on your device, you can consider using EaseUS MobiSaver for convenience and ease of use.