
Table of Contents

Reviews and Awards

Best iPhone Data Recovery Software
How to Recover WhatsApp Messages Without Backup on iPhone/Android
Summary
Wondering how to recover one-year-old WhatsApp messages without backup? If yes, you've come to the right place because this article has all the right solutions for you! Download and run EaseUS MobiSaver to restore WhatsApp messages with simple clicks.
Lost WhatsApp Messages on My Phone
In addition to personal and commercial talks, WhatsApp is utilized by billions of individuals worldwide for their everyday communications. It doesn't matter if you are using an iOS or an Android smartphone; the reality is that you could lose any data or chats on the device. The most typical cause of WhatsApp data loss is the deletion of chats or any damage to your phone. The experience of finding oneself in this circumstance may be quite disappointing.
However, WhatsApp allows you to recover the data from WhatsApp backup. Although if you don't have a backup of your WhatsApp conversations, you can still recover the data. But most people don't know how to recover 1-year-old WhatsApp messages without backup. To ease this out, this article covers some of the finest ways to recover WhatsApp messages with or without backup. Let's get going!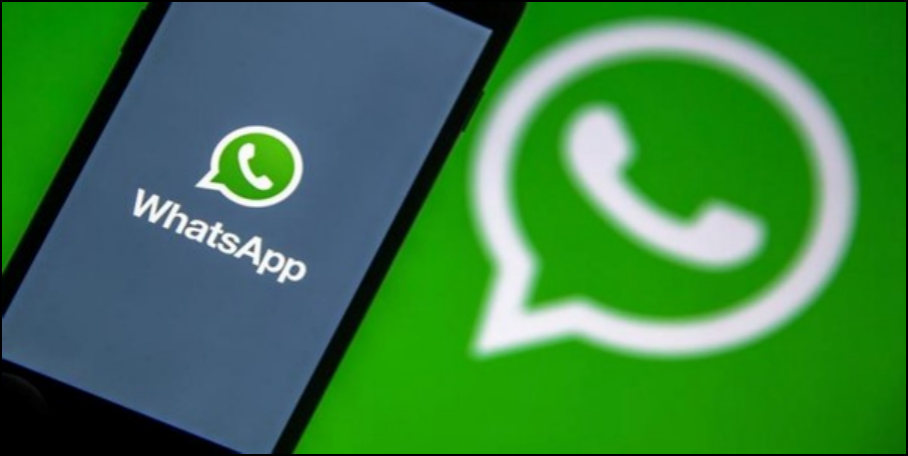 Recover WhatsApp Messages without Backup on iPhone/Android
Deleted WhatsApp conversations on iPhone and Android could be recovered without the need for a backup if essential WhatsApp communications were mistakenly deleted. You need to recover the data from WhatsApp, even if it is a little difficult. To recover WhatsApp messages without backup on Android and iPhone, use these methods.
Method 1. Recover WhatsApp Messages without Backup on iPhone
Even though WhatsApp is among the most famous platform for everyday communications, there's no built-in way to recover deleted WhatsApp messages without backup. You need a data recovery tool for that purpose. However, many people want to know how to retrieve WhatsApp deleted messages without a data recovery tool.
Because in today's world, several tools promise to help you discover or recover lost conversations. However, the vast majority of them are ad-filled hoaxes. So if you want an excellent and secure tool to recover deleted conversations without backup, EaseUS MobiSaver for iPhone is your best bet.
It enables users to do iOS data recovery without dealing with the additional complications that we've discussed so far. They may use this program to recover essential media from any Apple device, such as iPhones or iPads, in addition to WhatsApp messages and other data.
The data recovery software, i.e., EaseUS MobiSaver, can easily recover various kinds of iPhone data such as images and videos, contacts and SMS messages, Safari bookmarks, notes, voicemail, WhatsApp photos, videos, and WhatsApp chat history.
Quality iPhone data recovery app for Windows and Mac.
Data can be recovered from iOS devices, iTunes, and iCloud backups with this software.
You may use this app with the most recent versions of iOS 13 and the iPhone 11 (all models).
On Windows 7 and above versions and Mac OS 10.15, it works well.
Download EaseUS MobiSaver for an efficient and secure way to recover WhatsApp deleted messages on iPhone.
Step 1. Connect iPhone to PC
Launch EaseUS MobiSaver, choose the  "WhatsApp" button, and select "Device Storage".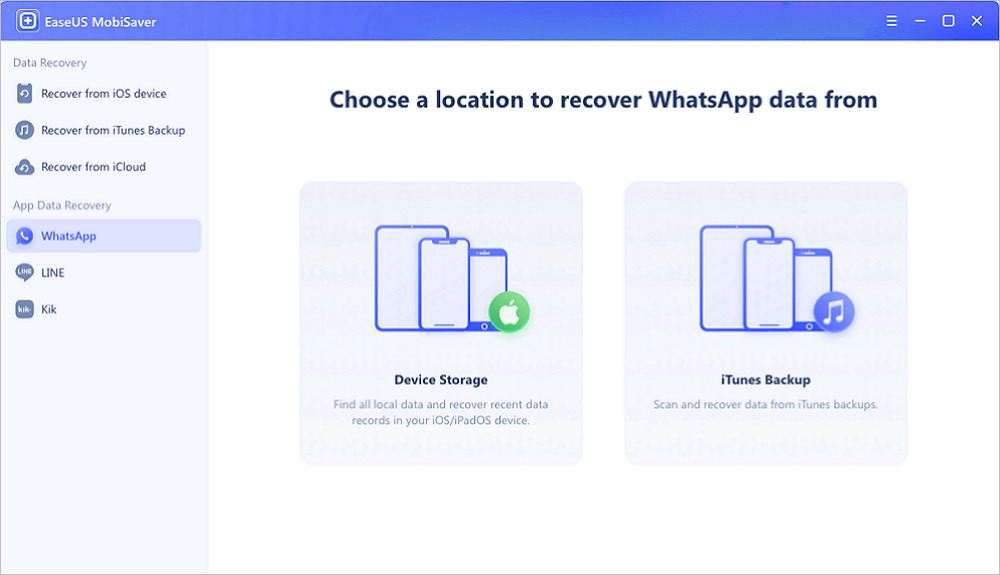 Step 2. Make Sure Your Device Is Connected
If WhatsApp is not installed on iPhone, EaseUS MobiSaver cannot find your data.
Step 3. Scan iPhone and Find Important Data
EaseUS Mobisaver will automatically scan iPhone 13/12/11/X/XR/XS/8/7/6/5/4 to find lost WhatsApp chats, history, photos, videos, and other files. This process may take few minutes, wait patiently.
Step 4. Preview and Restore WhatsApp Data
Tap the "WhatsApp" button on the left and the missing WhatsApp data will be displayed. Just preview and select the data you want to recover. Then, click "Recover to PC" or "Recover to Device" to get the data back.
Method 2. Recover WhatsApp Messages without Backup on Android
WhatsApp conversations are essential because they might have some important messages. If you've accidentally deleted or lost WhatsApp messages on your Android device and don't have a backup, a recovery tool is your only option.
Recovery solutions are a dependable and practical means of retrieving both old and fresh WhatsApp conversation histories without putting the user under undue pressure. One of the best and most efficient recovery tools to retrieve WhatsApp messages is EaseUS MobiSaver for Android.
EaseUS MobiSaver allows you to easily recover your old and new deleted or lost WhatsApp messages on Android. It deep scans your WhatsApp database to retrieve the lost WhatsApp conversations.
The finest Android data recovery program, EaseUS MobiSaver for Android, works effectively to recover lost or formatted Android pictures, videos, messages, contacts, music, documents, and other items from many Android phones. Furthermore, it sends notifications regarding recovery outcomes to your Android device's notification area, allowing you to follow any real-time modifications to your data.
For easy and safe WhatsApp message recovery, you need to download EaseUS MobiSaver for your Android device.
Intuitive user interface design makes it possible to restore lost data on Android in three simple steps.
Detects Android devices connected to a PC automatically and begins scanning in a flash to recover whatever you've misplaced on them.
Android data recovery software that is completely risk-free finds and recovers lost information while protecting your privacy without overwriting existing data.
You may preview all recoverable SMS, contacts, photographs, documents, and other data types and confirm the recovery quality before starting the recovery process.
Step 1. Connect your Android phone to the computer
Install and run EaseUS MobiSaver for Android and connect your Android phone to the computer with a USB cable. Then click the "Start" button to make the software recognize and connect your device.
Step 2. Scan Android phone to find the lost data
After connected your Android phone, the software will quickly scan the device to find all the existing and lost data. You can easily find the lost files you want by choosing the correct file types.
Step 3. Preview and recover data from Android phone
Preview all the recoverable files and select the items you want to recover quickly. Then, click the "Recover" button to get the selected files back once.
2 Ways to Recover WhatsApp Messages with Backup
You may often lose your WhatsApp messages because of accidental deletion or phone replacements. However, WhatsApp allows you to save your data and recover it later on using the built-in feature. You can recover the WhatsApp message using the built-in backup feature in the above situations. To recover WhatsApp messages on your smartphone with backup, follow these methods.
Method 1. Recover WhatsApp Messages on iPhone from iCloud
The wonderful thing about iCloud is that it is now accessible on every iPhone model available on the market. In certain cases, it may store messages by default, but you may prevent this by generating backups of your communications. For those unfamiliar with iCloud, you are missing out a lot.
However, this tool is only accessible on iOS 7 and later versions, so make sure you verify your iOS version before proceeding with these instructions. Once you've made up your mind, here's what you should do.
Step 1. Open WhatsApp and go to the "Settings" menu.
Step 2. To go to the restore chat history page, choose "Chat Backup" from the menu.
Step 3. Select "Restore Chat History" and then wait for the process to be completed.
Method 2. Recover WhatsApp Messages on Android from Google Drive
Android phones come with an extremely useful in-built feature known as Google Drive, available on all models. The app can assist you in retaining your photographs and data while also, and perhaps most crucially, your WhatsApp communications. If you've already created a backup, you may restore WhatsApp messages fast by following the instructions below.
Step 1. First and foremost, WhatsApp must be removed from your Android smartphone. After that, download and launch WhatsApp on your smartphone. Use OTP to verify your phone number.
Step 2. If the messenger asks for the WhatsApp backup, choose "Restore".
Step 3. Once the restoration is done, click "Next" to see your conversations in your WhatsApp messenger.
Conclusion
As stated above, WhatsApp conversations are essential because they might have some important work files or messages you will need in the future. However, sometimes you accidentally delete the WhatsApp messages or conversations. But you can use the methods discussed in this article if you wonder about how to recover 1-year-old WhatsApp messages without backup.
Moreover, we recommend using EaseUS MobiSaver to recover the deleted or lost WhatsApp messages since it is a secure and reliable data recovery tool.