
Table of Contents

Reviews and Awards

Best iPhone Data Recovery Software
How to Backup iPad Without Passcode
Summary
It is very common to forget the passcode you set on your iPad or iPhone. Because you always set different passcodes for different software, applications, and devices. If you happen to forget your passcode on the iPad, you can read this guide to learn how to back up and unlock your iPad without a passcode.
A passcode on an iPad can help you prevent others from accessing your data like messages, pictures, or something else. But sometimes, you may forget the passcode. That would be trouble because you may lose the data on the iPad, and you don't know how to unlock it. When you encounter this problem, you can take the solutions in this guide as references.
What if You Forget Your iPad Passcode
It would be great if you can recall your passcode, or unlock it after trying to enter different passcodes. If not, you can only try other methods to unlock it without a passcode even if it will cause data loss. However, if the following conditions are met, you can back up the locked iPad with iTunes to avoid data loss:
Have used iTunes to sync your device with your computer;
Have not restarted your device since last time sync;
Have not used up the times to enter the passcode, and the device is not "Disabled."
To back up iPad without passcode via iTunes:
Step 1. Launch iTunes and connect your iPad/iPhone to the computer.
Step 2. Click "Summary" on the left side of the window, and then tap on "Back Up Now" to initiate the backup process. 
What if Your iPad is Disabled
If you enter the wrong passcode in a row, your iPad will say "iPad is disabled." You can continue to try other might-be passcodes when the disabled time is up. But if you enter the wrong passcode for ten times in a row, your device will display "iPad is disabled connect to iTunes." In this case, you can not back up your device before unlocking it. You can only use iTunes or other methods to unlock your iPad so that you can continue to use it.
How to Unlock an iPad Without a Passcode
No matter you forget your iPad passcode or your iPad is disabled, you have to seek help from other methods to unlock it. Apple provides you some solutions such as iTunes, but it is a little complicated to operate.
In addition to iTunes, I would like to recommend you an easier way to unlock your iPad within a few clicks using EaseUS MobiUnlock, iPhone unlock software. Just read on to check how to operate.
Step 1. Launch EaseUS MobiUnlock and connect your disabled iPhone or iPad to the computer, select "Unlock Screen Passcode" from the home page of EaseUS MobiUnlock.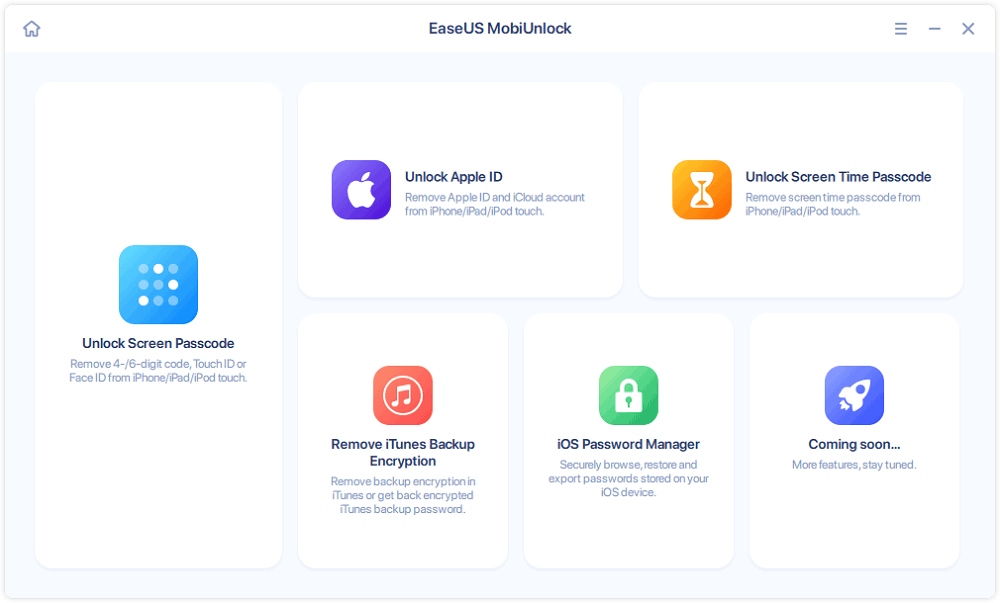 Step 2. Once EaseUS MobiUnlock recognizes your device, click "Start" to proceed.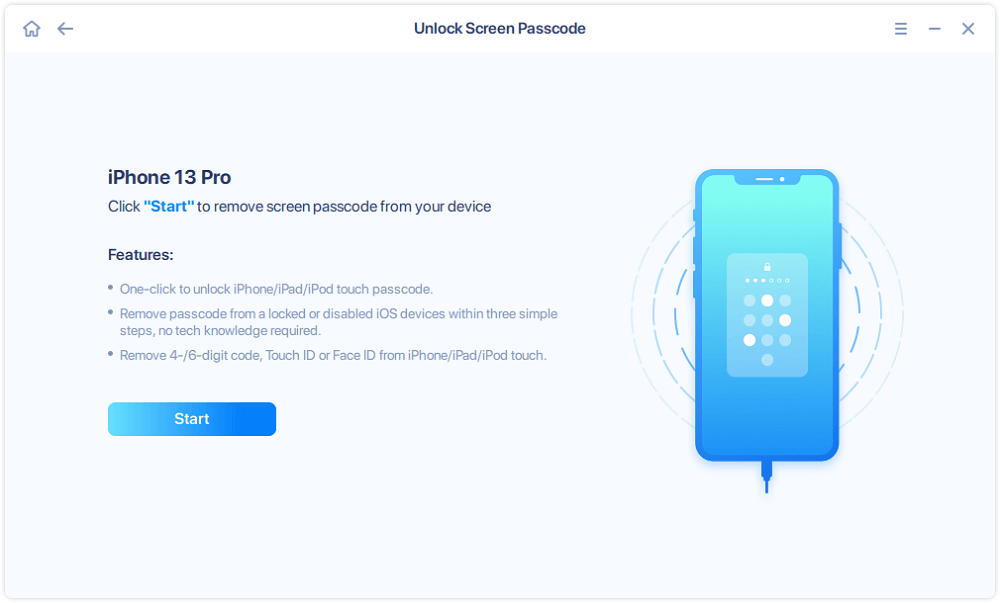 Step 3. Make sure your device model is the one you wish to unlock and then click "Next" to download an appropriate firmware for your device. (If the firmware has been downloaded already, select it instead.)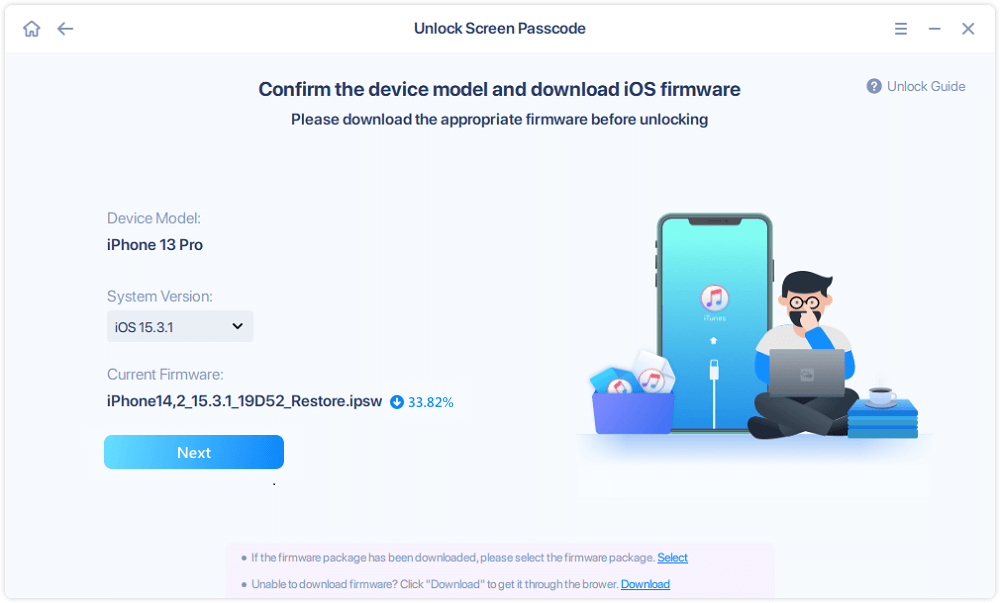 Step 4. Once the firmware verification comleted, click "Unlock Now." Then, enter some needed information in the new pop-up warning window. Once you're done, proceed by clicking on "Unlock."
Step 5. After a few second, your disabled iPhone or iPad will be unlocked successfully.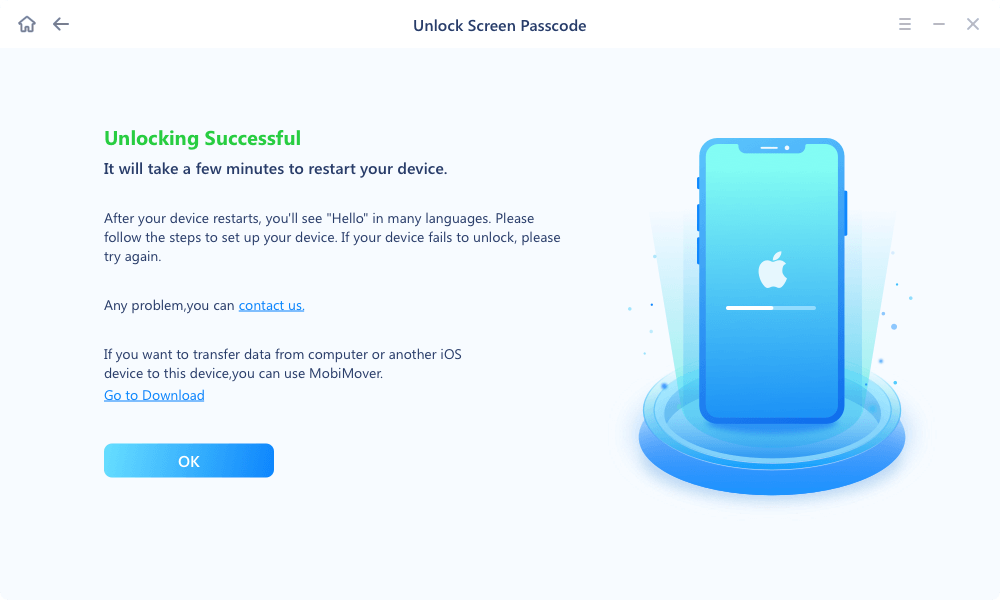 How to Recover or Restore Data to Your iPad
If you unlock your iPad using other methods besides a password, you will get a brand-new iPad, which means you lose all the data on your iPad. But you can recover or restore the data to your iPad if you have backed up your device before. Using EaseUS MobiSaver, free iphone recovery software, you can recover the data from iCloud or iTunes, depending on which method you used to back up your data before.
This guide will explain how to recover data from iCloud to your iPad. To recover data from iTunes is the same operation. Just select "Recover from iTunes" at the very beginning.
To recover data from iCloud:
Step 1. Choose "Recover from iCloud"
Connect iPhone to Your PC and Launch EaseUS MobiSaver. Choose the "Recover from iCloud" button, and click "Start".
Step 2. Turn Off "Find My iPhone" 
Turn off "Find My iPhone" on your iPhone/iPad/iPod to continue.
Step 3. Type Code in the Confirmation Box 
Type "123456" in the confirmation box and then click "Continue" button.
Note: This step will erase all data and reset all settings. Make sure you have backed up important information.
Step 4. Reset iPhone
Move through the iPhone setup process until you see the reset screen. Then choose "Restore from iCloud Backup" on Your phone. Enter the Apple ID and password for the account you want to restore the backup from. Then click "Next" on your PC.
Step 5. Select the Files
Select the type of data you want to recover. If all files need to be restored, you can directly click the "Select All" button below.
Step 6. Analyze the iPhone
The software will analyze your phone. It may take a few minutes and don't disconnect or use your device.
Step 7. Scan Lost Data and Recover
EaseUS MobiSaver will automatically scan your iCloud backup file to find the lost data. This process may take a few minutes and please wait patiently. Then, select the data you want to recover and click "Recover" button.
In Conclusion
It's a headache to forget the passcode on your iPad. Fortunately, it can be handled with the help of reliable tools. In case you forget your passcode, you'd better write it down. Just as the saying goes, the palest ink is better than the best memory. And regularly backing up your device is a good habit so that you don't need to worry about data loss when you forget the passcode.