
Table of Contents

About the Author

Reviews and Awards

Recover Deleted Files in Windows 10/11
Are you someone who is facing Word has run into an error that is preventing it from working correctly. Word will need to be closed as a result. Would you like us to repair now issue when you want to access MS Office? We will give you some quick fixes to resolve this annoying error. But, before going into detail, it's essential to know what causes this Excel error. So, let's discuss it.

Causes for We're Sorry, but Word Has Run Into an Error
The error message: We're Sorry, but Word has run into an error that is preventing it from working correctly may show whenever a user tries to upgrade the MS Office application to a new version.
If any user executes the MS Office application in the compatible mode, they might face the error.
Overall, the real issue is when any user attempts to upgrade the MS Office application; meanwhile, other applications like Excel, PowerPoint, Excel, and Word start configuring automatically within the compatibility mode. It forces the error message which shows to the user. 
So, to remove this, We're Sorry, but Word Has Run into an Error issue; follow the below-given fixes.      
How to Fix Word Has Run Into an Error in Windows 10
Here, we will provide you with four quick and most reliable fixes to immediately resolve your issue. So, follow the exact steps of these fixes.  
Note: Before doing this, ensure you have a backup of all the essential files. While there should be a problem, taking a precaution is always a better idea.
Fix 1. Fix the issue with commands
Step 1. Right-click on the "Start" menu and select Run now; it will open the Run dialog box. Here you have to type the C:\Program Files\Microsoft Office\root\Office16 command and press the Enter key.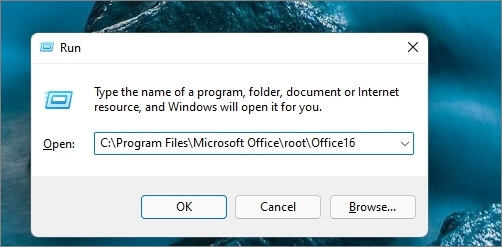 Step 2. The command will open the Office version folder from the Program Files; here, you have to locate the following files 
For Microsoft Word, find winword.exe or just WINWORD
For Microsoft Excel, find excel.exe or just EXCEL
For PowerPoint, find powerpoint.exe or just POWERPOINT
For Outlook. locate outlook.exe or just OUTLOOK
For Access, locate msaccess.exe or just MSACCESS  
Step 3. Right-click on the respective files above the selected "Properties". When the WORD or EXCEL or POWERPOINT or OUTLOOK or MSACCESS Properties dialog box opens, locate the "Compatibility" tab and uncheck the checkbox next to Run this program in compatibility mode for and click "OK".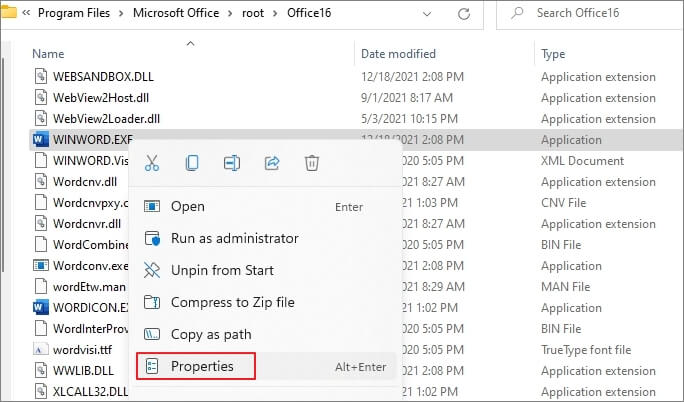 Now check whether the issue is resolved or not.  If it does, unless a proper fix is rolled out, you can create a shortcut to run the applications in compatibility mode,
Fix 2. Disable or Remove the Add-in
Sometimes these types of errors occur due to the presence of add-ins. So, you can efficiently resolve this error by removing or disabling the particular add-in. To disable that particular add-in, follow the exact steps given below.
Step1. Go to the "File > Options" from the Word menu bar.
Step 2. Click on the "Add-ins" button from the opened Excel options window. 
Step 3. To get the list of all add-ins currently executing in the Excel application, press the "Go" button.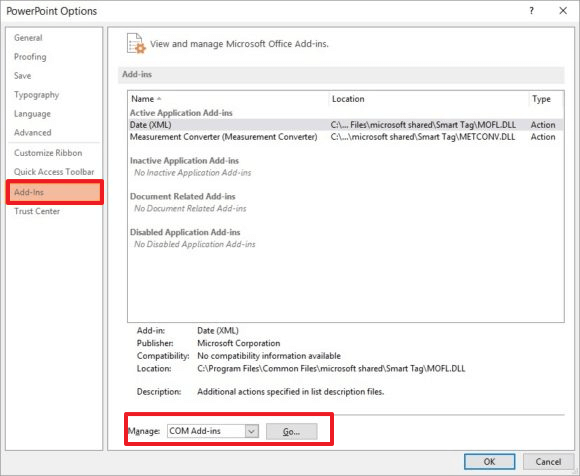 Step 4. Now untick each add-in one by one and check whether the error has been fixed or not. 
After disabling, check if the issue is resolved. If yes, then you will have to upgrade or update without it. You can also get in touch with the extension developer and share the feedback so they can fix it.
Note: Do not disable all of them together; else, you will not be able to figure out which extension was causing the problem. 
Fix 3. Disable Compatibility Mode
The problem can also occur if the compatibility mode is on. Most of the time, this mode is no more needed, and if you have been running it earlier, it's time to disable and check it. The best way to fix this one is using the Program Compatibility Troubleshooter.
Step 1. Open the Start menu, and search for "Program Compatibility Checker". Once it appears in the list, click to launch it and give a Yes to UAC prompt.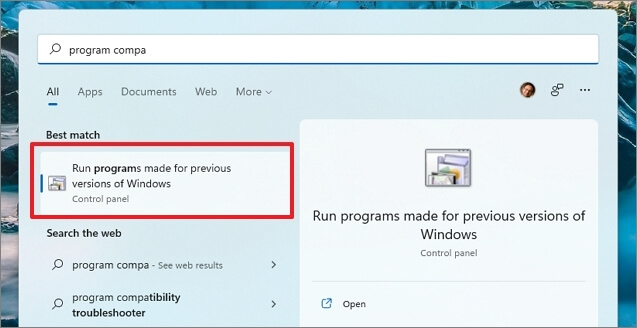 Step 2.  It will reveal the list of programs installed on the PC. Locate "Word or Excel or PowerPoint" and then click on the "Next" button.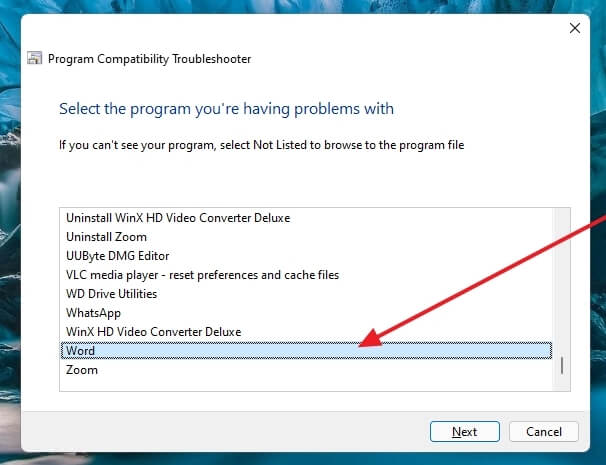 Step 3.  It will then offer you "Try recommended settings" or "Select option to choose the compatibility settings" options. 
Step 4. Select the settings and troubleshoot. You may have to repeat this with various other options displayed in custom settings. You will be asked multiple questions throughout the process unless the issue is fixed.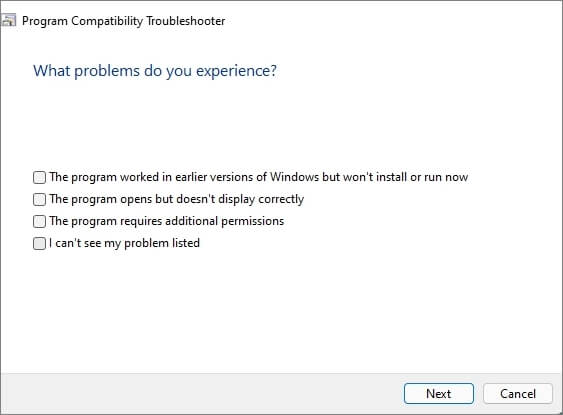 Fix 4. Repair MS Office Installation
Microsoft Office offers a built-in repair tool that is part of the installation. The repair tool can fix any corrupt or missing files from the installation. So if the error were because of these, it would work fine once the process is complete. 
Step 1. Open the Control Panel and click on the "Programs and Features" section. It will open a new window where you can see all the applications on your system.
Step 2. Now search for the Microsoft Word application from the list and right-click on the application it will show two options like "Uninstall" and "Change". Click the "Change" option.
Step 3. Now, a new window will open where you will get the notification about how you would like to repair your Office programs with two options, Quick Repair or Online Repair, along with the Repair and Cancel button. Here you have to click on the "Repair" option and follow the further instructions of the Wizard.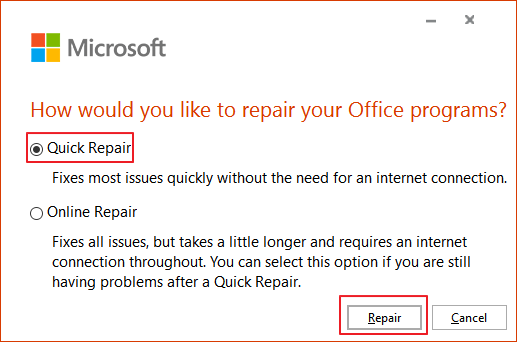 After completing the process, check whether your issue is resolved or not!            
How to Repair Corrupted Word/Excel/PPT/PDF Efficiently
People are often worried because they found their essential Word/Excel/PPT files corrupt. Are you one of them? If yes, then here is the solution for you! In case of corrupt Word, Excel, or PPT files, we recommend using the EaseUS Data Recovery Wizard. It is one of the best file repair and data recovery tools that resolve your issue within a few clicks. So, let's know more about this fantastic tool.
Repair Corrupted Word Files
It can quickly repair severely corrupted Word files and recover complete file data with original formatting. Overall, this advanced tool can promptly fix any Microsoft Word corruption files.
Repair Corrupted Excel Files
Some files go beyond regular recovery. So much that the Office app cannot read any data. However, using this tool, you can recover severely damaged or corrupted XLS and XLSX files and retrieve everything from Excel in original format. The best part of this tool is that it can recover all the Excel files, things like images, charts and tables, and cell comments and formulas.
PDF files repair is another crucial feature of the EaseUS file repair tool. With the help of this tool, you can quickly repair corrupted PDF documents that are available within your PC or any external storage devices.  
Free download this reliable file repair program within a few clicks. 
Step 1. Launch EaseUS Data Recovery Wizard, and then scan disk with corrupted documents. This software enables you to fix damaged Word, Excel, PPT, and PDF files in same steps.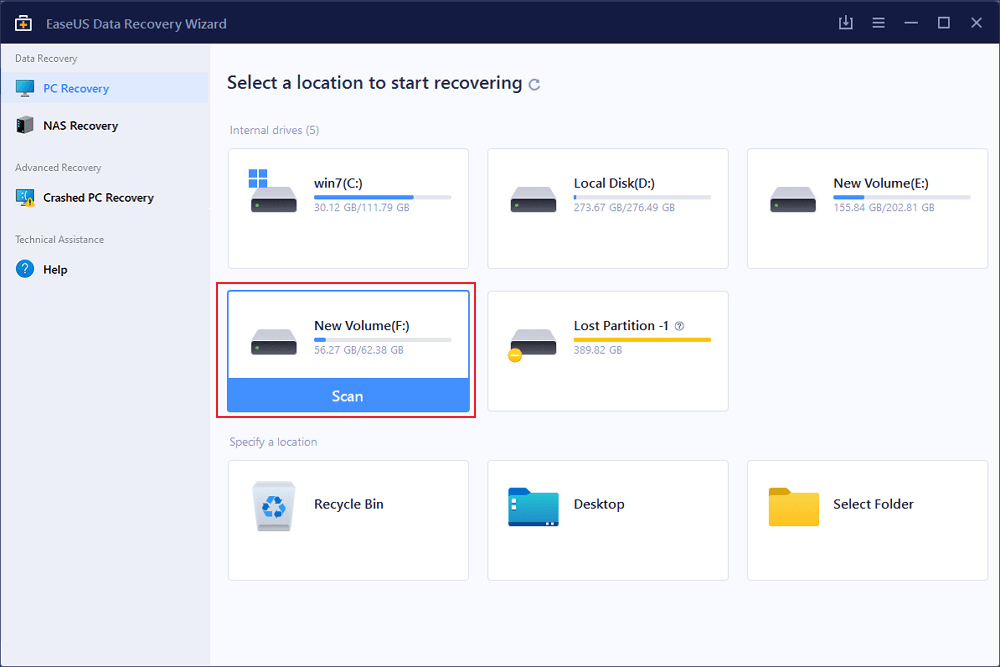 Step 2. EaseUS data recovery and repair tool will scan for all lost and corrupted files. You can find the target files by file type or type the file name in the search box. 
Step 3. EaseUS Data Recovery Wizard can repair your damaged documents automatically. After file preview, you can click "Recover" to save the repaired Word, Excel, and PDF document files to a safe location.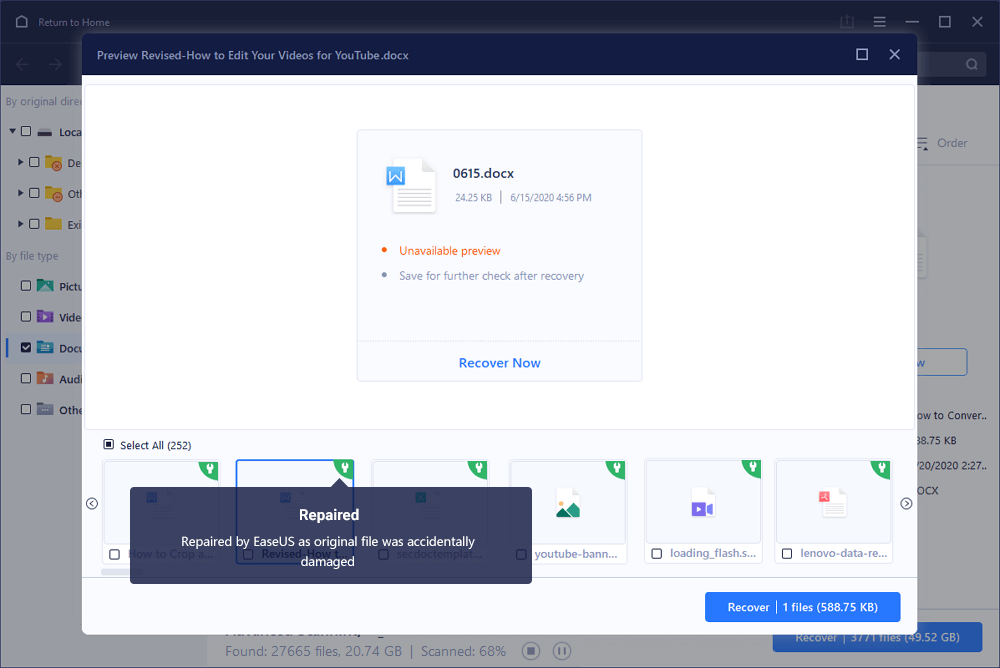 EaseUS data recovery and repair software still has the following features: 
Repair Office Files in a Batch 
Do you have too many files to recover? A complete batch is corrupt? Then you can use it to effortlessly select and fix manifold corrupt files in a batch. This tool can simultaneously repair multiple documents with PPTs, Excel, PDF files, or Worksheets.   
Preview the Repaired Files 
EaseUS file repair tool always permits users to preview the repaired Word, Excel, PPT, and PDF files data before saving the files in any particular location of your system. This unique preview feature always helps users to verify if the upcoming results match the original data or not.
Overall, the EaseUS file repair tool is the top-rated Word/Excel/PPT repair tool used by many professionals. We will always recommend you download this tool from the official website of EaseUS and use them as per your requirement.       
The Bottom Line
If you have been following this post until now, you must have complete knowledge regarding the four most effective fixes to the issue We're Sorry, but Word Has Run into an Error. Always follow the exact steps we have given above to resolve your issues.
If your PDF files are corrupt, try to download the Ease US file rapier tool and recover them with the help of a few clicks, as we mentioned above. If you have any questions feel free to ask us in the comment section, we will answer you.  

Cedric Grantham is one of the senior editors of EaseUS who lives and works in Chengdu, China. He mainly writes articles about data recovery tutorials on PC and Mac and how-to tips for partition management. He always keeps an eye on new releases and likes various electronic products.
EaseUS Data Recovery Wizard is a powerful system recovery software, designed to enable you to recover files you've deleted accidentally, potentially lost to malware or an entire hard drive partition.

 Read More

EaseUS Data Recovery Wizard is the best we have seen. It's far from perfect, partly because today's advanced disk technology makes data-recovery more difficult than it was with the simpler technology of the past.

 Read More

EaseUS Data Recovery Wizard Pro has a reputation as one of the best data recovery software programs on the market. It comes with a selection of advanced features, including partition recovery, formatted drive restoration, and corrupted file repair.

 Read More