Summary
This article will introduces you several methods to restore lost AutoCAD files or how to repair corrupted CAD .dwg files when they stop working. Just free download the CAD file recovery here and follow methods to restore and repair corrupted AutoCAD files right now.
AutoCAD files won't open, can I restore them
"OK, this is the deal. Yesterday, I finally finished designing a bridge measure graphic with precise figures. And I remembered that I saved it carefully on my PC. However, this morning, when I tried to show my colleague the .dwg file, it just didn't open. What's going on there? Do I still have a chance to restore the .dwg file in AutoCAD? How?"
If you are having a similar problem with your lost AutoCAD files or your CAD files corrupted in PC, don't worry. Here we'll provide you with reliable and effective methods to recover lost CAD files and show you how to repair the corrupted .dwg files.
Part 1. Restore lost or corrupted AutoCAD files in 3 ways
When you accidentally deleted or removed CAD files or .dwg files suddenly failed to work or open in drawing program, don't worry. You still have chances to get them back. Here in this part, we'll provide you with three methods to restore lost or corrupted AutoCAD files:
Method 1. Recover AutoCAD files with Recover Command
Recover Command allows you to directly restore lost AutoCAD files when you delete or lose them. Here are the detailed steps.
Step 1. Open a new drawing in AutoCAD;
Step 2. Select File > Drawing Utilities > Recover;
Step 3. Select the drawing from the dialog box and click OK.
There, your lost AutoCAD files are recovered by the Recover Command then.
Method 2. Restore lost .dwg CAD files from Autosave feature
Step 1. Open AutoCAD > Tools > Options;
Step 2. Click Files > Automatic Save File Location and check the location of the autosave files which are usually saved under this path: C:\Documents and Settings\USERNAME\Local Settings\Temp;
Step 3. Navigate to find your CAD file by name, check the modified date of those files and select the right version - the one that you lost or deleted and then change the file extension from .bak or .sv$ to .dwg.
Then you can continue using your corrupted or lost AutoCAD files again.
Method 3. Restore lost AutoCAD files by file recovery software
If you prefer a wiser and smarter way to find lost AutoCAD files, you can try professional file recovery software such as EaseUS Data Recovery Wizard which enables you to restore and find lost files in three simple steps:
Step 1. Connect your device to PC.
If you lost files on an external storage device, connect the storage device to your computer firstly.
Step 2. Run this software and scan the lost file.
Run EaseUS file recovery software - Data Recovery Wizard on your PC, specify the location where you lost files and click "Scan" to scan those lost files.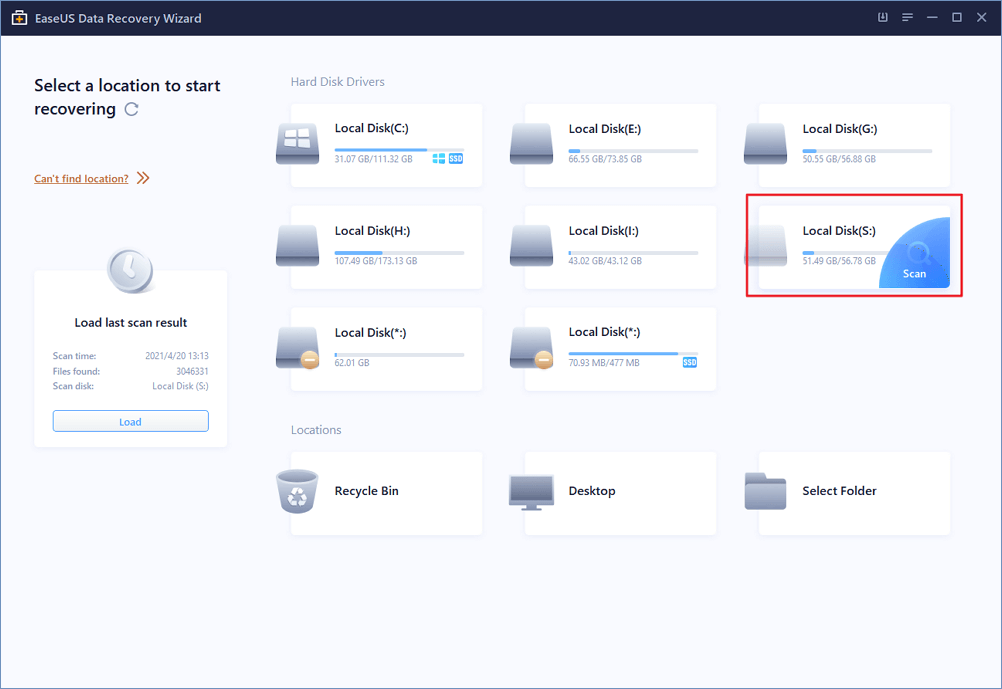 Step 3. Preview and restore file.
After the scanning, you can find and double-click to preview your lost files here:
Delete Files: All your deleted files are listed here.
Drive (with your device name): It loads all lost files here.
Lost Partition Files: Check first if your hard drive is formatted or partition gets deleted.
Extra Files: All files that lost names or paths on your drive can be found here.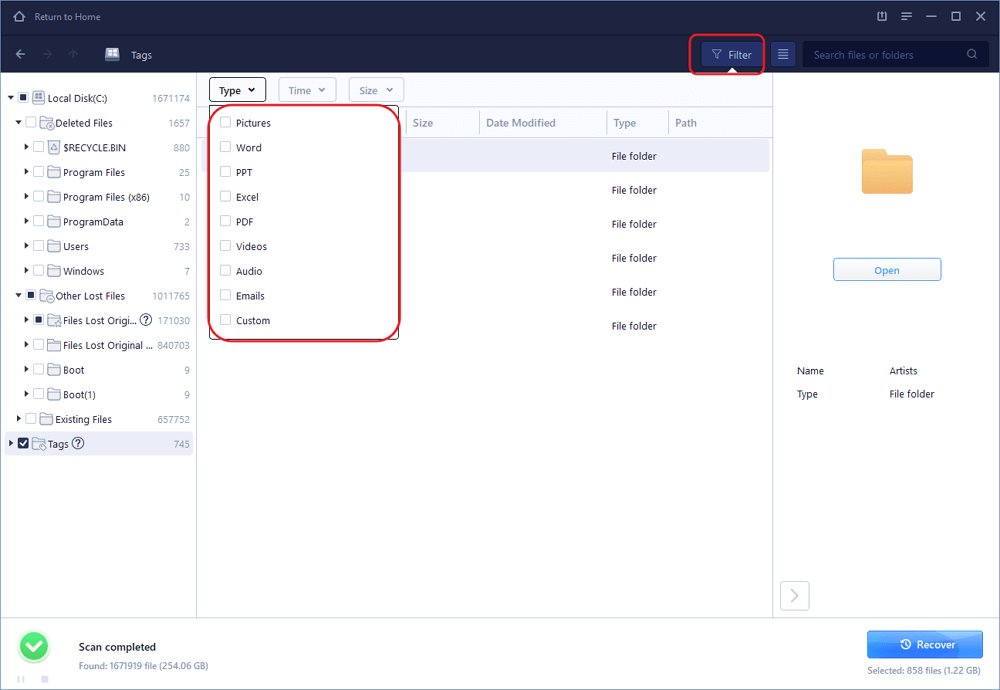 Step 4. Choose and restore files.
Finally, select the found files, click "Recover" and navigate to save them to a secure location on your PC or another external storage device.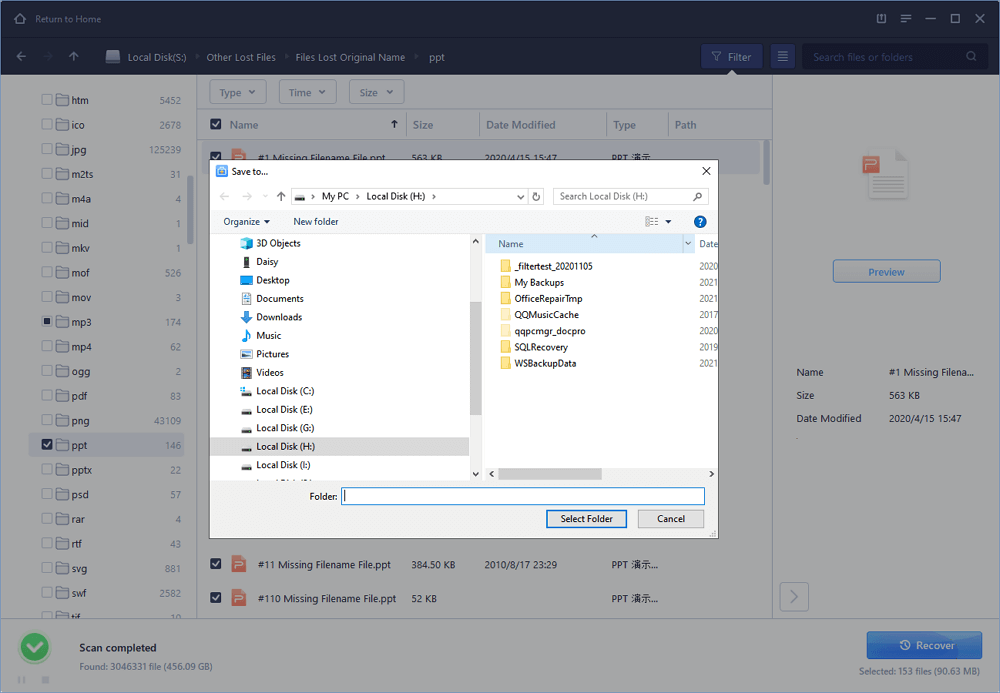 If the recovered files won't open or won't work in drawing manager, don't worry. You can find wanted solutions in Part 2.
Part 2. Repair corrupted AutoCAD files that fail to work or open
Method 1. Fix and repair corrupted CAD files when drawing files will not open
If you receive the 'Drawing file is not valid' error message while trying to open a CAD file, try below tips and you'll get your problem fixed:
Step 1. Open a blank DWG and run RECOVER command > Select the problematic file and AutoCAD will try to recover the file and open it;
Step 2. Open a blank DRW and run RECOVERALL command > Select the problematic file and AutoCAD will try to recover the file and open it;
Step 3. Open a blank DWG and run INSERT command > Select the problematic file and see if it will insert;
If not, run EXPLODE and select the inserted block > Run AUDIT and PURGE command > Click Save to create a new DWG file.
Step 4. Go to: C:\Windows\Temp for files with an SV$ extension and if find a similar file with the same name of the corrupted .dwg file > Rename it to .dwg format to see if it opens or not;
Step 5. Try open the corrupted drawing by using DWG Trueview;
If you can open it there, convert the drawing to an older DRW version and try to open it again.
Method 2. Repair and fix corrupted .dwg files if they can be opened but not responding
Step 1. Open corrupted .dwg file and type: -PURGE and hit Enter;
Step 2. Type: R and hit Enter;
Step 3. Type: N and hit Enter;
Step 4. Type: PURGE and check all boxes > Click Purge All;
Step 5. Type: AUDIT and select Y to fix all errors, then hit Enter.
Or you may try the below fixes to get your problem with corrupted CAD files repaired:
Step 1. Open corrupted .dwg files and open a new drawing;
Step 2. Press CTRL + A and CTRL+C in the corrupted drawing;
Basepoint is 0,0,0;
Step 3. Press CTRL + V in the new drawing and insert point: 0,0,0;
Step 4. Then save the new drawing.
After this, you will be able to use your corrupted CAD files again.
100% of people found this article helpful.
Frequently Asked Questions
1. Why cannot I recover 2GB data for free?

It is recommended to check the version installed is Free or Trial because they are different versions.

Trial has data preview function but cannot save any files, while the Free version enables to recover 2 GB files. The default free space is 500 MB and you may share the product on social media to get another 1.5 GB.
2. Why cannot the recovered files be opened?

A file is saved as 2 parts on the storage device: directory info (which is comprised by file name, time stamp and size info, etc.) and data content.

If the files with original file names and folder structures cannot be opened, one possible reason is the corrupted directory info. There is still a chance to recover the data content with the RAW Recovery method in our software.
3. Why isn't it suggested to recover the files back to the original drive?

The storage structure of the lost files would be altered or damaged by any changes on the drive. If you save the recovered files back to the same drive, the original data structures and data content would be corrupted or overwritten, which causes permanent data loss. So you should prepare another disk to save the files.
4. How can I check whether my data is recoverable or not before purchase?

The Free version helps you save 2GB files to better verify the recovery quality of our product before purchase.
5. How long does it take to scan the drive?

It strongly depends on the capacity of your hard drive and the performance of your computer. As reference,most drive recoveries can be completed in around 10 to 12 hours for a 1-TB healthy hard drive in general conditions.
About Data Recovery Wizard
It's super easy to recover 250+ types of files after deletion, disk formatting and virus infection. Click the links and compare the difference of each version.