When the Exchange mailbox database won't mount, you can't access the mailbox files, send or receive emails on Outlook or checking mailbox logs, etc. Don't worry if you are unable to access the Exchange Server database. On this page, EaseUS software will analyze the causes of why the Exchange Server mailbox database fails to mount and offer reliable solutions to resolve this issue without losing database.
Causes of Exchange mailbox not mounting:
Exchange Database corruption
Missing log files
Permission and licensing problem
Hard drive issue - low disk space, bad sector, etc.
Anti-virus problem
when database won't amount, you'll receive the error messages as listed here:
1. hr=0x80004005, ec=-501
2. JET_errFileAccessDenied
3. Cannot access file, the file is locked or in use
4. Cannot see Active Directory
Relax! Here in the following, EaseUS software will show you how to fix this issue with Eseutil utility and Exchange recovery software.
Manual Method: Fix "Exchange mailbox won't mount" Error with Eseutil
Note: Remember to back up Exchange Server database including the .edb, logs, and stm files in advance before using Eseutil to fix mailbox database noting mounting error.
Step 1: Run Eseutil utility and verify the current state of Exchange database with eseutil /mh command.
If the state of Exchange Server is dirty shutdown, continue with Step 2.
If the state is clean, go to Step 4 and continue.
Step 2: Repair database with eseutil /r command
To run this command, you'll need to request check a log file first with the following command:
Eseutil /r E00 /l "Drive:\Exchange Server\FirstStorageGroup\Logs" /d "drive:\Exchange Server\FirstStorageGroup\MbxStore1\Mydatabase.edb" /i
Replace "Drive:\Exchange Server\FirstStorageGroup\Logs" with the real location of the log and database on your Server computer.
Step 3: Recheck the state of database with eseutil /mh command
When the state of database is clean, follow step 4 to continue.
Step 4: Repair mailbox database that won't mount with eseutil /p command
eseutil /p
Eseutil /p "mailbox database.edb"
Eseutil /p "c:\program files\exchsrvr\mdbdata\priv1.edb"
 Warning

This command is a hard repair method which will delete the damaged pages and data from the database.
To avoid database loss or missing important data, back up the Exchange database first. Or turn to Exchange recovery software recommended in the next part for help.
Step 5: Run eseutil /mh command again.
When the process complete, mount the mailbox in Exchange Server again.
Automated Method: Fix 'Exchange Server Database Won't Mount' with Exchange Recovery Software
Another more effective method to resolve the Exchange Server database won't mount error that you can try is turn to professional Exchange recovery or repair software for help.
Here, EaseUS software has recently released EaseUS Exchange Recovery. With its help, you can fix Exchange Server database problems with ease on Exchange Server 2019, 2016, 2013, 2010, etc.
Unlike the Eseutil /p command, it will do no manages while repairing the Exchange mailbox database with the following steps:
Step 1: Run EaseUS Exchange Recovery to repair the mailbox database
Click the the three dots button to browse the maibox database - .edb file and click "Analyze" to continue.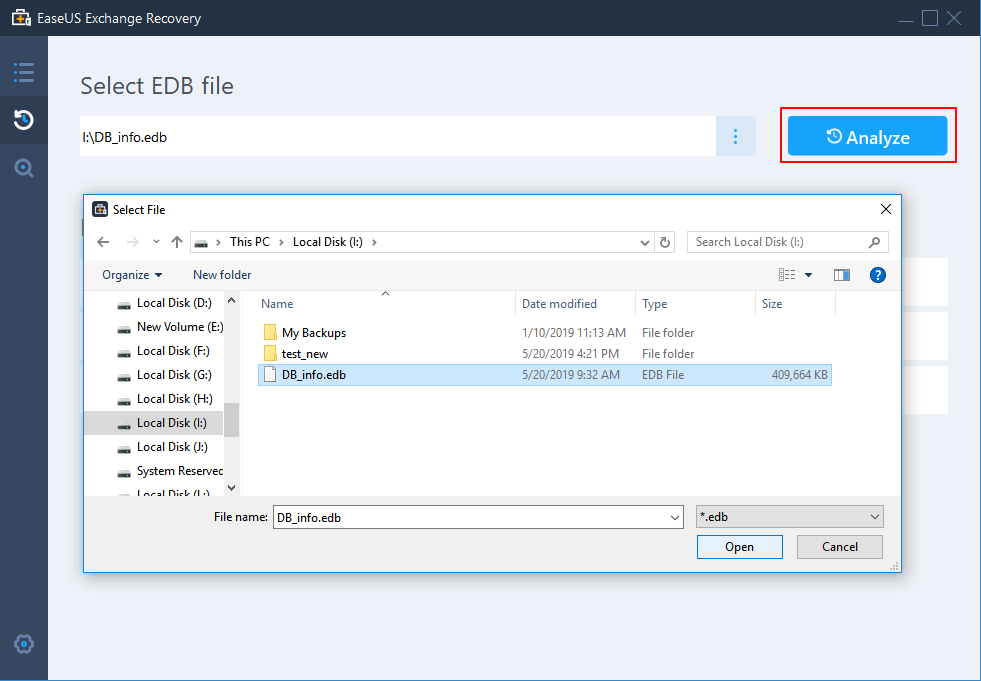 It will analyze all files and repair corrupted components in the Exchange database. Wait for the anaylizing process to complete.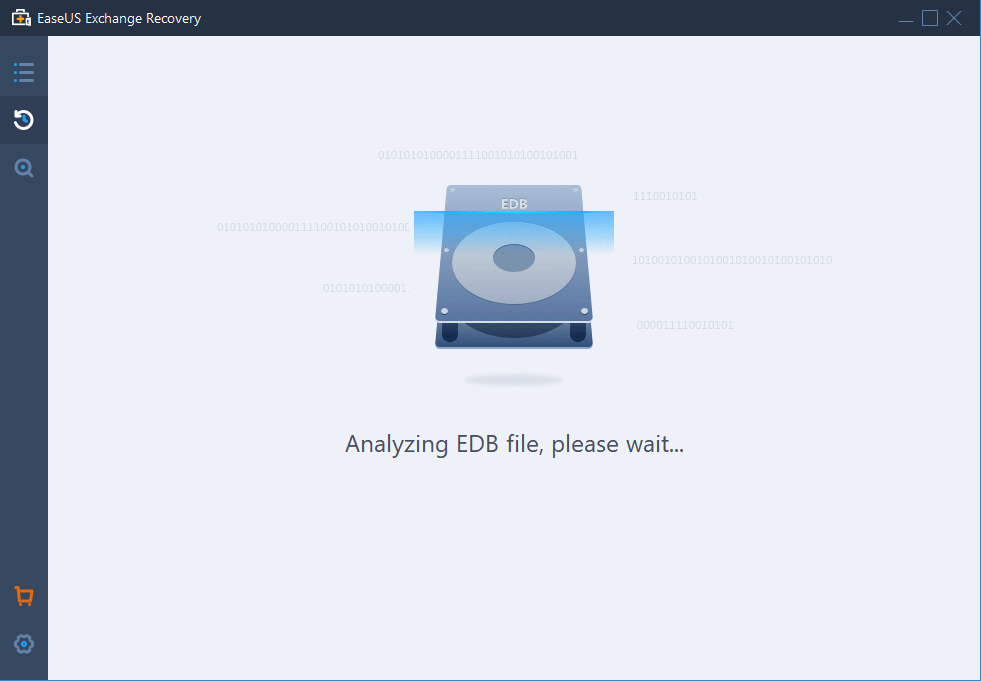 Step 2: Check and repair Exchange mailbox database
You can double-click preview and check the items under mailboxes that you want to restore, and click "Recover" to continue.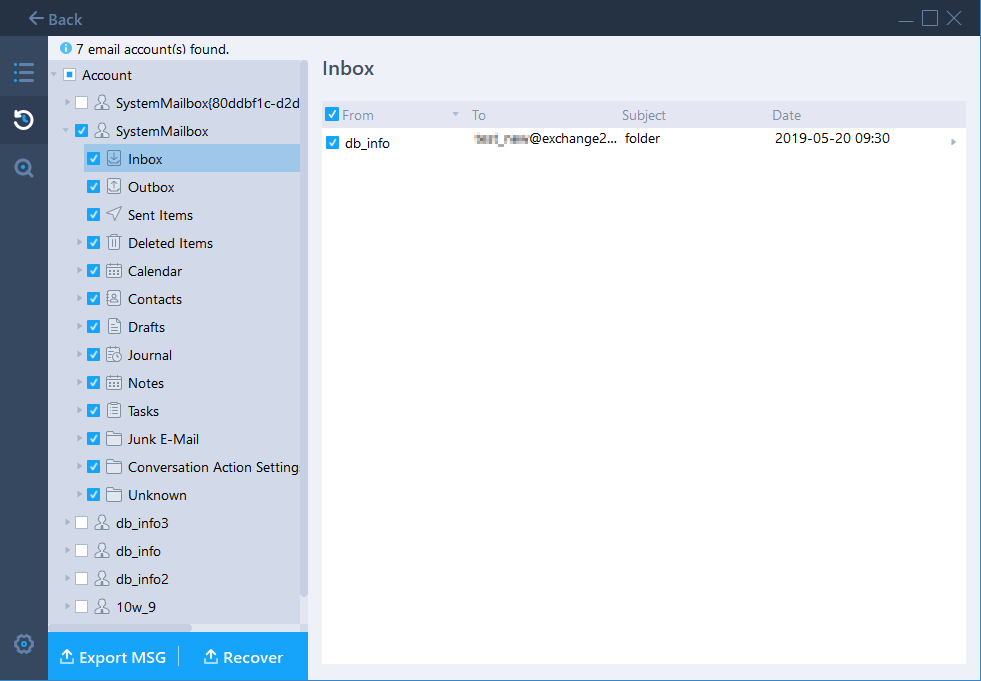 Step 3: Restore the repaired mailbox database to Exchange Server
Enter the Administrator account and passowrd to log in Exchange Server.
Click "OK" when the recovery process complete.
After restoring the repaired mailbox back to Exchange Server, you should be able to run the Exchange Server and manage your business again.
EaseUS Exchange Recovery
Recover & Repair corrupted EDB files and contents
Recover from unexpected Exchange Server crash
Recover Dismounted/Offline EDB Mailbox
TRY IT NOW