Applies to: recover deleted items in Exchange Server mailbox within or over 14 days.
Support: Exchange 2019/2016/2013/2010.
3 Ways: Exchange recovery software, Powershell command, OWA.
How Do I Recover Deleted Mail Items in Exchange 2016?
"Does anyone know how to recover the permanently deleted items in Exchange Server 2016?
I've removed some Inbox items, Notes, and Drafts items into the Deleted Items section and cleaned it later in Exchange. Now I feel so regretful to cleaned the Deleted Items. Is there a way to recover deleted items in Exchange Server?"
The following image will explain where the deleted items go and why the deleted items could even if you have cleared the Deleted Items:
From the image, you can see that Exchange Server has a feature to retain deleted items in the dumpster for 14 days. It will prevent emails and other items from being permanently deleted even users have cleaned the Deleted Items folder. 
What if it has exceeded 14 days after clearing the Deleted Items folder, is there still a way to restore the Exchange Server deleted items? Relax. Go through the following provided solutions and pick up anyone to restore your removed or permanently deleted items from Exchange 2016/2013/2010 with ease.
Part 1. Recover Exchange Server Deleted Items with Software
Applicable For: All levels of Exchange users - both new and experienced Exchange Server administrators.
Pros: Easy & Practical
This method goes to help all levels of Exchange administrators restoring Deleted Items that were cleared within and after 14 days.
Reliable Exchange recovery software supports to bring lost mailboxes without limitation. Here you can apply EaseUS Exchange Recovery to effectively retrieve everything, including the Exchange EDB database, single mailbox, and even the deleted items with ease.
Download and install this software on your Exchange Server computer and follow the next steps to get your Deleted Items back now:
Step 1. Launch EaseUS Exchange Recovery on your computer. In the main interface, click the three dots to browse and select the EDB file of your Exchange Server. Then click "Analyze".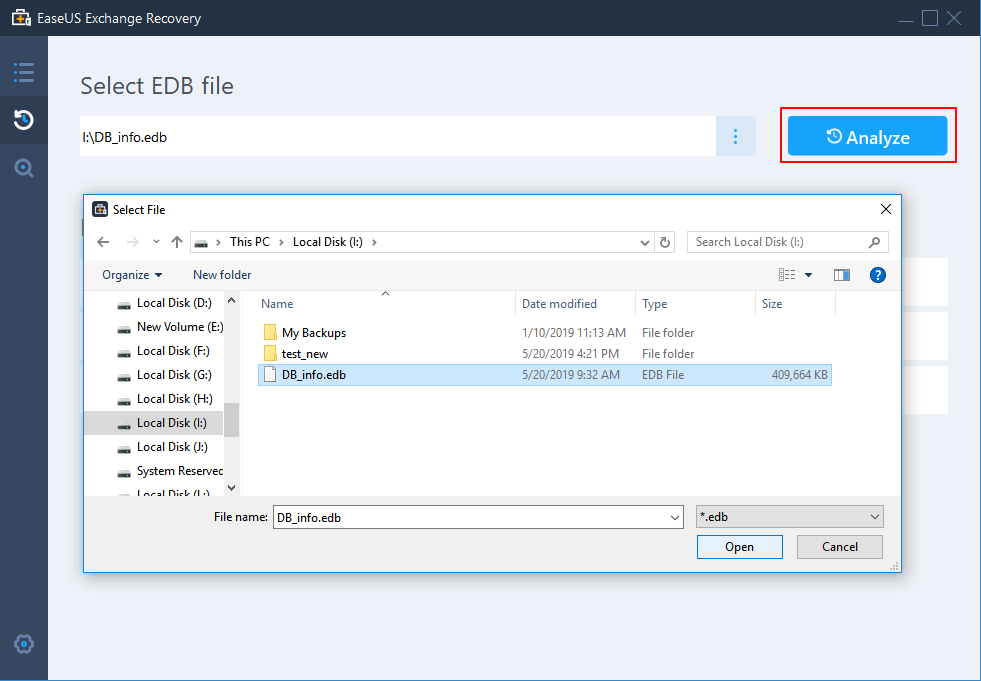 Step 2. After the analysis, you will see all the mailboxes in the database. Expand the mailbox you want to recover and you will see all the content in it. (You can preview the items by double-clicking the file.)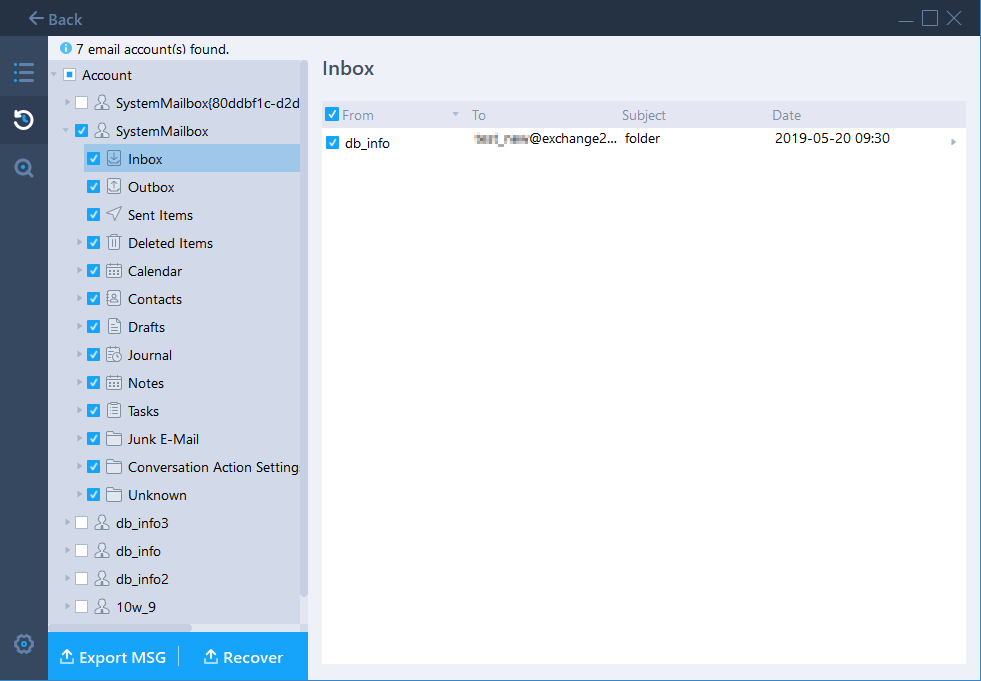 Step 3. Select the mailbox you'd like to recover and click "Recover" to restore your deleted mailbox to your current Exchange Server. Then select the account, enter the details of the required information, then click "Log in".
Step 4. Wait for the process to finish.
Part 2. Manually Restore Deleted Items in Exchange Server
If you prefer a manual method that also works in restoring the deleted items in Exchange Server, Powershell command and OWA can help.
Note that both two methods only work to restore deleted items within 14 days. If it's over 14 days, revert Part 1 and apply Exchange recovery software for help.
# 1. Restore Deleted Items in Powershell Command
Applicable For: Experienced Exchange Server administrators who are familiar with Powershell command.
Pros: Free
By following the below command in Powershell, you can configure to bring all deleted items back from Exchange:
Step 1. Run Powershell on the Exchange Server computer.
Step 2. Type below script parameters and hit Enter each time:
RecoverDeletedItems [-Mailbox]
[-RestoreStart]
[-RestoreEnd]
[-RestoreFromFolder]
[-Credentials]
[-Impersonate]
[-EwsUrl]
[-EWSManagedApiPath]
[-IgnoreSSLCertificate]
[-AllowInsecureRedirection]
 Syntax Explanation:

-Mailbox : Mailbox SMTP email address
-Credentials: can be used to pass credentials into the script (as obtained using Get-Credential)
-Username : Username for the account being used to connect to EWS (if not specified, current user is assumed)
-Password : Password for the specified user (required if username specified)
-Domain : If specified, used for authentication (not required even if username specified)
-Impersonate : Include this switch to use impersonation.
-EwsUrl : Forces a particular EWS URL (otherwise autodiscover is used, which is recommended)
-EWSManagedApiPath : Full path to the EWS Managed API (if not specified, default paths are searched – any version should work)
-IgnoreSSLCertificate: If present, invalid (e.g. self-certified) certificates will be accepted
-AllowInsecureRedirection: this affects auto-discover only
Step 3. Check the restored items when the process finishes.
Note that the deleted items will be retrieved to standard folders depending on their item type. For example: Emails will be restored to Inbox, appointments to Calendar, etc.
# 2. Restore Deleted Items from OWA
Applicable For: Outlook Web App users to restore deleted items in Exchange Server.
Pros: Free
This goes to restore deleted items and emails in Outlook Web App for Exchange Server users. Here are the steps:
Step 1. Open Outlook Web App online and sign in with your Exchange Server account.
Step 2. Locate the Deleted Items section, right-click on it and select Recover deleted items.
Step 3. Select the found items and right-click on it, select "Recover".
Step 4. Click "OK" to confirm the operation.
After this, you may go back to the Deleted Items and check the restored items there. 
EaseUS Exchange Recovery
Recover & Repair corrupted EDB files and contents
Recover from unexpected Exchange Server crash
Recover Dismounted/Offline EDB Mailbox
TRY IT NOW