
Table of Contents

About the Author

Reviews and Awards

Recover Deleted Files in Windows 10/11
You can turn to Easy Recovery Essentials and its free alternative to get help when you have faced system crashes, inaccessible data problems, or data loss issues.
Part 1. Everything You Need to Know About Easy Recovery Essentials
In this part, you will learn everything about free Easy Recovery Essentials. What is it? How to make it works? Read on to get all the information about Easy Recovery Essentials.
What Is Easy Recovery Essentials
Easy Recovery Essentials for Windows (EasyRE) is a bootable repair and recovery program from NeoSmart Technologies. It can be used to repair non-booting/crashed laptops and PCs. It is compatible with all Windows PCs and laptops and is guaranteed to work with your computer. This software methodically tests and validates each component in your system, simulating the boot process and identifying where things go wrong.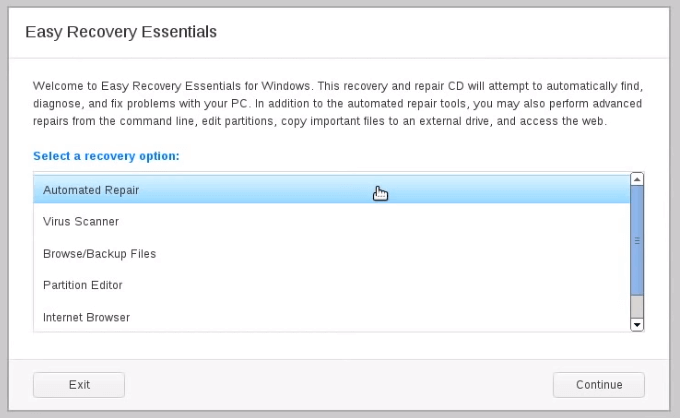 EasyRE Features and Highlights
This software has many excellent features:
It can automatically repair your computer without forcing you to format and reinstall the operating system.
Boot into Windows without entering the operating system.
Recovering from a PC virus can be simple and pain-free with Easy Recovery Essentials for Windows.
Make your PC work again and keep your documents, pictures, media, and other files safe and sound.
Include other features like partition editor, safe browser, etc.
How to Use Easy Recovery Essentials
EasyRE supports Windows 10/8/7 and Windows XP/Vista. The technician's edition also supports Windows server 2003 - 2019. To repair disk errors and recover data, try this software using the step-by-step guide below:
Preparations:
Prepare a CD, DVD, or a USB Drive (Creating a boot drive)
Download Easy Recovery Essentials on your PC according to your specific Windows version
Step-by-step Guide:
Step 1. Download a copy of EasyRE to any PC or Mac and save it to a CD or USB. (https://neosmart.net/EasyRE/)
Step 2. Start the PC that needs fixing from the EasyRE CD/USB (which will work even if you normally can't start your PC).
Step 3. Watch as EasyRE scans your PC and displays a list of recovery options. All you have to do is click "begin".
Step 4. EasyRE automatically searches for problems and fixes them. When it's done, just reboot your PC, and you're good to go!
Part 2. Alternative to Easy Recovery Essentials Free - EaseUS Data Recovery Wizard
Easy Recovery Essentials free works with crashed or unbootable computers. It repairs the system and restores lost data with a USB/CD bootable media. But, it requires technical skills and it's difficult to use for a beginner who knows little about computers. Here, our suggestion is EaseUS Data Recovery Wizard with Bootable Media. 
What Is EaseUS Data Recovery Wizard with Bootable Media
It is an easy-to-use program. Even if you are not familiar with the computers, you can also get back data easily. What's more, you can recover lost data when the computer is suffering from various kinds of booting issues, like a crash, freeze, keep rebooting, etc.
EaseUS Data Recovery Wizard Features and Highlights
Restore deleted files when the Windows system is unable to boot.
Create a bootable media to make your existing operating system run for a moment to recover lost data.
100% safe to recover deleted files without overwriting original data. 
Compatible with almost all Windows versions including Windows 10, 8.1, 8, 7, and more.
How to Use EaseUS Data Recovery Wizard 
To perform data recovery using this Easy Recovery Essentials free alternative, follow these steps:
1. Create a WinPE Bootable Disk
First, download and install EaseUS Data Recovery Wizard WinPE Edition on a working computer. Then, create a WinPE bootable disk of EaseUS data recovery software, which will help you access your hard drive data without booting into Windows.
Step 1. Launch EaseUS bootable data recovery software on a working computer.
Step 2. Select CD/DVD or USB drive and click "Proceed" to create a bootable disk.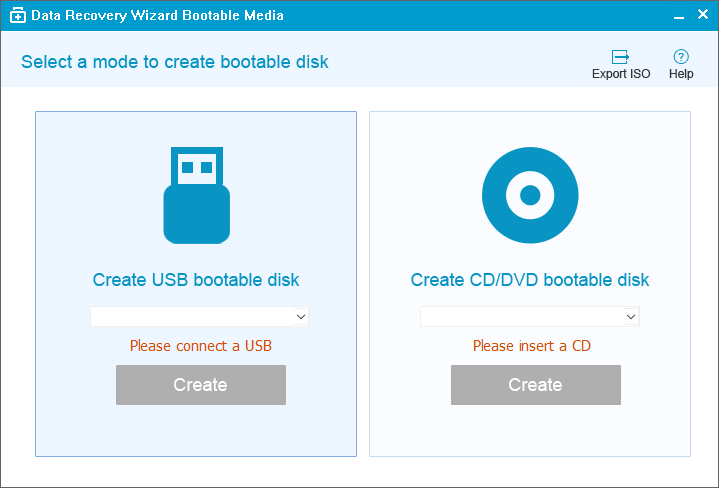 2. Recover data from crashed OS
Connect the WinPE bootable disk you have created to the PC with the corrupted Windows system, then, restart the computer and go to BIOS to change the boot sequence. Press F2 when you start your PC. It will allow you to run EaseUS data recovery software and recover data without Windows.
Step 1. Select the disk where you want to recover data and click the "Scan" button.
Step 2. Let the software scan the selected disk to find all the files and folders.
Step 3. Preview and choose the files you want. Click the "Recover" button to save them to a safe place. You'd better choose a different drive to avoid data overwriting.
Easy Recovery Essentials VS EaseUS Data Recovery Wizard
Which one is the best for you? To figure out the suitable data recovery or repair software, check the comparison table below:
| Comparison | EaseUS Data Recovery Wizard | Easy Recovery Essentials |
| --- | --- | --- |
| Recover data without OS | Yes | Yes |
| Create a WinPE disk | Yes | Yes |
| Preview data | Yes | No |
| Multiple file recovery | Yes | No |
| Easy-to-Use | Yes | No |
| Deep Scan | Yes | No |
Part 4. How to Avoid Data Loss Issues
There is no guaranteed way to prevent data loss. However, the frequency of data loss events and their impact can be mitigated by taking proper precautions. The different types of data loss events demand different types of precautions.
Tip 1. Use a journaling file system and RAID storage to protect against certain types of software and hardware failure.
Tip 2. Regular file backups are an important asset to have when trying to recover data after a data loss event. But they don't do much to prevent user errors or system failures.
Tip 3. A well-rounded approach to data protection has the best chance of avoiding data loss events. This approach will also include mundane tasks like maintaining antivirus and firewall protection. User education is probably the most important, and most difficult.
Tip 4. User education is probably the most important, and most difficult aspect of preventing data loss. Nothing else will prevent users from making mistakes that jeopardize data security.
Part 5. Easy Recovery Essentials FAQs
Here are the most common questions that people ask about Easy Recovery Essentials.
Is Easy Recovery Essentials legit?
Answer from Tome's guide:
It's legit, but it does nothing that any competent PC user can't do using free utilities. It's not a "magic bullet" that fixes all PC problems, no such single utility exists.
How do I use Easy Recovery Essentials?
You can refer to the video and the detailed steps in Part 1.
What is EasyRE?
Easy Recovery Essentials for Windows (EasyRE) is a bootable repair and recovery program from NeoSmart Technologies that can be used to repair non-booting/crashed laptops and PCs.
How can I boot from USB?
To boot from USB in Windows 10: 
Press the Power button and restart your PC.
During the initial startup screen, press ESC, F1, F2, F8, or F10 to enter BIOS.
Using the arrow keys on your keyboard, select the "BOOT" tab. 
Move the USB to the first in the boot sequence.

Cedric Grantham is one of the senior editors of EaseUS who lives and works in Chengdu, China. He mainly writes articles about data recovery tutorials on PC and Mac and how-to tips for partition management. He always keeps an eye on new releases and likes various electronic products.

Approved by Mahesh Makvana 
Mahesh is an experienced computer tech writer. He's been writing tech how-to guides for about 8 years now and has covered many topics. He loves to teach people how they can get the most out of their devices.
EaseUS Data Recovery Wizard is a powerful system recovery software, designed to enable you to recover files you've deleted accidentally, potentially lost to malware or an entire hard drive partition.

 Read More

EaseUS Data Recovery Wizard is the best we have seen. It's far from perfect, partly because today's advanced disk technology makes data-recovery more difficult than it was with the simpler technology of the past.

 Read More

EaseUS Data Recovery Wizard Pro has a reputation as one of the best data recovery software programs on the market. It comes with a selection of advanced features, including partition recovery, formatted drive restoration, and corrupted file repair.

 Read More