Windows 10 stuck in resetting, help!
It has to be a hot topic for most Windows 10 users that most of them fail to reset Windows 10 with a boot error in their computers. And quite a lot of computer owners complain that they really resent Windows 10 that it causes diverse complex problems in PC and most of them are not easy to solve. Therefore, they have to search for solutions again and again. Windows 10 reset stuck is one of the issues.
"I was playing a game on my desktop when the computer popped up a notice, asking me to reset system that a boot error has occurred. I tried to troubleshoot this error, but it didn't work. I got stuck at 25% for resetting Windows 10. What's wrong?"
"My computer has been stuck at 8% for several hours when I started resetting Windows 10. Any solutions for such a problem?"
"PC has no response after 3 hours that the system Windows 10 got stuck at 99%. I upgraded my computer from Windows 8 to Windows 10 but a notice warned me to reset the computer for a clean installation. I did so, then the computer got stuck. Can I fix Windows 10 stuck in resetting issue on my own? How?"
When you happen to get the computer stuck while resetting the system or your computer happens to stuck in Windows 10, don't be panic. Follow the below-recommended solutions, you'll easily fix Windows 10 stuck in resetting problem without any obstacles then.
Solution 1. Use a WinPE Bootable Disk to Fix Windows 10 Stuck in Resetting Issue
When a system gets stuck while resetting the computer, it's highly recommended for ordinary users to use a Windows disk or Windows bootable disk to reboot the system. But here we'd rather recommend you try to use WinPE bootable disk which will help users to boot the system into a safe state when the system happens to crash, system failure or system boot issues such as Windows 10 stuck at resetting.
Here we'd like to recommend you try EaseUS Todo Backup which is a reliable backup software that allows users to create WinPC Emergency Disk to solve the system boot or system stuck error with ease.
Step 1. Prepare a USB drive which can be written and read.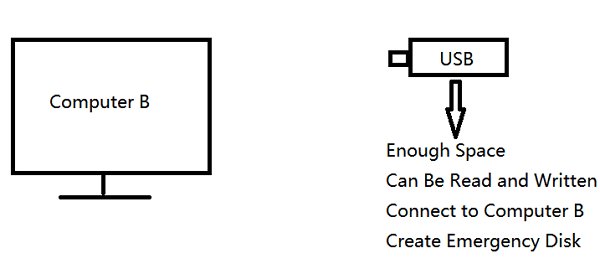 Step 2. Launch and install EaseUS Todo Backup on the Computer B.
Step 3. Find and click "Tools" and choose "Create Emergency Disk".
Step 4. Choose the Boot disk location. You can create an ISO file, a bootable USB or CD/DVD disc.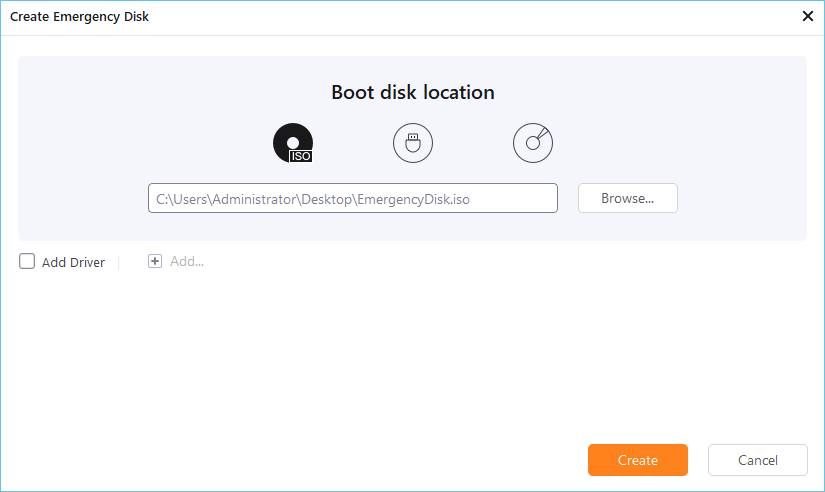 Step 5. Then click "Create" to start.
After creating the WinPE disk, you can choose to reboot the computer and select to boot from EaseUS Todo Backup WinPE Emergency disk when Windows 10 stuck in reset. 
Tip: It's also recommended for you to backup all important data and systems before you do any changes to your computer system - updating to Windows 10 or downgrading to the previous system. EaseUS Todo Backup Free makes it free and easy to backup data and the present computer system for you.
Solution 2. Run Startup Repair to Fix Windows 10 Reset Stuck Case
1. Download Windows 10 installation files on a DVD or USB drive.
2. Enter BIOS and put the DVD or USB drive on the top of the boot order;
3. Once to you get the chance to boot into the Windows installation interface, choose "Repair your Computer";
4. Then click "Advanced Options" > Click "Troubleshoot" and then click "Start Repair".
Then you can follow the onscreen instructions and fix the Windows 10 reset stuck error then.
Solution 3. Use the Windows Recovery Environment to Repair Windows 10 Stuck Issue
1. Press Windows + R > shut down or sign out > keep the SHIFT key pressed > Click "Restart". This will restart your computer or PC into recovery mode.
2. Then find and click "Troubleshoot" > "Enter Advanced Options" > click "Startup Repair".
Follow the on-screen instructions to finish the Windows 10 stuck in resetting problem.
Solution 4. Reinstall Windows 10 or Revert Windows 10 into the Previous Version
You can either choose to reinstall Windows 10 or revert Windows 10 to a previous version to gain a healthy system so that your computer won't get stuck at 8%, 25% or even 99% while resetting the system. Don't bother anymore when you feel helpless for Windows 10 stuck in reset. Follow the above solutions to fix this problem and enjoy smooth computer life now.
EaseUS Data Recovery Services
EaseUS data recovery experts have uneaqualed expertise to repair disks/systems and salvage data from all devices like RAID, HDD, SSD, USB, etc.