Have you just purchased a new SSD and are now thinking about what to do with the old one? Are you about to throw your old SSD at this moment?
If your answer is yes to these questions, please stay connected with this guide till the end to get the correct guidance.
What Should I Do with My Old SSD
What to do with the old SSD is one of the most asked queries when one opts for the newer one. Disposing of it is not practical, especially when it's working, even if it has been used for a long time. So here are the different others you can make the best of it:
Option 1. Use It as an External Backup Drive
Reusing the old solid-state drive as an external backup drive is one of the best things to do with their old SSD. The method is quite efficient and requires an external enclosure for the SSD Drive to do things efficiently. Follow these steps to try:
Step 1. Transfer your data from the old SSD into a fancy new SSD.
Step 2. Buy an external enclosure.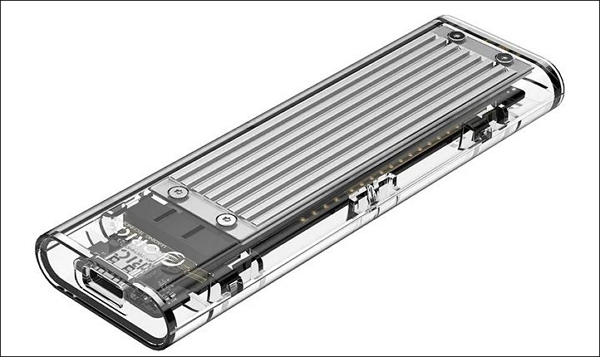 Step 3. Now open the case and slide into the old drive.
Step 4. Once done, add a thermal pad layer to the top of the drive. It will help in heat dissipation. 
Since SSDs have a better speed, and even if they age, the speed doesn't fall much. Also, the chance of failing is less compared to HDD. So instead of buying a new HDD, it's best to use the SSD.
Option 2. Use Old SSD as a Secondary Drive
If you are reluctant to use your old SSD as an external backup drive, you can also use it as a secondary drive option for your computer system. It is the best way you can make the best use of your old SSD and can improve its functionality.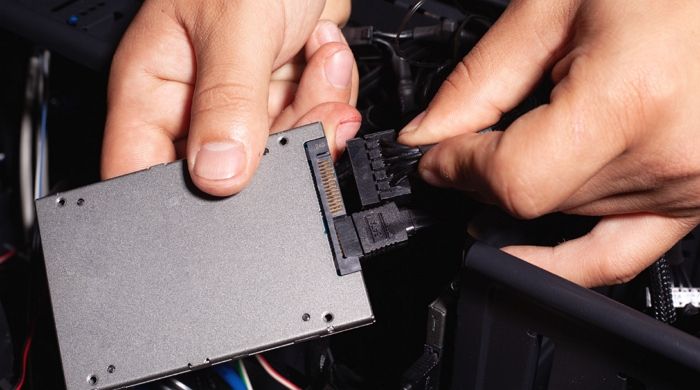 Windows allows you to move apps to another driver, i.e., install. Hence it can help you to expand your storage and move apps and games to old SSD that you don't use often. 
Option 3. Sell the Old SSD
Throwing up your old SSD just because you are no longer using it is one of the worst things one can do. But, if you don't have a place for a secondary SSD, buying an enclosure is costlier, then you should explore the marketplace for a buyer. You can easily find a wide range of people looking for old drives that fit perfectly into their systems. 
The demand for old SSD has increased rapidly in the last few years. Amazon and eBay are one of the leading e-commerce platforms that serve to be a more significant market for SSD. 
If you are willing to sell the old SSD, take a while and ideally wipe off the storage device. Make sure to format or wipe hard drive before selling it. It will help you keep your data safe and secure in different conditions. It is always advised to select a perfect and reliable tool only for encrypting your device's data. 
Format/Wipe the Old SSD Before Reusing or Selling It
If you plan to sell your old SSD, we advise you to wipe it first to protect your privacy perfectly. But formatting can work great for you if you use it on your computer. The same will save a lot of space on your device.
Whenever it comes to formatting or wiping the SSD options, EaseUS Partition Master Free is a name that brings up reliability and credibility. It is an efficient and easy-to-use tool that only requires a few clicks to do things conveniently. One can easily download this tool from its official website and enjoy seamless access.
The detailed guides will help you format or whip your old SSD.
Guide 1. Format the Old SSD
Step 1. Right-click the hard drive partition and choose the "Format" option.
Step 2. In the new window, set the Partition label, File system, and Cluster size for the partition, then click "OK".
Step 3. You can see a warning window, click "Yes" to continue.
Step 4. Click the "Execute 1 Task(s)" button, then click "Apply" to start formatting the hard drive partition.
Guide 2. Wipe the Old SSD
We've set two options for you to wipe data. Choose the one you need.
Option 1.  Wipe Partition
Right-click the partition you want to erase data from, and choose "Wipe".
In the new window, set the time for which you want to wipe your partition, then click "OK".
Click the "Execute 1 Task(s)" button in the lower right corner, check the changes, then click "Apply".
Option 2. Wipe Disk
Select the HDD/SSD. And right-click to choose "Wipe Disk".
Set the number of times to wipe data. (You can set to 10 at most.) Then Click "OK".
Click "Execute 1 Task(s)" and then click "Apply".
This free partition manager offers a wide range of features, such as:
Free to use
All-in-one partition manager
Convert MBR to GPT for Windows 11 upgradation
Copy OS and data to another SSD or HDD (Hard disk drive)
Support multiple operating systems, including Windows 7, 8, 8.1, 10 and 11
Conclusion
So, Guys! It is about what you should do with your old SSD in 2023. Throwing old SSD is never a solution. You can easily reuse it as an external backup or can even sell it as well if required. It is always advised to format or wipe the old SSD before selling it. The guide includes detailed information on the usage and selling of old SSD. You can quickly go through the details given to acquire the best solutions.
You may also like:
What Should I Do with My Old SSD FAQs
We have added up the total solutions for What should I do with my old SSD query? But if you still have some questions, here are their quick answers.
1. Can I use my old SSD on a new computer?
It depends on the type of SSD you are using. One can also use their old SSD on a new computer only if their new system is compatible with their PC. M.2 and SATA are the two most popular SSDs disk interfaces in the PC. Check out your system's requirements and SSDs properties to get the absolute solution.
2. How to use an SSD as external storage?
One can easily use the SSD as external storage for backup. It is the best and most convenient way to store data in portable sources. You can use a USB enclosure, USB-C hub, or a Thunderbolt dock.
3. Can SSDs last ten years?
Solid-state drives (SSDs) can last for a long time, but the exact lifespan can vary depending on several factors, including the type of SSD, how it is used, and the conditions in which it is used. Some SSDs can last more than ten years, while others may not last as long. The SSD's durability depends on how often you write data on it and use it.
EaseUS Data Recovery Services
EaseUS data recovery experts have uneaqualed expertise to repair disks/systems and salvage data from all devices like RAID, HDD, SSD, USB, etc.