Why Do We Need to Turn off System Restore?
The reasons why we need to stop the System Restore are as follows:
Sometimes, you might be required to turn off the System Restore. For example, to delete some infected files detected by Kaspersky products in the Restore folder.
The longer you use System Restore, the more space it will take up for backup content, which may slow down your computer to some degree.
System restore will become useless in case of system crashes or disk crashes because it doesn't contain the system and boot files for booting Windows. Therefore, it is wise to stop the system restore and create a system backup in Windows 10.
Is It Safe to Stop System Restore?
System Restore is a built-in feature in Microsoft Windows. It allows computer users to revert their computer's state to a previous point where it works fine, which can be used for recovering from system malfunctions or other problems. What's more, System Restore will continuously monitor the computer system's activity and create system restore points when a particular activity occurs.
Turning off the System Restore will keep you from rolling back changes. Therefore, it is not a good idea to disable it.
However, computer users sometimes have to stop System Restore due to the above-mentioned reasons. And we need to do something to protect data on our computer if we choose to disable System Restore. 
Back up a Windows 10 Computer System with Powerful Backup Software
It is essential to find reliable Windows system restore software, such as EaseUS Todo Backup Free, to create a system backup if you want to turn off the System Restore. System backup will be a good choice to protect the system and data on your computer.
EaseUS Todo Backup is powerful and free backup software. It allows you to automate system backup, file backup, disk backup, etc. You can also use it to make backups of various file types and different types of backups. More importantly, it offers 250G of cloud storage, so you can store the backups in the Cloud to save space on your computer. The following are useful features of this free system backup tool:
High compatibility. It is compatible with Windows 11, 10, 8.1, 8, 7, XP, and Vista.
Multi-path storage options. It allows you to store backups in different locations, such as local drives, security zone, NAS devices, and the cloud.
Different backup modes. It allows you to create full, incremental, and differential backups.
Guide: How to Create Windows 10 System Backup with a Free Backup Tool
The steps for creating Windows 10 system backups are as follows.
Step 1. Launch EaseUS Todo Backup and choose "Create Backup" on the home page, click "Select backup contents".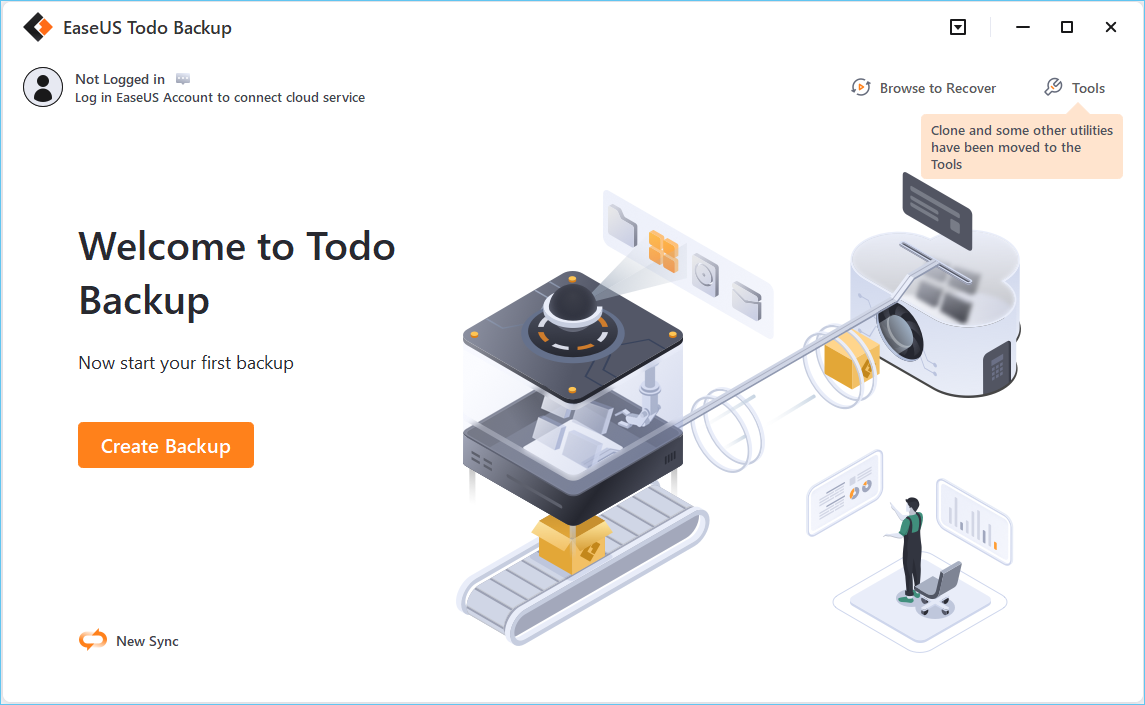 Step 2. Among the four available categories, click "OS" to start back up.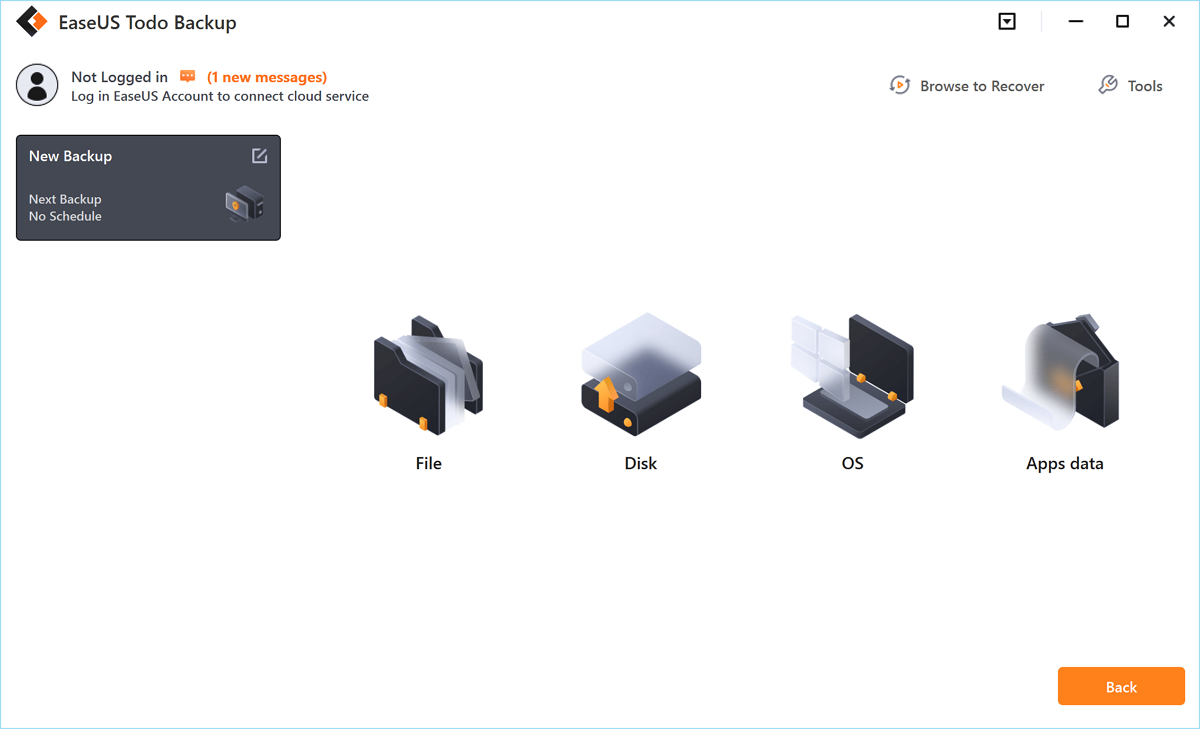 Step 3. The system partition will be automatically selected, you only need to select the location.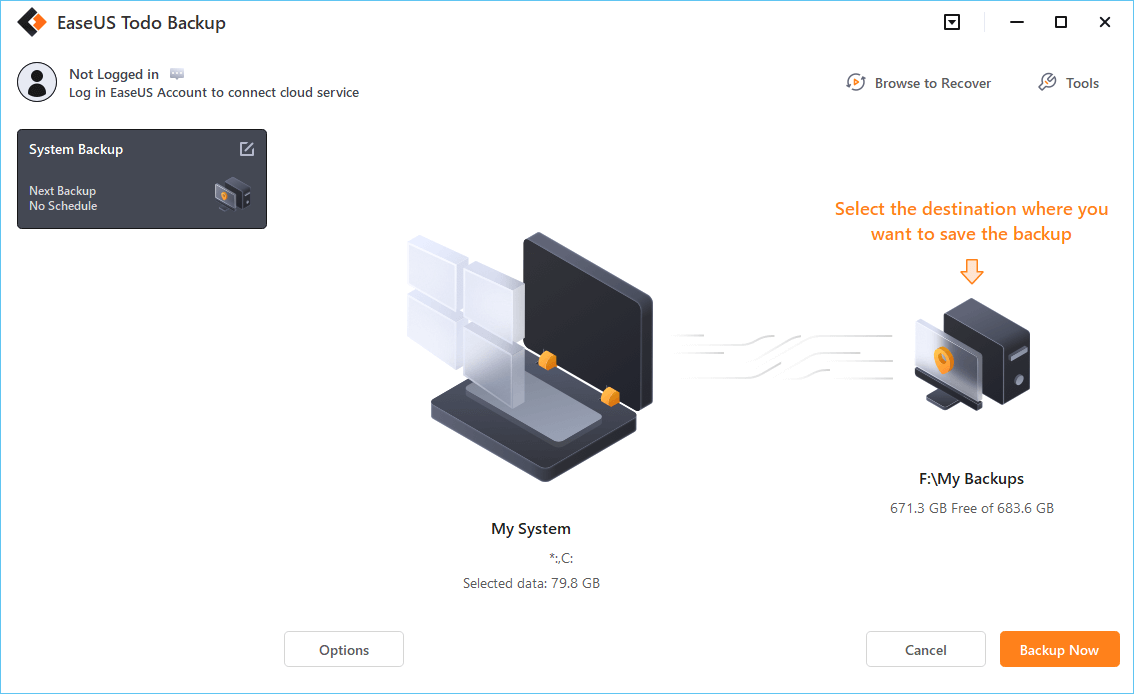 Step 4. Local Drive, Cloud, and NAS are available for you to save the backup file. You can also connect an external hard drive to preserve the system backup files.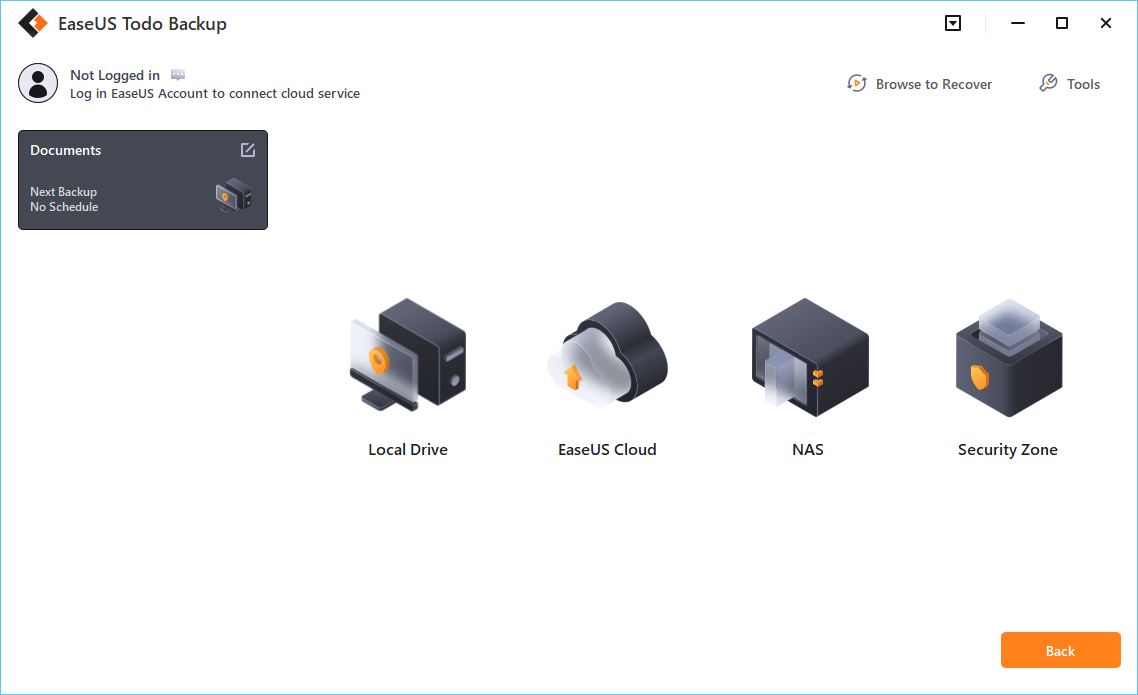 Step 5. You can customize the settings in "Options" at the left bottom. After that, click "Backup Now", and the process will begin.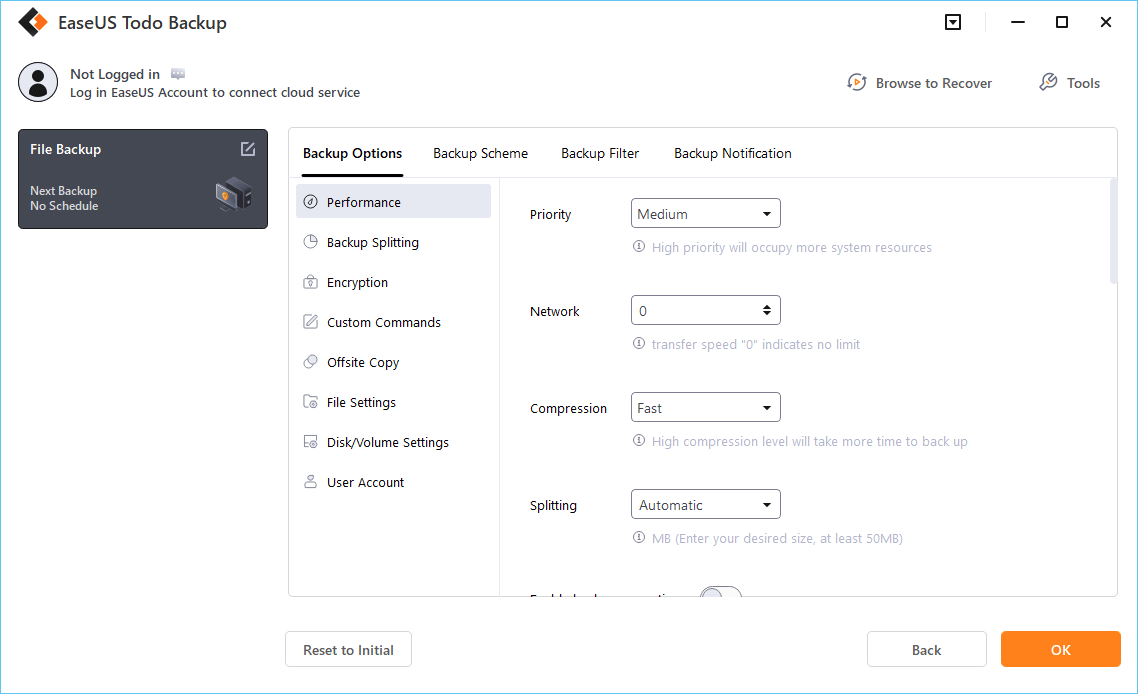 *After finishing the backup process, you can check the backup status, recover, open, or delete the backup by right-clicking the backup task on the left.
Turn off System Restore with Three Possible Ways
The following are three commonly used ways to disable system restore in Windows 10. You can choose one according to your needs.
Solution 1. Turn off System Restore via System Protection
It can work great when it comes to stopping System Restore in Windows 10. The following are the detailed steps.
Step 1. Click the Start button > Control Panel > System > System Protection.
Step 2. Select the disk you want to stop the System Restore and then click on Configure.
Step 3. Select Disable system protection and click on OK.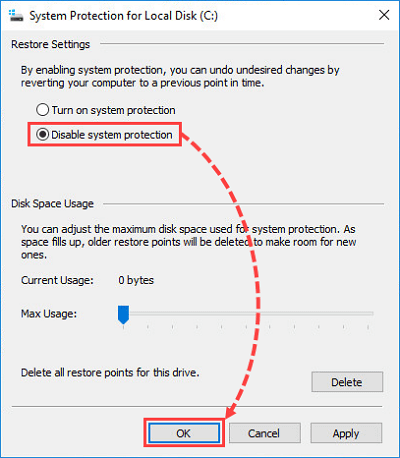 Solution 2. Disable System Restore Using Local Group Policy Editor
The Local Group Policy Editor is only available in the Professional, Enterprise, and Education editions of Windows 10. If your computer runs one of the aforementioned operating systems, you can try this method. If not, you'd better go back to the first method.
Step 1. Press Windows + R keys simultaneously to open a Run dialogue box, and then type "gpedit. msc" and click on "OK."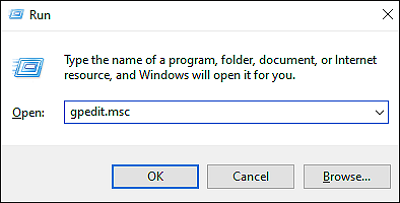 Step 2. Navigate to Computer Configuration > Administrative Templates > System > System Restore in the newly launched window.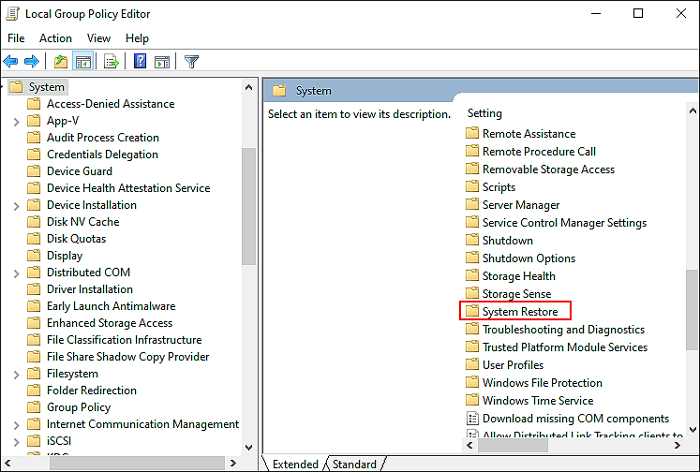 Step 3. Double-click on Turn off System Restore and then tick Enabled and hit "OK."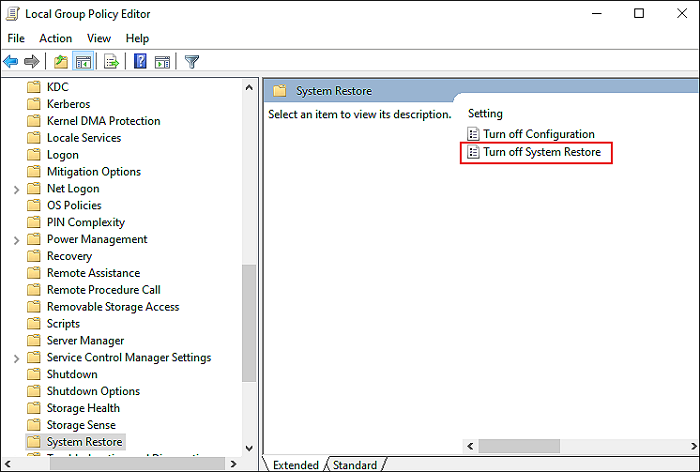 Solution 3. Stop System Restore from Windows Command Line
This is another way for you to disable System Restore if the two mentioned ways do not work. 
We can stop the system restore service from the command line by using the below command. 
sc config srservice start= disabled
Note: the above command does not change the current running status of the system restore service. If the service is running currently, turning off the service will not stop it in the current session. But when the system is restarted, this service will not be started.
Conclusion
The above-mentioned three ways are practical to help you turn off Windows 10 System Restore. However, when you try any of the methods, you should make sure that you have created a Windows 10 system backup so that you can recover your data if anything goes wrong. EaseUS Todo Backup Free is highly recommended. 
EaseUS Todo Backup Free offers you a simple solution to perform Windows system backup and recovery. Moreover, you can also finish other tasks with this backup software. For example, you can back up SSD to image and create a complete system image.
FAQs
1. What happens after System Restore?
System Restore can take a snapshot of the system files and the Windows registry and saves them as Restore Points. When an install failure or data corruption occurs, System Restore can help return the system to working condition without having to reinstall the operating system.
2. Does System Restore delete programs?
Although System Restore can change all your system files, Windows updates, and programs, it will not delete or modify any of your files stored on your hard drive. Even if you have uploaded a few dozen pictures and documents, it will not undo the upload.
3. What happens if I interrupt System Restore Windows 10?
If the System Restore is interrupted, the system files or registry backup restore could be incomplete. System Restore sometimes is stuck or Windows 10 Reset takes a lot of time, and one is forced to shut down the system. It can make the computer system unbootable. 
4. Is System Restore a good idea?
System Restore is a useful feature to return your Windows computer to an earlier point. This can be a big lifesaver in many situations and is considered good practice to create system restore points from time to time.
EaseUS Data Recovery Services
EaseUS data recovery experts have uneaqualed expertise to repair disks/systems and salvage data from all devices like RAID, HDD, SSD, USB, etc.