"I'm a Windows 7 user but would like to upgrade to Windows 10 for free. How can I do it because the official duration for a free upgrade to Windows 10 from Windows 7 passed?"
If this is you, don't worry because this article will guide you on how to get Windows 10 for free. Although the official deadline for switching to Windows 10 for free has passed, Microsoft hasn't removed the free upgrade from its website.
We'll show you how to upgrade to Windows 10 without cost. We'll also give you steps to activate your Windows 10 version upon successful upgrade.
Overview of Windows 10
Windows 10 is an operating system released by Microsoft as an improvement to Windows 7 and Windows 8.1. This recent OS version was released in 2015 and was initially free for upgrade among Windows 7 and 8.1 users. This is not possible currently, however. Windows 10 has improved features compared to the previous Windows OS versions, and it supports desktops, laptops, and tablets.
The most notable features include the re-introduction of the Start Menu and the removal of vertical toolbars that were present in the previous Windows version (Windows 8). The two common approaches to installing Windows 10 on your device include an upgrade or a clean install. 
Windows 10 Features and their Functions
Some of the features that make Windows 10 unique include the following.
1. Start Menu
This feature was removed in Windows 8 but re-introduced in Windows 10. It allows you to view two panels side by side on your screen. On the left column, the Start Menu displays the most-used, pinned, and recently used apps. It also displays the power button and all other installed applications.
On the other hand, the right column displays live tiles that you can conveniently reorganize, customize, or resize. You can access the Start Menu feature on Windows 10 by clicking the start button with a Windows logo on the bottom left of your screen.
2. Cortana on Desktop
This feature allows you to interact easily with your desktop. It's voice-controlled; hence you won't need to lift a finger. For example, you can search for a specific file on your hard drive or start a PowerPoint presentation by telling Cortana. Cortana can also send an email on your behalf without you having to type anything.
If you want to access a photo taken on a specific date, you can tell Cortana to pull it out for you, and it will do that diligently.
3. Xbox app
The Xbox app for Windows 10 allows you to play Xbox One games on your desktop, laptop, or tablet. Windows 10 also supports Xbox game streaming at improved speeds and better graphics performance. This is made possible with DirectX 12 support. What more? Windows 10 allows you to link up with friends while playing Xbox games on the same platform.
4. Improved Multitasking
Windows 10 has a multiple desktops feature that allows you to manage several open windows. Instead of having these windows on top of each other, Windows 10 allows you to create virtual desktops for each program. With this, you can navigate from one program to another without many limitations. The improved multitasking feature allows you to monitor all open apps on your Windows 10 device easily.
5. Action Center
This feature allows you to access all your notifications in the same place. It collects alerts from all programs on your device and relays them through one location. You can reply to the notification messages from the Action Center without opening the individual apps. You'll need to expand the message on the panel to access various options.
How to Get Windows 10 Free and Activate It?
If you're a Windows 7 or 8 user seeking to upgrade to Windows 10, it's possible to do so without extra costs. In this section, we'll show you how to get Windows 10 for free and activate it on your device.  
How to Get Windows 10 for Free
If running a genuine version of Windows 7/8/8.1 Home or Pro, you can get Windows 10 for free through the following steps:
Step 1. Visit the Windows download website.
Step 2. Navigate to "Create Windows 10 installation media" and click "Download tool now." Windows 10 setup will download on your device as a .exe extension.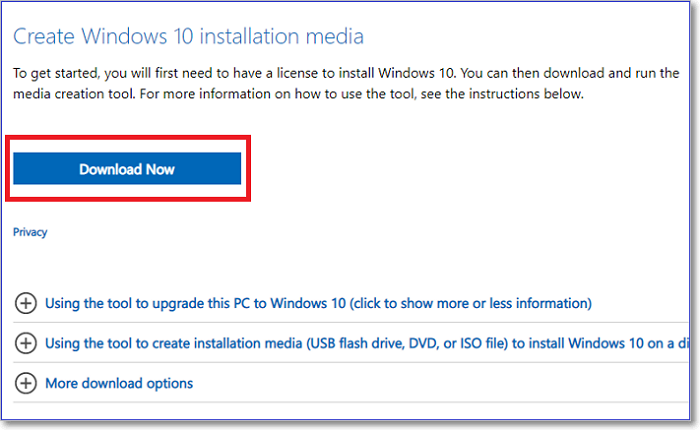 Step 3. Before launching the tool, ensure you've made a full backup of all your files and data.
Step 4. Next, click on the downloaded tool and follow the on-screen instructions.
Step 5. Under the "What do you want to do?" option, select "Upgrade this PC now."
Step 6. Click the "Next" button.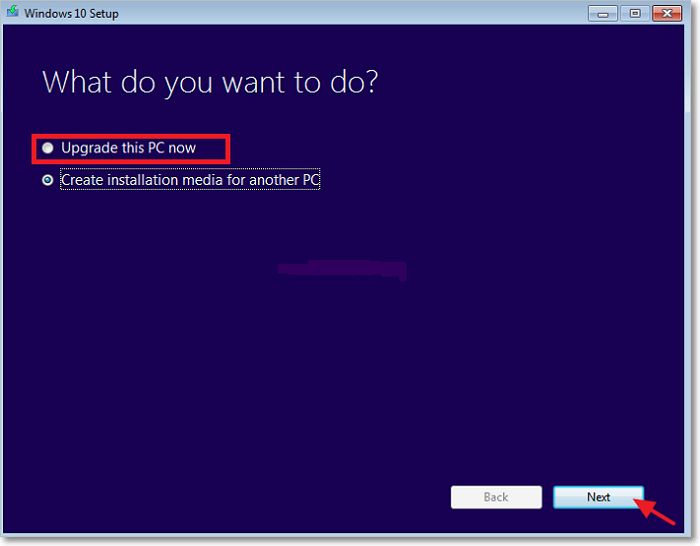 Step 7. Keep following all the prompts and choose whether you want to keep your data. When prompted to enter a product key, ensure you enter one for your genuine Windows license.
Step 8. Once the upgrade process is complete, go to "Settings Update & Security>Activation." Here, you'll see a digital license for your Windows 10.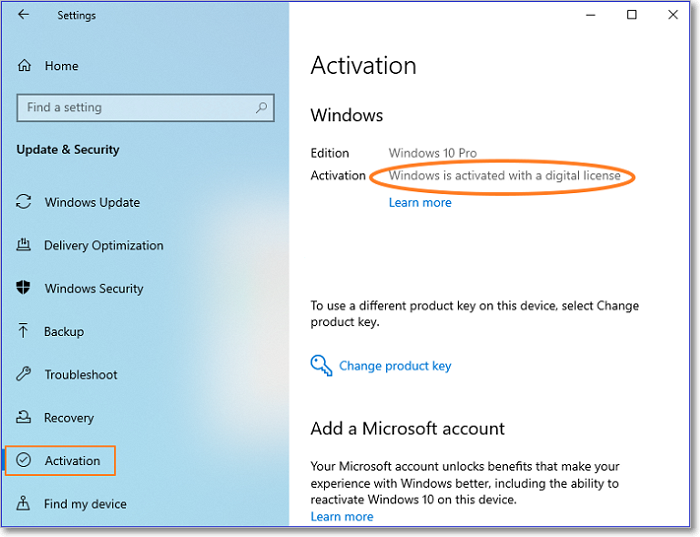 You've now upgraded to Windows 10 for free!
How to Activate Windows 10
Once you've installed Windows 10 for free on your device, the next step is to activate it. Below are the simple steps to activate Windows 10.
Step 1. Click on the Start Menu and type cmd on the search bar.
Step 2. Once Command Prompt displays in the search  results, select "Run as administrator."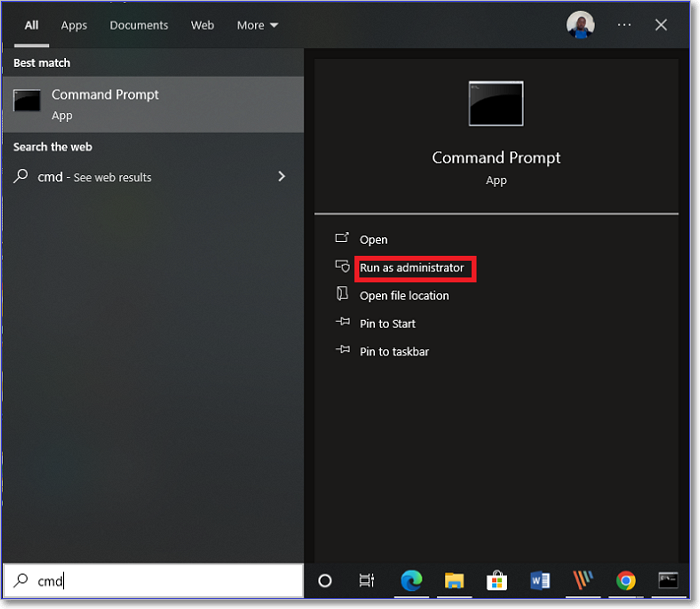 Step 3. Next, copy the command below and hit Enter. Replace "WinKey" with your Windows license key.
Slmgr /ipk
Step 4. Copy the following command and press Enter.
slmgr /skms kms.xspace.in
Step 5. Again, copy the following command and press Enter.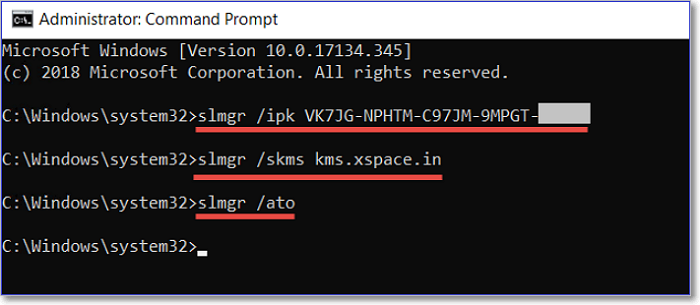 The system will automatically activate your Windows 10.
Wrap Up
You don't need to incur any charges to upgrade to Windows 10 from Windows 7 or 8.1 because you can do this freely. You just need to visit the official Windows website and download a Windows installation media. The next steps entail launching the installation media and following the onscreen instructions to complete the process of upgrading to Windows 10.
You'll just need to run a few commands to activate the upgrade upon its installation. It's important to upgrade to Windows 10 since it comes with many notable features, including:
Start Menu
Cortana on Desktop
The Xbox app
Improved Multitasking
Action Center, etc
Ensure you get Windows 10 today to start enjoying these amazing features! 
FAQs
Some of the common questions about getting Windows 10 include the following.
1. Is Windows 10 Secure?
Yes, Windows 10 is the most secure version of Windows. Because of the "Windows Security" feature, this operating system protects your device against different forms of viruses. Windows Defender will regularly scan your device for viruses and neutralize them before they cause any harm to your computer.
2. Is Win 11 Better than Win 10?
Windows 11 is an improvement of Windows 10. Therefore, we consider Windows 11 faster and safer than Windows 10. Any issue that was a setback in Windows 10 has been addressed in Windows 11.
3. Should I Update from Windows 7 to Windows 10?
Yes, it would be best if you did so as soon as possible. Since Microsoft stopped offering technical support for Windows 7 users, you're likely to face it hard when you run into problems. Updating to Windows 10 will guarantee continued support from Microsoft in case of any problems with your operating system.
EaseUS Data Recovery Services
EaseUS data recovery experts have uneaqualed expertise to repair disks/systems and salvage data from all devices like RAID, HDD, SSD, USB, etc.