PAGE CONTENT:
An input device, a mouse, operates using your PC's Graphical User Interface or GUI. You can find various mice that further segregate into non-wired and wired mice categories. It helps in quick navigation along with helping in taking prompt actions, which get restricted in using a keyboard. However, sometimes due to issues related to hardware, driver, system, or incorrect configuration, the PC gets affected. It results in the "mouse not working windows 10" problem.
Computing issues can be frustrating and irritating, especially if they hit crucial times. Plus, it can be tricky to navigate your system without a working mouse. So, we have devised valuable methods to help you with the issue. But first, let us know the reasons behind this issue.
Why Isn't My Mouse Working?
There may be varied reasons for a disappearing mouse cursor, where its buttons may not work. However, it can be due to issues with the hardware, so it is better to proceed with restarting your PC before moving on to any troubleshooting method. It will help in refreshing the operating system and deleting any temporary data that has turned corrupted. 
There may be various factors leading to the issue of failure in mice. Consider them below:
Connectivity loss or power loss.
Irreversible damage to the hardware.
Software needing updates.
Malfunctioning or misconfiguration of the operating system.
Conflict of the surface area of work and mouse.
The mouse needs to be connected in the right way.
The USB port needs to be fixed in coordination with the mouse.
Frozen system.
Drivers are missing or have turned outdated.
How to Solve Mouse Isn't Working Windows 10? 
Even if you are unsure of the issue that has led to the mouse not working windows 10 case, you need not worry further. We are here to assist you with various methods to make the situation in your favor.
Method 1. Reinstall Mouse Driver 
You can reinstall mouse drivers by using Device manager on your Windows PC. For example, you can install mouse drivers automatically using the Microsoft driver repository.
Steps to Use:
Step 1. Locate the Device manager and open it. Then press the "Windows" key and the "X" button.
Step 2. Select "Mice and other pointing devices." Then choose "HID- Compliant Mouse" and continue with its uninstallation.
Step 3. You will be asked to restart your PC after that. Grant permission for the same. You will notice that your mouse driver is installed then you can check whether  
Method 2. Fix Mouse Issues With the Hardware Troubleshooter 
In case you get a situation where you find a scenario of the mouse not working in Windows 10 even after you plug it in, then try the following; 
Steps to Use:
Step 1. Tap on "Control Panel" and open it.
Step 2. Then tap on "Troubleshooting."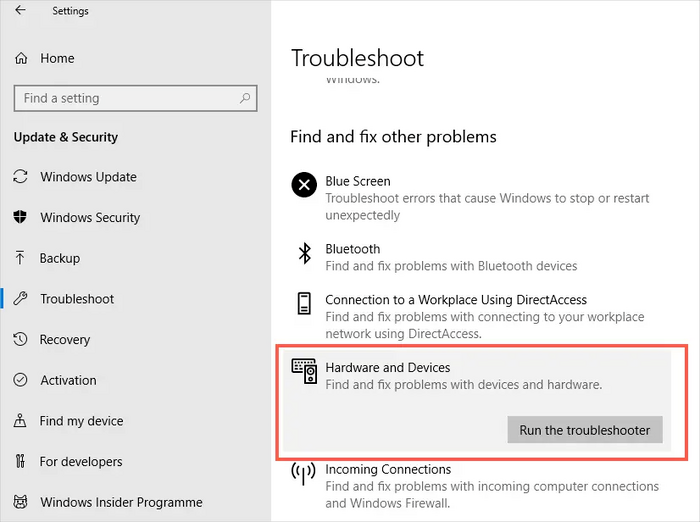 Step 3. Then run the troubleshooter by making a selection for the option of "Hardware and Devices." 
Step 4. Once the process finishes, restart the laptop and determine if your mouse is working again.
Method 3. Turn Off Mouse Power Management 
Sometimes Windows 10 decides to turn off specific features to save power. For example, Power management affects Windows PC or laptops with uninvited circumstances, such as switching off the wireless mouse adapter, even if you do not realize it. 
Steps to Use:
Step 1. Start by typing device manager in the start menu's search bar and then launching it. Then by tapping on the Universal Bus Controllers, expand it.
Step 2. Using the down arrow, make your way to the USB Root Hub that connects USB mice.
Step 3. Using the right arrow, make your way toward the tab for Power management.
Step 4. By pressing the tab, allow the PC to save power by switching off the device.
Step 5. To deselect the option, press Ctrl and Space keys together. Allowing the PC to switch off this item will save energy.
Method 4. Re-plug the USB Cable or USB Receiver 
In case the issue of the mouse not working windows 10 arises, you must ensure that you have attached it optimally. For example, try either another USB port or plug it in again.
Steps to Use:
Step 1. Start by removing the cable or receiver from the port.
Step 2. Spare a few minutes for the process to settle down.
Step 3. Try reconnecting the cable and see if the mouse has started working again.
Method 5. Check for Hardware Damage 
If any of the methods mentioned earlier cannot solve the issue of the mouse not working in Windows 10, then put it to the test as a hardware component. It will help judge whether the problem is related to software or hardware. Go for testing the Windows PC USB ports. Check whether the mouse is working in the current port and keep on changing the port till you get some positive result. If you get settled with a working port, it means it was a hardware issue related to the USB port. 
If the issue still needs to be resolved, check whether the mouse is damaged or broken. As a second test, check using your mouse on another PC or use a different mouse on the same PC. If your mouse is not working on another PC, get a new one.
Method 6. Restart Laptop 
Sometimes when you are trying to decide which option to try when you face the issue of the mouse not working in Windows 10, try restarting your device. You can also try this after you have disconnected the mouse. As soon as the system restarts, try using the mouse again and see if it works.
Method 7. Change BIOS or UEFI Settings 
Lastly, you can try UEFI tweaks or BIOS if you face a mouse not working windows 10 issue. It is better to give technical documentation of your motherboard a read in this regard. In addition, you have to do the activation of Virtual KBC Support for USB in BIOS. 
Steps to Use:
Step 1. Start with restarting or turning on your PC.
Step 2. Go ahead by pressing F12 to enter BIOS/UEFI.
Step 3. Make a selection for Devices, then choose USB setup.
Step 4. Select the option of "Enabled from the USB Virtual KBC Support Menu."
Step 5. Go ahead by saving the settings of your BIOS, then restart your PC.
Step 6. Test your mouse.
Concluding Thoughts 
A mouse is meant to react and work at your fingertips. You may need help using features like convenience, portability, or quick response time while navigating. However, sometimes, a mouse not working windows 10 error occurs due to certain situations. We hope that the solutions mentioned above will help you in this crucial situation and you will be able to sort out your issue. So keep hopping for a different solution until you get the one that suits you well.
FAQs 
Once you have tried all the possible solutions to fix your mouse not working issue, specific questions may be on your mind. Find an answer to them here;
1. How do I solve an unresponsive mouse on Windows 10?
You can try using the mouse on another device, changing the ports, or unplugging it unless it starts working. Also, try running the troubleshooting drivers or try installing a driver. Finally, you can go for tweaking settings for BIOS if you are a technical expert. 
2. How do I reinstall my USB mouse?
To reinstall your mouse follow the steps as:
Step 1. Launch Device manager. Tap on R and go ahead by typing devmgmt.msc and press Enter.
Step 2. Press the tab after selecting your PC's name.
Step 3. Navigate by choosing the down arrow on "Mice and other pointing devices."
Step 4. Expand the option by pressing the "Alt" and right arrow keys.
Step 5. Make navigation using an arrow button on the HID-Compliant mouse.
Step 6. Tap together Shift, F10, or Fn, Shift and F10 keys. 
Step 7. Use the down arrow, uninstall the device, and press Enter key.
Step 8. Then reinstall the mouse driver again.
EaseUS Data Recovery Services
EaseUS data recovery experts have uneaqualed expertise to repair disks/systems and salvage data from all devices like RAID, HDD, SSD, USB, etc.