DISM stands for Deployment Image Service and Management, and you can find DISM in Windows 7/8/10/11 and Windows Server R2 as a preinstalled tool to provide services related to the recovery and repair of Windows images.
You can access the DISM tool from Windows PowerShell or the Command Line of your computer. When a Windows image becomes inoperable, the DISM tool can update files and repair problems. 
DISM Error 87 Overview
But unfortunately, when running the DISM tool, sometimes you may receive the DISM error code 87: Option is Unknown. Let us start with the causes of DISM error 87 to find out what is causing this error in our system.
There are several possible causes of the DISM error 87 in Windows 11/10/8/7, here are listed some of them:
The command or the parameters that you have given is incorrect.
Unsupported command on Elevated Command Prompt.
Inappropriate DISM version.
When a service was required, your system was unable to start it. As an example, consider a network connection failure.
Failure in Windows Update.
In most cases, the user shall immediately have to repair or update Windows and download the required files. However, it is an open invitation to data loss during the process. 
Relax. Don't panic! We have got your back. All of your questions will be answered in this tutorial. The following section is the perfect solution to save your data. Here's how to fix the DISM error 87 option is an unknown issue, and recover your lost data.
Recover Lost Data Before Repair Windows 11/10
It is always recommended that you recover your data before beginning the Windows repair. Your system is at high risk of accidental data loss during the repair. So, to be safe, back up all important files before proceeding.
Now comes the question of how to back up your data and which tool to use. EaseUS Data Recovery Wizard is the best tool you might use when looking for a data recovery tool. 
Here are a few situations that can require you to use a data recovery app:
Lost data due to accidental deletion
Storage drive damaged
Accidentally formatted a drive or partition
Data corrupted due to errors 
With its three-step process, you can recover your data quickly and efficiently. The best part is that EaseUS Data Recovery Wizard does not need prior technical or computer knowledge. 
The app even lets you recover data from deleted, hidden, lost or RAW partitions (fix raw partition without losing data). You can also get your data back from unbootable or crashed systems.
Moreover, the software only takes a few minutes to download and will begin scanning your computer with a single click. It supports almost all document formats and can also be used to store images, videos, audio, and other media. Its compatibility with all versions of the Microsoft Windows operating system sets it apart.
Follow the steps below and recover your data using EaseUS Data Recovery Wizard:
Note: To guarantee a high data recovery chance, install EaseUS data recovery software on another disk instead of the original disk where you lost files. 
Step 1. Launch EaseUS Data Recovery Wizard on your Windows 11, Windows 10, Windows 8, or Windows 7 computer. Select the disk partition or storage location where you lost data and click "Scan".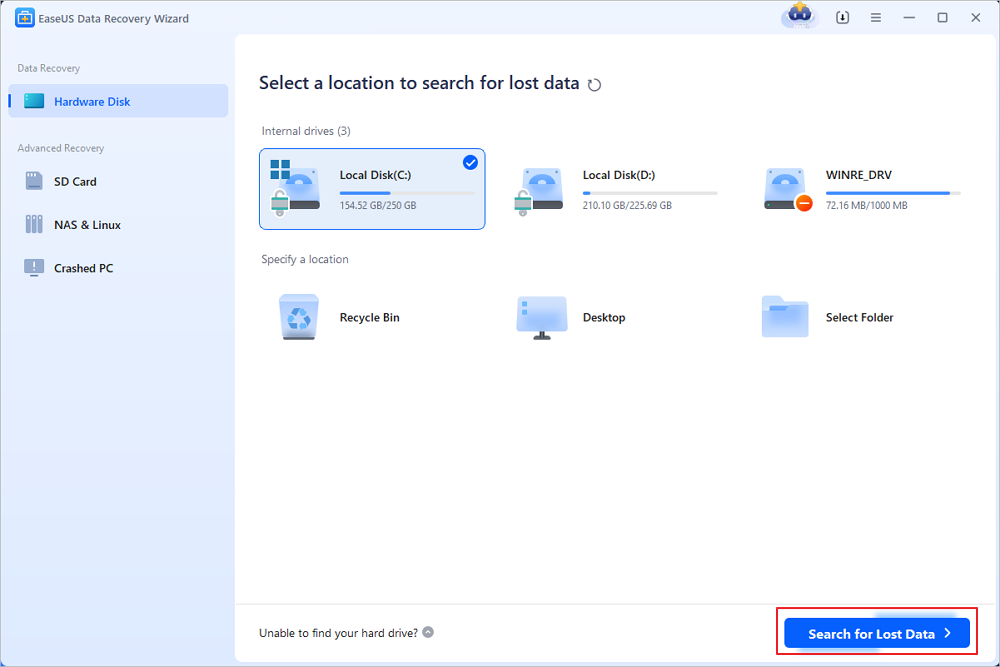 Step 2. This recovery software will start scanning the disk to find all lost and deleted files. When the scan process completes, click "Filter" > "Type" to specify lost file types.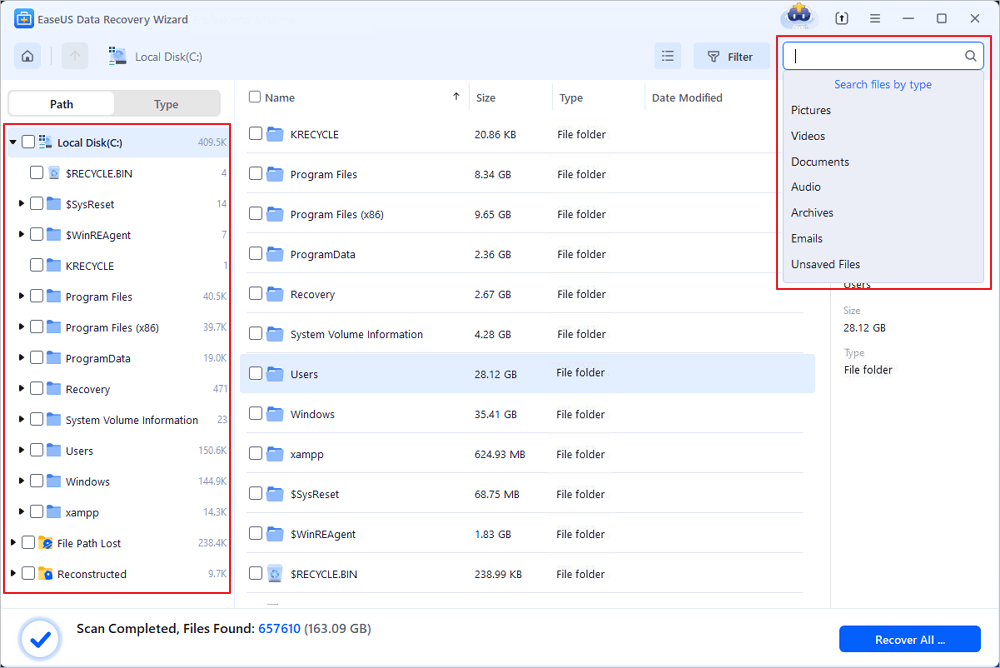 Step 3. Preview and restore lost Windows files. You can double-click to preview the scanned files. Then, select the target data and click the "Recover" button to save them to another safe spot in the PC or an external storage device.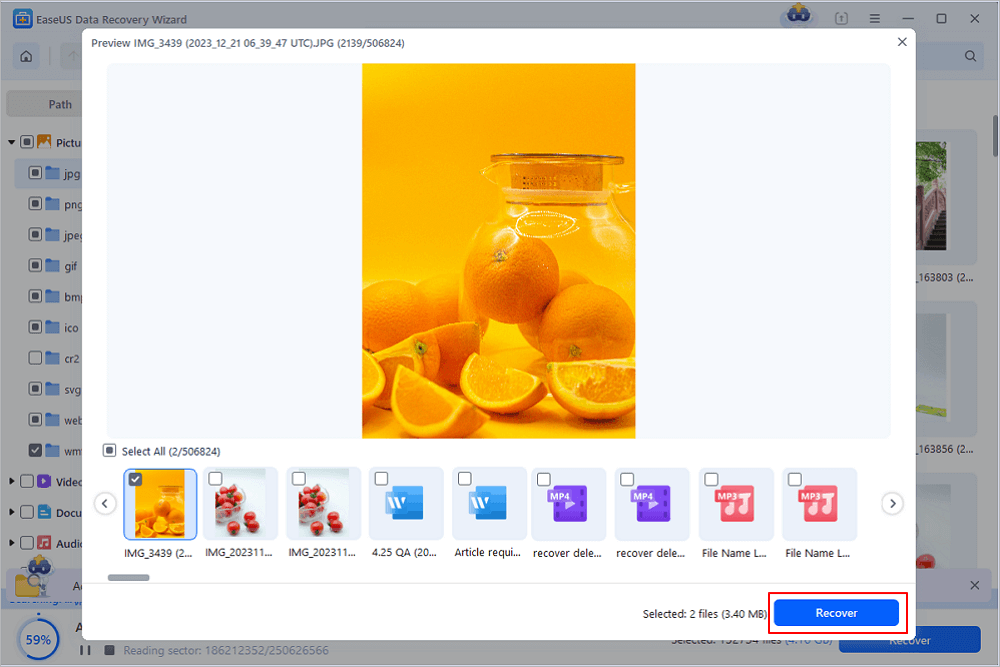 How to Fix DISM Error 87 Option Is Unknown
Now that we have completed the most challenging yet crucial part of recovering our data towards fixing the DISM error 87, proceedings further in this tutorial are safe.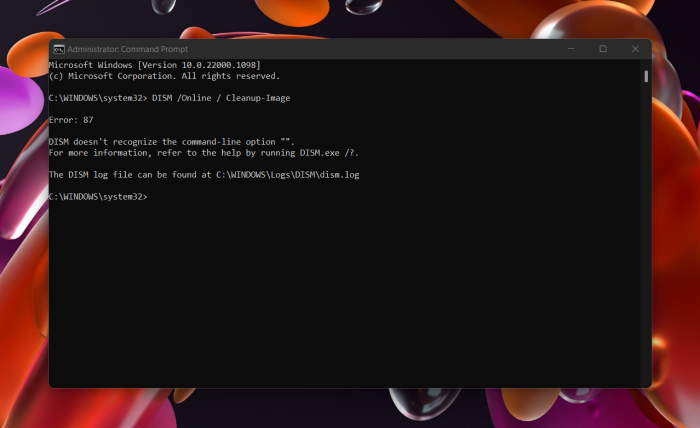 Let us look at five effective ways to fix the DISM error 87 - the DISM error 87 option is unknown.
You can also follow the detailed video tutorial to walk you through the process of resolving DISM error 87. Remember to check the key points below:
00:14 Use elevated command prompt
01:10 Use correct spacing
02:38 Reset Windows 10
02:49 Using Recovery
Quick Navigation:
Fix 1. Type in Correct DISM Command-Line
Writing an incorrect DISM command is one of the silliest mistakes. So, whenever you encounter DISM error 87, double-check your command.
Here are a few things to look out for while checking the commands:
Spelling mistakes.
There must be a space before every slash in the command.
Use of correct format and sequence.
Example:
DISM/Online\Clenup-image/Scanhealth (incorrect)
DISM /online /cleanup-image /scanhealth (correct)
After making the required changes, check whether your issue has been resolved. If you still encounter DISM Error 87, try the next solution in the list.
Fix 2. Run SFC or SCANNOW Tool
There is a high chance that you are facing DISM error 87 due to corrupted system files in your computer. The goal is to scan and repair all corrupted system files leading to the error. 
Let's look at how to repair the error caused by corrupted system files using a built-in tool of Windows, System File Checker, or SFC.
Step 1. Search for the command prompt in the search box of Windows 10.
Step 2. Select the Run-as-administer option to proceed.
Step 3. In the command prompt, type SFC/scannow and press the Enter button to continue.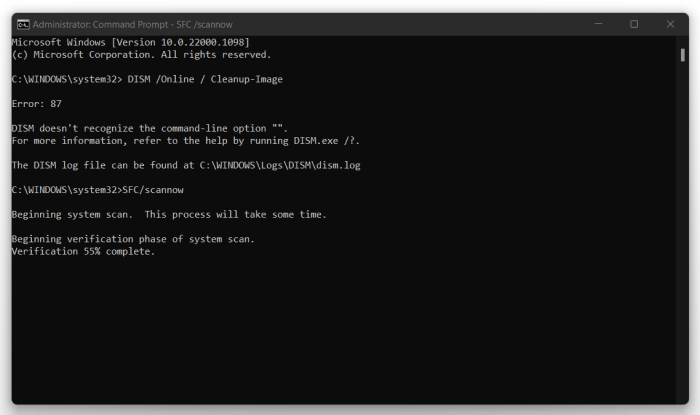 Step 4. Wait for the verification to be completed 100%. 
Note: Do not close the command prompt window before the 100% verification completion.
This will repair all the corrupted system files that exist on your computer.
Now, check the command prompt to see if the issue of DISM error 87 has been resolved. Try the next fix if this doesn't work for you.
Fix 3. Run CHKDSK Tool
If you are reading this fix, we assume your issue has still not been resolved. Hopefully, CHKDSK will do the work for you. You may be encountering DISM error 87 due to some disk-related issues. 
The CHKDSK tool checks if the data in the disks are in a safe state or not. Here you will see how to use the CHKDSK tool to resolve your problem. The steps involved in this are as follows:
Step 1. Run the command prompt as administrator.
Step 2. Type the "chkdsk C:/r" command in the command prompt window and press "Enter."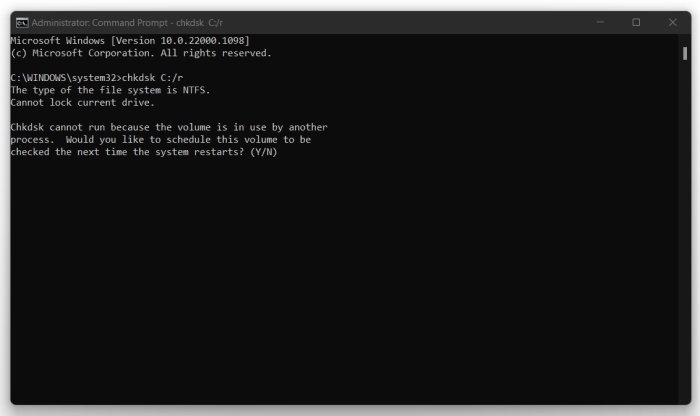 Step 3. It will ask, "Would you like to schedule the volume to get checked the next time the system restarts?" Type "Y," and the process begins.
This will help you to check all the issues related to the drive and fix them. Rerun the command prompt and check whether the DISM error 87 has gone.
If the error is still there, the reason behind it must be covered in the upcoming fix provided in this tutorial.
Fix4. Run Windows Update
DISM may also generate error 87 If your Windows is not up to date. In this case, you must check for the latest updates and download and install them. Follow the steps given below to update Windows in your system:
Step 1. Open Settings by pressing Windows, and I key.
Step 2. Click on the Update & Security option to continue.
Step 3. Open the Windows Update tab and click on Check for Updates button.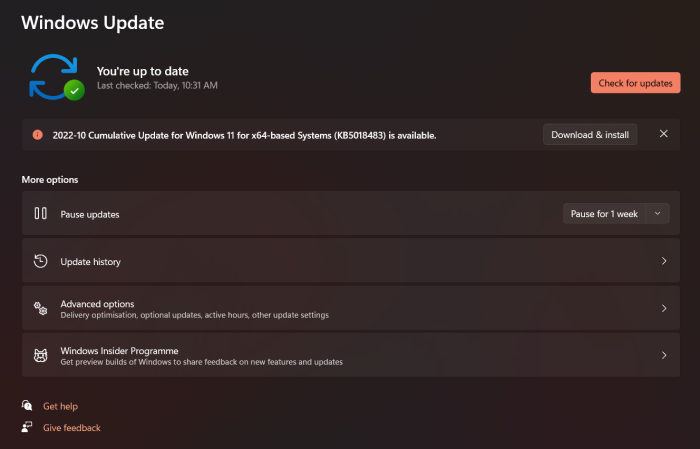 Step 4. If your Windows is up-to-date, it will show that the latest version of Windows is already installed. If not, click on the download and install button.
Step 5. Your system will demand a Restart after it is updated successfully. Restart your computer.
After the system is updated, run the Command Prompt as administrator and check for the DISM error 87. If the system updates were the reason for the mistake, it would vanish. 
However, there are chances that you are still facing the problem of DISM error. Next, we will see one more solution to resolve this issue.
Fix 5. Restore/Re-install Windows
The last solution in this tutorial is to re-install Windows. Since no solution helped resolve the DISM error 87, we have the last option to re-install Windows in our system. Take a look at the steps mentioned below to re-install Windows in your system:
Step 1. Re-installing windows in your system can cause data loss. So, it is advised to back up all the files before proceeding further.
Step 2. After taking data backup, go to the start menu > Settings > Update & Security > Recovery.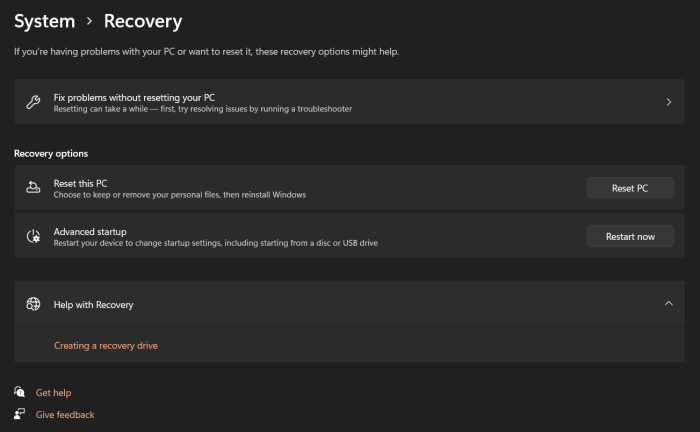 Step 3. Under the "Reset this PC" tab, click on Get started.
Step 4. In Choose an option window, choose to Keep my files to ensure no data loss.
Step 5. Click Next.
Step 6. Click the Reset button in Ready to reset this PC window.
Step 7: Now, restart your computer. Your windows have been re-installed. 
Now we need to open the command line in administrative mode and check whether the DISM error 87 has gone. We hope this solution was helpful to you.
Summary
In this tutorial, we have discussed DISM and the reasons behind DISM error 87 in Windows 11/10/7. Followed by that, we have also discussed five solutions to the DISM error 87 without losing the computer files and data. 
EaseUS Data Recovery Wizard has made the process even more smooth and stress-free by helping us with its powerful and reliable data recovery tools. You can also refer to the video tutorial mentioned in the article for better clarification of each solution. 
DISM Error 87 FAQs
The solutions provided in the article are beginner friendly and have all the steps mentioned in detail, along with pictures for your reference. You will surely get your answer in the FAQs section below if you have any questions.
1. What is error 87: The parameter is incorrect?
An incorrect parameter can appear due to corrupted system files or when required services are not running. Try installing the latest drivers manually on your computer to solve this issue. But if you still encounter this error, run the CHKDSK tool to fix the error.
2. How do I fix corrupted DISM?
Corrupted DISM will occur when the system files in the computer system are corrupted. You can fix corrupted DISM by scanning all the files in the computer and repairing the corrupted ones. For a detailed solution, run SFC or SCANNOW tool to fix the corrupted DISM.
3. How do I fix the DISM Online cleanup image RestoreHealth?
Follow the steps to fix the DISM Online cleanup image RestoreHealth:
Step 1. Run Command prompt as administrator.
Step 2. Type "sfc /scannow" and press Enter.
Step 3. Type "Dism.exe /online /cleanup-image /StartComponentcleanup" and press Enter.
Step 4. Type "Dism.exe /online /cleanup-image /CheckHealth" and press Enter.
Step 5. Type "Dism.exe /online /cleanup-image /ScanHealth" and press Enter.
Step 6. Type "Dism.exe /online /cleanup-image /RestoreHealth" and press Enter again.
The DISM online cleanup image issue should be resolved.
4. How do I fix error 87 DISM on Windows 7?
There are many ways you can fix error 87 DISM on Windows 7. Start by checking if the command is spelled correctly and doesn't include any mistakes. Then you can run the SFC, SCANNOW, and CHKDSK tools to fix the error. 
You can also run any available Windows updates and try to restore/re-install Windows to see if this fixes the error. 
EaseUS Data Recovery Services
EaseUS data recovery experts have uneaqualed expertise to repair disks/systems and salvage data from all devices like RAID, HDD, SSD, USB, etc.