Have you forgotten your BIOS password and need help resetting your PC BIOS? You're not alone. Luckily, there are dozens of ways to reset BIOS to default settings. In simpler words, you can reset BIOS by following the instructions mentioned in this article.
What Is BIOS & Why Need to Reset It
BIOS stands for Basic Input/Output System. It's the first layer of software that gets loaded onto a computer's main RAM chip and loads up the rest of your operating system. This means BIOS is responsible for nearly all the issues of your PC, which makes it so important to rest your BIOS.
Moreover, BIOS allows you to install and configure hard drives, RAM, and sound cards.
Since BIOS is responsible for running the operating system, it's essential to keep it up to date. The more often you update your BIOS, the better your computer will run.
How to Reset BIOS to Default Settings in Every Possible Way
Whether it's configuring your computer's hardware settings or monitoring screen resolution, resetting BIOS is the ultimate solution to every problem. However, you will also want to ensure that you've updated your BIOS with all relevant updates before you restart your computer or install new hardware so that everything works together.
Solution 1. Reset BIOS Using BIOS Setup Utility
If your computer goes wrong, you should first check if the power supply is working. If it works properly, try resetting the BIOS using the BIOS Setup Utility.
To reset the BIOS using BIOS Setup Utility:
1. Press and hold down the "F2" key during the system boot-up.
2. Press the "Delete" key on the keyboard or move the cursor to highlight the "Delete" icon in the bottom right corner of the screen.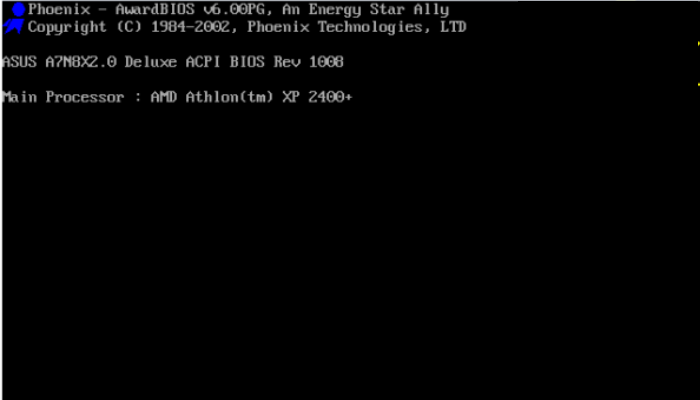 3. Select the "Advanced Setup" option from the menu and press the key.
4. Now select the option for "Reset CMOS Configuration" and then press the key.
Solution 2. Reset BIOS by Reseting Configuration Data
If the first way of resetting the BIOS setting to factory default cannot fix your problem, you can also try to reset the configuration data.
When resetting the BIOS setting on a Windows computer, just conduct the simple steps below.
Settings > Advanced > Reset Configuration Data > Change "Disabled or No" into "Enabled or Yes" > F10 > Save and Exit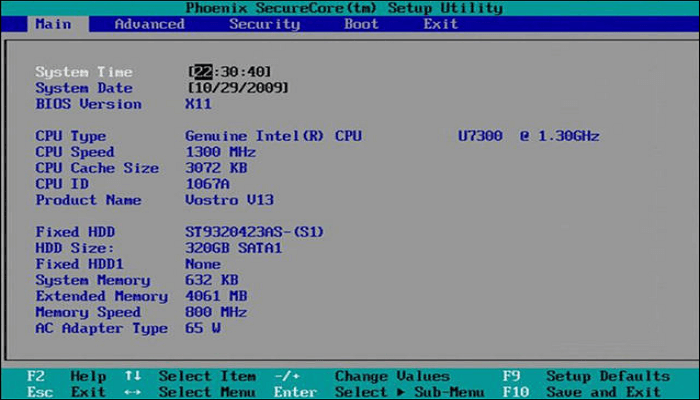 Solution 3. Reset BIOS by Removing CMOS Battery
If your computer won't boot, the first thing you should try is to remove the CMOS battery.
If you are experiencing a problem with the BIOS, you should reset it by removing the CMOS battery. To do this, follow these steps:
1) Turn off your computer and unplug it from the power outlet.
2) Press and hold down the "Delete" key as you press the "F2" key on your keyboard, then press "Enter" when prompted.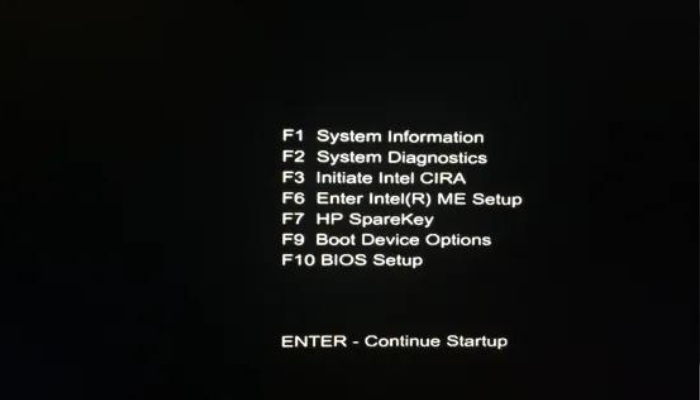 3) Remove the CMOS battery by pressing down on the battery cover and sliding it open.
Additional Guide: How to Protect Data on Windows 10/11 for BIOS Issue
Booting into BIOS can change the boot order and hardware configuration. Suppose you encounter unexpected data loss because of system installation or hardware failure. In that case, EaseUS Todo Backup comes to help you out because once you have created a backup, it can help you quickly restore the data to your computers.
EaseUS Todo Backup Home is multi-functional backup software for Windows 11/10/8/7. It can help you back up the entire system, disk, partition, etc. And it can automatically back up files, such as documents, videos, pictures, music, etc. Besides, it can also clone a hard drive and create an iso image from your operating system. It can also allow you to make full, incremental and differential backups.
EaseUS Todo Backup can help you back up your computer with a few simple clicks.
Step 1. Launch EaseUS Todo Backup on your computer, and click Create Backup on the home screen and then hit the big question mark to select backup contents.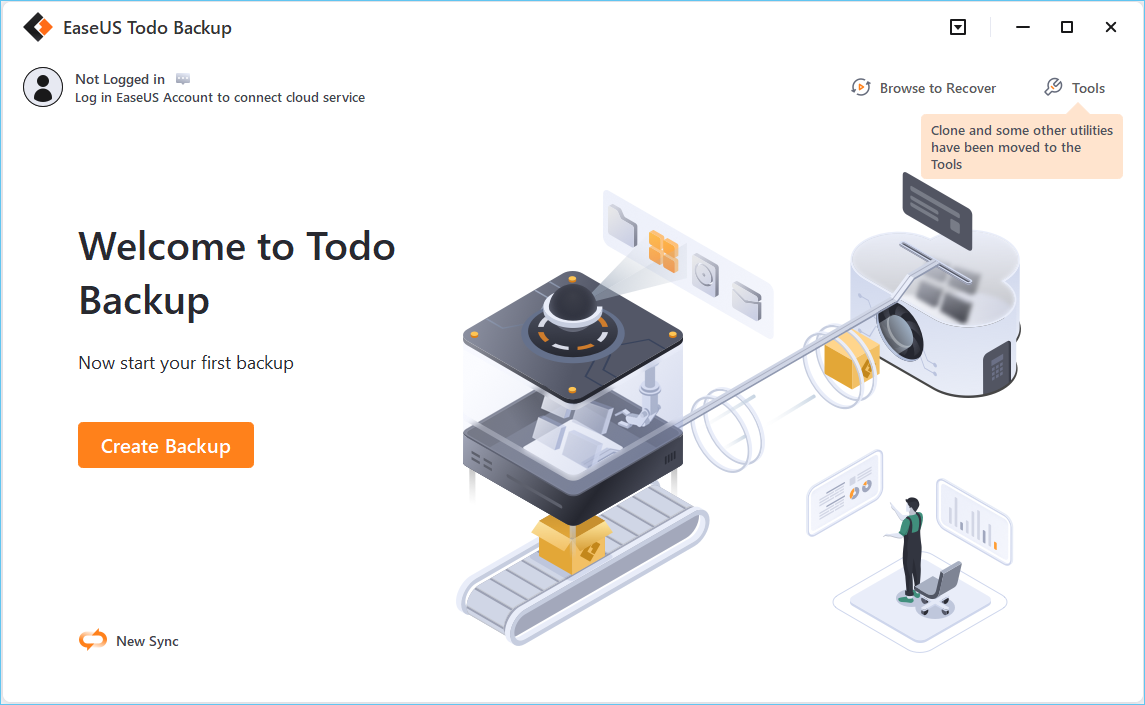 Step 2. To back up your Windows operating system, click "OS" to begin the backup task.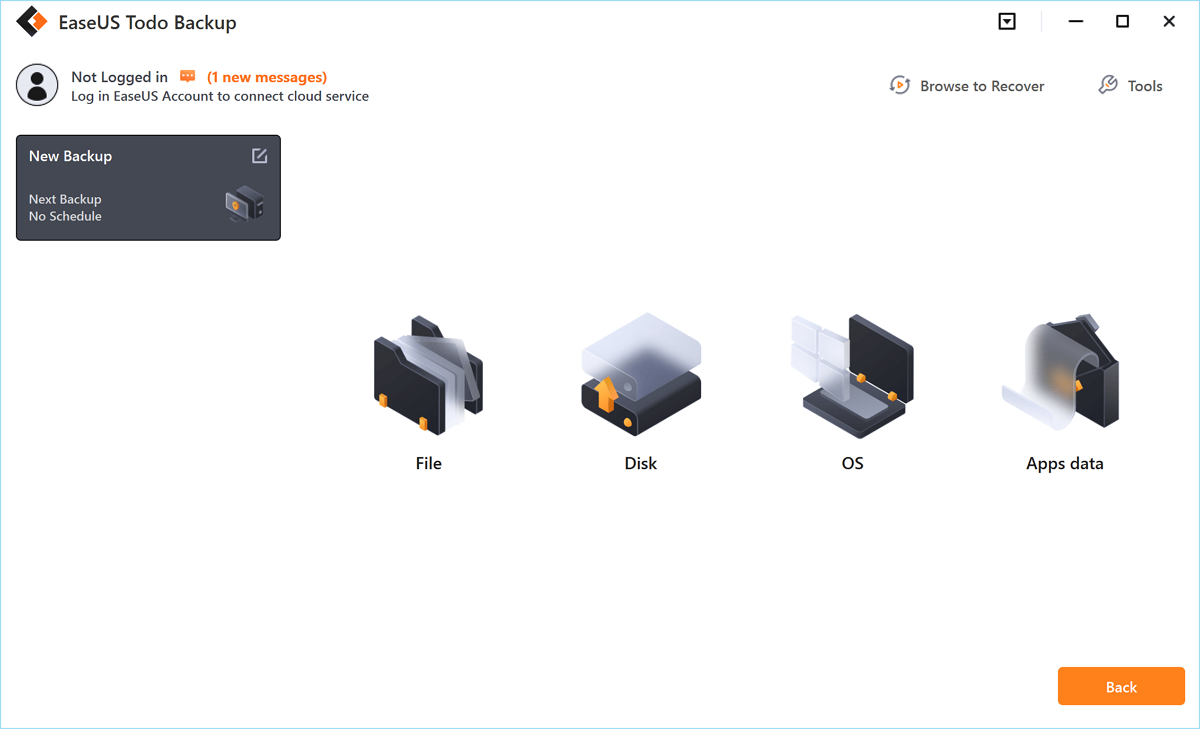 Step 3. Your Windows operating system information and all system related files and partitions will be automatically selected so you don't need to do any manual selection at this step. Next, you'll need to choose a location to save the system image backup by clicking the illustrated area.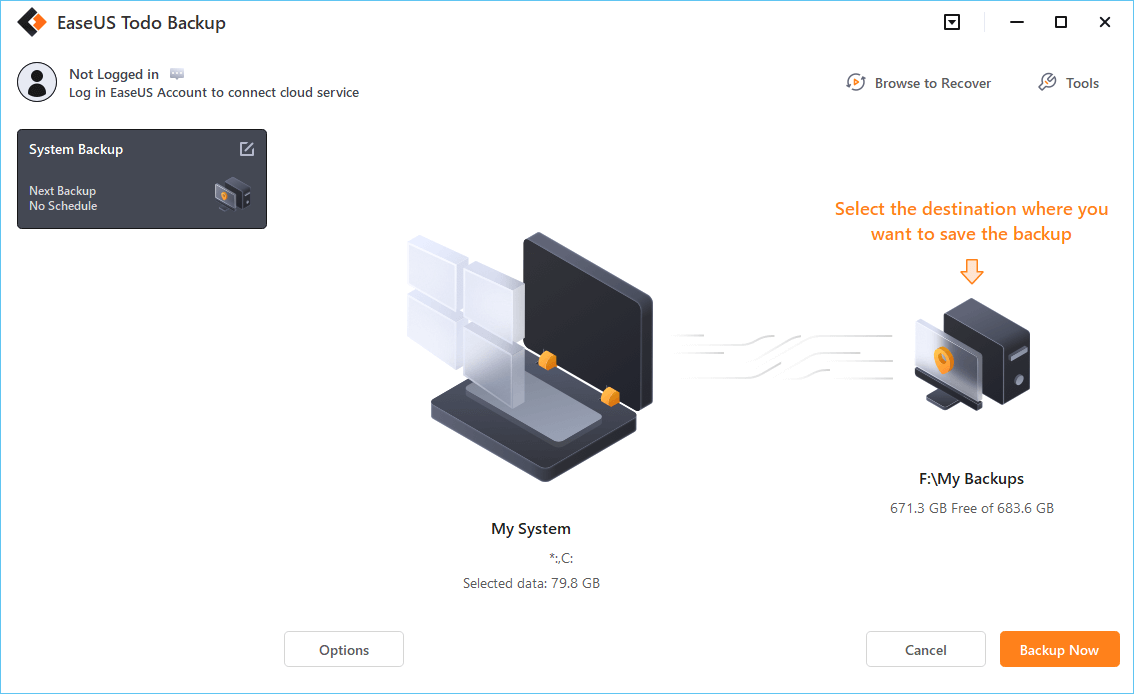 Step 4. The backup location can be another local drive on your computer, an external hard drive, network, cloud or NAS. Generally, we recommend you use an external physical drive or cloud to preserve the system backup files.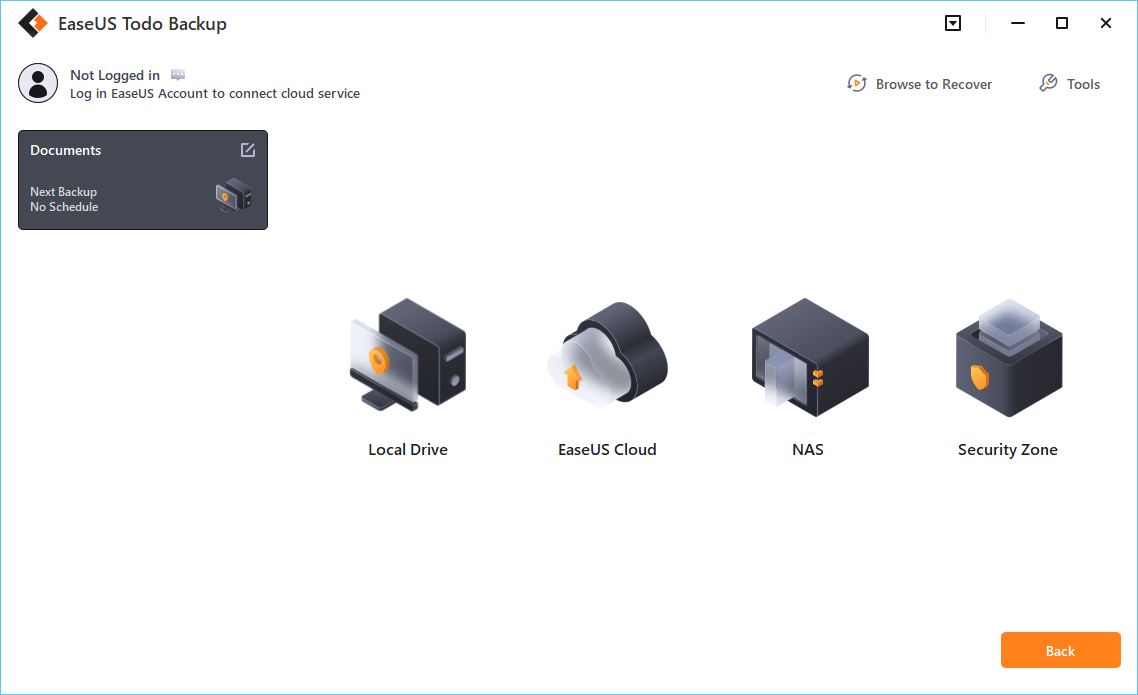 Step 5. Customiztion settings like enabling an automatic backup schedule in daily, weekly, monthly, or upon an event, and making a differential and incremental backup are available in the Options button if you're interested. Click "Backup Now", and the Windows system backup process will begin. The completed backup task will display on the left side in a card style.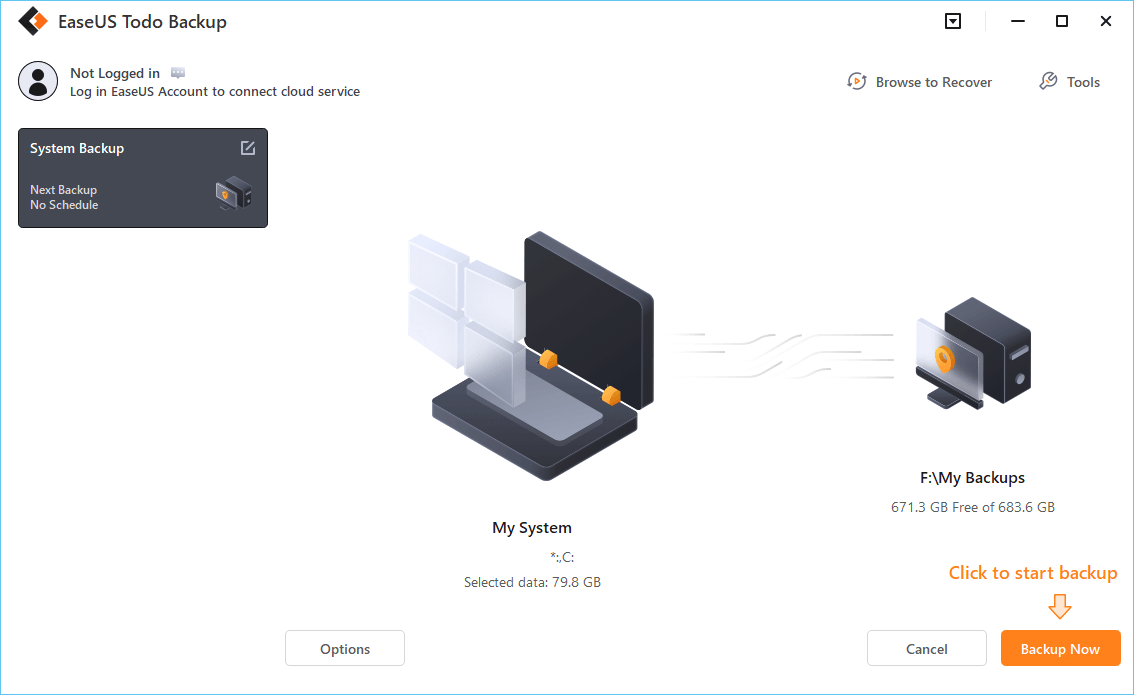 The Bottom Line
If you've followed all the instructions as suggested, chances are that you will get the new password for your BIOS soon. Once you have completed the process, the reboot will start automatically and return to its default settings. Once you've reset the BIOS to default settings, turn off the PC for a while and let it cool for a few minutes. Whether you do it manually or use the internal settings such as setup utility, make sure to follow all the instructions as written in the specific order. You can use EaseUS Todo Backup to create a backup of your computer regularly to avoid data loss.
FAQ
1. What happens if I reset my BIOS to default?
BIOS is the first thing that boots up when you turn on the computer. It contains a lot of settings for things like your graphics card, your hard drive, and other components. If you reset your BIOS to its default settings, it will be like starting over from scratch. Some computers have a button that can do this, but some only allow you to change the settings by going through software menus.
2. Will resetting BIOS delete the files?
The short answer is no; resetting your BIOS will not delete any files from your system. The reason for this is that the file systems used by most operating systems are completely different than those used by BIOS and firmware applications like CPU microcode updates, which are often updated with new features and bug fixes that require updating.
3. What is BIOS recovery?
BIOS recovery is restoring an older version of firmware, which can be used on newer hardware or software versions. This feature is available on some motherboards and makes it possible for users to update their system's firmware without reinstalling everything from scratch or losing data during an upgrade process called "flash back." Some models even allow users to perform multiple flashbacks at once! This can save time and money while also ensuring that all data remains intact after every update.
4. Does updating BIOS delete everything?
No, updating your BIOS will not delete everything. If you have a computer running off of a hard drive, you can update the BIOS anytime. However, if you are using an SSD or other type of solid-state storage, then there is no need to update the BIOS unless you want to upgrade it.
EaseUS Data Recovery Services
EaseUS data recovery experts have uneaqualed expertise to repair disks/systems and salvage data from all devices like RAID, HDD, SSD, USB, etc.