PAGE CONTENT:
A general introduction to EaseUS Todo Backup
Back up files and folders on your PC/laptop
Let's begin with a story, which I think that most of the home users, office workers, and small-to-medium businesses would learn a painful lesson from it.
Nothing worries you a little bit until data loss disasters strike heavily. I heard a true story from a friend, of whom the company once upgraded the staff's computers from Windows 7 to Windows 10 without doing necessary backups in advance! Yes, the upgrade went smoothly without disturbing, except for one mysterious phenomenon afterward. All files were gone after a full restart of all the computers! Office documents, contracts, financial statements...just missing.
That's undoubtedly an unforgettable tragedy for my friend's company, he turned to me for help immediately after this event, hoping that I could recommend a fine piece of Windows file backup software. Here we go.
A general introduction to EaseUS Todo Backup
EaseUS Todo Backup is standout Windows free backup software when it comes to a range of backup purposes like disk/partition backup, file backup, and system backup, especially in terms of the backup capability in backing up multi-type of files, it undoubtedly ranks on the top list.
To utterly protect your data from being erased, deleted, cleaned, wiped out or encrypted by computer viruses, system updates, system failure, third-party harmful applications, etc., you must invest at least one backup utility to back up files and folders. You'll feel 100% secure when your precious photos, office documents, videos, and all the important data files are kept safe with many copies.
A detailed user guide for backing up files and folders on your PC/laptop
And when you choose EaseUS Todo Backup, you choose more possibilities in backing up files intelligently because it allows for incremental backup/differential backup, schedule backup to backup fast, continuously and automatically.
Step 1. Open EaseUS Todo Backup and select "File Backup".
You may have a large amount of vital data to be protected as time goes on, such as documents, pictures, music, and videos, etc. It is always a good habit to have a backup on a regular basis. File Backup is one of the best choices for you to get over unexpected data loss.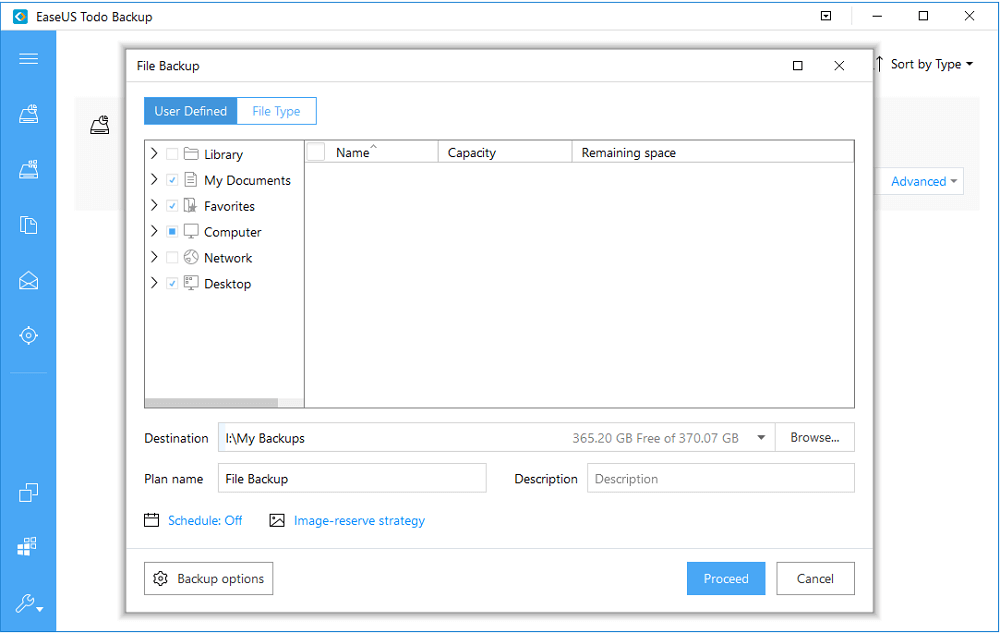 Step 2. Select the files that you want to back up.
If you just want to back up one or some specific file types from one folder, the option at top right corner can help you exclude the other files.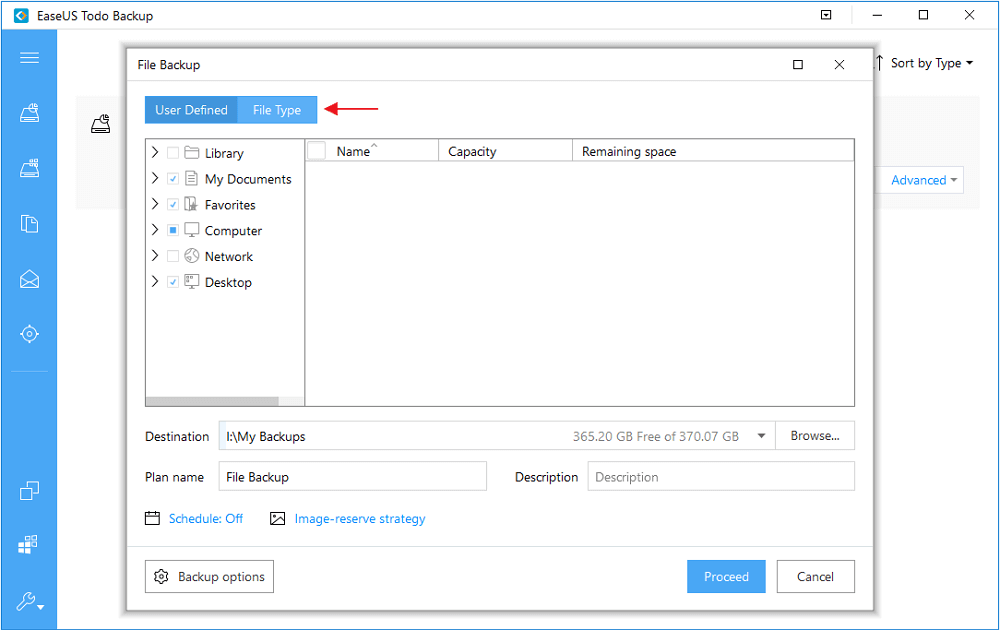 Step 3. Select a destination to save your backup file. You'd better create the backup file in some other storage media or in some other drive. If not, there may be a risk of the backup file getting corrupted or destroyed.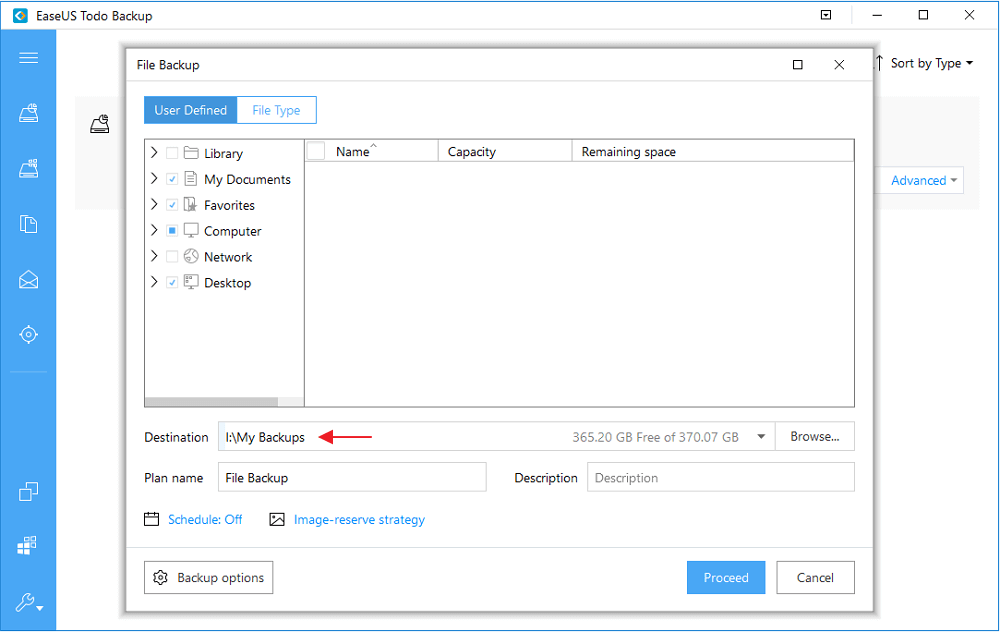 Advanced backup settings are useful when you want to create a flexible and automatic backup plan.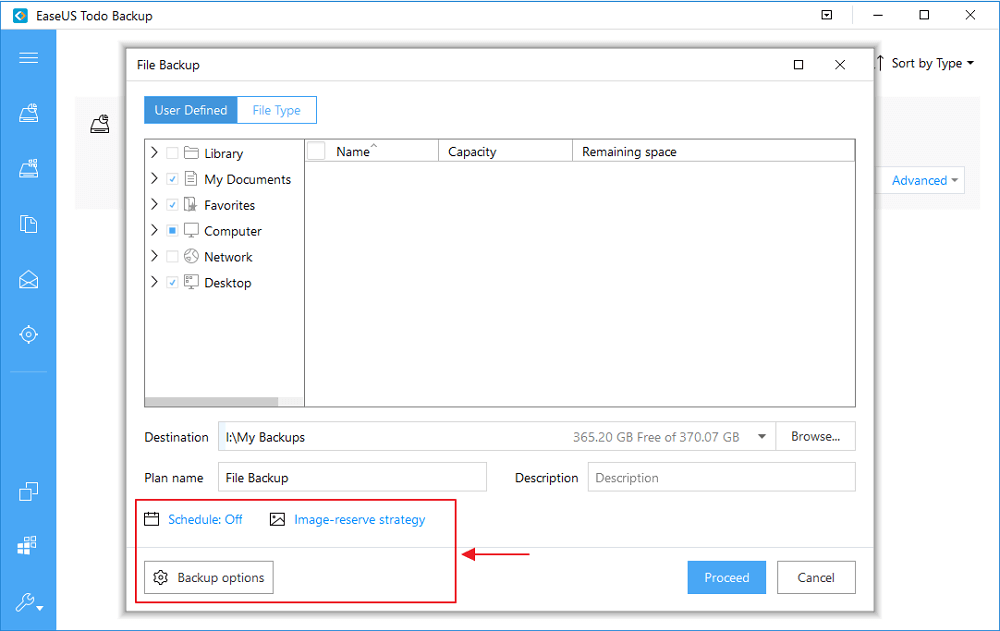 The schedule is to create an automatic backup plan.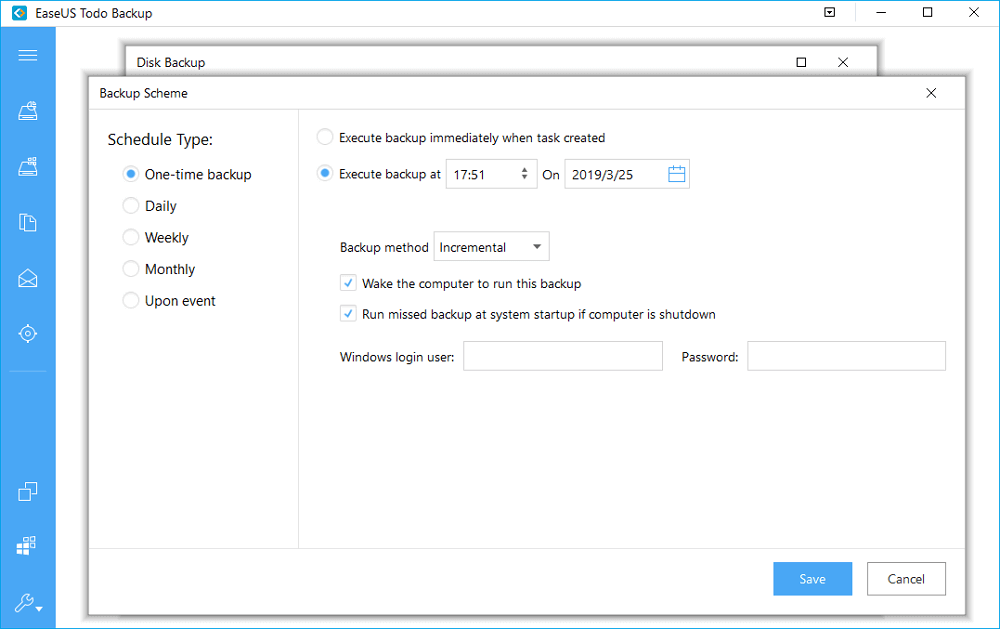 Backup options are to edit the advanced parameters.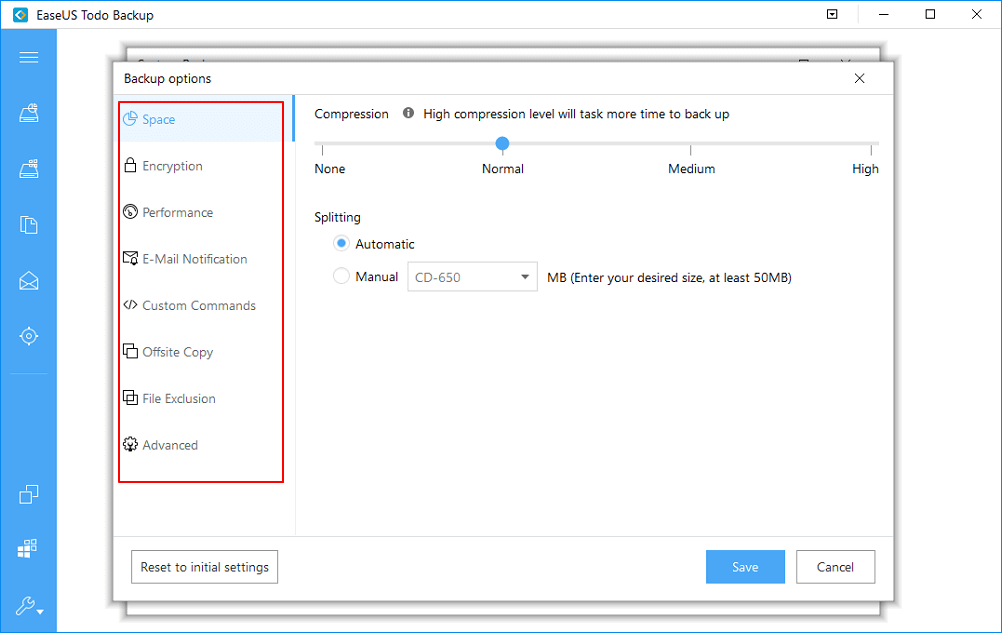 Image-reserve strategy is to reserve the limited image as per image retention rule.
Advanced backup settings are for reference only but not a prerequisite for backup.
Step 4. Click "Proceed" to execute your operation.
Are you looking for an advanced file backup solution for mail file backup? Check this.
EaseUS Todo Backup enables you to safeguard your important data files for more than the mentioned "File Backup" feature. If you're interested, upgrade the free version to the home version, the mail backup is also available to use.