
Table of Contents

About the Author

Related Posts
Repair Corrupted Videos from iPhone in Simple Clicks
Cedric
Updated on Jul 12, 2021|
min read
Corrupted Videos on iPhone Overview
Recording videos with mobile phones is an incredible way of storing your favorite memories. Whether they are personal records from marriages, dating and birthday parties, artistic productions from amateur photographers, or professional content for business.
A single iPhone is affordable, easy to carry between travels, has multi-uses for working and entertainment, and also can record videos with high quality enough for any hobbyist, from every place you go.
You can just keep the videos with yourself for watching them at any time, saving them with backup tools for your device, as long as the files are being stored carefully, avoiding the several causes of damage. 
Video files allow users to record, store and share any kind of event, even over years, and for this reason, losing them can be hurtful for your relationships, job, and peace of mind. 
Since your videos have a deep value for all types of readers, this article will teach how to store your files properly, ways to make your device healthy enough to avoid recording broken files, and also how to repair your unplayable video files from iPhone. 
What Causes Video Corruption on iPhone
Video files from iPhone can become corrupted by several causes. Taking the time to learn the factors that can damage your video files allows you to stay away from these issues in the future.
MOV files are the default format for videos from iPhones, and it is used across devices from smartphones to cameras. They can suffer damage while you are editing the video file, converting it multiple times, or transferring, for example.
You can also damage your video files by handling them improperly. The header of the file can be damaged when you are editing it, making the video corrupted. You are transferring the video file between devices, and the USB cable is switched off during the process. 
During the download of the video, the internet connection is unstable and it breaks the data from files. Or the video is converted several times for different formats until it gets corrupt and becomes unplayable.
Sometimes, problems with your iPhone device are the root of the corruption of your videos. Recording videos with a low battery may increase the chance of damaging them. Uncleaned caches on the application camera you use can lead to broken data. Of course, storing video files on unsafe devices infected by malware is another cause of unplayable videos.
Download a Free Online Video Repair Tool to Fix Corrupted Videos from iPhone 
You can use EaseUS RepairVideo for recovering iPhone video files that have been accidentally deleted, lost due to storage device issues, lost due to software problems, or lost due to an iPhone camera malfunction.
With this powerful, easy-to-use iPhone video recovery software, you can recover video files from USB flash drives, SD cards, external hard drives, corrupted hard drives, cameras, DJI, Go Pro, dash-cams, CCTV, pocket cameras, and more video recording software.
Using EaseUS RepairVideo is totally free, and it works in any web browser. The video files of your iPhone can be repaired without the need to download software. Simply upload your video file to recover, since it supports all popular formats such as MOV, RM/RMVB, 3GP, WMV, AVI (check how to repair corrupted AVI videos), 3G2, SWF, M4V, NPEG, FLV, MPG, MP4, MKV, etc.
Step By Step: Repair Corrupted iPhone Video Files with Free Online Video Repair Software
EaseUS RepairVideo can fix broken videos effectively. The tool doesn't charge any fees for downloading the results and is safe to use. You only need to put your email for receiving the repaired video file.
Transfer the video files from your iPhone device to your PC. Then, start the recovery of corrupted MOV files with EaseUS RepairVideo.
Step 1. Upload MOV video or you can drag & drop video directly from the specific location.
Step 2. Input your valid email address on the box and click Start Repairing.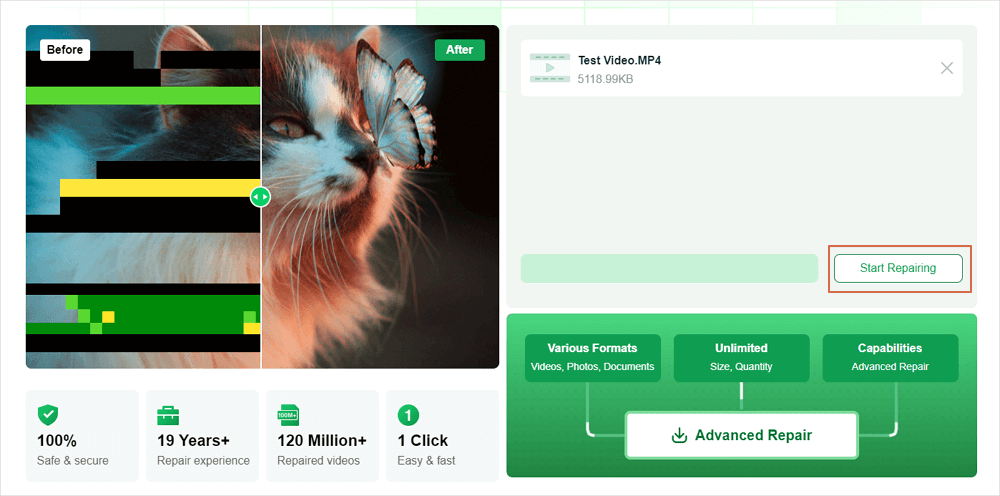 Step 3. Wait to take some time for uploading.
Note: If it is takes long, you can keep this webpage open and do your other things. There will be an email notification after the repair is completed.
Step 4. Go to your email to check the extraction code. Enter the extraction code and download the repaired MOV video.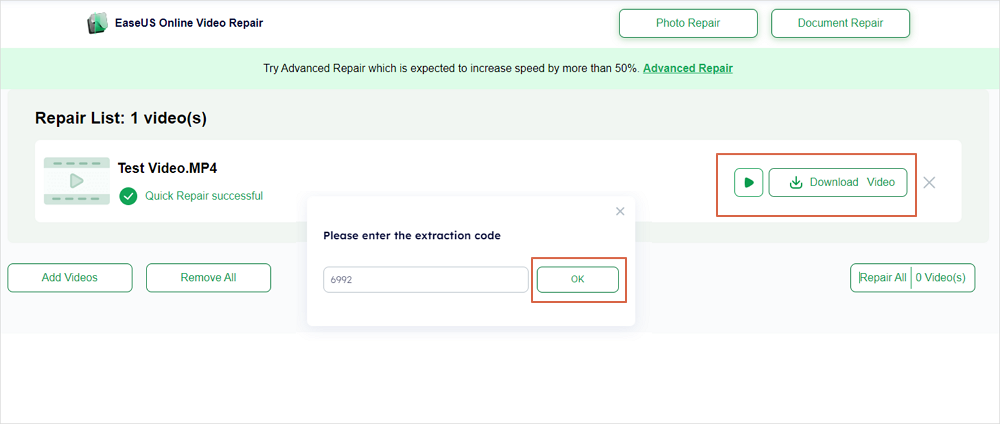 Bonus Tip: How to Avoid Video Corruption on iPhone
Issues with corrupted video files can be caused while downloading, recording, transferring, and editing, also depending on if the devices are unsafe. On the other hand, you can avoid the stress that comes from broken videos. Here are some tips for preventing it from happening. 
Avoid downloading video files from suspicious sites of streaming.
Prioritize trustworthy tools while converting your MOV files.
Only transfer, download, or edit videos on safe devices, free of malware, protected with antivirus.
Keep your backups up-to-date, so you don't need to worry about losing all data from the device if it is formatted, damaged, or stolen.
Do not record videos with low battery on iPhone.
Clean iPhone unused data time from time, like camera application caches, etc.
Conclusion  
The tutorial in this post describes how to resolve the problem of corrupted video files on iPhones.
The iPhone video file will be useless if it is corrupted and can't be played on your computer or your phone. Regardless of the program, any attempts to open the corrupt MOV video file will fail.
Many people have accidentally deleted important video files from their iPhone, only to realize that they needed it later. They end up losing valuable memories and even more. 
The good news is that you can recover the MOV video files you have recorded with your iPhone. However, you will need the right software to do it. Fortunately, EaseUS has just the program that you need. It is called EaseUS RepairVideo. 
With this powerful recovering tool, EaseUS RepairVideo, and also following our tricks for taking care of your iPhone device, you don't need to worry about broken videos anymore.
About the Author

Cedric Grantham is one of the senior editors of EaseUS who lives and works in Chengdu, China. He mainly writes articles about data recovery tutorials on PC and Mac and how-to tips for partition management. He always keeps an eye on new releases and likes various electronic products.