Jean updated on Aug 17, 2021 to Windows System To Go | How-to Articles
One truth for Mac: Superior hardware with a variety of nicely polished and stable applications built in it, but few games you can play on it. When you try to purchase a gaming PC, Mac can never be your right choice on a budget. Can you find a balanced way to get both great compatibility of all popular games in Windows and highly configured hardware and beautifully designed apps in macOS? Using Boot Camp to dual boot Windows OS and macOS seems to be a solution.
Despite that, do you want to play Windows Minecraft on Mac, or perhaps Fortnite or many other thrilling games without taking up a separate partition to install Windows OS and games? Can you play one game in parallel with Windows OS and macOS? If your answers are yes, then Boot Camp won't help. Read on and find out the useful method you can utterly rely on.
Boot Camp: Install Windows OS on Your Mac
Boot Camp is a utility that comes with your Mac and lets you switch between macOS and Windows. With Boot Camp, you can install Microsft Windows 11 or 10 or any previous Windows version on your Mac. In a word, when you want to dual boot a Mac with Windows and macOS, Boot Camp is essential. 
The role of Boot Camp is important in dual boot Windows and macOS, to let you download and install every Windows compatible game on your Mac machine and play. Do you notice one common issue when playing games on Mac? Your Mac is prone to overheat. That's a long-lasting problem that neither a cooling pad nor a cooling fan can get rid of.
Why Not Pack Windows Games in An External USB Drive?
There is a simpler way to run games on your Windows computer on a Mac, too. Use some storage media to carry both the Windows operating system and the preferred game(s) so you can cross-play on multiple devices.
EaseUS OS2Go is such a method to make the game running on two different operating systems. Only a capacious USB drive is required.
The advantages of playing Windows games on Mac with EaseUS OS2Go instead of Boot Camp:
Save disk space on your Mac's internal drive.
Playing games from a portable Windows USB drive won't cause the overheating issue on Mac.
Your game progress keeps in sync on both a Windows PC and Mac.
A tiny USB drive, a portable HDD, or SSD are all applicable to keep a Windows OS and games.
No additional setup is required. Everything is ready to go after you start your Mac from the bootable USB drive.
How to Create A Portable Windows USB Drive to Play Games on Mac
On your Windows computer, download and install EaseUS OS2Go. Make sure that all the preferred games are installed on your Windows system drive, usually C: drive. You should check the total used disk space on your system drive in advance. Your prepared USB drive's capacity should be no less than the used disk space the software has detected and displayed for you.
The bootable USB creator software works for cloning everything including the whole OS installation, configuration, programs, games and personal data from your computer's system drive to the USB drive so that you can boot Mac from Windows without any additional personal setup.
The whole procedure of creating a bootable Windows USB drive is given in the below part.
Step 1. Install EaseUS OS2Go on your Windows computer, it will display your system drive's used space. Plug in a USB drive that is larger than the system drive used space. Choose the target USB drive and click Next to continue.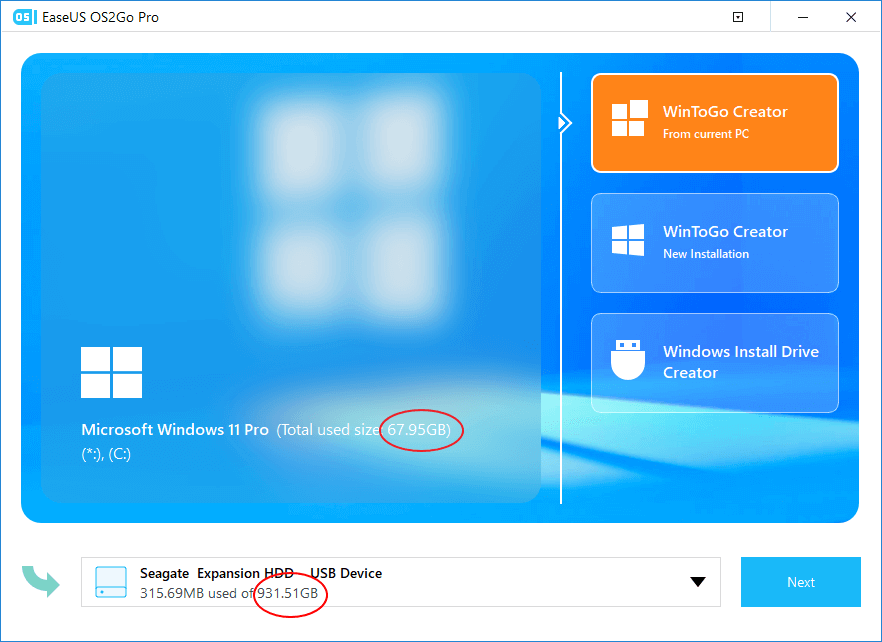 Step 2. EaseUS OS2Go will notify you that the following operation would delete all data on your drive. Make sure that you have backed up all the important data. Click the Continue button to proceed.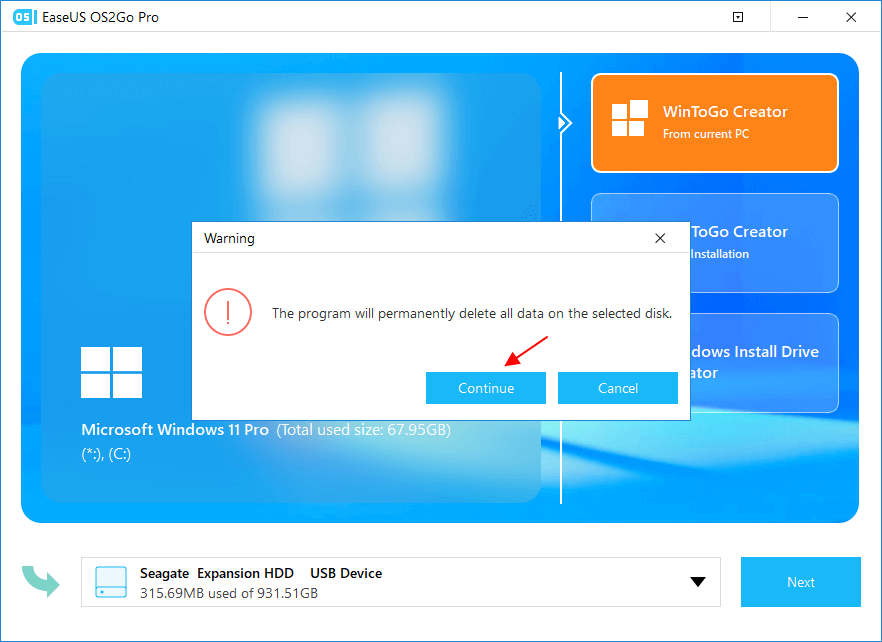 Step 3. Adjust disk layout. The default disk layout on the target drive will be exactly the same as the resource drive. You could also edit the layout according to your needs. Tick the option there if you're using a Solid State Drive as the Windows bootable drive. Next, click Proceed.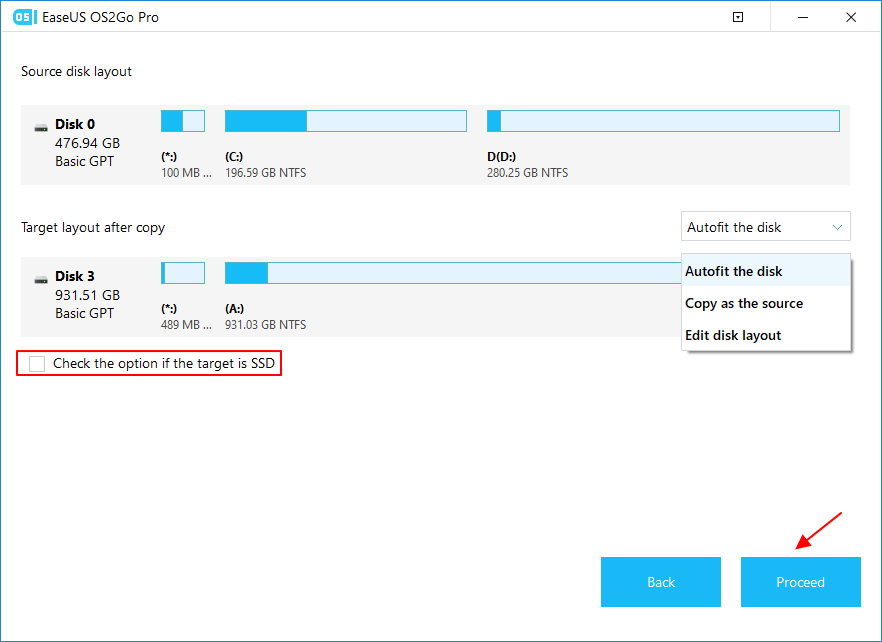 Step 4. Then EaseUS OS2Go will start to create the portable USB drive. It usually takes a while depending on your OS and Network condition. When the progress reaches 100%, the USB drive should be bootable now.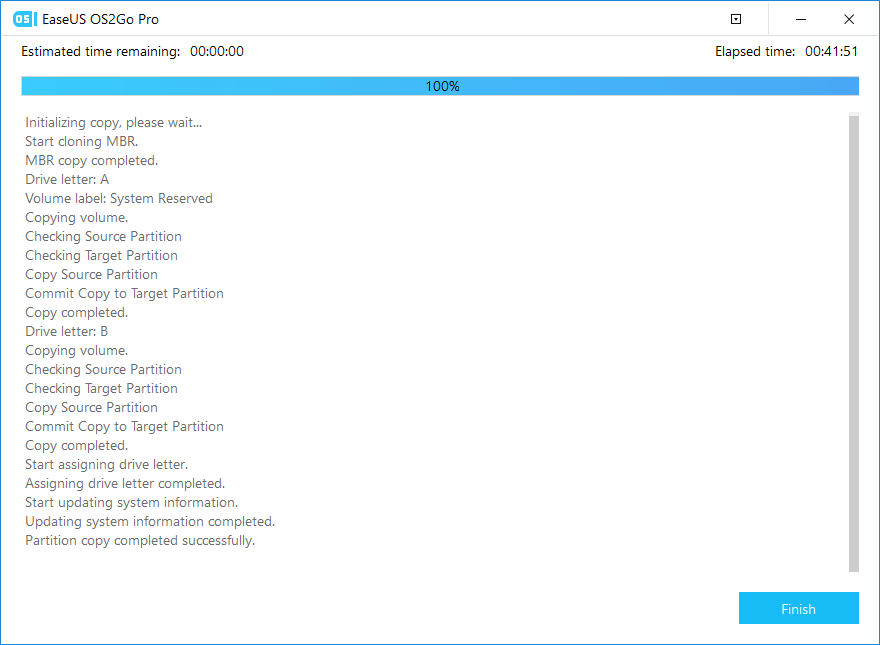 Step 5. Insert the portable Windows USB and start your Mac. Press the Option/Alt key. Choose the yellow EFI Boot icon to boot from the USB drive. Then follow the onscreen instruction to boot your Mac.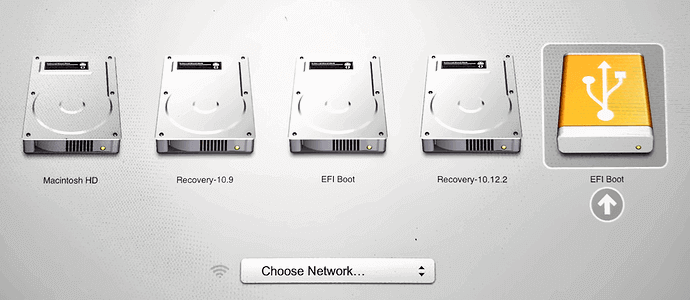 Having a portable Windows USB drive at hand, you can freely get into the identical OS environment and play games on any other different device, not limited to a Mac. Try to make one whenever you want to carry a Windows OS along with you.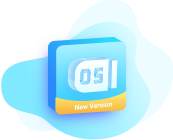 EaseUS OS2Go
Create portable Windows to USB
Copy installed Windows OS to USB
Clone Winodws OS drive to USB
Run Windows 11 on any PC
Run Windows 11 on unsupported PC
Run Windows 11/10 on a Mac
Download Now