Overview of Windows 11
Microsoft has introduced Windows 11 as the new advancement in its Windows operating system collections. Windows 11 is the next big thing, and it includes enhanced features that individuals and organizations shouldn't be ignorant of. The operating system presents more significant changes like those of Android applications to give users an immersive experience.
Windows 11 is designed on the same complex as Windows 10. So if you're a Windows 10 user, you can naturally transition and upgrade to Windows 11. The Windows 11 is built incompatibility with today's hybrid work demands, and it offers creative innovations committed to increasing end-user productivity.
Newer features such as Windows 365 and Azure Virtual Desktop are implemented in Windows 11, and it also generally characterized with the following:
Security and Scanning: Windows 11 has similar security and privacy settings to Windows 10. The security settings are already deployed and configured to your systems. It also provides you with built-in Microsoft Defender Antivirus to give users strong endpoint protection and response.
Present Easy Access to Updated Service: Services such as Windows 365, Microsoft Teams, and Power Automate for desktops enable users to experience their everyday tasks quickly and effectively.
Customized PC Experience: Windows 11 offers users the avenue to customize their individual desktop preferences. Adjustments could be made to the snap layouts, start menu, Taskbar and Widgets, and virtual desktops.
Improvement in New Apps: Windows 11 has improved old applications and created new ones. Android apps are downloaded and installed from the Microsoft store using the Windows Subsystem for Android features. Included in the Windows 11 are the Windows Terminal app, Company Portal app, Microsoft Store (improved), Microsoft Edge, etc.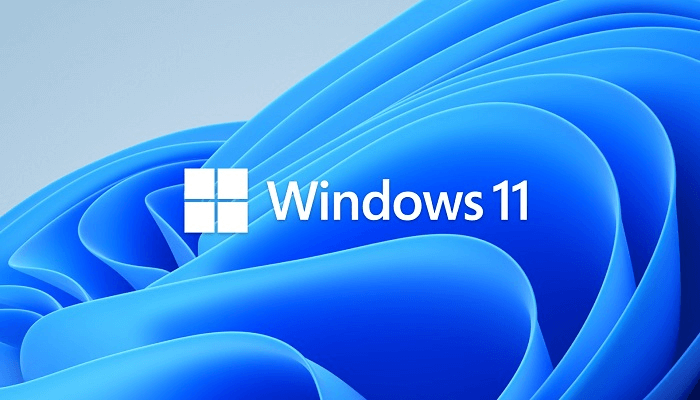 These are some of the unique features embedded in Windows 11 to give users a unique and all-time new experience of the Windows Operating system. You can easily install Windows 11 by creating Windows 11 to Go. This article provides users with the easy process of creating Windows to Go using the appropriate tools.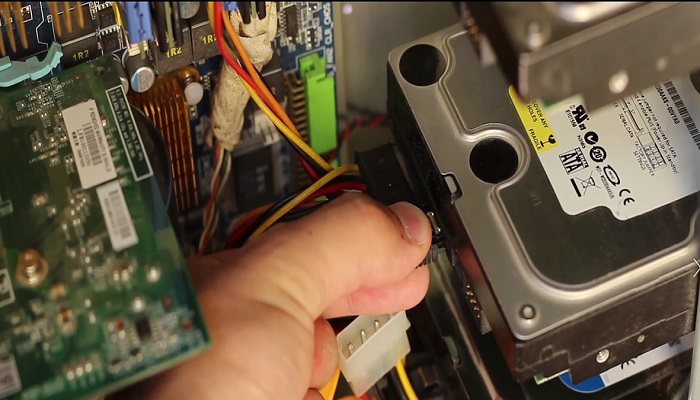 Why Create Windows 11 to Go
Occasionally, you may need to run a quick task on Windows 11 on the go. The reasonable solution is to create a portable version of Windows. The portable version of Windows is derived by creating Windows To Go. Windows To Go is a suitable alternative for installing an entirely-functional Windows 11 operating system on a portable USB drive. They can carry about and use it on any PC. The data and programs of the operating system stay on the portable Windows 11 USB drive and can be accessed on any computer.
When you boot Windows 11 To Go on a host computer for the first time, it detects all hard drives and installs the required drivers. Subsequently, when booted on the host computer, it immediately identifies the computer and automatically installs the right set of drivers.
Merits of a Portable Windows 11 USB Drive
Creating a Portable Windows 11 USB drive possesses a load of benefits to users such as:
It enables users to migrate Windows 11 programs, games, files in the system drive to an external drive.
Users can restore the cloned Windows 11 operating system to an entirely different computer anywhere and anytime.
With a portable Windows 11 USB drive, users can run Windows 11 on an old computer that doesn't possess the needed system configuration, such as UEFI secure boot or TPM 2.0, to operate Windows 11.
Users can operate Windows 11 on macOS devices without needing to create dual boot systems.
It saves users the dilemma of Reinstalling Windows 11 from scratch.
A portable Windows 11 USB drive enables users to boot their computer from the USB drive when it's dead or encountering issues. You also get to move about with your operating system in its portable form, which allows you to access your entire files with any computer.
How to Create Windows 11 to Go
Microsoft built-in Windows To Go features are only accessed on Windows 8 and 10, and its features are only limited to the Enterprise and Education editions. To create a portable Windows 11 USB drive, you'll require the use of effective third-party software.
You can easily create a portable and bootable Windows 11 USB drive using a popular Windows to Go creator such as the EaseUS OS2Go. It is fully compatible with Windows 11 and can effectively create a portable USB drive for running Windows 11.
What is required is to download and install the EaseUS OS2Go on your PC. It will display the total used space on your system drive and continue with the guidelines below to create the portable USB.
Step 1. Install EaseUS OS2Go on your Windows computer, it will display your system drive's used space. Plug in a USB drive that is larger than the system drive used space. Choose the target USB drive and click Next to continue.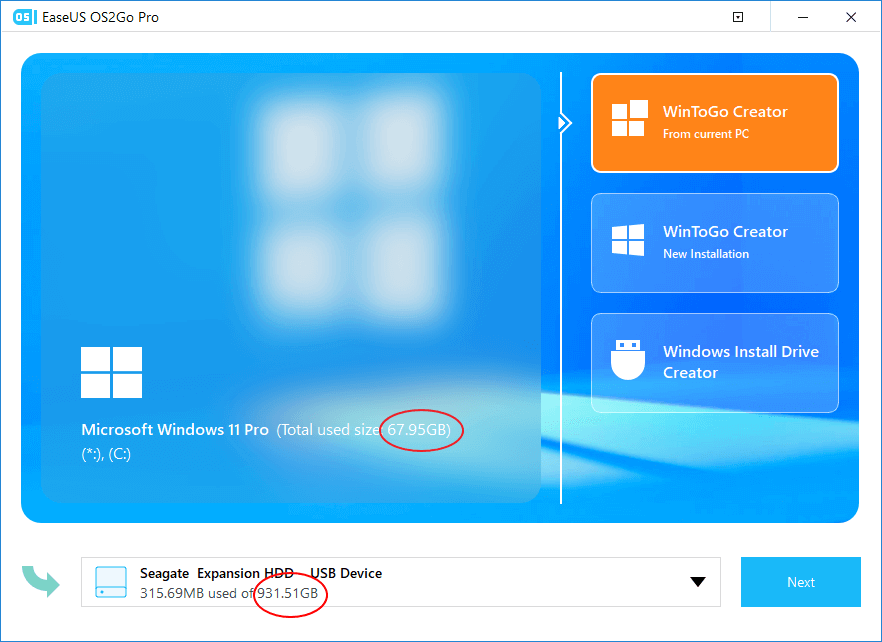 Step 2. EaseUS OS2Go will notify you that the following operation would delete all data on your drive. Make sure that you have backed up all the important data. Click the Continue button to proceed.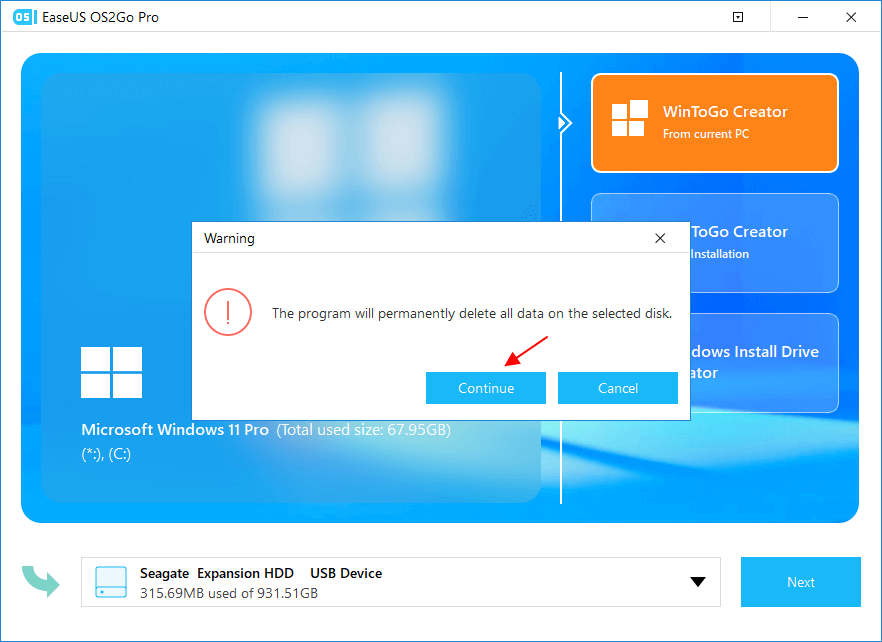 Step 3. Adjust disk layout. The default disk layout on the target drive will be exactly the same as the resource drive. You could also edit the layout according to your needs. Tick the option there if you're using a Solid State Drive as the Windows bootable drive. Next, click Proceed.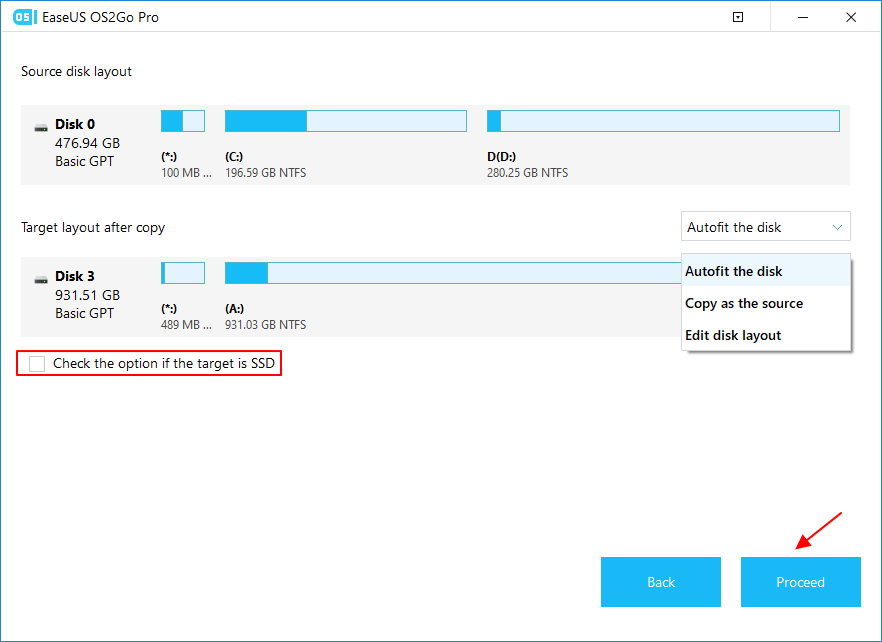 Step 4. Then EaseUS OS2Go will start to create the portable USB drive. It usually takes a while depending on your OS and Network condition. When the progress reaches 100%, the USB drive should be bootable now.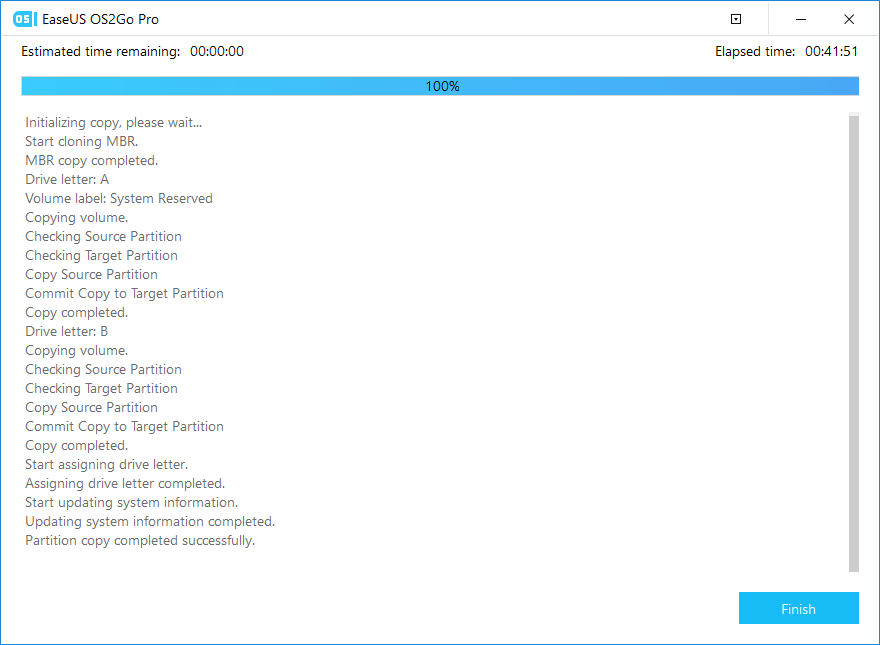 Step 5. Insert the portable Windows USB and start your computer. Press the required key (F2, DEL, F10...) to access BIOS. Choose to boot from the USB disk.
Note: Please make sure that the boot mode (UEFI or Legacy) of the portable USB and your target computer are the same, otherwise you may not be able to boot.
Conclusion
Windows 11 To Go will enable users to have seamless access to the use of the Windows 11 operating system on various devices, and they can utilize it on the go. However, Windows 11 To Go may not be bootable on your computer if the creation isn't done correctly, and that is why it is best to use appropriate software such as the EaseUS OS2Go to create Windows 11 To Go. Have a fully packed experience embedded in Windows 11 as you apply the procedures listed in this article.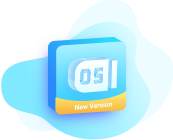 EaseUS OS2Go
Create portable Windows to USB
Copy installed Windows OS to USB
Clone Winodws OS drive to USB
Run Windows 11 on any PC
Run Windows 11 on unsupported PC
Run Windows 11/10 on a Mac
Download Now