
Table of Contents

About the Author

Reviews and Awards
We all use smartphones, so what better way to customize your phone to your liking? Your phone can become more valuable with the proper functionality and extra features. It is not always possible because the custom UI that comes preloaded with the phone allows for data breaches and has some level of administrative control over your device. This article will teach you everything you need to know about rooted devices.
Definition - What Is A Rooted Device
Even if you want to, you won't get everything you want from your phone because those features are restricted to general users who can't tamper with the phone on a deeper level. Smartphone manufacturers place restrictions on your device to prevent this from happening, but you can jailbreak it.
Rooting, in essence, means unlocking your Android smartphone or tablet device to gain greater administrative and privileged control over it. It's the same as jailbreaking your Android. As previously stated, it is used to gain root access to various Android subsystems. It is done to circumvent the numerous restrictions one cannot without rooting it.
Rooted devices have been modified or jailbroken, allowing them to install unapproved apps, delete unnecessary system apps, force update the operating system, underclock or overclock the processor as needed, replace the firmware, and customize nearly everything. They open gates for installing Custom ROMs, a pathway to heaven for Android users.
The Risks Of Rooting Your Android Phones
However, rooting your device is not an easy task. It all comes at a price. For the average user, rooting a device may appear to be rocket science, and if anything goes wrong, all hell will break loose. Rooting a device is a delicate and nerve-racking process that can lead to a slew of unwanted problems and distress, particularly for inexperienced users.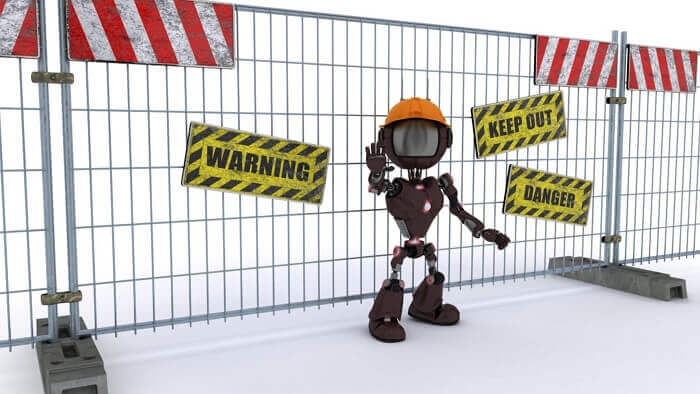 That is why mobile manufacturers strongly advise users not to root their devices unless they have the necessary knowledge and experience with how Android devices work and a basic level of programming skills. However, some specific apps can assist you in rooting your device. However, you must proceed with extreme caution and precision, as one minor error could result in the loss of your Android device. So you're aware that the stakes are high. These are some of the risks involved with rooting your android phone:
Malware can breach your mobile security much easier.
Data loss, including all your photos, messages, and everything that you've stored.
Rooted Device Data Recovery- Unroot a Device
As we've already mentioned, the risks involved in rooting a device, but if you still decide to do it, the worst happens, and you end up losing all your data. What can you do now? What are your options? Are you just going to sit there face down, filled with regrets, start questioning your life choices? No, don't worry, we got you. It's pretty common to lose your data while rooting your device. Hence, EaseUS EaseUS Data Recovery Wizard can restore and retrieve your lost data on a Rooted device, but you'll need a PC for that.
EaseUS Data Recovery Wizard is an all-in-one data recovery software. It helps you retrieve the data files that you unintentionally deleted as well as data from damaged or formatted hard drives. It is very secure, smooth, and incredibly efficient as well as an easy method to recover any data that you've lost accidentally.
It has several flexible scanning modes like Quick scan and Advanced scan which scans the storage device sector by sector. You can even preview your data before the actual recovery to see if it's the data you've actually lost.
It even supports repairing corrupt/damaged images in the format of JPEG/JPG stored in HDD, memory cards, or any other storage method. All it matters is that they once existed in your device. With EaseUS EaseUS Data Recovery Wizard, you can avail of numerous other benefits like recovering Unlimited Data, recovery of data from Raw Partition, high-quality remote consultation, and advanced assistance from EaseUS specialists for absolutely free.
You can recover almost any file type like documents, graphics, video, audio, Email, ZIPs, etc. When you connect your rooted device to your PC, the device will be recognized as an external drive. Here's a step-by-step guide on how you can recover data from a rooted device:
Step 1. Choose and scan the external hard drive
Download and install EaseUS Data Recovery on your PC or laptop. 
Connect the external hard drive to your computer.
Run EaseUS Data Recovery Wizard and choose the external drive from External drives list. Then, click scan for lost data.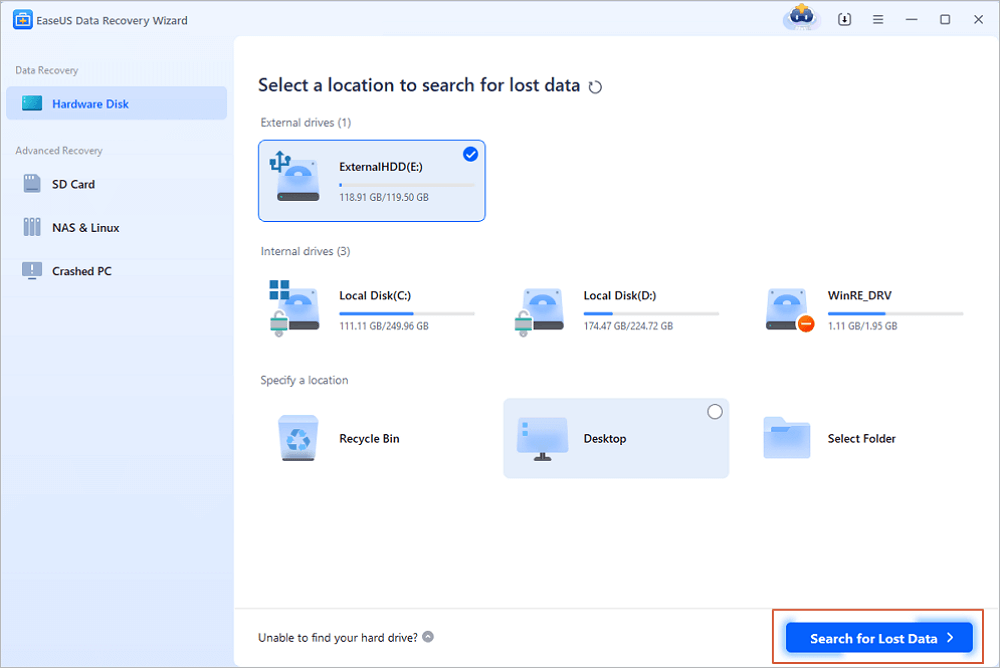 Step 2. Check the scan results
EaseUS data recovery software will immediately scan the selected drive for all data, including deleted, corrupted, and existing data.
You can use the Filter feature to quickly locate the files of one kind, such as Pictures, Word, Excel, PDF, videos, emails, etc.
Step 3. Preview and recover data
Double-clicking a file from the scanned results to preview.
Choose the files you want and click "Recover".
Select a different drive to save the recovered files instead of the original one. 
Extra Tips - How to Root Your Android Smartphones
Proper guidance is always necessary when you're going to take a risk that involves a risk that can lead to a certain degree of damage. We've covered all the issues that can happen with you when you root a device without any prior knowledge or proper guidance and even told you what to do when you lose data in doing so.
Here's a proper guide that can help you root your device safely. There are always apps that can help you perform those actions seamlessly. In this case, if you're rooting a device, then Magisk is the go-to buddy for you. You can use Magisk to root your device. Magisk is a tool used to gain root access to your device. Magisk is like a portal that opens all sorts of possibilities for modifications and customizations on your Android device.
There are several Magisk Modules that serve all the different types of purposes. There exist modules for ad-blockers, aesthetic theming, enabling Camera2API, and other countless modifications you cannot perform without rooting your Android Device. If you're having thoughts on rooting your device then most likely you're a power user and want every ounce of juice from your device, extending its functionality. To do all this, you must install Magisk. Here, we'll have a step by step guide on how you can install Magisk on your Android Smartphone:
First of all, it requires you to have a custom recovery. For this, you must unlock your bootloader. If you've already unlocked your bootloader, you're likely to go to the next step. If not, you can search your device on XDA Forums and look for a guide there. There's no single method to unlock a bootloader, as every phone has a different traditional way of doing it. Now, if you've unlocked your bootloader, you're good to go.
1. Identifying the Type of Boot Image
For this, download the latest version of Magisk from Github. Obviously, you won't find it on Google Play Store.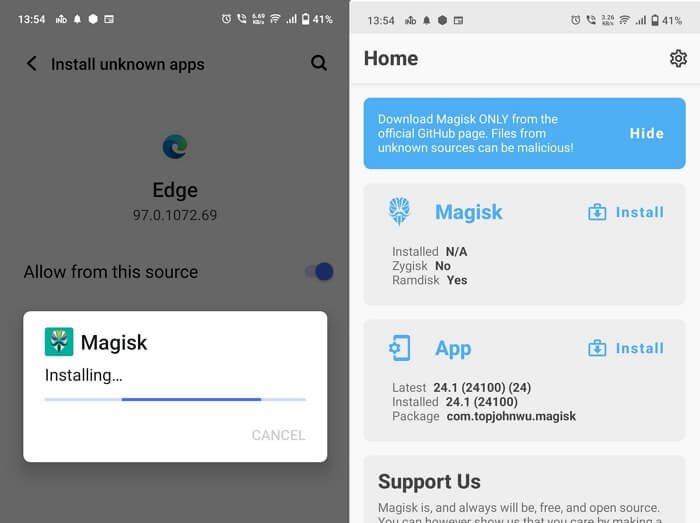 After the installation is done, open the Magisk app. Now Note down the values of given parameters - Ramdisk, A/B, SAR
2. Locating the Boot Image
If you want to patch the boot image of your device, you must extract it from the official firmware packages. One such is Lineage OS or you can pick anyone that is compatible. 
Case 1: You have access to recovery-flashable ZIP File
It works with an A-only partition scheme, you'll find the boot.img just inside the recovery-flashable ZIP file. Extract it.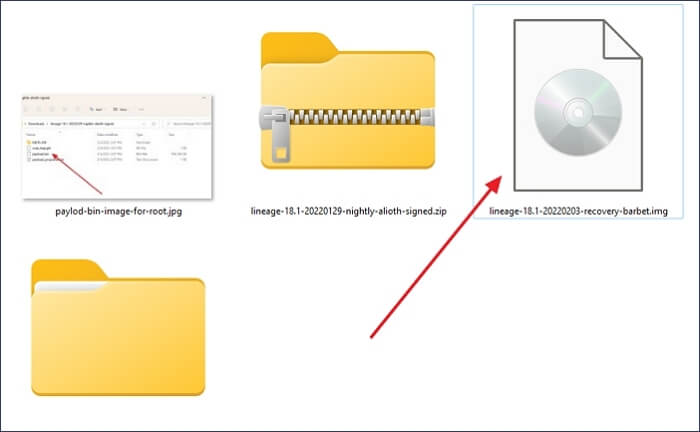 In case, your device is using an A/B partition scheme, the boot image and other partition images are packed inside a file under the name payload.bin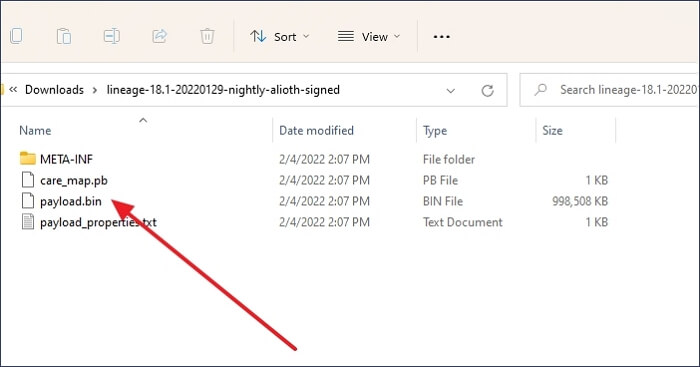 Case 2: You have access to the fastboot-flashable image
If you're lucky and using a device from OEMs like Google and Xiaomi, they provide Fastboot-flashable factory images of their device - boot.img can be extracted from archives.
3. Patching the boot image
As we've acquired the boot image, we can go to the patching part.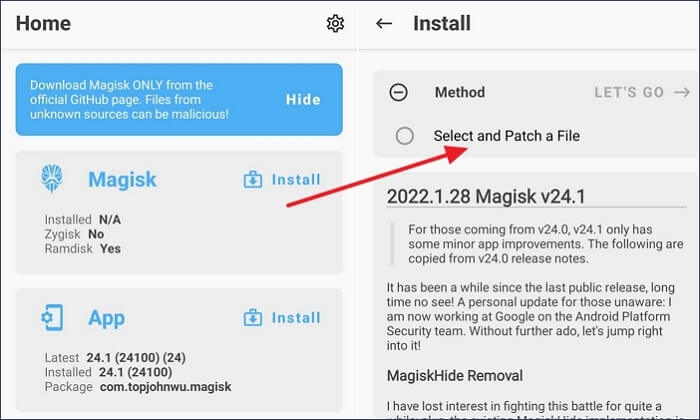 Case 1: The Value of the "Ramdisk" parameter is "Yes"
First, copy the boot image to your device.
Click on the "Install" button on the Magisk card.
Select "Select and patch a file" under Method, and select the stock boot image.
The app will automatically patch the image to 
[Internal storage] /Download/magisk_patched_[randomstrings].img.
Now, you can copy the patched image to your computer with ADB: 
adb pull /sdcard/Download/magisk_patched_[randomstrings].img
Now, you can flash the patched image to the device you're rooting. It can be done on most devices with the following command:
fastboot flash boot /path/to/magisk_patched.img
 Case 2: The value of the  "Ramdisk" is "no"
Just copy the recovery image to your device.
Press the "install" button.
Choose the "Select and patch a file" under Method, and select the stock recovery image.
Magisk will automatically patch the image to
[Internal storage] /Download/magisk_patched_[random_strings].img.
Now, you can copy the patched image to your computer with ADB:
adb pull /sdcard/Download/magisk_patched_[random_strings].img
Now, you can flash the patched image to the device you're rooting. It can be done on most devices with the following command:
fastboot flash boot /path/to/magisk_patched.img
Now, you're probably left with three options:
Normal, no Magisk.
Use the Recovery Key Combo and when the Splash screen appears release all buttons. The system should boot with Magisk.
To boot into Stock Recovery mode, you need to use the recovery Key Combo and when the splash screen appears, keep pressing volume up.
4.  Verification
The final step is verification, ensuring that everything is in working order. Launch the new Magisk app and look for a number next to the installed parameter. Congratulations, you've completed the task.
Conclusion
It's not as complicated as it appears; you'll get used to it eventually. We've covered everything you need to know about the benefits and drawbacks of rooting your device. It is entirely up to you whether you are willing to take that risk. If you accidentally lose files, the Android phone data recovery software can assist you in recovering them. It's a leap of faith and best wishes for your future adventures.

Brithny is a technology enthusiast, aiming to make readers' tech life easy and enjoyable. She loves exploring new technologies and writing technical how-to tips. On her spare time, she loves sharing things about her favorite singer - Taylor Swift on her Facebook or Twitter.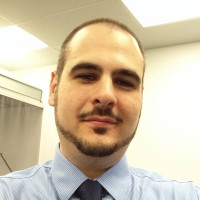 Approved by Evan Galasso 
Evan Galasso is a digital forensics and data recovery engineer with over 10 years of experience in the field. He presents opinions on the current state of storage media, reverse engineering of storage systems and firmware, and electro-mechanical systems of SSDs and HDDs.
EaseUS Data Recovery Wizard is a powerful system recovery software, designed to enable you to recover files you've deleted accidentally, potentially lost to malware or an entire hard drive partition.

 Read More

EaseUS Data Recovery Wizard is the best we have seen. It's far from perfect, partly because today's advanced disk technology makes data-recovery more difficult than it was with the simpler technology of the past.

 Read More

EaseUS Data Recovery Wizard Pro has a reputation as one of the best data recovery software programs on the market. It comes with a selection of advanced features, including partition recovery, formatted drive restoration, and corrupted file repair.

 Read More