
Table of Contents

About the Author

Reviews and Awards

Recover Deleted Files in Windows 10/11
USB Becomes the RAW Format, Help!
"I have a USB flash drive which has data on it. When I plugged it into my computer, a prompt appeared asking me to format the drive and the USB shown as a RAW format. There are important files on the device that I need to recovery. Does anyone know how to recover files from a RAW USB?"
The USB becoming the RAW format is a common issue that annoys users. When a USB becomes RAW, it means the data on the device has become inaccessible. You will not be able to access and open files such as documents, photos, emails, and more on your device. Thus, to fix the RAW USB, you need to first perform RAW USB recovery and then fix the USB drive in the RAW format. But, before we show you how to do that, you may want to know more details about the RAW USB drive.
Common Reasons for RAW USB Drive
In general, your USB doesn't become RAW without a reason. You can trace the cause of the issue, and some common causes are:
Your access to the USB is denied
Your USB is not formatted or is not formatted correctly
The current file system of your USB is not recognized by the operating system of your computer
Your USB drive is infected by a virus
Common Situations Indicating USB Has Become RAW
When your USB becomes the RAW format, the system doesn't necessarily show you a RAW USB directly. Instead, you receive various notifications. When you experience one of the situations or error messages below while using a USB drive, and you check the property of the drive, it will show you that the file system is RAW.
While using certain USB drives such as USB external hard disks, USB memory cards, USB smart media, or other storage media, you may encounter these frustrating notifications. Fortunately, there are ways to repair the RAW USB drive without losing any data. By recovering your precious files from your RAW USB and then fixing the RAW format, you can make your USB drive work properly again without data loss.
3-Step USB Raw Recovery Solution
Before you fix the USB in RAW format, you need to perform RAW USB drive recovery to keep your data safe. The professional disk recovery software - EaseUS Data Recovery Wizard fully supports RAW USB recovery. With it, you can recover all the files from your inaccessible USB drive easily. You can catch a glimpse of the software here:
Supports RAW data recovery, deleted files recovery, formatted file recovery, Recycle Bin emptied data recovery, lost partition recovery, virus attack recovery, and other difficult data recovery situations
Recovers files from a USB flash drive, SD card, memory card, external hard drive, digital camera, music player, computer, etc
Retrieves almost all file types
Video Tutorial: Recover Files from RAW USB
Guide: Recover Files from a Flash Drive that has Turned RAW
Step 1. Run USB Data Recovery Software
Connect the USB flash drive to your computer and launch EaseUS USB data recovery software on your PC. Select the USB drive which is labeled as a removable disk, and click "Scan" to start looking for your lost files.
Step 2. Scan and Search Lost Files on a USB Drive
EaseUS Data Recovery Wizard will thoroughly scan your USB flash drive and find all your lost data on it. When the scan process completes, use the Filter feature to filter by a specific file type. This program allows you to check and preview files found on your USB.
Step 3. Restore All Lost Files from USB
A double-click will allow you to preview the scan results. Select the target files to restore and click "Recover" to save them to a secure location on your PC or other external storage devices.
When you have a RAW USB drive, you can't just format it directly as you are asked by your computer. Doing so will delete all the existing files on the RAW USB drive, and you may lose the chance to recover files from the RAW USB drive. What you should do, instead, is to first recover files from the RAW USB drive and then fix the problematic storage device. And, since you cannot recover files from the RAW USB drive by yourself, you should seek assistance from a third-party tool.
As one of the best data recovery software for Windows, EaseUS Data Recovery Wizard is a good recommendation for RAW USB drive recovery.
Do You Need Specialized Data Recovery Services?
You may need further help for tough data loss situations like reformatting drive, RAW disk, partition loss, repartition failures and system boot error. Consult with EaseUS Data Recovery Experts for cost-efficient one-on-one manual recovery service. They could offer the following services after FREE diagnosis:
1. Unformat the drive

2. Repair the RAID, RAW disk or operating system

3. Recover lost partition (the one that cannot be recovered by software)
3 Ways to Fix a RAW USB Drive
As you probably know, the most effective way to fix a USB in RAW format is to format it. However, formatting the device should be your last resort as it removes all the existing data from your USB drive.
Method 1. Fix RAW USB Drive by Checking the Device
A built-in Windows feature can help you check the drive for file system errors and repair them automatically.
Step 1. Connect your USB drive to your computer.
Step 2. Go to "This PC" (in Windows 10). Under "Devices and drives", right-click your USB and choose "Properties".
Step 3. Click the "Tools" tab and then click "Check".
Step 4. In the "Error Checking" window, choose "Scan and repair drive" and wait for the process to finish.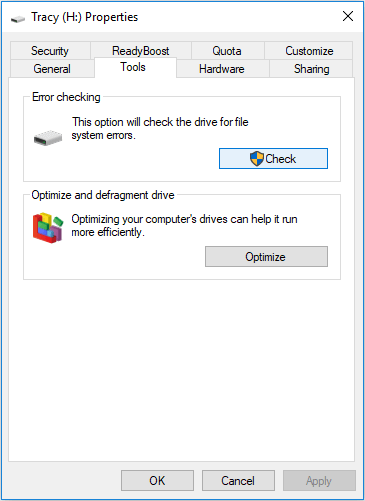 Method 2. Repair a RAW USB Drive Using CMD
You might have heard that the chkdsk command is not available for RAW drive. However, that's not true. As long as your USB is still shown with a drive letter, you can use the command to check and repair the storage device.
 Warning

Running chkdsk can hopefully fix the RAW USB drive issue, however, it can also result in total data loss. So, perform data recovery in advance, and then continue with the CMD method.
Step 1. Connect your USB to your computer.
Step 2. Click the "search" icon in the taskbar and type cmd. Then, right-click "Command Prompt" and choose "Run as administrator".
Step 3. Enter chkdsk /f G: (G is the drive letter of your RAW drive) and press Enter to fix your RAW USB.
After the repair process, launch Disk Management and check if your hard drive is repaired. If CHKDSK is not working, consider formatting your USB. Luckily, since you have recovered files from your USB already, you can format the USB without any worries.
Method 3. Fix and Repair a RAW USB Drive by Formatting It
Step 1. Connect the RAW USB/SD card/pen drive to your PC.
Step 2. Open "This PC/My Computer". Right-click the RAW USB drive, SD card, or other RAW device and select "Format".
Step 3. Reset file system, rename USB drive, and then click "OK" to repair the RAW USB drive to NTFS/FAT32. After that, it will be reusable again.
There is more than one way to format a USB. In addition to the built-in features in Windows, you can also format the RAW USB with a professional USB formatting tool. After the formatting, you can move the files back to the USB drive if you need to.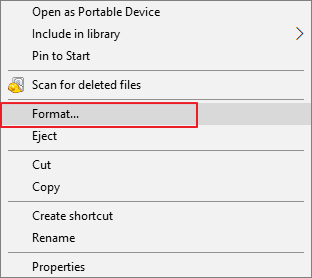 Conclusion
Generally speaking, it's easy to fix a RAW USB flash drive. To keep your data safe, though, you will inevitably need the help of a third-party data recovery tool like EaseUS Data Recovery Wizard. It successfully performs RAW USB recovery and it can also be helpful in other data recovery situations. Go ahead and grab the tool to fix RAW issues without worries.
Gemma is member of EaseUS team and has been committed to creating valuable content in fields about file recovery, partition management, and data backup etc for many years. She loves to help users solve various types of computer related issues.

Approved by Mahesh Makvana 
Mahesh is an experienced comuter tech writer. He's been writing tech how-to guides for about 8 years now and has covered many topics. He loves to teach people how they can get the most out of their devices.
EaseUS Data Recovery Wizard is a powerful system recovery software, designed to enable you to recover files you've deleted accidentally, potentially lost to malware or an entire hard drive partition.

 Read More

EaseUS Data Recovery Wizard is the best we have seen. It's far from perfect, partly because today's advanced disk technology makes data-recovery more difficult than it was with the simpler technology of the past.

 Read More

EaseUS Data Recovery Wizard Pro has a reputation as one of the best data recovery software programs on the market. It comes with a selection of advanced features, including partition recovery, formatted drive restoration, and corrupted file repair.

 Read More