Summary
If you receive "The type of file system is RAW. Chkdsk is not available for RAW drives" while running CHKDSK, you won't be able to open your device and access your files on it. To fix it, you can use EaseUS Data Recovery Wizard to recover data from the inaccessible drive and then repair the RAW hard drive, USB, SD card, or other devices by formatting.
Applies To: Local/External Hard Drive, USB Flash Drive, SD Card, Memory Card...
"The type of the file system is RAW. CHKDSK is not available for RAW drives."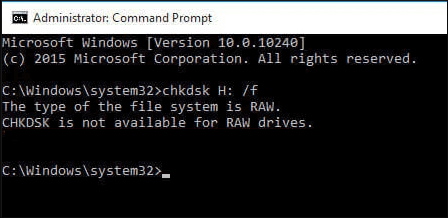 Feel familiar with the error message shown in the image above? You may receive "The type of the file system is RAW. CHKDSK is not available for RAW drives." when you attempt to use the CHKDSK command to check and repair disk errors like file system errors and bad sectors. This message means you fail to run CHKDSK on your drive due to the problematic file system of your device.
What Does RAW File System Mean
The RAW file system is a file system that can't be recognized by your computer. The file system of a hard drive or storage device like a USB or memory card may become RAW due to the following reasons:
The file system is missing or damaged
The RAW drive has not been formatted with a file system
The current file system of the drive is not recognized by the computer
When your hard drive or storage medium becomes RAW, running CHKDSK will fail and you will get the message "The type of the file system is RAW. CHKDSK is not available for RAW drives." If you try to open the drive, you may get the notification "You need to format the disk in drive X before you can use it. Do you want to format it?" Besides, you cannot open your drive and access files existing on the device.
How to Fix "The type of the file system is RAW. CHKDSK is not available for RAW drives."
When the file system of your drive or external storage device is RAW, it becomes inaccessible and unusable. To make it for data storage again, you need to convert RAW to NTFS or other Windows-compatible file systems by formatting. By formatting your drive, you can assign a new file system to it and thus make it usable. However, as you may know, formatting will erase the existing files on the storage medium. Thus, the procedures to fix the error "the type of the file system is RAW" are:
Recover data from the RAW drive
Format the drive
You can format your hard drive directly if there is no data in it or the files existing are not needed.
Procedure 1. Recover Data from the RAW Drive
Although you can't access the existing files on a RAW drive, a hard drive recovery software tool like EaseUS Data Recovery Software can. EaseUS data recovery software not only supports common deleted data recovery, formatted file recovery, lost partition recovery but also helps recover files from inaccessible drives when the file system becoming RAW, data not showing up in Windows, and more.
To recover data from your drive or storage device that reports RAW:
Step 1. Locate the RAW hard drive
Download and install EaseUS Data Recovery Wizard on your Windows PC or laptop.
Launch the software. Make sure that Windows has detected your RAW hard drive and correctly listed the drive letter on the disk map.
Left-click on the RAW drive and then click the "Scan" button.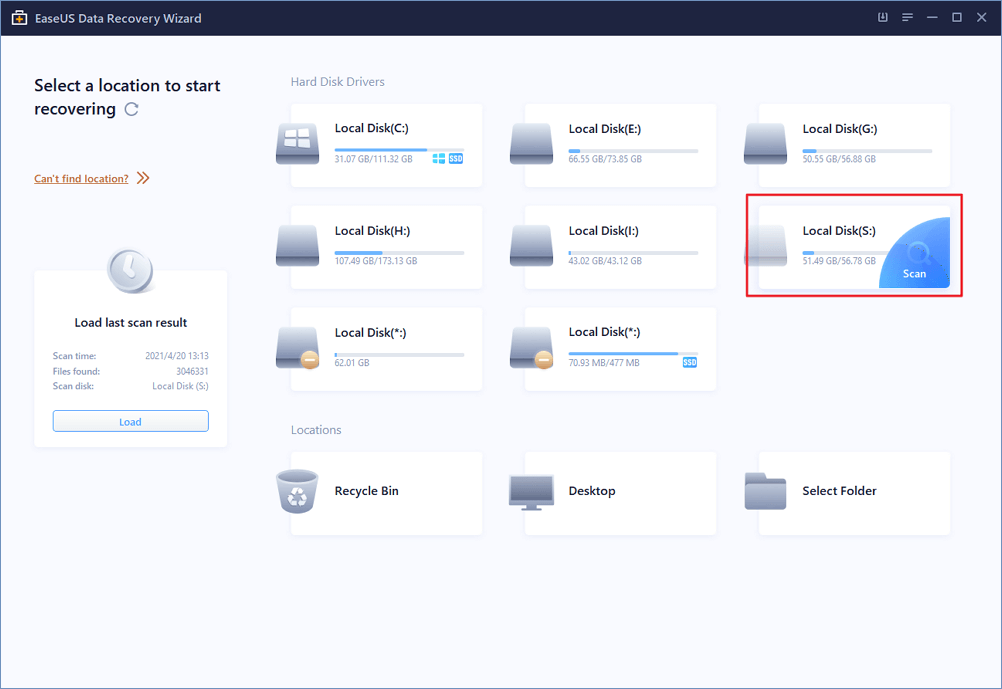 Step 2. Scan the data on the RAW hard drive
At this stage, the software would work very hard to search all data through the entire drive, and timely display the data as the scanning task goes on.
Tip: users are allowed to pause the scan process for an instant recovery as soon as the target files show up, but it's better to stay and wait for a complete scan till the end.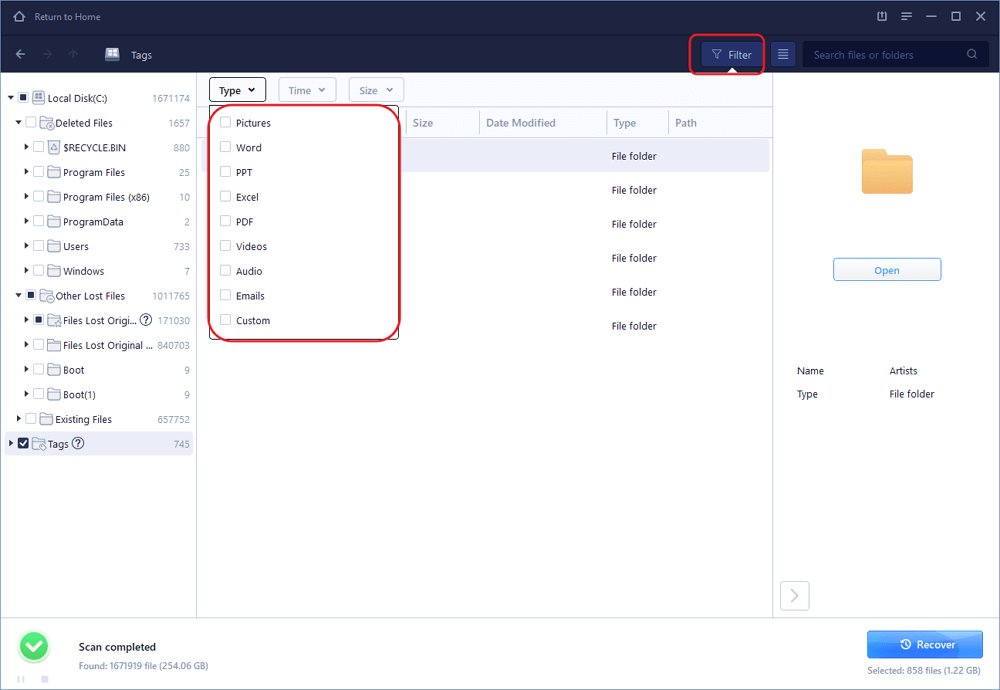 Step 3. Check files under the "Extra Files" result
Besides the general scan results of all lost data on the selected drive, the "Extra Files" is specially designed for RAW hard drive/USB flash drive/micro SD card data recovery, under which you're likely to recover what you want with a high success rate.
Of course, check all the scan results if necessary. Choose the target files and click the "Recover" button. You should save the items to a new location.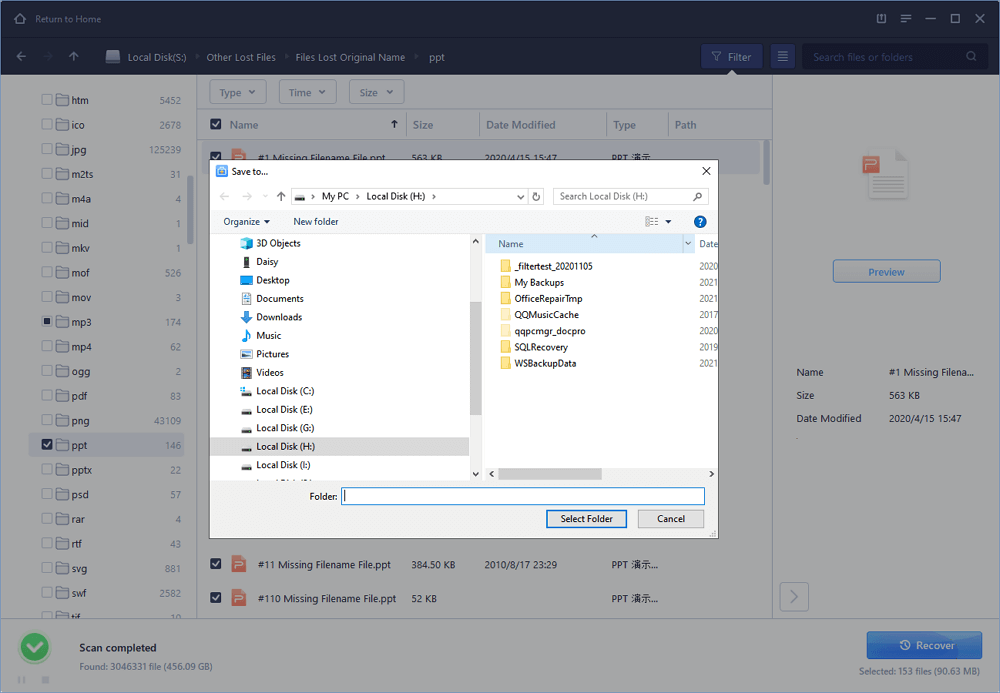 Do You Need Specialized Data Recovery Services?
You may need further help for tough data loss situations like reformatting drive, RAW disk, partition loss, repartition failures and system boot error. Consult with EaseUS Data Recovery Experts for cost-efficient one-on-one manual recovery service. They could offer the following services after FREE diagnosis:
1. Unformat the drive

2. Repair the RAID, RAW disk or operating system

3. Recover lost partition (the one that cannot be recovered by software)
Procedure 2. Convert RAW to NTFS/FAT32 by Formatting
After retrieving all the files saved on the RAW drive, you can now format the device using one of the three ways below:
Method 1. Format RAW Drive via File Explorer
Step 1. Open "This PC". Right-click the RAW partition and choose "Format".
Step 2. Assign a file system (NTFS, FAT32, exFAT) to your device and click "Start".
Step 3. In the Warning window, click "Yes" to start formatting the drive.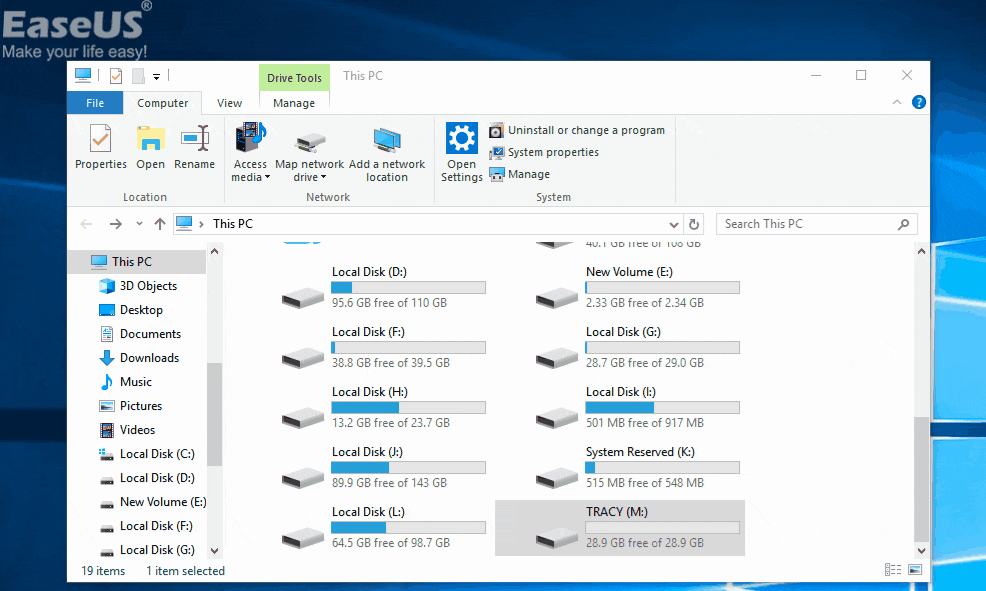 Method 2. Repair RAW to NTFS/FAT32 Using Diskpart
Diskpart is a command-line utility that is used to create, deleted, and modify a computer's disk partitions, including formatting the partition.
Step 1. Press "Windows + R" and enter diskpart. Click "Yes" in the prompt to run diskpart.exe.
Step 2. Then enter the command lines below in order:
Method 3. Change RAW to NTFS/FAT32 with Format Tool
One of the many features of the free partition software - EaseUS Partition Master is formatting. Unlike Windows built-in features that only allow you to convert RAW to NTFS, FAT32, or exFAT, this tool also helps you change the RAW file system to EXT2 or EXT 3. In addition, there are other features included in this software that you can use to manage your computer better, like merge partitions, check partitions, delete partitions, and more.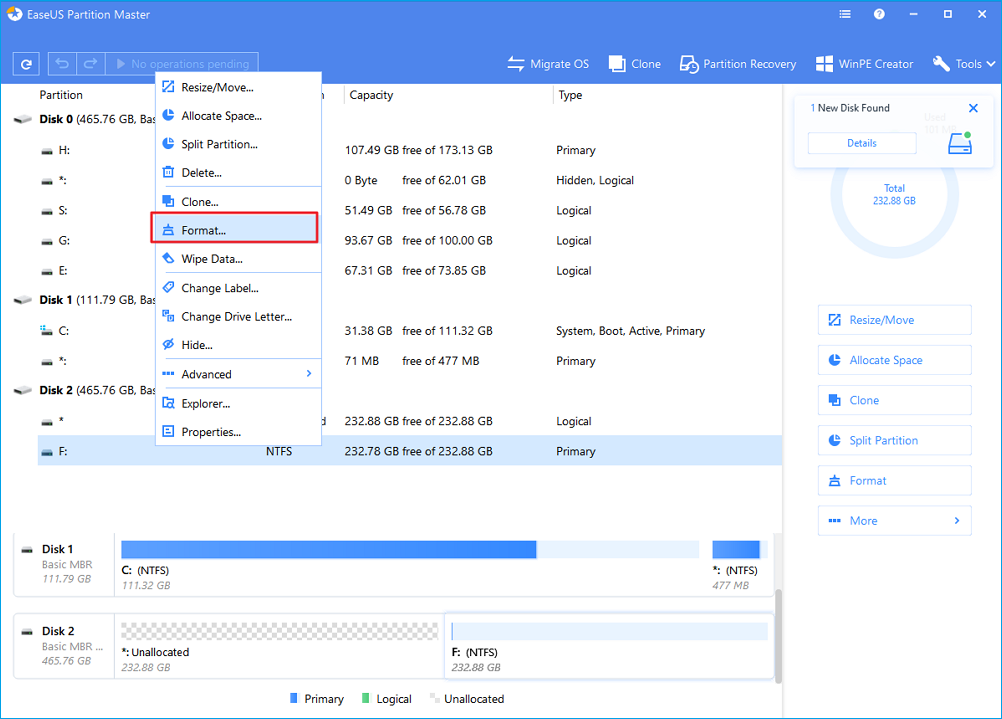 To learn the details about how to format a hard drive using EaseUS Partition Master, you can refer to the article about how to format a hard drive in Windows 10.
The Bottom Line
"The type of the file system is RAW. CHKDSK is not available for RAW drives." caused by file system error can be caused by a virus infection, format failure, accidentally shutdown of the operating system, power outages, and other factors. Luckily, you can rescue your files from a RAW drive that is inaccessible and make your hard drive, USB, SD card... usable again by formatting. If this guide is useful to you, don't hesitate to share it with others to help them, too.
100% of people found this article helpful.
Frequently Asked Questions
1. Why cannot I recover 2GB data for free?

It is recommended to check the version installed is Free or Trial because they are different versions.

Trial has data preview function but cannot save any files, while the Free version enables to recover 2 GB files. The default free space is 500 MB and you may share the product on social media to get another 1.5 GB.
2. Why cannot the recovered files be opened?

A file is saved as 2 parts on the storage device: directory info (which is comprised by file name, time stamp and size info, etc.) and data content.

If the files with original file names and folder structures cannot be opened, one possible reason is the corrupted directory info. There is still a chance to recover the data content with the RAW Recovery method in our software.
3. Why isn't it suggested to recover the files back to the original drive?

The storage structure of the lost files would be altered or damaged by any changes on the drive. If you save the recovered files back to the same drive, the original data structures and data content would be corrupted or overwritten, which causes permanent data loss. So you should prepare another disk to save the files.
4. How can I check whether my data is recoverable or not before purchase?

The Free version helps you save 2GB files to better verify the recovery quality of our product before purchase.
5. How long does it take to scan the drive?

It strongly depends on the capacity of your hard drive and the performance of your computer. As reference,most drive recoveries can be completed in around 10 to 12 hours for a 1-TB healthy hard drive in general conditions.
About Data Recovery Wizard
It's super easy to recover 250+ types of files after deletion, disk formatting and virus infection. Click the links and compare the difference of each version.