How to Find CCleaner Product Key on Windows 11 (2 Easy Ways)
Are you unable to find your CCleaner Pro product key? 
If yes, you have clicked on the right post. This post will help you find your lost CCleaner product key so you can easily clean your PC in no time.
CCleaner Overview 
CCleaner is a great Windows 11 tool to improve your PC's performance. It has made the PC cleaning method super simple, like washing your laundry. You just have to press a button, and CCleaner will wipe out all junk files, cookies, and other unwanted data from your computer.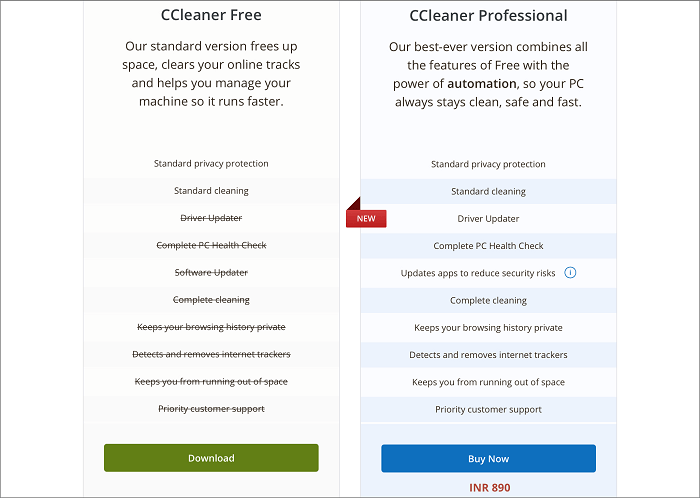 CCleaner is a free utility tool, but you can upgrade to the Pro version to get additional features like: 
Smart Cleaning to clean your browser data and junk files automatically. 
You can schedule check-ups with CCleaner's intelligent cleaning tool that runs in the background. 
CCleaner can help you purify your entire family's gadgets. 
Disk Analyser can track trash files, temp records, and other unwanted data to free up space up to 1 GB on your computer. 
Duplicate Finder lets you remove copy media files and documents with a click, etc. 
Since CCleaner Pro offers you so many great features; thus, it is important to save your CCleaner product key properly as the software won't work without it. 
Unfortunately, if you have lost your CCleaner product key because your hardware got corrupted, you forget your registered email password, or you have upgraded your system. The reason could be anything behind losing your CCleaner product key, but it is harmful to both your pocket and computer to lose it. 
So, to help out CCleaner Pro users, we will be sharing the two simple methods to find the CCleaner product key with you today.
QUICK FIXES:
Method 1. Find My CCleaner License Key via EaseUS Todo PCTrans
Method 2. Find Product Key via CCleaner Official Website
Method 1. Find My CCleaner License Key via EaseUS Todo PCTrans
Many of you already know the EaseUS Todo PCTrans is a reliable PC transfer software to migrate data, programs, and accounts between computers. But not many people still know that it can help you recover lost product keys as well. 
EaseUS Todo PCTrans offers a 'Product Key' feature that can find product keys for Windows, Office, Adobe, and CCleaner. All you have to do is install this great tool on your computer and follow these steps to find your CCleaner product key:
Step 1. Launch and run EaseUS Todo PCTrans on the PC, and choose "Product Key" on the left panel.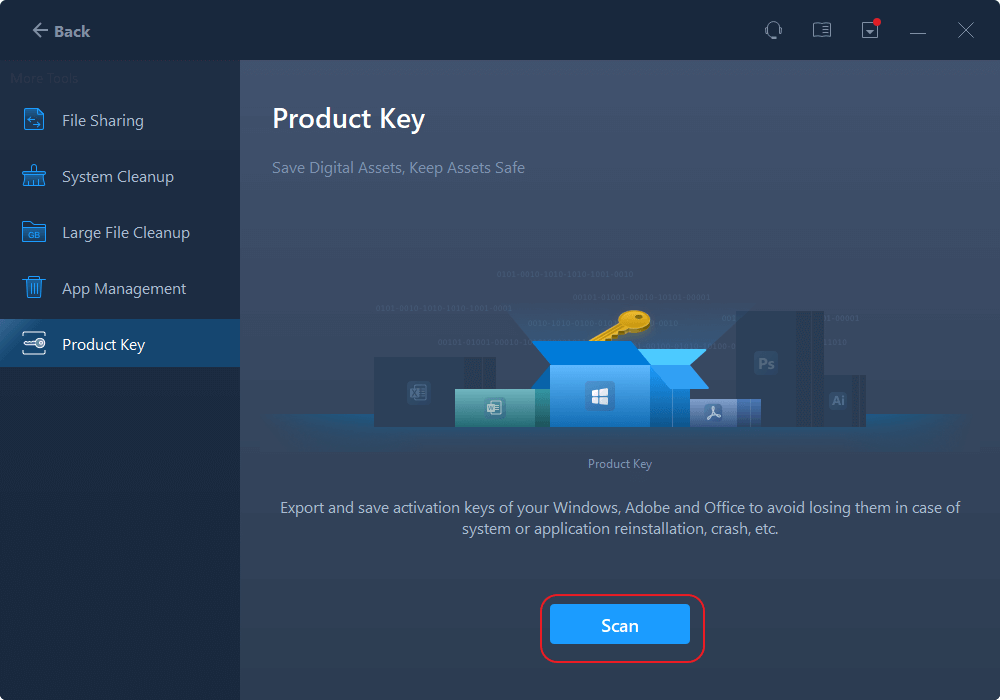 Step 2. Click "Scan", and you can see the product key of Windows, Adobe, and Office. Save the key to the selected location or choose "Copy" for direct use.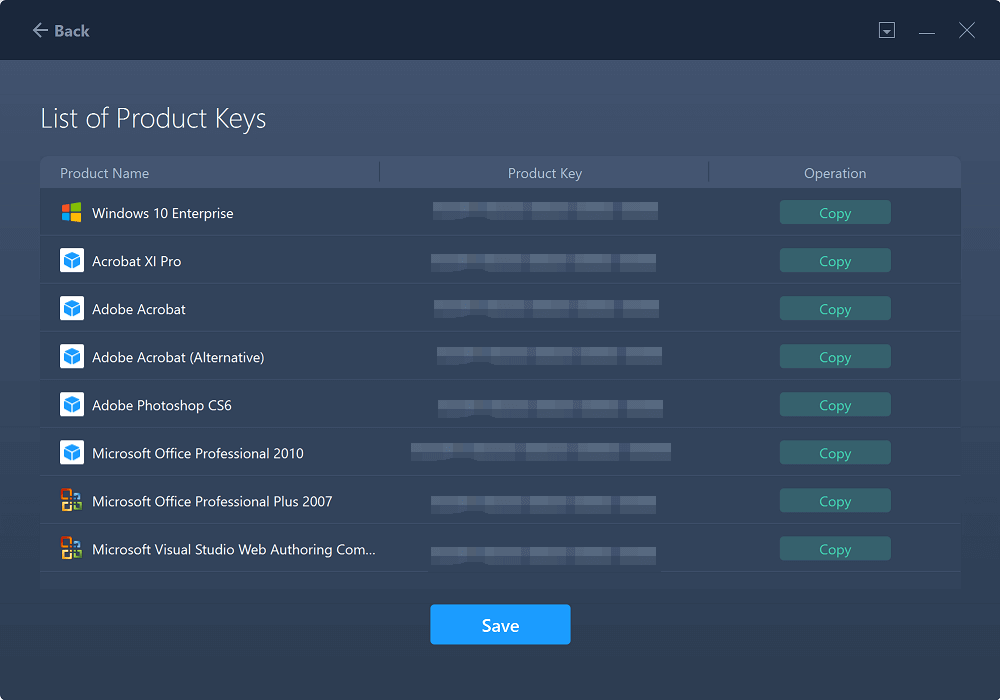 This third-party software is better than all other product key recovery solutions because it offers many additional features, such as:
It can transfer files, apps, system settings, and other data from your old computer to the new Windows 11. 
The program is compatible with all Windows OS - from Windows 2000 to Windows 11. 
Supports hardware RAID, UEFI boot, WinPE, MBR, and GPT disk. 
It can automatically install all programs on your new PC without any reinstalling hassle. 
EaseUS Todo PCTrans supports all the common programs, including MS Office, Adobe software, Dropbox, CCleaner, and many others. 
Offers three incredible transfer modes - Network Connection, Transfer Locally, and Image Files. 
The software can recover your lost CCleaner product key and other data from a dead or non-bootable PC. 
With minimal technical knowledge, one can use this software. 
EaseUS technical team provides 24*7 technical assistance. 
EaseUS Todo PCTrans reduces data loss to zero and allows you to restore everything if your system ever crashes. 
EaseUS Todo PCTrans Keygen has a wizard-like interface, which makes the software set up and installation easy. 
It helps to speed up the Windows system and keep the computer in the best condition. 
It can free up lots of space on your Windows 11 and so much more. 
Method 2. Find Product Key via CCleaner Official Website
If you don't want to use third-party software to find your CCleaner product key, you can go to the CCleaner website to retrieve your keys. 
To use this method, you must remember the email and password that you have used to buy the CCleaner Pro. 
Then, you have to head over to the CCleaner license lookup page (https://www.ccleaner.com/support/license-lookup) and enter your email. 
After this, CCleaner will send your product key to your registered email address. Now, you simply have to copy your product key and put it in the CCleaner setup wizard to enjoy all the Pro features. 
This method is simple only if you remember your CCleaner email and password. Otherwise, third-party software is the best solution. 
Final Words 
To keep your computer fast, spacious, and optimized, CCleaner is one of the best Windows cleaning tools. You can quickly clean your system, schedule period clean, remove duplicate files, and so much more with CCleaner Pro. 
Therefore, it is important to store your CCleaner product key properly on your computer or email. But if somehow you have forgotten your email ID password or the system got corrupt, it will be hard for you to find your CCleaner product key. Even CCleaner's official website wants an authorized email address to recover the product key. 
However, fortunately, reliable data recovery tools like EaseUS Todo PCTrans have made it super easy to recover product keys. It has a built-in Product Key Finder that can recover MS Office, Adobe, and even CCleaner license keys. 
So, if you have lost your CCleaner product key, just download EaseUS Todo PCTrans Pro today to keep your system up-to-date with CCleaner Pro.

Roxanne is one of the main contributors to EaseUS and has created multiple posts on digital devices like PCs, Mobile phones, tablets, Mac, etc. She loves to share ideas with people of the same interest.
EaseUS Todo PCTrans Free is a useful and and reliable software solution created to serve in computer migration operations, be it from one machine to another or from an earlier version of your OS to a newer one.

 Read More

EaseUS Todo PCTrans is by the folks at EaseUS who make incredible tools that let you manage your backups and recover your dead hard disks. While it is not an official tool, EaseUS has a reputation for being very good with their software and code.

Read More

It offers the ability to move your entire user account from your old computer, meaning everything is quickly migrated. You still get to keep your Windows installation (and the relevant drivers for your new PC), but you also get all your apps, settings, preferences, images, documents and other important data.

 Read More
About EaseUS Todo PCTrans
EaseUS Todo PCTrans can transfer settings, applications and data between PCs and HDDs. Your all-round PC transfer and migrate software to upgrade devices without re-installation.