How to free up Mac disk, optimize and optimize macOS Sierra?
When we talk about speed up computer or optimize system performance, what comes to your mind first? Here below are some tips for you to free up Mac disk and speed up Mac computer with macOS Sierra:
1. Find and deleted useless junk files on Mac disk;
2. Free up RAM on Mac memory and make full use of your Mac internal memory;
3. Disable unwanted startup or login items on Mac so to speed up Mac computer;
4. Clean up useless web-browser plugins such as extensions, caches or cookies etc;
5. Uninstall useless programs or software from Mac;
6. Remove useless duplicate files etc.
All these would effectively help you optimize Mac computer and speed up macOS Sierra or other Mac OS X systems. So how to do these jobs? You can either choose to manually do these jobs or find related tools for finding and deleting files or uninstall unwanted programs or software or directly complete all these jobs within just one reliable tool. Powerful Mac cleanup and optimize software would do the job and help you regain a clean and health Mac computer. You can directly follow below 2 steps to effectively optimize macOS Sierra and gain a fast Mac computer by the help of Mac cleanup and optimize software now:
Step 1. Free download the best Mac cleaner and optimize software
If you search Mac cleaner or cleanup and optimize software online, you'll get overwhelmed recommended ads and recommendations. 
And of course, you'll have to take time to testify whether the selected tool work or not on your Mac.
Here we'd like to introduce you to try a powerful Mac cleanup and optimize software - EaseUS CleanGenius for Mac which fully supports all Mac OS X after 10.6, including the latest macOS Sierra 10.12. It allows you to effectively cleanup Mac disk, free memory and optimize macOS within 7 reliable tools. All Mac users can apply it with its newly improved UI design and fantastic features.
Just free download it and follow Step 2 to effectively free optimize your Mac system and cleanup Mac disk with simple clicks now:
 Tip

It's 100% free to cleanup Mac disk or optimize macOS Sierra or even speed up Mac computer with EaseUS CleanGenius within 15 days. Just free download it and let this fancy tool help improve your Mac computer performance now.
Step 2. Cleanup and free up Mac disk/storage so to optimize macOS Sierra
After installing EaseUS CleanGenius for Mac on Mac computer, you can apply it with Fast Cleanup, Browser Plug-ins, Free Memory, Login Items and Duplicate Finder etc features to cleanup Mac disk and improve Mac computer performance now.
Here below, we'll show you how to cleanup and free up Mac disk/storage so to regain a fast and clean Mac:
Clean up Mac disk with fast cleanup feature:
Step 1. Luanch EaseUS CleanGenius for Mac and click on Fast Cleanup > Tab on Scan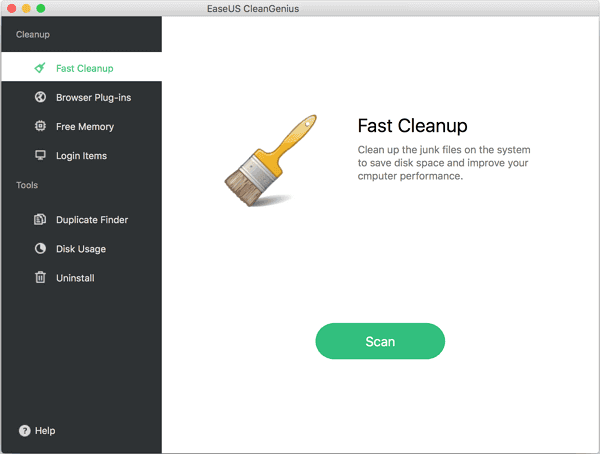 Step 2. Select tye junk files such as System Cache, User Cache or System log etc that you want to cleanup and click Clean Up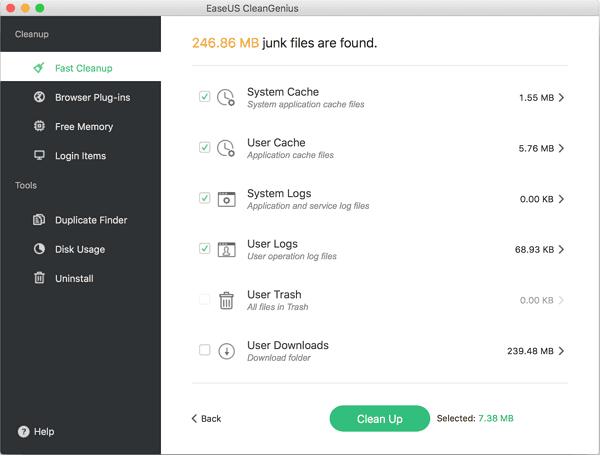 Step 3. Click OK to confirm that you need to remove selected junk files and type in your password to allow CleanGenius do this job;
And then all you need is just wait for the tast to complete.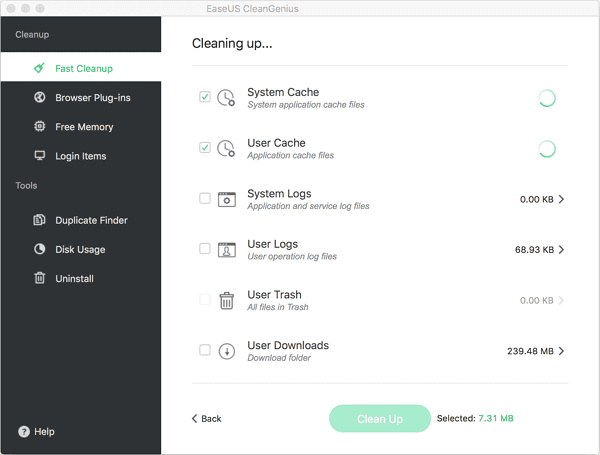 Free memory on Mac disk:
Step 1. Launch EaseUS CleanGenius and click on Free Memory;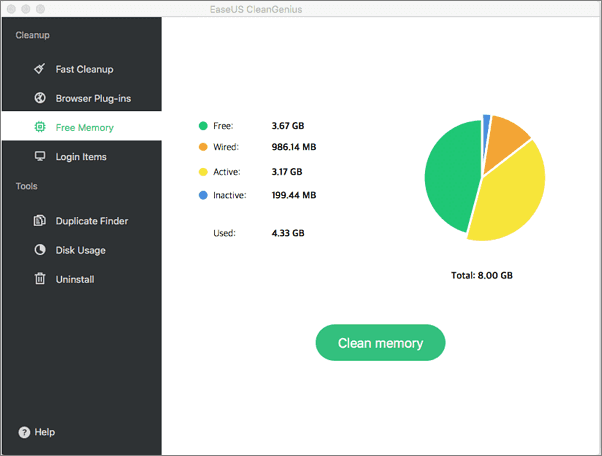 Step 2. Click on Clean Memory and sign in with the login password of your Mac and click OK;
Wait to let the program complete the reset process.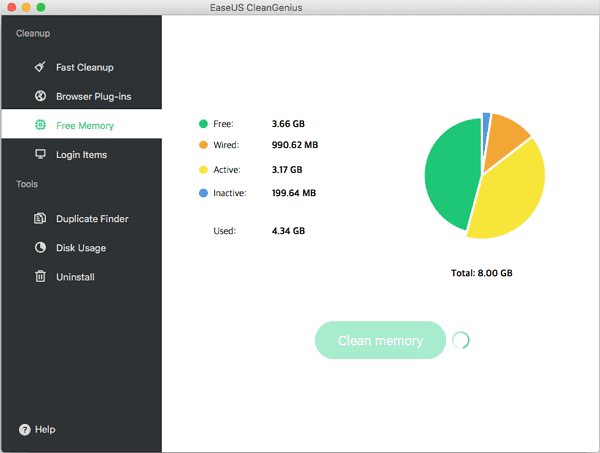 After this, you can also apply Browser Plugins feature to remove Chrome, Safari or Firefox extensions, cookies or aches with ease. 
Login Items would also speed up your Mac computer from the startup. If you are looking for a simple way to speed up Mac computer and improve macOS performance, EaseUS CleanGenius for Mac would help.