Mac OS X 10.7 is the recent major release of Mac OS X, Apple's desktop and server operating system for Macintosh computers.
Mac OS X 10.7 was publicly unveiled on June 8, 2009, at the Apple Worldwide Developers Conference. On August 28, 2009, it was released worldwide and was made available for purchase from Apple's website and its retail stores at the price of US$29 for a single-user license. As a result of the low price, initial sales of Mac OS X 10.7 were significantly higher than that of its predecessors. The release of Mac OS X 10.7 came nearly two years after the introduction of Mac OS X 10.6, the second longest time span between successive Mac OS X releases.
Unlike previous versions of Mac OS X, the goals with Mac OS X 10.7 were improved performance, greater efficiency and the reduction of its overall memory footprint. An addition of new end-user features was not a primary goal. Much of the software in Mac OS X was extensively rewritten for this release in order to fully take advantage of modern Macintosh hardware. New programming frameworks, such as OpenCL, were created, allowing software developers to use graphics cards in their applications. This is also the first Mac OS release since System 7.1.1 that does not support the PowerPC architecture, as Apple now intends to focus on its current line of Intel-based products.
Mac OS X 10.7 was succeeded by Mac OS X Lion (version 10.7) on July 20, 2011. The earlier version continues to be sold for the benefit of users that require Mac OS X 10.7 in order to upgrade to Lion, which is primarily sold through the Mac App Store introduced in the 10.7 update.
Mac OS X Mac OS X 10.7 was the last release of Mac OS X to support the 32-bit Intel Core Solo and Intel Core Duo CPUs.
Like PC, Mac also needs regular cleanup. The purpose is to make our Mac work smoothly and efficiently. Windows users have it very easy because they have Ccleaner. For those who are very familiar of Ccleaner, it's a free utility software that clears all unnecessary junk files to free up hard disk space, especially cache files or temporary internet files. These types of files literally take over your disk space so they need to be disposed of, and that is what Ccleaner is for. Luckily, Mac users can use Mac cleaner - EaseUS CleanGenius to clean your Mac junk files and free up disk space to boost Mac's speed and improve its system performance.
EaseUS CleanGenius as Mac cleaner
EaseUS CleanGenius is highly recommended from the start because it is free. It works well with Mac OS X 10.7 (Lion).
When caches, logs, system junks accumulate, they will slow down your Mac and waste the precious disk space. EaseUS CleanGenius offers a quick and easy way to clean the system caches, system logs, user caches, user logs, user downloads, Trash, Safari Internet cache and more just by one click.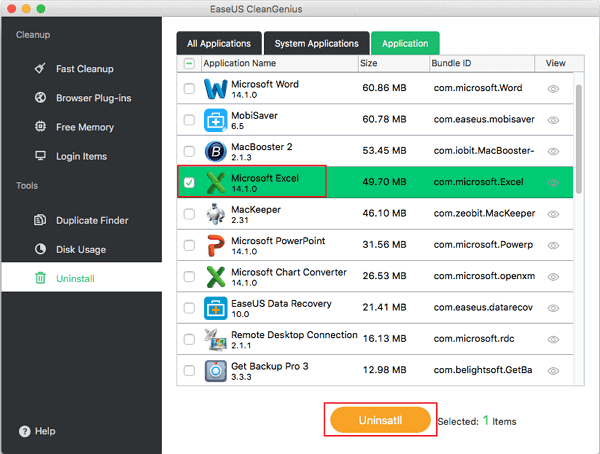 Over the course of time, you may have cluttered your Mac OS X hard drive with various software installations. When you drag an application to the Trash, its preferences, cache and log files still remain on your drive and waste valuable disk space. With EaseUS CleanGenius, you can easily uninstall the applications completely you want to remove and delete its related components & files (preferences, cache files and log files).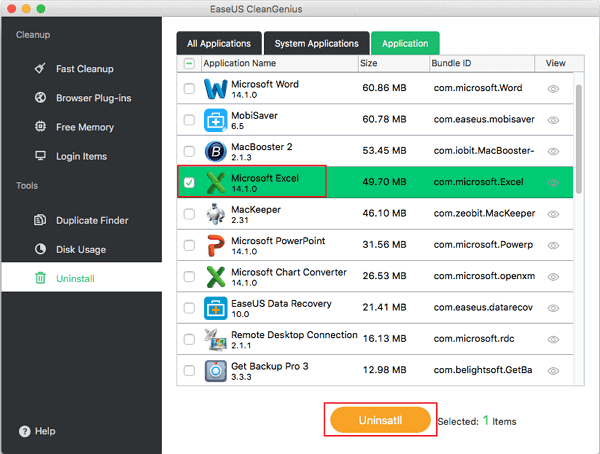 EaseUS CleanGenius also monitors your hard disk space and warn you when the disk space is running low, and then you can clean your Mac and free up more disk space to let your Mac work smoothly.
"CleanGenius is a drive monitoring and cleanup tool for OS X 10.7 or later. Not only does it give you a quick overview of your drives' free space from the menu bar, but it also provides a "fast clean" option for clearing out certain parts of your hard drive." More reviews...