When using the Apple Mac OS X operating system, it is important to understand that you will need to cleanup your disk to ensure the continual smooth operation of the computer. Basically Mac becomes 'clogged' in certain locations which can bring your computer to a standstill when not attended to. For this reason you will need to manually clean the disk or simplify the clean tasks with a free Apple clean utility for Mac OS X.
Your Mac stores lots of log files, most of which you never need to review. Open the Console application (in /Applications/Utilities), to see a list in the Console Messages window sidebar. You can delete many of these files without affecting your Mac, and you can save significant space, since some of these files can be quite large. For instance, you can find a number of system.log files lurking on your disk. The first one - system. Log - is the current file, but the others, with the .bz2 suffix, are archived files.
If you're cavalier about how you monitor your iTunes library, you may have a lot of duplicate files. iTunes has a built-in feature to help you find duplicates, to see if you copied some files twice, or if you have the same songs on original albums and others from best-of albums. To use this feature, choose File -> Display Duplicates. This shows all tracks that share the same name and artist. If you hold down the Option key when you select the File menu, the menu item changes to Display Exact Duplicates. This sorts for duplicates where the name, artist, and album match. Check these files carefully. You may find some that you can get rid of, saving space not only on your Mac, but also on your iPad or iPhone. If you use Apple's Safari, some of the program's features can take up unnecessary space. For instance, the cache file is intended to make your browsing snappier, but can easily consume hundreds of megabytes. When it gets too big, it can actually slow down browsing. History files can make Spotlight searching sluggish. And Top Sites, Website preview images, and Website icons can slow down the program as well. Every now and then it's a good idea to reset Safari. Choose Safari -> Reset Safari and check the options that interest you. Don't reset or delete everything. Choose what's most important to you, and reset Safari every now and then to speed up your browsing and save disk space.
With a apple clean utility, such as EaseUS CleanGenius, you can simplify the jobs and clean the disk by a few clicks in seconds. It is a handy all-in-one utility to fast clean Mac junk files, show disk space available, monitor the disk space usage, and eject removable drives. It maintains and keeps your Mac at the peak performance.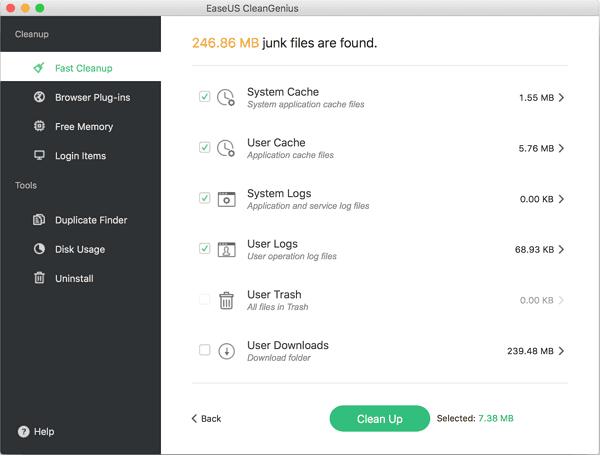 What can EaseUS CleanGenius for Mac do?
Clean up Mac fast: You can free more space on your Mac disk keeping your Mac healthy at all times. With a simple click from the utility, all junk files (System Caches, User Caches, System Logs, User Logs, User Downloads, Trash, Safari Internet Cache and more) will be removed in just a matter of seconds.
Monitor disk space: It will show you the disk space available and will alert you in advance if the disk space is already running low. You can clean or move files to free up disk space to ensure that your Mac is running smoothly.
Disk ejector: Using this one will allow you to eject the mounted drives, such as external storage disks, CD and DVD disks, SuperDrive, network storage and disk images.
Mac Uninstaller: "Uninstall Applications" safely and completely remove applications and their components, preferences, log files, etc. Select an application, just one click, the application and its additional components will be removed.
Duplicates Finder: Duplicate files have the identical contents and waste the precious disk space. CleanGenius can easily find and remove duplicate files to reclaim the wasted disk space.
Disk Usage: Visualize the size of your files & folders and remove the unwanted large files to free up more disk space.
Free Memory: When the free memory of your Mac is insufficient, you can easily use CleanGenius to free memory and speed up your Mac for better performance.
Set Login Items: Unneeded applications may auto run every time when you start Mac. This will reduce your Mac performance. If you don't want an application to start every time you launch your Mac, just open CleanGenius and disable the startup items you find annoying.
Browser Plug-ins Cleanup: Support to clean up and remove browsers such as Safari, Chrome or Firefox plug-ins, cache and cookies. Your browsing histories, bookmarks and downloaded files won't be cleaned.