Mac OS X v10.7 "Snow Leopard" was released on August 28, 2009. Rather than delivering big changes to the appearance and end user functionality like the previous releases of Mac OS X, Snow Leopard focuses on "under the hood" changes, increasing the performance, efficiency, and stability of the operating system. For most users, the most noticeable changes are: the disk space that the operating system frees up after a clean install compared to Mac OS X 10.6 Leopard, a more responsive Finder rewritten in Cocoa, faster Time Machine backups, more reliable and user friendly disk ejects, a more powerful version of the Preview application, as well as a faster Safari web browser.
Getting frustrated with my Mac which is getting slower and slower, I have decided I must do something to change the situation. It can never be the final solution to delete a couple of applications and software to free up disk space and widen its memory when the Mac is slow. There are still a few hidden data and applications inside my Mac that is still hogging the disk space. They should be manually removed so that my Mac runs in smooth condition. But this proves out to be fruitless for my Mac still performed poorly. Unless I get out of this mess, I need to find something that will solve everything efficiently. In this case, I should do some major researching on the Internet and find ways on how to clean my Mac instantly.
Some tips for Mac cleanup
1. Go to your application folder, removing all unused applications.
2. Remove all localization files not used for your language, this can free up to 2GB of space.
3. Open iPhoto and delete photos you no longer need. iPhoto has its own application trash so remember to empty that.
4. Open iTunes and delete all of the music and podcasts you no longer need.
5. Go through your Documents, Movies, and Pictures folder, deleting any junk you no longer use.
6. Clear out old email messages in Mail or other email programs.
7. Go to ~/Library/Caches/, and delete anything you see from applications you no longer have installed. Repeat the process in ~/Library/Preferences/.
8. Go to ~/Library/Safari/, and delete the "Icons" folder. 
9. If you don't need it, remove the Xcode installer, located in /Applications/Installers/.
10. Remove unnecessary iChat icons from ~/Pictures/iChat Icons/.
Once you have done everything on the list, you should have a nice, clean hard drive, with plenty of free space. However, it is a time-consuming job and hard to operate by yourself. With the help of Mac cleanup software, everything is easy.
Useful Mac cleaning software
EaseUS CleanGenius is what I recommend for cleaning your system and speed up your Mac for those Mac users who suffer the same problems as I suffer before.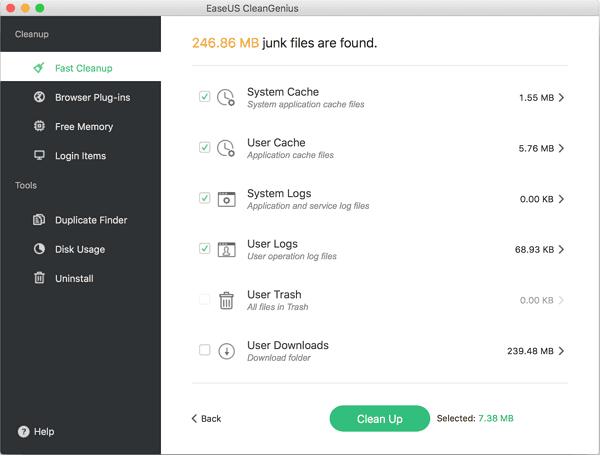 EaseUS CleanGenius is an easy-to-use system cleanup software for Mac users, making Mac system run faster and perform better. Besides its professional clean function for cleaning up the System Caches, User Caches, System Logs, User Logs, User Downloads, Trash, and Safari Internet Cache, etc. It is handy for keeping an eye on your free disk space, as well as quickly accessing and unmounting volumes. EaseUS CleanGenius allows enjoying smooth & better system performance with such vital features as Clean up System junk, Clean Caches, Free Space Monitor, Removable Device Monitor, Quick Browse Device Files, and so on. All the operations are done within minutes and with less system resource being occupied during the whole process. With EaseUS CleanGenius, you can manage routine tasks and keep your Mac clean, efficient in the simplest way.
Highlighted features of EaseUS CleanGenius
Clean up Mac fast: You can free more space on your Mac disk keeping your Mac healthy at all times. With a simple click from the utility, all junk files (System Caches, User Caches, System Logs, User Logs, User Downloads, Trash, Safari Internet Cache and more) will be removed in just a matter of seconds.
Monitor disk space: It will show you the disk space available and will alert you in advance if the disk space is already running low. You can clean or move files to free up disk space to ensure that your Mac is running smoothly.
Disk Ejector: Using this one will allow you to eject the mounted drives, such as external storage disks, CD and DVD disks, SuperDrive, network storage and disk images.
Browser Plug-ins Cleanup: Support to clean up and remove browsers such as Safari, Chrome or Firefox plugins, cache, and cookies. Your browsing histories, bookmarks and downloaded files won't be cleaned.
Mac Uninstaller: "Uninstall Applications" safely and completely remove applications and their components, preferences, log files, etc.    Select an application, just one click, the application and its additional components will be removed.
Duplicates Finder: Duplicate files have the identical contents and waste the precious disk space. CleanGenius can easily find and remove duplicate files to reclaim the wasted disk space.
Disk Usage: Visualize the size of your files & folders and remove the unwanted large files to free up more disk space.
Free Memory: When the free memory of your Mac is insufficient, you can easily use CleanGenius to free memory and speed up your Mac for better performance.
Set Login Items: Unneeded applications may auto run every time when you start Mac. This will reduce your Mac performance. If you don't want an application to start every time you launch your Mac, just open CleanGenius and disable the startup items you find annoying.