Getting frustrated with my slow iMac will get me nowhere. The initial reaction if the iMac is slow is that I delete a couple of applications and software to widen its memory space; however, that would never solve the problem. There are still a few hidden data and applications inside my iMac that is still hogging the disk space. They should be manually removed so that my iMac runs in a smooth condition, or simplify the jobs with the iMac cleaner.
Some applications automatically (or when asked) set themselves as a "startup item", which causes them to open at every restart or login. You can find out what is in your startup items list by navigating to Apple Menu > System Preferences > Accounts > Login Items. You may be surprised at how many there are. To remove them, simply select the item by clicking on its name and then hit the "minus" button at the bottom of the list. However, be sure that you know what you're removing; otherwise, you may kill some critical function for the next time you restart.
While System Preferences is open, take a look at a few other things. Apple has generously included a number of very useful features as preferences. Some, however, may not be useful to you, such as Universal Access (which offers help for visually and hearing impaired users) or Bluetooth (which allows certain devices to be used wirelessly). If you don't use these features, verify that they are turned off. This will save you some valuable RAM and processor resources.
There may be other things hogging your processor's attention or sucking up RAM. How will you know about them? By using Apple's Activity Monitor, which comes with Mac OS X. Activity Monitor will tell you about CPU usage, RAM requirements, virtual memory usage, and whether a given application is a PowerPC or Intel (Universal) build. Check it occasionally to see if there are any red flags - or keep it running for a few days (with one of the useful Dock icons or floating windows enabled) to keep an eye on when things are spiking.
It doesn't matter how large your hard drive is - eventually it will begin to fill up. Whether it is a huge iPhoto library, some videos you're editing, or simply an accumulation of lots of "stuff", a full hard drive can cause problems. (One colleague couldn't figure out why her drive was so full - until she realized that she hadn't emptied her Trash in almost four years!) You may not realize that Mac OS X (and the Classic Mac OS, too) uses the free space on your hard drive as "virtual memory", and it depends heavily on that virtual memory to run efficiently. If you're starting to feel sluggish, it may be because your drive is too full.
Whenever things get slow on my iMac, one of the "go to" solutions is to run a cleaner like EaseUS CleanGenius. It is a handy all-in-one utility to fast clean Mac junk files, show disk space available and monitor the disk space usage. It maintains and keeps your Mac at the peak performance.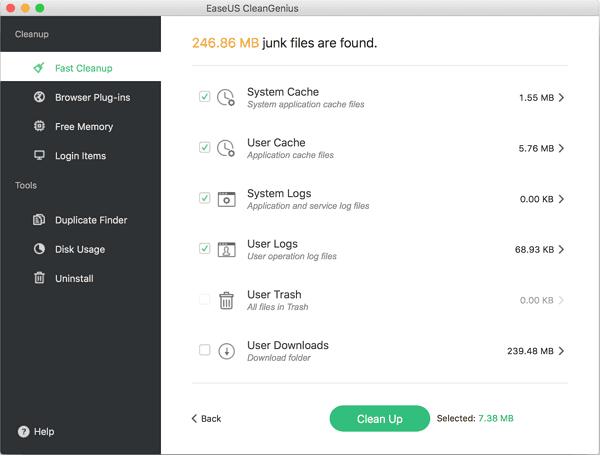 Highlighted features of EaseUS CleanGenius
Clean up Mac fast: You can free more space on your Mac disk keeping your Mac healthy at all times. With a simple click from the utility, all junk files (System Caches, User Caches, System Logs, User Logs, User Downloads, Trash, Safari Internet Cache and more) will be removed in just a matter of seconds.
Monitor disk space: It will show you the disk space available and will alert you in advance if the disk space is already running low. You can clean or move files to free up disk space to ensure that your Mac is running smoothly.
Disk Ejector: Using this one will allow you to eject the mounted drives, such as external storage disks, CD and DVD disks, SuperDrive, network storage and disk images.
Browser Plug-ins Cleanup: Support to clean up and remove browsers such as Safari, Chrome or Firefox plugins, cache, and cookies. Your browsing histories, bookmarks and downloaded files won't be cleaned.
Mac Uninstaller: "Uninstall Applications" safely and completely remove applications and their components, preferences, log files, etc.    Select an application, just one click, the application and its additional components will be removed.
Duplicates Finder: Duplicate files have the identical contents and waste the precious disk space. CleanGenius can easily find and remove duplicate files to reclaim the wasted disk space.
Disk Usage: Visualize the size of your files & folders and remove the unwanted large files to free up more disk space.
Free Memory: When the free memory of your Mac is insufficient, you can easily use CleanGenius to free memory and speed up your Mac for better performance.
Set Login Items: Unneeded applications may auto run every time when you start Mac. This will reduce your Mac performance. If you don't want an application to start every time you launch your Mac, just open CleanGenius and disable the startup items you find annoying.