No matter if you are a beginner or you are running a business website, having the privilege to use a proficient website builder software can make things simple for you. With hundreds of web design software available out there, it can be confusing to choose the best option for your business. Especially when you wish to create a website.
There are plenty of options out there but we find TemplateToaster Website Maker software an efficient solution, to begin with. TemplateToaster is an offline web design software that lets you design stunning themes, templates and websites. Whether you wish to create WordPress, Joomla, Drupal, Magento, PrestaShop, WooCommerce, VirtueMart, OpenCart themes, Blogger template, or HTML/CSS websites it is the best solution for you.
In fact, even if you wish to design a Bootstrap-based website or HTML website, you will love the kind of features it has to offer you. Unlike traditional web design tools, there is no need to get familiar with programming languages and other web design tools. The simplicity of drag & drop design and availability of multiple tools help you create a website in minutes. It is one such ideal solution to create a full-fledged website.
How to Create a Website Using TemplateToaster Website Builder Software
It's pretty easy to use TemplateToaster website builder software. The features aren't complex at all. In fact, using it on your personal computer is relatively easy.
Follow these simple steps to create a website with this website builder software:
Step 1: Visit TemplateToaster Website.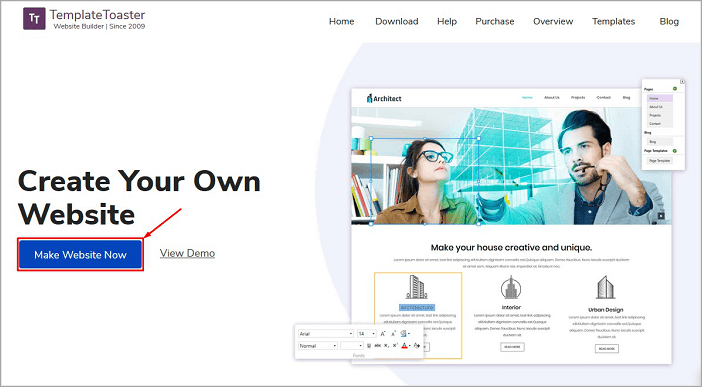 First visit the official website of TemplateToaster software.
Step 2: Download & Install TemplateToaster.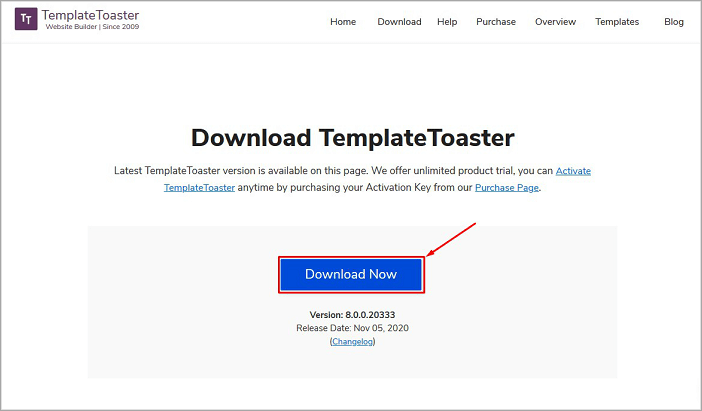 Visit TemplateToaster Website Builder Software and go to the downloads to download the software. Now double click the downloaded file to install it on your computer.
The best thing about this web design software is that you do not need an active internet connection all the time. Simply have it downloaded on your computer and start creating your own website, templates, or themes without a hitch. There is a link provided on the website as shown above.
Step 3: Run TemplateToaster & Design Header, Menu & Slideshow.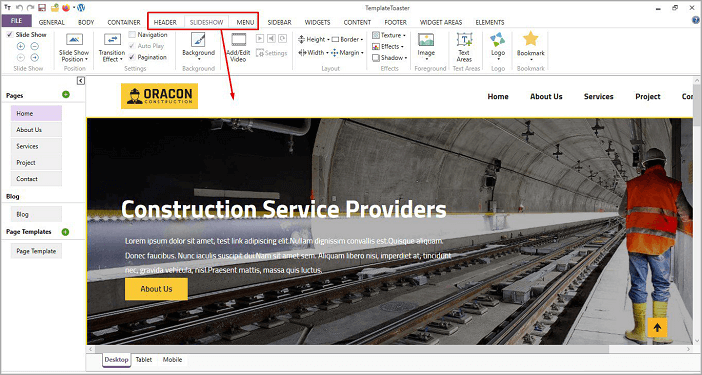 Including a header, menu, and slideshow can help improve the overall functionality of your website. However, if you are working with TemplateToaster getting with such features and functionality will not require any kind of technical knowledge or something. Even a beginner can use it without much difficulty.
Step 4: Add and Design the Page Content.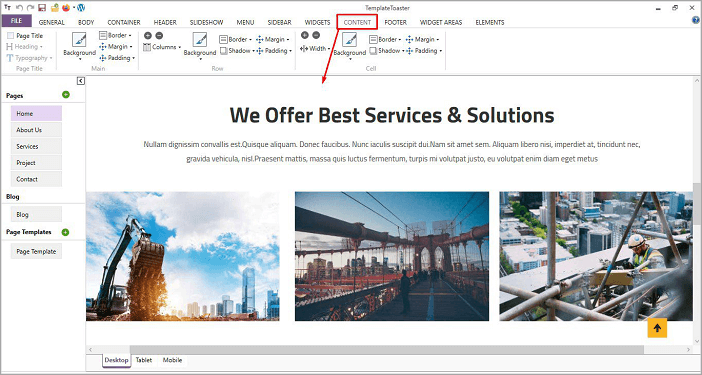 When it comes to designing a page you need several things to be managed properly. It offers you amazing options that allow you to design your page however you like. Right from the content area to adding images to your website, everything can be done without any coding.
Step 5: Design the Footer.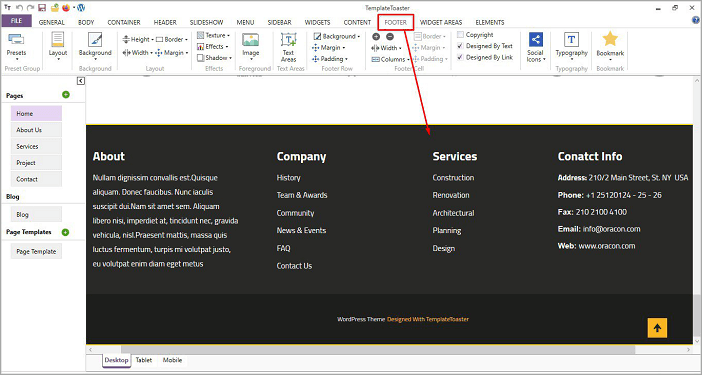 The footer present on your website serves many purposes. You can easily include your website address, phone number, Google Map, etc. type of information and let your users know you a little better. It includes options to style your footer and add valuable things to it.
Step 6: Export the Designed Template.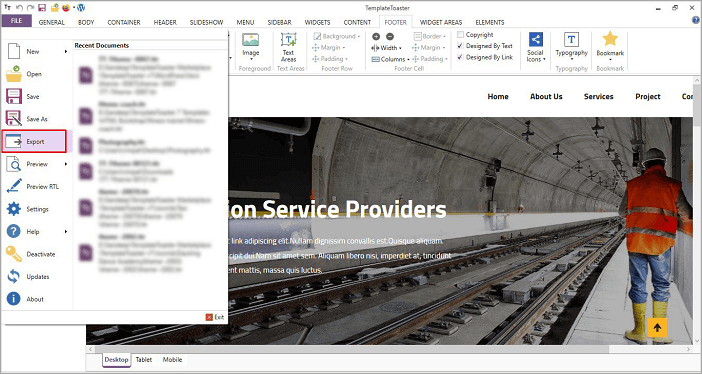 Designing the template involves a lot of things. With the help of options provided with TemplateToaster, the entire process becomes way easier. It comes with easy-to-use and user-friendly features to design your templates and websites. No matter which template you are creating, for instance, you can create an eCommerce template, simple business template, hobby website template, or anything you want. You can create that using this website builder.
Key Highlights of TemplateToaster Web Design Software
There are certain factors on the basis of which you can say it is certainly a powerful offline website builder software. Let's check them out.
Easy of Use
TemplateToaster is an amazingly simple-to-use software. You don't need any prior technical skills to use this software. The flexibility is the main reason why we choose this website making software for our business. We liked it for this reason too. However, if you have any technical skills or you are good at some basic HTML and CSS, then creating stunning sites, templates or themes wouldn't be challenging at all.
WYSIWYG (What You See Is What You Get) Editor
Now, this is something that gives exactly what you need to build a website. As the name specifies what you see is what you get. This feature is really required nowadays because you should be aware of what you are doing. And when you can see what exactly you are doing, then making improvements gets easier with intended results.
Drag and Drop web design software
What else you need when you are getting a drag & drop functionality with a website maker. Of course, the simplicity of managing things somewhere depends on the versatility of the software. The drag & drop feature is the main USP of TemplateToaster. Simply with a click of a mouse, you can drag and drop things wherever you want and however you want.
Entirely Responsive Design
No matter which platform you choose to visit a website, theme, or template, each design will be 100% responsive. That means you don't have to worry about the craft you are creating, it will look and work perfectly on any device it is viewed on. Now that's really important, especially if you are into an eCommerce business. It makes sense to give your users the freedom to use whichever device they want.
Around-the-Clock Customer Support
Now if you are using any software, customer support is the main aspect you should look for. And the customer support offered is just out-of-the-box. They have a ticket system for easy access. However, there's a forum available that you can join and get connected with other like-minded people. Of course, you learn from others' experiences and vice-versa. Whenever you are stuck somewhere, remember the professional customer support is just a click away.
Fully Optimized and SEO-Friendly Output
The web design software works on advanced web technology to allow users to design beautiful templates that not only work flawlessly but even look attractive. TemplateToaster provides you Bootstrap framework so that you can construct a functional website in no time. There are two things that you can use, either you can create it from scratch or you can use any of the free or paid templates as per your business requirements. Each and every template you choose is entirely SEO-friendly and fully-optimized. Whereas, if you are creating it yourself, then you have the opportunity to include H1 to H6 headings as per your needs and objectives.
Pros and Cons of Using TemplateToaster Web Design Software
Like every software, TemplateToaster also involves some really noteworthy features to use. Along with that, there are some disadvantages as well that you may experience. Since everything has two sides. So does this software. And it completely makes sense to discuss the cons also.
Pros of website builder software
TemplateToaster is a user-friendly and SEO optimized website builder software.
You can create a theme or template using any platform you desire such as WordPress, Joomla, Drupal, and many more.
The themes or templates you create will be completely responsive.
It doesn't require any coding skills.
Even if you are a complete beginner, you can easily use this software. As it offers you an easy drag & drop interface.
You can take unlimited trials.
They offer you out-of-the-box customer support.
There are hundreds of unique templates and themes available to choose from.
It is a desktop-based website maker.
Cons of website creation software
It is an offline website builder software. That means you will have to download it on your computer in order to use it.
It is not compatible with Mac devices yet.