Introduction
With constant tech innovation, the world of IT is changing at a fast pace. One of the most crucial aspects of IT infrastructure is the speed with which one can access data. For that, SSDs played a significant role in offering excellent data access speed. However, the latest tech to provide unfathomable data access speed is NVMe. 
In today's era, NVMe is an essential storage technology. Gone are the days when you wouldn't consider NVMe while purchasing a PC. Nowadays, people actively seek this feature while buying PCs. The high speed makes it incredibly appealing to the IT industry.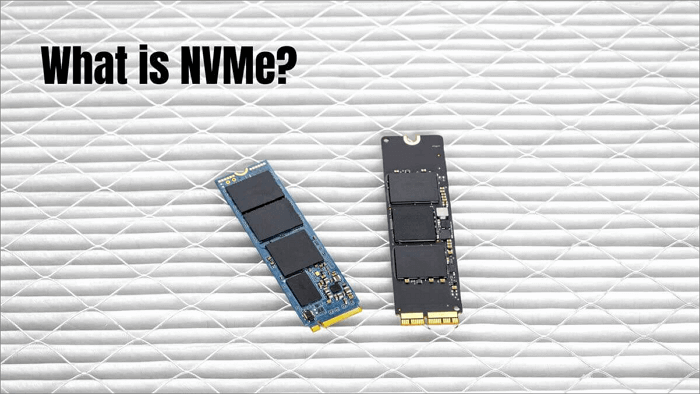 What is NVMe?
NVMe, also known as Non-Volatile Memory Host Controller Interface Specification, is the latest transfer protocol exclusively created for solid-state memory. In layman's terms, NVMe is an SSD that operates on the PCI Express connector. It is not new tech. 
It is a storage interface that uses PCIe or the Peripheral Component Interconnect Express to transfer data at high speed between SSDs. It is famous for its high IOPS or input/output per second, reduced latency, and decreased power consumption. When compared to SAS or SATA, it offers excellent scalability. 
NVMe is the newest communications standard implemented on SSDs in different form factors. These include AIC, U.2, U.3, M.2, and EDSFF. 
With the discovery of NVMe, PCs have gotten so much faster. The integration of NVMe on the SSDs has contributed to getting rid of the storage issues. Did you recently buy a MacBook Pro? Have you noticed the impossibly fast rate at which the system functions? 
The reason behind this excellent fast speed is the presence of the NVMe SSD. It writes and reads data at least four times faster when compared to the SATA SSDs present in the previous generations. While hard drives are still relevant, NVMe SSD is still an ideal option for programs, operating systems, etc. 
NVMe till date:
2.0 – 2.0a, 2.0b (2021)
1.4 – 1.4a, 1.4b (2019-2020)
1.3 – 1.3a, 1.3b, 1.3c, 1.3d (2017-2019)
1.2 – 1.2a, 1.2b, 1.2.1 (2014-2016)
1.1b (2014)
1.0e (2013)
Are NVMe and SSD the Same?
Now you might ponder if NVMe and SSD are the same things. To eliminate the confusion, here is the section offering a detailed answer.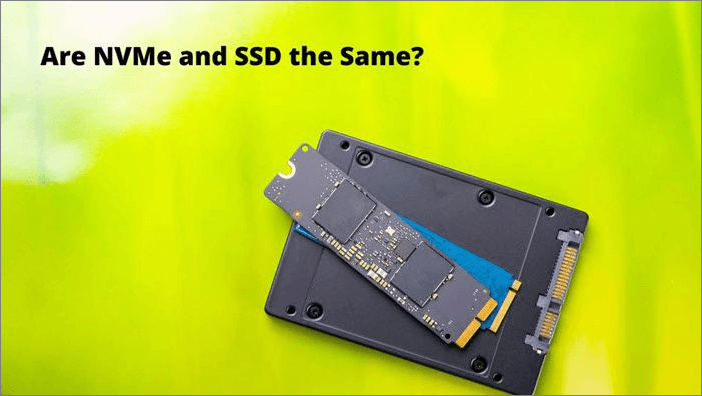 What Is SSD? 
Solid-State Drive or SSD is a storage device used in various electronic devices. These include tablets, computers, mobile phones, etc. It is a substantial improvement from HDD or hard disk drives and has gained massive popularity. The low latency and fast speed have made it an ideal choice. 
SSDs improve the performance of the system. Apart from that, it also exhibits high durability compared to HDDs owing to the lack of moving mechanical parts. Previously, SSDs ran on the SATA interface. While it decreased the storage costs, it also prevented the SSD from reaching full speed. 
However, the transition of the SSDs from the SATA interface to PCIe has made a remarkable difference. It enables fast data transfer and even aids in boosting the performance of the SSD. 
Nowadays, SSDs are used in place of hard drives. That means SSDs have found their place in laptops and desktop computers. However, it is essential to note that SSDs are still more expensive. That is why computer manufacturers generally combine a large HDD and a small SSD for data storage. 
There are numerous types of SSDs. These include m.2 ssd, 2.5-inch SATA SSD, M.2 SATA SSD, M.2 NVMe SSD, PCI Express SSD, and U.2 SSD. 
Is NVMe Faster than SSD?
Before we go into details about this question, it is necessary to clear up the confusion. SSD and NVMe are two different things and hence cannot be compared. SSD is the storage drive, while NVMe is the standard protocol that drives SSDs to work faster across the PCIe interface. 
The correct question is: "Is NVMe faster than SATA SSD?" The answer to this question is pretty straightforward. Of course, NVMe is faster than SATA SSD. 
As a matter of fact, NVMe with 2000MB/s is almost four times faster than the 600MB/s speed of the SATA SSDs. 
The primary reason is that NVMe does not need a controller to maintain CPU communication. It means that CPU communication is much faster.
Is NVMe the Same as M.2?
It is vital to understand NVMe and M.2 before answering this question. NVMe is the standard protocol or specification for flash-based storage drives. On the other hand, M.2 is the latest SSD form factor. It is the configuration or size of the solid-state storage media. 
Previously, the most obvious choice was the 2.5 form factors. However, with the discovery, the NVMe, M.2 form factor has hit the market and garnered instant popularity. 
If you are wondering about NVMe and if it is the same as that of M.2, you have come to the right place. However, these two are not the same thing. M.2 is an SSD form factor, while NVMe is the PCIe interface. 
Combining NVMe with M.2 is an excellent idea. The result is a high-speed drive with easy-to-install features and tiny or almost no footprint (visible). 
Benefits of NVMe for Data Storage and Its Use Cases
There are numerous benefits you can gain from using NVMe for data storage. To manipulate and parse data with efficiency, NVMe uses command sets that are streamlined. Apart from that, NVMe leverages solid-state storage, multicore CPUs, etc. 
NVMe exhibits a high-performance memory and provides multiple data streams, thereby properly utilizing GPU and CPU resources. Another advantage is the storage capacity of solid-state drives, as it offers three times TB storage when compared to conventional SSDs.
Moreover, NVMe is much more durable and reliable. Due to its small size and lighter weight, there is less of it being physically damaged.
NVMe is used extensively in a wide range of industries. There are various use cases you can take a look at:
DevOps: In this sector, NVMe can offer immense help. You can use it to run multiple iterations in a comparatively less period. 
AI: Using NVMe in systems based on artificial intelligence and machine learning is an excellent idea. You can get low latency and more bandwidth, leading to high-speed performance. Ultimately, it will enable you to process data quickly.
Relational databases: Companies using relational databases are now using NVMe. That is mainly because using NVMe offers improved performance. It also aids in reducing the number of databases or physical servers needed.
The Bottom Line
NVMe is an innovative tech that enables users to work with a system with improved performance. Opting for NVMe is an excellent idea if your business needs fast working. The wide range of benefits explains why it's becoming so popular. However, you also need to consider the price before you make a decision!
FAQS
Without a doubt, NVMe is the must-have tech of today! With such excellent benefits, one can get an improved PC with data transfer at an impossibly high speed. However, before you opt for NVMe, it is better to have a detailed understanding. Here are some FAQs you can browse to know more!
1. Which is Better: SATA or NVMe?
SATA came into existence in 2000 when hard disk drives came with many drawbacks. SATA resolved multiple issues and improved the system performance via NCQ or Native Command Queueing. However, one of the most challenging obstacles was that SATA outperformed the various interfaces, wasting resources, time, and money. 
NVMe came to the rescue with parallel queuing and a high read and write speed. The debate between SATA and NVMe and which is better is never-ending. SATA is more economical, while NVMe offers excellent storage and improves system performance. Ultimately, the ideal choice depends on the needs of the business. 
2. Do I Need NVMe SSD?
The wide array of benefits of NVMe SSD already explains why it's so popular. Apart from fast data access speed, you also get low latency, high IOPS, and the chance to reduce costs owing to low power consumption. However, whether or not you need NVMe SSD depends on your workload. 
If you are in an industry or business which requires you to work quickly, investing in an NVMe SSD makes sense. For instance, if you need to work with huge videos and risk losing clients due to loss of time. If not, sticking to SATA is a good idea. The expensive nature of NVMe SSD makes it impossible for everyone to opt for it. 
To use NVMe drive, the system needs to have BIOS support. Having an appropriate M.2 slots is crucial. If your system supports NVMe and has the right M.2 slots, you needn't worry about anything else. Otherwise, you could add the NVMe drive and a PCIe slot with an adapter card.