PAGE CONTENT:
Being a Mac user has several benefits, and you gain an edge over advanced features. Apple is known for its purpose, and when it comes to user security, then Apple does not comprise it. Hackers are all geared up, and anyone can access your accounts. Like social media platforms tend to protect you with two-factor authentication; similarly, Apple protects Mac users with a recovery key. You would be trying to learn the Mac recovery key and how to activate it. We have answers to all your questions!
What Is Mac Recovery Key?
A Mac recovery key is a 28-digit alphanumeric code for your Apple ID logged in. When you activate two-factor authentication, you can use the recovery key to reconfigure your Apple ID credentials or log in with the ID to another device. If you have not activated 2FA, you do not have a recovery key. However, it is recommended to use a recovery key for security concerns. 
It provides security, but generating one is a bit complicated. Also, if you do not know the key and your Apple ID credentials, you will be locked out of your account forever. But if your Apple ID is logged in to another device you can access, you can avoid a complete lockout. 
It would help if you jotted down your recovery key neatly at places where it will be safe and inaccessible to others.
How To Set Up Mac Recovery Key?
Setting up a recovery key on Mac might seem a bit tricky if you have not done it before. 
But here's how you can set up the Mac recovery key easily: 
Step 1: Head over to System Preferences (System Settings) on Mac.
Step 2: Navigate to your Apple ID.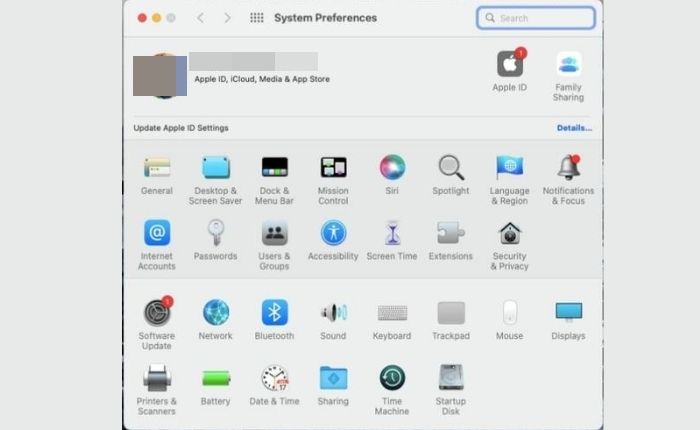 Step 3: Select Password and Security.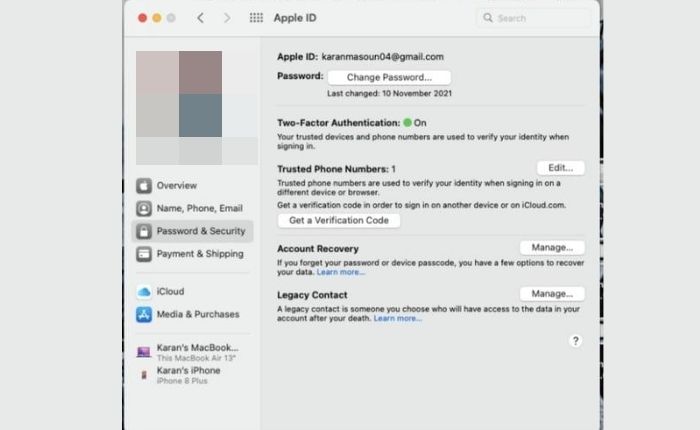 Step 4: Press the Turn On button to enable the recovery key.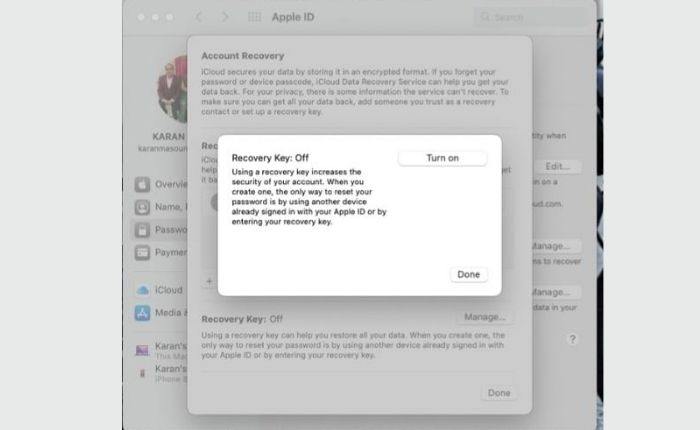 Step 5: Click on Use Recovery Key under the "Are you sure you want to create a Recovery key" pop-up?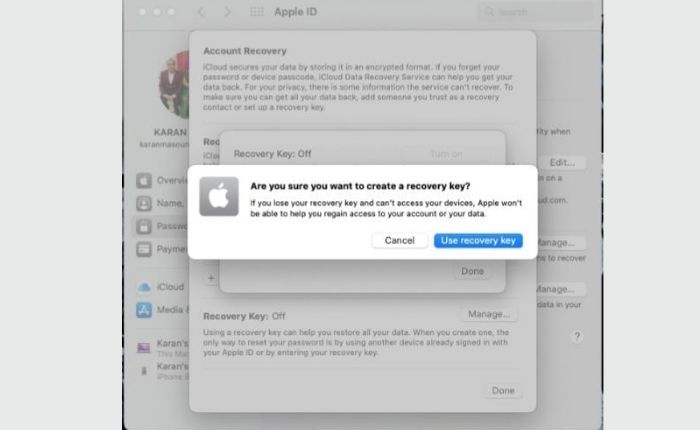 Step 6: Enter your Mac password in the prompt box that appears and press the Allow button.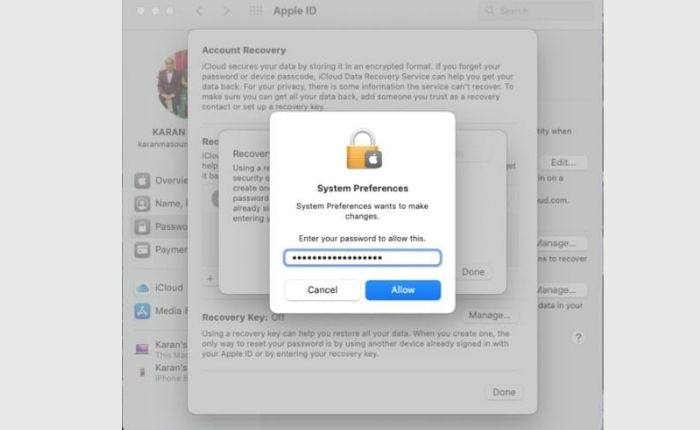 Step 7: Note down your Recovery key that appears and then click on Continue.
Step 8: Input your Recovery Key when Mac prompts you and then click on Done.
You have now successfully set up your Mac Recovery key.
How To Regain Recovery Key?
When you forget to lose your recovery key, you are annoyed to restore your old one. But you can deactivate the current one and activate a new key if you know your Apple ID credentials. 
Here's how you can regain the recovery key for Mac:
Step 1: Go to apple.com and log in with your Apple ID.
Step 2: Using a trusted device or contact number, verify your Apple ID.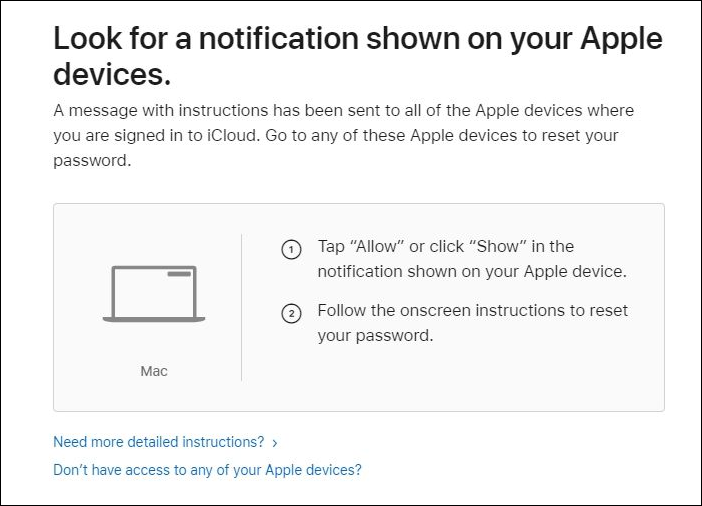 Step 3: Navigate to Security from the left pane.
Step 4: Click on Replace Apple Recovery Key.
The site will now prompt you to disable your old recovery key, and you will be able to generate a new one. However, it is noteworthy that the older key would be non-functional.
What To Do If Mac Recovery Key Not Working?
There can be quite some reasons why your Mac recovery key does not. The most common cause is that the key that you enter is wrong. You can check if it is so and try different combinations to correct it. If you have your Apple ID logged in to a device, you can use it to generate a new key and disable the old one. You can contact Apple Customer support when either of the things does not help you out.
Method 1. Double-Check the Recovery Key
The most crucial step is to ensure that your device supports the feature of a recovery key. Some of the older OS versions are not compatible with Recovery Key. Further, you have to ensure that the key you are trying to generate is correct. Usually, recovery keys have a code that is 28 characters long. These characters may be alphabets or numbers. Such characters would be divided into seven groups, each consisting of 4 characters. It's not necessary, but often your key might differ.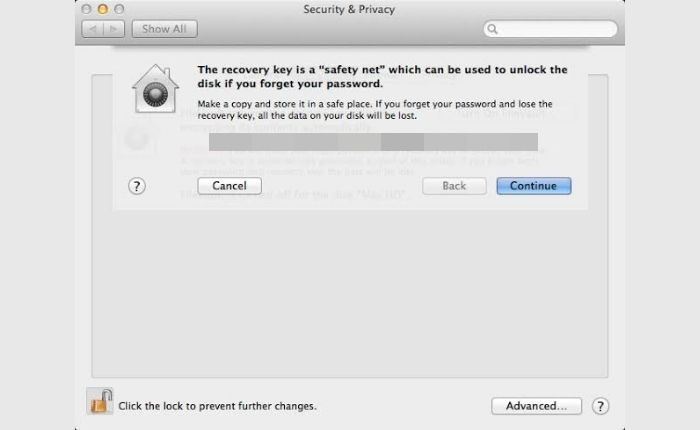 Besides, those seven groups would have dashes that connect them. Apple, by default, adds them. However, check whether it has been added automatically or not. Later, check if the characters entered are correct or not. Sometimes you might make a mistake noting down the key characters, especially if you have handwritten them. If you suspect anything, substitute the characters to try out different probable combinations.
Method 2. Login by Using a Trustworthy Device
Apple cares for its users' security; hence, gaining access to a lost recovery key is complex. Besides, it also wants to provide convenience to its users; therefore, you can use your Apple account if logged in to any other device. But you should know your Apple ID password apart from being able to access a trusted device. 
Moreover, you can also set up a new recovery key from your Mac. 
Follow the steps given below to set up a recovery key on Mac:
Step 1: Go to System Preferences and open your Apple ID.
Step 2: Select Account Details.
Step 3: Navigate to Security and press the Turn Off button under the Use Recovery Key.
Step 4: Press the Turn On Recovery key to generate a new one.
If you have a later Mac model, click on the Create new key option. Your system will generate a recovery key; you must note it down. Click on the Continue option to proceed. You will now have to enter your new key, which will deactivate your older one. 
When you have a Mac, there are some probabilities that you would own an iPhone, iPad, or iPod Touch. In such a scenario, if you have logged in with the same Apple ID as your Mac, you can get a new key from the device. 
Follow the steps given below to generate a new key for your Apple Device:
Step 1: Open Settings and click on your Apple ID.
Step 2: Go to Password and Security.
Step 3: Navigate to the Recovery key and tap on Turn Off.
Step 4: Again, tap on Create a new Recovery Key in the same option.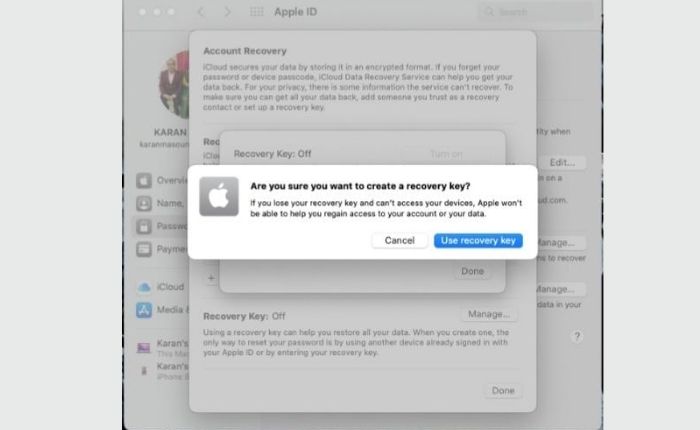 Your newly generated Apple key will pop up on the screen. Note down the Mac key you see, and your old recovery key will be disabled. 
If you cannot proceed via this method, the following method will help you! 
Method 3. Reach out to Apple Customer Care
When you cannot use your recovery key or do not have a trusted apple device, you can connect with Apple Customer Care. In such a scenario, a member of the same would help you.
You can call their Tech Support or book a reservation at an outlet. Besides, if you are pretty tech-friendly, you can take the help of the Apple forum and chat with them.
Final Words
You would have figured out what is a Mac recovery key. It adds a layer of security as it's a kind of 2FA for Mac users. The key is 28 characters long, and you must note it when you access it. If you lose the key and access to Apple ID, you can be completely locked out of your account. If you forget the key but know your Apple credentials, you can visit its website to get a new one. 
Sometimes it may happen that your recovery key does not work, and you will have to check whether it's written correctly or not. If it does not work and you have your Apple ID logged in to any of your devices, then you can use it to create a new recovery key and disable the previous one. When it does not help, Apple technical support is your ultimate rescue.