MRT, aka Malware Removal Tool, is considered a primary defense line against malicious software on the macOS. Hence, the objective of MRT is to eradicate spiteful software safely, whereas XProtect concentrates on catching it.
This MRT annihilates malware when it obtains brand-new data and looks for infestations every time you log in or restart your mac. So, without further delay, let's explore more about the MRT process for mac, the reasons behind MRT using a high CPU on mac, and so on. 
What Is MRT Process Mac?
In this part, we will discuss what MRT process mac is! Therefore, this MRT.app or malware removal tool is a top-notch application living in the CoreServices folder discovered in /Library /System instead of the Utilities folders or applications where user-level programs are usually found. MRT isn't something to be kick-started by the users despite taking the shape of an application bundle.
On the other hand, MRT.app has command line settings, which allow it to operate in daemon or agent mode. Moreover, it has the potential to hurl an error text about the unknown malware family. Unluckily, that error text doesn't contain any light on the characteristics of MACOS.35846e4.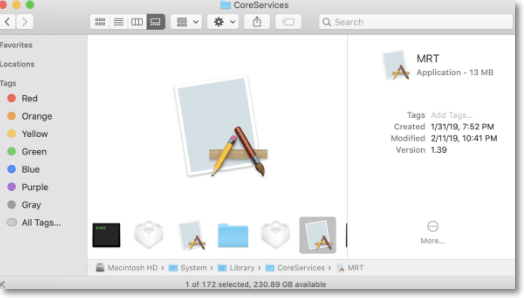 Several techniques are required to ascertain the MRT targets. In order to start tampering with the binary, you should get a copy first. It's because working with a binary copy during the evaluation is a top-notch practice during reverse engineering, even if you aren't intended to jot down the binary, and System Integrity Protection protects it.
By running ditto, a copy of the binary will be saved to the Desktop, where it may be quickly retrieved: sudo ditto MRT ~/Desktop/MRT COPY.
Advantages
It's a front-line security measure in the macOS.
It can safely eradicate all the spiteful software from a mac.
MRT can execute innumerable signature checks against Apple's CRL while running in daemon mode.
The agent mode operation is more silent and effective.
Disadvantages
In 2019, MRT left users with a meaningful vulnerability while eliminating an application part: Zoom.
The newest update to MRT version 1.68 for mac is known for releasing internal information to the third-parties.
Why Does MRT Use High CPU on Mac and How to Solve It?
Have you checked Activity Monitor and noticed the MRT process utilizes a disproportionate CPU amount or huge memory? If it happens, your mac will automatically get slower or become unresponsive. For example, the MRT process in Activity Monitor might cause excessive CPU usage on Mac while scanning the different compressed files on your system, eliminating malware, or installing a brand-new malware database.
If you're still wondering why MRT utilizes a high CPU on Mac, the reasons are automatically downloading any app from the app store and memory capacity. However, the procedure must not take long until and unless MRT is encountering any challenges. The best solutions are the following in case the MRT process Mac hinders your daily work.
Force Quit MRT
Does the MRT process utilize a high CPU on Mac? If so, you may temporarily disable it and other procedures associated with Activity Monitor by choosing the process, hitting the X sign, and opting to Force Quit. 
Update MRT
The malfunctioning MRT might strive to eliminate some programs or files; this is how putting itself in a limitless spiral and using a substantiate amount of CPU. However, MRT keeps getting updated on its own, and there may be times when it's not automatically updated. Hence, one of the best fixes would be to update the newest MRT version, which is much more functional.
Step 1. Open Terminal.
Step 2. Paste this command: sudo softwareupdate --background and hit Enter.
Although the background check might take a little time to finish, you must keep checking if the MRT process vanishes from the Activity Monitor.
Safe Mode Booting
Corrupted caches might be the real problem that causes MRT uses a high CPU on mac. But this issue can be eliminated by restarting your mac in safe mode. In case your macOS works accurately in Safe Mode, rebooting is the best option.
Conclusion
MRT.app is one of the top-notch and official malware scanners and removal software for Mac OS X, and macOS. This is incorporated in every Apple's anti-malware program, which might be accessed via the /System/Library/CoreServices/ directory, where it has been devised to shun any potential malware attacks.
In case you don't know, MRT also helps you remove countless unwanted or spiteful safari modifiers and extensions, which are Nariabox.safariextz, SafariProxy, part of Dok, and many more. Apple keeps updating the MRT.app from time to time, and such updates impact other antivirus updates, mistakenly identifying MRT.app as malware.