Archiving and Deleting are very common when we use Gmail to deal with daily communication. But most of us don't know the exact difference between Archiving and Deleting. Don't worry; you will understand their critical difference after reading this post. Just keep reading.  
What Is Archiving in Gmail
Archiving allows users to hide emails without deleting them, which means users can find emails again from the main inbox view. The archive feature on Gmail lets users clean up their inboxes without deleting emails. Users can save unimportant emails in a separate folder from their primary inbox. When a user wants to archive an email, it moves the message from the primary inbox, making the user's central inbox look cleaner.
After the mail has been archived, the user can access it anytime. On the other hand, the user can also cancel the mail archive at any time. More notable is that the message is automatically unarchived whenever an archived email is replied to. Therefore, you need to be aware that emails that have already been archived may also reappear in the primary inbox.
What Is Deleting in Gmail
They are deleting, recycling to trash, deleting emails from your Gmail account, not just hiding emails like archiving. When a user deletes an email, the email goes to the trash folder, and after 30 days, the email is permanently deleted. However, users can recover the email from the trash for 30 days after the email is deleted. But when a message is permanently deleted, it's gone forever, and users can't make an average recovery.


Differences Between Archive and Delete in Gmail
After learning the exact definition of them, you can grasp the key differences between Archive and Delete in Gmail through this part.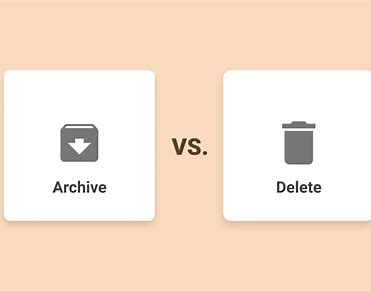 Duration: Archiving does not delete emails from your Gmail inbox but hides them for the corresponding purpose. Unlike archiving, deletion removes the email from the account and puts it in the trash; when the message has been in the garbage for more than thirty days, the message is permanently deleted.
Dedicated Folder: There is no dedicated folder for archiving in Gmail. Emails archived by users are also in the All Mail folder. Therefore, when a user wants to view an archived message, he must manually look in the "All Mail" folder. Likewise, when a user wants to unarchive an email, a search in all files is required. Unlike the delete feature, deleted emails stay in a dedicated trash folder for 30 days. So, for 30 days after deletion, users only need to find and recover deleted emails in the Trash folder.
Restore E-mail: Archived emails are automatically unarchived when they receive a reply. Users can also manually search for emails to unarchive. However, deleted emails cannot be recovered automatically. If it is within 30 days of deletion, users can recover emails by moving them from the trash folder to the inbox. But when more than 30 days later, users may need professional services to be able to restore the mail.
Validity: Archived emails are hidden until they are not answered or unarchived, but they do not disappear. Therefore, there is no time limit on how long archived emails can be stored in the account. However, deleted emails will remain in the Trash folder for 30 days, after which they will be permanently deleted. Therefore, there is a time limit on how long deleted emails are stored in the account.
Storage Space: Another vital difference is that archives cannot clear space, while deletions are possible. Many users think that libraries clear areas, which is a misunderstanding. Archiving an email moves it from one folder to another. The user must permanently delete the email from the trash to clear the area.
Which One to Use: Archive or Delete
From the above comparison, we can see a significant difference between archiving and deleting in Gmail. 
Choose Archive to hide when you want to organize your inbox without permanently deleting messages. 
But if you decide you no longer need certain emails, you can choose to delete them. Also, delete unnecessary emails instead of archiving them when you want to free up space on your Google Account.