How to Find Windows 11/10 Product Key (5 Proven Ways)
How Can I Get Windows 11/10 Product Key
"Before I install, I'd like to know how to find my product key for Windows 11/10. Can anyone help?"
Finding your Windows 11/10 product key may appear like a big issue while you clone Windows 11/10 to another computer or install your Windows 11/10 on a new computer. Here we provide you with five methods to find Windows 11/10 product key. Follow the methods if you want to get your Windows product key or license.

Tip 1. Find Windows 11/10 Product Key with EaseUS Key Finder
Supports Windows XP, 7, 8, 8.1, 10, 11
The first method we recommend is to use the new feature of EaseUS Key Finder - Product Key. The new function is designed to extract the Windows 11/10 product key. You can download the PC transfer software to see the Windows XP/7/8/8.1/10/11 license, view Adobe keys, and find Office's product keys. 
Follow the steps below to find the Windows product key:
Step 1. Click "Windows" tab under the Registry Key.
Step 2. Check Windows product key on the right side. Click "Copy" to paste. Or select other two options:
"Save" - Save to local as a PDF file.
"Print" - Click to print key file.
Speaking of how to find the product key for Windows 11/10, the CMD and Windows registry are also valid. But CMD has a limit on the license type, and the registry has cumbersome steps. If you want to use the most straightforward way, the EaseUS Key Finder pro version is your first choice. 
Tip 2. How to Find My Windows 11/10 Product Key in Registry
Supports all versions of Windows that you haven't formatted your computer
Another way to find your product key is using the Windows registry. Only if you haven't formatted your computer, you can recover the key because Windows stores it in the registry. Here are the steps to restore the Windows product key from the registry:
Step 1. Right-click anywhere on the desktop, choose "New" and then select  "Text Document."
Step 2. Copy and paste the code below into Notepad.
Set WshShell = CreateObject("WScript.Shell")
MsgBox ConvertToKey(WshShell.RegRead("HKLM\SOFTWARE\Microsoft\Windows NT\CurrentVersion\DigitalProductId"))
Function ConvertToKey(Key)
Const KeyOffset = 52
i = 28
Chars = "BCDFGHJKMPQRTVWXY2346789"
Do
Cur = 0
x = 14
Do
Cur = Cur * 256
Cur = Key(x + KeyOffset) + Cur
Key(x + KeyOffset) = (Cur \ 24) And 255
Cur = Cur Mod 24
x = x -1
Loop While x >= 0
i = i -1
KeyOutput = Mid(Chars, Cur + 1, 1) & KeyOutput
If (((29 - i) Mod 6) = 0) And (i <> -1) Then
i = i -1
KeyOutput = "-" & KeyOutput
End If
Loop While i >= 0
ConvertToKey = KeyOutput
End Function
Step 3. Click "File" and choose "Save As". Set the file name as "productkey.vbs".

Step 4. Close Notepad and double-click the .vbs file. Wait a few seconds, and then you will be presented with a popup displaying your product key: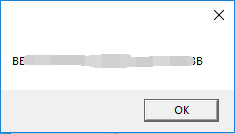 Tip 3. How to Find your Product Key in Windows 11/10 via CMD
Supports newer PCs running Windows 8 or Windows 11/10
If you want to view the Windows 11/10 product key, CMD is a useful way to get Windows 11/10 product key. But the command line is only available for OEM license. You need to figure out the types of licenses before moving to the CMD method.
Here is the tip about Windows license type:
 Tip

Retail Key: You will receive this key when you purchase a Windows 11/10 license from a Microsoft Store or retail Store.
OEM Key: OEM or computer manufacturer reached an agreement with Microsoft. There is an activated copy of Windows on the computer they sell.
Volume licensing (MAK/KMS): Enterprise purchases Windows license in bulk under the Volume Licensing Program. There are two types of keys under this scheme - MAK and KMS.
Now let's move to the detailed guide of finding Windows 11/10 product key:
Step 1. Open CMD and right-click it to run as administrator.
Step 2. Once open, copy and paste the following command line and then press Enter. The product key will appear.
"wmic path softwarelicensingservice get OA3xOriginalProductKey"

Tip 4. View Windows 11/10 Product Key from the COA Sticker
Supports older PCs running Windows XP, Vista and 7
If you have an older PC that came with Windows XP, Vista, and 7, the product key is usually found on the Certificate of Authenticity sticker. The sticker is usually located on the underside of laptops and could be on the top, sides, or bottom of a desktop tower.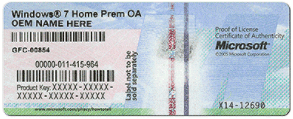 Tip 5. Restore Windows 11/10 Product Key from Microsoft Store
Supports all versions of Windows that you bought from the Microsoft Store
If you buy a Windows 11/10 license from Microsoft Store, your copy of key stores on the Microsoft account. Follow the steps:
Log in to the Microsoft Store > Downloads > Product Keys > Subscription > Digital Content
Microsoft also sends you the product key in the confirmation email. You can check your mailbox. If you already delete it, check your junk mail folder or try another way to get the product key.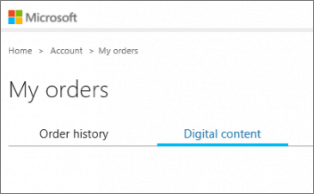 Conclusion
That's all about finding the Windows product key. The first method works well for all Windows versions, including Windows  XP, 7, 8, 8.1, and Windows 11/10. If you are not familiar with the Windows product key, Tip 1 is my recommendation.
Updated by Tracy King 
Tracy joined in EaseUS in 2013 and has been working with EaseUS content team for over 7 years. Being enthusiastic in computing and technology, she writes tech how-to articles and share technical solutions about Windows & Mac data recovery, file/system backup and recovery, partition management and iOS/Android data recovery.

Roxanne is one of the main contributors to EaseUS and has created multiple posts on digital devices like PCs, Mobile phones, tablets, Mac, etc. She loves to share ideas with people of the same interest.
About EaseUS Key Finder
EaseUS Key Finder offers complete solutions for you to efficiently find Windows or Windows Server product keys, discover Offce, Adobe, and other installed software serials, and find WiFi codes, etc, successfully in simple clicks.